Tuesday 1st July: Kings Sutton
It's evening and we are at Kings Sutton just south of Banbury. We had a pleasant meal at Thrupp on Sunday evening and set off northwards. I'd forgotten how lovely the Oxford Canal is -it's like a typical small river, meandering through meadows and woods.
The banks are lined with butterbur, meadowsweet, tufted vetch, valerian, dog rose; and the last of the elderflowers and herons regularly fly with the boat. We stopped at a new venue - a farm shop on a boat and you are invited to moor alongside.. Apparently the owner even has a smallholding just by the canal and besides a good selection on the boat you can even stop for afternoon tea! Unfortunately she had been called away and the boat was shut, but there were eggs on top of the boat and this year's homemade elderflower cordial so we put the money in an old-fashioned honesty till on the canal side. On Monday we travelled for about three hours or so and felt we wanted to stop at Lower Heyford as this was our original mooring on the Oxford Canal. We stopped just below the church. Fifteen years ago we took a favourite photo thro' the window of the boat looking up to the church, but now the willows and vegetation have grown up and obstructed that view. Caspar enjoyed a swim in the River Cherwell. Nick was a little concerned about the steering on the boat and by Tuesday had diagnosed a problem so we cruised very gently at about 2 mph. We stopped at Aynho to see if they had a bearing for the tiller but the engineer there didn't have the part and appeared to be too engrossed in his fishing to help any further. Nick rang the famous Tooley Boatyard in Banbury where they do have the part and are expecting us tomorrow. It was lovely passing thro' Somerton; I used to take the boat up there regularly by myself from Aynho because it's in the middle of nowhere and particularly lovely. Unfortunately the banks were incredibly overgrown - British Waterways haven't been cutting back and unless you have clippers it's impossible to stop in many places and towpath walking and cycling is difficult to say the least in places. Today has been a truly summery day - the first time we've eaten out in shirtsleeves in the evening though it was a case of using what we had - there have been no shops since Oxford.
Thursday 3rd July: Banbury
It's post lunch time and I'm sitting on the rudderless boat, right in the heart on Banbury. Tooley's are firing up the blacksmith's forge to do some serious work on the rudder - Nick says it's lucky we went so gently yesterday as we might have lost the rudder in the canal. We arrived mid morning yesterday and by mid afternoon the issues were diagnosed. To complicate matters I had used the loo just before we arrived and something had stuck and water was continually running into the waste tank! Disaster! as the tank is virtually full and we can't get pump-out till Cropredy and we're stuck here! Luckily there's a shopping centre next door with loos and when that is closed there's the bus station with one 24 hour loo down the way. The worry is loo visits in the night and my early morning rush! I think I'll stop eating and drinking! We met a lovely couple on the next door boat - Wes or Lizzy were up to their neck in their engine room while Nick was busy in the front of the cratch, a few feet away so they were staunch buddies by tea time! We enjoyed an extremely convivial evening and a quantity of Old Hookey in a lovely old fashioned pub in the town centre, and I was advised that there was always a bucket in the night! Nice! They advised us that we will regularly meet up with friendly folk on the canal and catch up with them now and again, sometimes by chance and sometimes by doing a detour of days or weeks to meet up!
I found a copy of "Ramblin' Rose" which I read ages ago and appear to have lost! I've started reading it again and am reminded about how tough it was a hundred years ago for the families on the working boats. My difficulties in our galley kitchen sink into insignificance. The brilliant use of space which allowed meals to be prepared in the tiny cabin at the back of the boat which also provided all the sleeping accommodation was truly remarkable.
Thursday is market day in Banbury and it was a proper market with a great variety of stalls spreading from the market square into other open areas. The centre of Banbury has some lovely buildings and lots of struggling shops including a shut up independent health store, no doubt because of the Holland and Barrett and Julian Graves in the enormous shopping centre, which had in all fairness proved pretty useful for toilets! Poor Lizzie on next door Simba Dada (strong woman in Swahili) was struggling as she had fallen into the canal on Wednesday and seriously bruised her ribs, but managed to make up the the pub for a quick drink, not as riotous as the previous night as we weren't allowed to make her laugh. Two other experienced boaters Ron and Bev from a boat called something Empress joined us and their combined experiences and stories made us feel real novices!
Friday 4th July: Cropredy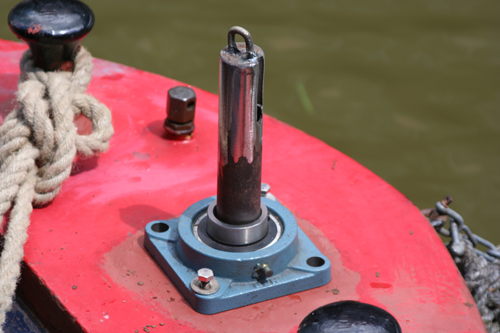 The works on the boat were completed at 4ish this afternoon. There was farmers market in town where I bought a few bits. Cutting back thro' M&S I noticed a woman buying 500g of Turkish cherries for £3.99 when I had bought a punnet (probably 600/700g) of local cherries for a pound less on the market! We didn't get a photo of Tooley's Matthew hanging off the back of the boat, beautiful blond hair in the canal attaching the rudder to the tiller ! We then reversed the dear thing thro' a lift bridge and a lock to get the dreaded toilet pumped out with the new pump-out apparatus which Nick has built. Although the gear cost over £150 pounds, and at this point in time its use requires my help, it will save us £10 for BW pump-outs or £15 or more for boatyard pump-outs so it's a no-brainer - but we have to hand pump it so it takes a while as you then have to do it afterwards with clean water. Then it was back up the lock, thro' the lift bridge, this time going forwards as one should! By this time we had discovered a new problem in that that work done on the rudder and tiller had shortened the whole apparatus and we can graze our fingers on the top of the back doors when we do any serious manoeuvrings! Nick has ideas on how it might be sorted but no way do we want to stay in Banbury till the middle of next week.
So we start our travels again northwards, three locks, and as we approach Cropredy there is Simba Dada taking up two mooring spots, leaving room for us! Caspar was straight on board - he keeps having love affairs with passing boaters and appears to be truly appreciated by many on the cut. We are concerned that he will think it's okay to jump on any old boat! We are 2 long days or a week from the northern end of the southern section of the Oxford Canal. We were then intending to go west and down the Stratford Canal and take in some culture in Stratford. However the big theatre and the Swan are both closed for renovation and, as David Tennant is shortly opening in Hamlet in the other theatre, tickets, I guess, will be like gold dust and Hamlet is not one of our favourite plays. So we are reviewing our plans and may do the northern section of the Oxford and the Ashby Canal so we won't be far from Matt and Eileen - then it will be the Trent and Mersey to take us up to Northwich. This of course is not set in stone as we are told one becomes quite spontaneous on the cut and plans can change!
Sunday 5th July
We had a pleasant Saturday in Cropredy which is exceedingly pretty - stone houses with wonderful gardens (lots of roses and herbaceous borders), a lovely church, chapel, shop (no lottery), two pubs and, sadly, a recently closed post office which was in a little cottage by the chapel. Apparently the village really buzzes when there is an annual folk convention in August each year. No wonder some boaters choose to winter here. We decided to stop over as the forecast was not good. In fact it wasn't as bad as the relentless rain we had on Sunday morning which caused us to sit with needle and thread and sort out all the new porthole curtains. It cheered up a little and we went on for a while in the late afternoon and chose to stop in a pleasant spot before the weather turned rainy again.
Monday 6th July
The weather continues miserable. I would have thought that two consecutive years of appallingly wet weather in July was unlikely but it appears to be happening! I feel sorry for all those who have hired boats - it's not much of a holiday to travel in heavy rain or indeed work locks! There was a break at about nine and I walked the dog. We then sat down with the canal books: I want to travel back to Oxford to see Alyce who is at the Churchill for this week having some radiotherapy. We had three alternatives because we appeared to be losing the railway running with the canal:
1) Carry onto Napton 15 locks, turn west and travel for 23 K&A-style double width locks to Leamington Spa to catch train to Oxford
2) Napton, turn east, then north at Braunston then 3 locks to Rugby, then train with 2 changes to Oxford or
3) turn after next lock, then back thro' Cropredy to Banbury, 7 locks then 12 minutes train to Oxford!
Considering the weather forecast the decision is easy! So, tonight we are sitting in Cropredy again. We avoided most of the rain including a tremendously heavy thunder storm but did the final 15 minutes in rain getting back into Cropredy at tea time having picked some organic lettuce and bought some organic eggs from a canal side farm shop en route. The brass is beginning to shine up - we now have an especially shiny kettle and tiller arm - if we get much more rain the brass handles for the door and the coal scuttle will be equally impressive and I will be becoming a real boatwoman!
Saturday 12th July: Cropredy
Left Kings Sutton at about 8 o'clock having journeyed down from Banbury, after leaving Jac to go to Chester, on Thursday. The weather has been changeable and today has been no exception though there has been a greater percentage of sun and dry, but still the sudden heavy shower to catch one unawares. Richard and Yvonne, Emmeline's future in-laws, joined me in Banbury and we set off for Cropredy mooring way above the village at about 8pm. Dinner enjoyed sitting in the cratch (the front end of the boat under canvas, for the incognoscenti) watching the sun go down.
Sunday 13th July: Napton Top Lock
Signs of life were evident at about 0730 and when Caspar had been walked, and Richard had arrived back from the shop with croissant, we made an early start (0900) bound for Napton to meet the other three. Without a doubt extra crew enables increased speed and we were soon into fluent progress, Richard and Yvonne operating the locks. Caspar supervising at each one with his close by-the-heel presence and the fourth member of the crew enjoying a relatively easy passage after the single-handed regime of the previous three days. Unfortunately, Yvonne slipped the windlass off the paddle stock and regrettably is the second of our friends to damage the rib cage within 10 days though, fortunately for her, not as seriously as did Lizzy when she fell off the bow of Simba Dada.

Having started the day with a light breakfast, we stopped late morning for brunch immediately after passing through the top lock onto the summit. Three hours is only just short of our average travelling day but, with R & Y eager to continue cruising, we set off again for Napton arriving at Napton Top Lock bang on schedule.
With R&V and Caspar off to recce the area, Nick puts a piece of shoulder of pork in the oven: at eight o'clock six of us are sitting down to a full Sunday roast: Jac's justification for dinner in the pub every Sunday annihilated!
Sean and Emm, returning from a friend's wedding in York, had picked Jac, returning from granddaughter, up at the station at Leamington Spa, and they all arrived at the boat on schedule despite Nick giving some misleading instruction engendered by his inadequate road map.
Monday 14th July: near Braunston on the Grand Union
| | |
| --- | --- |
| | Sean & Emm, despite Emm's misgivings, slept well in the cratch, having displaced Caspar from his usual night time abode to the saloon: well enough, that is ,that they were awake before eight having avowed to sleep 'til nine. So, soon after nine, having filled the tank with water, we set off down from the summit. Sean drove his car to Nethercote and ran back, about 4 or 5 miles via the windmill to meet us halfway down the Napton flight. At Napton bottom lock we were able to offload our rubbish which included several wine/beer bottles: unfortunately there is no provision on the canal for recycling - our glass detritus was well below the average. We stopped for brunch at about midday just beyond the Stockton road bridge and, again on schedule, arrived at Nethercote at 1430. 100 yards from our mooring was Sean's car and our four guests departed at 1500 bound, via Banbury where R&Y would be re-united with their own car, for home. Their company for the weekend was a delight. |
Tuesday 15th July: north of Braunston on the Oxford Canal
| | |
| --- | --- |
| I had been anxious about entertaining on the boat but our first attempt had been successful tho' only youngsters are likely to cope with sleeping in the cratch! And I always thought guests would be entertained in canal side pubs but confess Nick's roast was splendid tho' I was called in at the last minute to make the gravy. We have a minor problem as we only appear to have 4 forks! Cooked breakfasts are a challenge for 6 but we've proved it can be done! We had moored at a beautiful and quite lonely spot when our guests left us, with rolling fields rising to Bush Hill and not a single pylon or telegraph pole to be seen. It was a lovely morning and we started promptly cos the forecast was not good for later. I walked the towpath with Caspar, lonely fields and rising land to my right across the cut and hedges awash with the large white flowers of bindweed, and then an unspoiled landscape to the north, way away into the distance. I met a chap on crutches walking his lab; his response to my 'Lovely Morning!' was " 'andsome!" We passed the turning we were to take later, turned at the entrance to the marina and found a place for pump out. Greeba on the boat next door was impressed with Nick's manual pump out and joined in with the proceedings, deciding on the spot that she wanted such a pump for her birthday! We then allowed her to pump her boat out and for the trouble enjoyed a lovely cup of coffee and the gift of a bottle of wine. She said sharing a pumpout was a new slant on sharing recipes! A chap passed by and showed interest; he was a gastroenterologist and commented that boats were much like people - it was often his job to cleanse and pump them out! Meanwhile Caspar was enjoying the company Greeba's retriever who was keeping him on his toes! We eventually moved on to the chandlery where Caspar was further entertained by yet another retriever, Daisy. They had a real romp - both appeared to have gender issues but seemed to happily exhaust themselves trying to prove something! I then trekked uphill into Braunston village, heading for the very pretty church and the shops. The village is exceedingly pretty, lots of stone cottages and prize hollyhocks and I was laden and ready for lunch when I returned. It is now past 5 o'clock and we are moored a mile or so north of Braunston and the weather is still good. Again we can't hear any traffic and look out over water meadows. Nick can't seem to stop doing jobs - he's changed the oil filter and is sorting some ceiling lights in the galley. He has also bought a water filter for under the sink. There's yet another job! | |
Wednesday 16th July: west of Rugby on the Oxford Canal
After my recording of events last evening disaster struck when I went to clean my teeth and found the tap dry - in fact everything was dry - it seems the pump had packed up. All the clean water we had was about 1 litre in the filter and a half litre of mineral water that had been given me free with my Sunday paper. We could flush the loo with canal water! It did this once before and recovered but not this time. We could either go on towards Rugby and find a chandlery (risky!) or Nick could walk back to Braunston, which he did! He was back at the boat soon after 9.30 and I drove while he sorted it - a 20 minute job which took about an hour! They always do! The northern section of the Oxford is quite countryfied - there are some straightish wooded sections and some farms - often mixed with animals and crops, many of potatoes all in flower. It was really breezy when we set off, but brightish. The canal side is a delight - lots of meadowsweet which should be wafting its sweetness if it were warmer. For the first time this year there is plenty of purple loosestrife and occasional clouds of bluey mauve vetch. In places there are masses of the huge creamy white giant bindweed flowers weaving their way through the hedgerows. All the dog roses which were so abundant on the K&A and the Thames are now forming fat hips, still green of course and there are masses of blackberry flowers. We are still relatively high but have the Hilmorton flight of 3 locks to negotiate. I was trying to ponder what exactly what a 'duplicate' lock was and discovered there are pairs of locks - so the butty on a pair of narrow boats can travel together with the Number 1 down the flight. In fact the pair of hotel boats we had previously seen going south must have done that going up the flight.

The approach to Rugby is pleasant - the walls of the bridge going under the motorway have an impressive picture of the rugby game which clearly originated here as did other bridges and more important they hadn't been defaced. The town is hidden behind trees and bushes for the most part but we did occasionally glimpse the centre off to the west. We had a light lunch at a canal side bistro full of canal memorabilia and then motored on to bridge 54 where I visited Tesco. Going out of Rugby is a shortish tunnel which is lit most effectively with green, white and mauve lamps making the damp dripping walls look amazing. It was not at all warm by the time we arrived out of a shady, tree-lined section and found a mooring overlooking meadows and a pretty farm. The sun tried to come out and it was most welcome. After supper courtesy of the Braunstone butcher (highly recommended!) and Tesco I walked Caspar through a field of oats - it's a while since I've seen oats growing! Tomorrow, weather permitting we'll be at Hawkesbury Junction and onto the Coventry Canal and the Ashby Canal shortly therafter! So we'll be in Hinckley, well close by to son No2 and Eileen. I believe they are away this weekend visiting son No1. Shame! I'm going to dress more warmly tomorrow- it took a while to warm up this evening!
Friday 18th July: Hinckley on the Ashby Canal
| | |
| --- | --- |
| We had a quietish day yesterday - it was damp and dull so we did some chores on board - a bit a brass polishing and the endless dusting and carpet cleaning which appears to have little effect cos it's almost as bad 30 minutes later. Nick did more on board jobs - lights, electrics, sorting a drip in the engine. We travelled in the afternoon but it was quite damp and the canal wasn't especially nice. At one point we went under the M69, then the M6, this time towering on huge concrete pillars above us and we also had our fair share of pylons. We stopped at yet another chandlery - Nick finds bits and pieces that he needs in every one! We stopped at my least favourite mooring so far with the roar of the motorway ahead and to the west. Today (I can't believe it's Friday) we carried on to the stoplock at Stretton Stop, (Hawkesbury Junction) passing a very unsightly disused boatyard. We could have turned west on the cut which would take us into Coventry but decided to go north on the Coventry Canal the few miles to Marston Junction and onto the Ashby hoping we might see Matt and Eileen before they set off for Manchester to see Pat and Abi. Matt rang to say he was travelling north to Crewe to pick her up and that they would see us on Sunday on their return. We've had a little rain on and off today, nothing heavy. We finally moored behind Simba Dada and Caspar will be united with Wes and Lizzie (there's a mutual admiration society going on there!) and maybe we'll have a drink with them later! | |
Monday 21th July: Market Bosworth
It's been a busy weekend. On Saturday morning Wes and Lizzie took me into Hinckley. It was market day and I did some shopping and found the coffee stall and the French vanilla coffee that Matt and Eileen had previously introduced me to. Lizzie and I enjoyed a coffee and did some provision shopping - she's more disciplined than me, just getting the bare minimum but I was doing a Sunday roast for Matt and Eileen so I really did need a fair bit. Later in the afternoon Nick and I were taken cross country on wheels to Foxton which is a splendid Canal Centre on the Leicester Arm of the Grand Union. The highlight of the trip was having to stop on a quiet backwater as the country road crossed a cricket pitch where a match was taking place - we had to wait for the end of the over before driving on! There is a country park and much of interest at Foxton. There are two lockkeepers who supervise the flight which has a staircase lock. They are hoping to restore an inclined plane boat lift which is unique in this country. After a walk round, and Caspar taking a swim, we ended up in the boater's pub as opposed to the smarter visitor's pub and enjoyed a drink before heading back. Later another of their boating friends arrived, Mike with his wife, Chris, on their boat Destiny, and we were all invited back to Simba Dada for a drink and nibbles. Listening to all the canal talk we still feel (no, I feel) like novices!

On Sunday we had our Sunday paper delivered by Lizzie which was great. I had hoped to find a local Quaker meeting but to no effect, surprising as George Fox was born in Hinckley. There was a meeting 6 miles away - I could have cycled if I'd had a bike - we do intend to get a folding one. Matt and Eileen arrived promptly at 4 and were keen to show us a CD taken of Matt and Abi on some horrendous ride they'd taken at Blackpool the day before. Apparently they'd had a great day out there. We had plenty to chat about and the roast lamb meal was fine. The issue is the washing up which had to be done with hot water from kettles as we had been stationary since Friday. With the Micky Mouse sink and drainer it's all a bit of a fag and the lack of space means that it's difficult for people to help even if they'd wanted to. We felt obliged to finish the evening with a quick drink in the pub as they had parked there!

On Monday we at last have some seasonal weather - lots of blue sky and tho' it has not been balmy it has been particularly pleasant. We set of thro' the outskirts of Hinckley and soon find ourselves on the rural part of the Ashby. We stop at lunch time at Stoke Golding. We need bread and milk so we walk into the village. The church which John Betjemin said was 'worth a 16 mile bike ride into the wind' to visit was shut but there were instructions on the door as to where to find the key, so a short detour was required and the key itself was a work of art! The church was lovely, much of it 13C and not a great deal after the 14C, apart from the tower. It is clearly much loved with fresh flowers, but I imagine needs lots of maintenance. The shop was shut so we had to have a leisurely drink in the pub before getting our provisions and heading back to the boat for solid, as opposed to liquid, lunch. We travelled on, past the field where the battle of Bosworth was fought. We will visit the site and the Visitor's Centre on the way back as it is nearly 4.30. We have stopped for the night just short of Market Bosworth Wharf and will walk into the small town which is, I believe, quite charming and has a few shops including a butcher and chemist. Perhaps we will then travel on to the end of the canal for the evening.
Wednesday 23rd July:
| | |
| --- | --- |
| Apologies for the multi-coloured text. Just because a web site allows amazing technology I don't believe we necessarily have to use it all! Well, its now about 4 pm and yesterday we made it to the end of the Ashby through the Snarestone Tunnel, just 250yds with a bit of a kink and quite low. On Tuesday morning we caught a bus into Market Bosworth plus Caspar, no charge, with our pensioner passes. It is indeed a charming human-size town with attactive houses and a pleasant square. We lowered the tone buying fish and chips and eating them out of the paper in the square. We visited the chemist for a mirror (not for my mascara and lipstick but for Nick to see something in the engine!) and the Co-op, the greengrocer and the butcher and caught the bus back to the canal which remains extremely countrified with stretches of farm land (a mixture of arable -grains, beans, sweetcorn and potatoes - and livestock - cows, sheep and goats. Then we pass through stretches of woodland which would be wonderful on sweaty summer days but although it's dry, and warmer, for the most part it's overcast, that is except for the middle of the night when I saw a wonderfully bright waning moon in a clear sky. Nick had planned a pumpout and sorting a new seal on the toilet at the end of the cut but it was a sanitary station which specified no manual pump out so that scotched that idea. Last night we had to fight our way to our evening mooring through dense canal side undergrowth but it's lovely to wake up with the canal side plants pressed against the porthole window. Today we have travelled for a shortish time back to Shackerstone where the local steam railway runs. Unfortunately they were running an ancient diesel train which wasn't quite as romantic as a steam locomotive so we abandoned the idea though we are not certain if Caspar would have coped with the train. Having said that he is certainly coping with all the changes remarkably well! We are going to travel slowly back down the cut as we have supper with Matt and Eileen on Friday and Lizzie is organising a 'soiree' (didn't know they had those on the cut!) on Saturday evening. | |
Thursday 24th July: Market Bosworth
| | |
| --- | --- |
| Last night I took Caspar for a bedtime stroll when the light was wonderful - through the hedge and across the cut were fields that were an intense gold. We go to bed each night at 10ish and it seems reasonable to be able to be up and about early but we still surface slowly some time after eight. I did a quick walk with Caspar to the next bridge and after breakfast we set off, with Caspar on the tow path. We are training him sometimes to take his walks on the tow path while we are on the boat. He is still a little anxious about this and bounds back and forth while we encourage him to 'walk on' with lots of 'good boys.' Of course we didn't take the heat into account and he decides to plunge in the cut and swim with us and towards us (of course he can't get on the boat and the bank is virtually impossible!) As you can imagine there was a lot of shouting and anxst - I took the helm and Nick was dropped on the tow path and finally managed to hoist him out! We now know he can swim quite a distance and he appeared far less traumatised than I was! We certainly kept a fisherman and the occupants of another boat amused. After this dramatic start we enjoyed a real summers day; a wonderful array of dragonflies. the gleaming blue ones and for the first time this year the huge brown ones; Nick with shorts and sandals and me washing a pair of Nick's thick black jeans and getting them dry! We stopped again near Market Bosworth and this time it's just me who takes the bus into town to the post office and Co-op for some basics. Nick is into more boaty research and electrical and enginey things. After supper we invite a lone lady boater, Val to share a coffee and biscuits and cheese. I think I should start a book about remarkable folk on the cut. After retirement Val did a psychology masters degree (as one does) and has now enjoyed 4 years on her boat. She has a dog quite like Caspar, a flat-coat/collie cross and is going to have 2 of her grandchildren on the boat with her next week. She is extremely practical, does her engine servicing herself, and is extremely attractive, making me think of the feature about older women in the Sunday Times, last weekend, with the amazing picture of Helen Mirren in a bikini, . In fact she makes me sick! (just kidding!) | |
Monday 28th July Duck Bend, Stoke Golding
| | |
| --- | --- |
| Well, we've been so busy that I haven't had a moment. On Friday we headed back down the Ashby in glorious weather. We stopped at Bosworth Fields for lunch, but it was rather hot to traipse cross country to the visitor's centre tho' we did see Richard's Field and the stone where Richard (apparently) met his end and brought to mind 'A horse, a horse, my kingdom for a horse!' We found a spot for Caspar to take a dip and then carried on to Duck Bend where Simba Dada was moored. We hadn't been moored long before Nick was trailing wires through bits of the boat and I had a relatively lazy afternoon (heat is not my scene!) Matt got in contact and before long was here to pick us up. We spent a lovely evening with them, sitting out, enjoying Eileen's pretty garden. Not only did we have a great meal but came home with a bag of goodies including some Dingwall black and white pudding, bacon, steak, and a selection of veg as they were off on holiday on the Sunday! Meanwhile we had a Hungerford problem that meant Nick had to go there to sort. He checked the train times but amazingly the lovely Lizzie offered her car! What a generous offer! So the next day after a quick breakfast he was off! Half an hour after he was gone and at the same time when he was on the motorway we both realised we could all have gone (that's him, me and Caspar!) Still. I did all the tidying, cleaning and doggy walking early before it was too hot and guess what, had a lazy afternoon as it remains really warm. Nick was quite late back as besides doing the work, which in the event has not been successful, he fraternised with all those in Canal Walk who were home. We sat out again till dusk taking full advantage of the wonderful weather. | |
From left to right in the picture:

Joe; Tes; Matt and Sara, (Wes's nephew, wife, and son); Steve, and at his left hand, Anne his wife; Lizzie and Wes; Bob; Jac and Jeanette.

On the table a superb selection of beer and wine and an ever replenished larder of food prepared by Lizzie.

Dave and Maria hadn't joined our select band at this point, and Jo and Dave, other boaters and long standing friends of L&W had already departed

Yesterday, Sunday, was eventful to say the least. as Lizzie threw a party for canal friends and land-based family. I did a really early and moderately long walk with Caspar as it was clearly going to be another hot day! I went up to the local church for their family service which I enjoyed, was made welcome and stayed chatting for a while, I just made the shop and a Sunday paper before it shut at midday. When I arrived back at the boat Nick was still fighting with wires while chatting to a lady visitor called Jeanette who had gone to buy a newspaper and had afterwards decided to visit the canal. I had to bully Nick to finish and smarten himself up for the party. Wes and Lizzie had put a tablecloth on the bank-side picnic table and they had somehow suspended a citronella candle from a tree. Jeanette, the visiting stranger (it turned out she was from Mexico) was invited too and stayed till evening! As the afternoon wore on a neighbour supplied a gazebo to provide some shade as the sun moved over. Visitors came and went and a somewhat oddball couple on the neighbouring table were invited over. For a while the conversation turned serious - I was quizzed about Quakers - a never feel I do that well in that respect! Dave, one half of the oddball asserted that God weren't 'up there' and that the earth were God, Maria said she believed in spirit and 'moving over' as her sister had contacted her from the other side! Wes told me of a specially powerful relationship with St James and of his two pilgrimages to Santiago de Compostella. All powerful Sunday stuff! Dave also got out a box of harmonicas and we were treated to some rock/rhythm stuff. A while later we realised we had a problem. We had thought that Dave had walked down from his mother's house in the village. In fact he was intending to drive Maria back to Hinckley and by this time was exceedingly drunk and only managed 'f..k' and 'I love you!' We had to prise the keys from him and Wes drove him home in his car while Lizzie drove behind and taxied Wes back! Happy days!
This morning, Monday, it was our turn to entertain Wes and Lizzie to brunch. We all enjoyed the bacon and puddings and eggs, most of it courtesy of Matt and Eileen and the Dingwall butcher and Ben! Cheers! We will be moving on today but it's exceedingly hot and it's now almost 1 o'clock, so we'll probably leave it a while! Oh! and we now have a folding battery-powered bike attached to the front of the boat - a deal struck following general chatter the day before between Nick & Bob "The Chainsaw", another boater guest at Lizzie's soiree.

We set off back down the Ashby well after midday, the weather continuing pretty good, around the outskirts of Hinckley and into the open countryside and pylon country( there seem to be a few criss-crossing the land for a while). Soon after 5 o'clock we left the Ashby Canal and proceeded north on the Coventry stopping short of Nuneaton for the night by Bridge 1. Across the cut are spoil pits which have been grassed over and some heaps which seem quite recent.
Wednesday 30th July Tamhorn Park
| | |
| --- | --- |
| Tuesday we set off quite promptly as the forecast was not good for Wednesday, skirting around Nuneaton, and into open countryside. The landscape to the west was often landscaped spoil heaps and to the east when the hedgerows gave way, a landscape of fields away to hills in the far distance beyond the Ashby where we had been a few days previously. We lost the spoil heaps and gained more natural fields, slopes and woodland. Before long we were approaching Atherstone and locks for the first time in more than 2 weeks. And a lock-keeper even looked after us thro' the first of the 11 locks. In effect we are probably going down a hundred feet from 300 feet to under 200 so we won't need the oxygen masks from hereon! After 5 locks there was a stopping point and Nick decided he would take the bike and do the shopping. In next to no time he was back saying the town was close and well worth a visit, and it was. We both walked up with Caspar and found the town really attractive - the centre is like Newbury was years ago - lots and lots of independent shops and hardly any multiples. The High Street, which was quite long was totally unspoiled by 60's, 70's, 80's etc. plate glass shop fronts. We did our final shop in the largest Co-op (set back from the High Street) I have ever experienced, a veritable superstore where I found I could no longer use my home dividend card - we're in Midlands Co-op territory! We walked back to the boat and travelled on down the flight to lock 9 and stopped for the night in a lovely place with pleasant views and countryside around us. | |
| | |
| --- | --- |
| | On Wednesday it was grey and dull when we awoke but the day soon improved and it has been a really pleasant sunny day with a light breeze. Moving on to the next lock I decided that Lock 10 has to be awarded my favourite lock ever, golden fields to the west and a small landscaped area to the east with trees, grass and a picnic table. Well done British Waterways or whoever is responsible for that beautiful spot; Lock 11 was just average! We travelled on towards Tamworth and Fazely Junction and down two more busy locks. Yes, canal traffic is certainly hitting holiday peak time and this was even more marked as we turned, north on to the Birmingham and Fazely Canal. We finally found a pump-out (not many allow manual pump out!) at the British Waterways Site and travelled on in a north westerly direction. Lots of countryside, narrow bridges and boats - I was on the tiller when I encountered an armada of boats, well ten or more. We are now moored opposite Hopwas Hays Wood, where there is a firing range, (there is no flag flying so I guess we are safe) and looking down over the valley of the River Tame and more countryside to some high-rise blocks in Tamworth. As we had travelled through the outskirts of Tamworth earlier in the day, we only saw very many beautifully tended back gardens. It made us wonder whether there was a competition for the best kept canal side garden; I wouldn't have wanted to judge it! It just illustrates that you see a totally different perspective from the water! |
Thursday 31st July: Trent & Mersey Canal
| | |
| --- | --- |
| | We awoke to a dull but warm morning, and before long were back on the Coventry Canal. This does not mean we've turned around - apparently the B & F ran out of money and the Coventry Canal Co. completed this section of the canal up to Fradley Junction. We stopped at Whittington to get a few items I'd forgotten yesterday. It was quite a walk up to the village and was raining quite steadily on the way back. It has continued on and off like this all day. As you can see from the photo it was quite pleasant as I worked the swing bridge approaching the junction, and the canal was exceedingly busy. We moored briefly to change 2 gas canisters which we had to do over another semi-obliging boater (his boat, that is!) and then had to adjust to the first few locks on the Trent and Mersey. We are now locking up. The first few are approached under very narrow, low bridges and we found them quite fierce, so care had to be taken with the opening of the paddles. We are now moored just beyond Fradley Woods. Yesterday we had the deep red soil typical of Warwickshire, now it's more moorlandy with lots of brambles, our first foxgloves. some pines and rhodedendrons - it would be wonderful along here in May. I picked our first blackberries, just a few for our muesli in the morning. We are debating our future progress. We had planned to be in Stone for me to go to Meeting on Sunday but the area just after Rugeley is apparently particularly beautiful and interesting so we're not sure. Do we make steady progress up to Northwich, or stop and explore the Caldon Canal which is by all accounts exceedingly pretty taking one into the Peak District. We've not yet decided and our decision may be determined by a number of factors such as when/where friends/family might like to join us. |