Saturday 7th June: Marsh Benham
Well- we officially left Canal Walk just over a week ago, on a fine Saturday with neighbours and friends enjoying drinks on the wharf - the previous Monday Bank Holiday a trio of neighbours had organised a farewell party. We really will miss all our friends in Hungerford.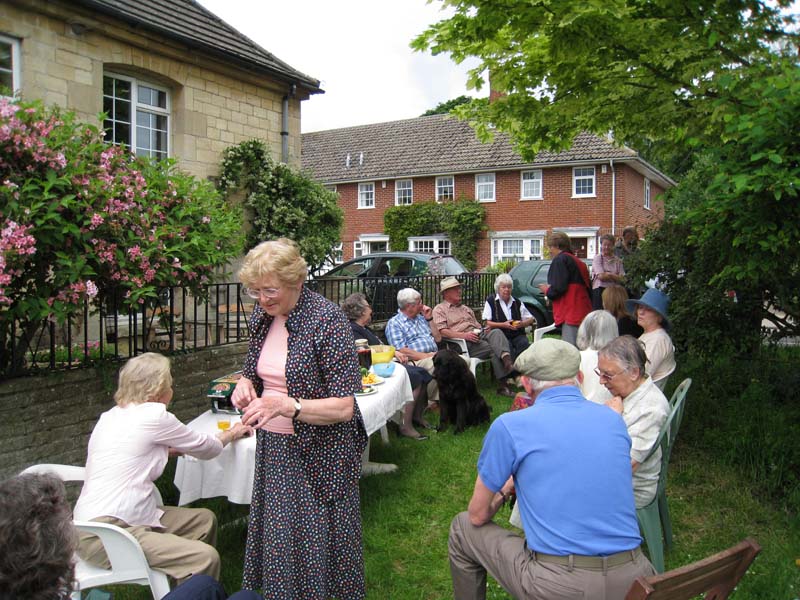 We seriously underestimated the task of clearing the house – it all seemed endless – the clearing, the cleaning, the agonising decisions as to what to keep and what to pass on, and mini "domestics"! Today I have been aboard Gloriana while Nick did the ultimate clear and I stowed things on board. Space is running out and Nick turned up tonight with yet more stuff!
Tomorrow the young boys Max and Ezra from Newbury Quaker Meeting, and our littlie, Anya, with respective mums Jenifer and Larissa, join us early-ish to travel on into Newbury. After Meeting for Worship Nick and I proceed towards Reading and the great beyond.
Having sorted the house it is now the boat which is demanding clearing, and in addition there are numerous technical problems to be sorted. We've just discovered that Calor gas bottles we got are a few cms taller than they were previously and stowing them in the gas compartment is more than tricky!
Gloriana was designed to cruise and all the storage capacity is on the port side so we have been listing a bit – we need to de-clutter and trim and we've barely started!
So many people say they are envious of our situation but I am beginning to feel a degree of trepidation! We just managed to skirt a fallen tree on route and a few days later British Waterways have still not cleared it and a double width boat could not possibly pass! We will be depending on British Waterways to keep the waterways clear and the locks in working order and if our home canal is anything to go by things are not promising.
But on a positive note – the countryside is wonderful; blue, pink comfrey, yellow flags line the banks and we've seen water lilies in several areas. There is every possible shade of green – we've lost the hawthorn and now the elderflower and wild rose are out!
Sunday 8th June: Newbury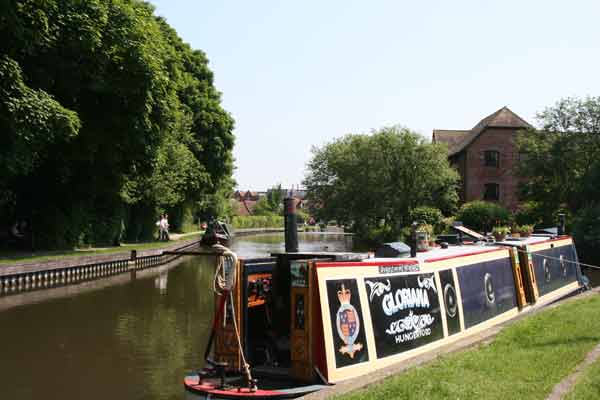 Sunday started as planned but we ended up staying in West Mills overnight (we'd forgotten what a pretty part of Newbury it is) and enjoying a couple of hours in the afternoon with Jim and Jacqui Bradshaw making short work of a bottle of Champagne! The decision to stay awhile longer was further eased by the unprecedented invitation from Tim (Furr) to dine in the evening (excellent and much appreciated) and then meeting Gill and Dave Glare at their allotment close to West Mills (impressive!) - they even had a bottle of wine to enjoy after the watering was done and the sun set. I had a quick inspection of Paul and Elizabeth High's allotment while we were there (I'm impressed with your throne Paul, or is it Elizabeth's?)
Monday 9th June: Woolhampton
Monday started well but soon went off the boil when the pump-out rinse failed to clear and Nick had to dismantle the toilet and clear a blockage in the "you-know-what". But that done we made headway eastwards and moored up above Woolhampton lock for the night. There was a mini emergency when there was a phone call from the estate agent - we had double locked and not left both keys with the agent! Thank goodness for wonderful family and still being near home - Tony came to the rescue and ferried the keys from Thatcham to Hungerford! The canal is looking beautifully summery but is hard work - the locks are tough and the Kennet is flowing strongly so weirs and overflows are tricky. We intend to have a quieter day tomorrow poodling through a few locks and the odd swing or lift bridge. The Thames was on red alert because of last week's deluge - it might still be on amber for the next day or so - consequently no rush! The next lock you need to sit in the lock till the swing bridge alongside is set and then "go for it" because of the cross current! Aaagh!
Tuesday 10th June: Woolhampton
Today however, we decided to stay put! Getting up around eight-ish, we had a light breakfast and before long were standing talking to Trevor, another long-term boater, whilst Caspar played with his collie, Bill. Before long it was time for coffee and the three of us continued to talk, Trevor recounting his trials on the Thames with the heavy rain and high flows. However his talk of his own continuous cruising over the last couple of years convinced us that our decision to "go for it" was right. We are so looking forward to the north country! The afternoon was spent (by Nick) in the garden of the Rowbarge sharing five or six pints of Good Old Boy with Trevor after both had helped another two boaters through the challenging exit from Woolhampton lock. This little cameo is a great example of the canal community in action and we look forward to meeting again with Trevor and Bill. He has a blog, trevbillbeau, which makes good reading.
Wednesday 11th June: Theale
This morning it was our turn to go through the Woolhampton lock: a very strong current grabs the boat as it exits the lock tail and some dexterous use of the tiller and throttle is necessary to get away without mishap. Trevor prepared the road bridge for us which, as for the boaters the day before, was most helpful. Further on, as we prepare to drop down in Aldermaston lock, where it took three of us, one bouncing on the balancing beam, to close one gate, Jean joined us and travelled to our overnight mooring just short of the Theale swing bridge. Jac walked up to the station with Jean and on to the town to do some shopping and to go to the chemist for some serious hay fever remedy for Nick. There's an issue with the fridge -it's not cold! (fortunately due only to low batteries: another job for Nick!)
Thursday 12th June: Reading
After a night of heavy rain we journeyed onwards towards Reading to be hit by another mini crisis - I realised 3 locks and an hour on, that I hadn't possession of the boat keys. I told a girl on a boat locking up and they found them as I had expected at the electric swing bridge where we started - we've sorted their return, I trust, thro' our support team! Again, the incident highlighted the friendship available on the canals; Kate, the girl on the boat, freely gave me her BW key and we are so pleased to be able to give ours in return. Coming into Reading on the canal you see very little of the busy, bustling town and then, there you are, right in the centre, ready to whiz through the narrow traffic-controlled bit thro' the Oracle! It's enough adventure for me for one day. We are now in Chestnut Walk under the prison walls and I sallied into town for a new tag for the dog with boat name and mobile numbers on. So tomorrow it's the Thames. Our plan to do a fortnight or even a month on the Thames is being revised as I have to be in Oxford next Thursday! We might do just a week and set off up the Oxford Canal which will allow us to chill out!
Friday 13th June: Pangbourne
A restful night in Chestnut Walk. A bit of noise when the young offenders had recreation or something for an hour then the night was quiet. Setting forth onto the Thames seemed like going to sea after the canals and we didn't seem too professional in Caversham Lock! As we approached I asked the lock keeper which side, he said 'Which side do you want? I said 'Your side' (it seemed safer!) Of course Nick at the back did not hear and by this time we were heading for the opposite side and consequently ended floundering between the two and feeling embarrassed overlooked by a couple of big plastic gin palaces! Onwards thro' Caversham and we paused outside Trish and Edward Brazil's place and Edward came out and invited us to stop. We spent a couple of hours having a leisurely coffee and catching up with respective family news. Then onwards upstream and thro' Maple Durham lock and on towards Pangbourne Meadows where we stopped behind a small cruiser and the couple who happened to be friends of Pauline Logue. I sallied forth into the village and knocked on several doors - no one about - later I found out that Kath Hodge has moved within Pangbourne. Several people recognised me including Pat Wilson and Barbara Caiger Smith. After supper first Eve Neiland and later Martin Holiday joined us for a particularly jolly evening drink and it was getting on for midnight when they stumbled off.
Saturday 14th June
Today I did some Pangbourne shopping and after coffee we set off for Goring where there was a jazz fest all day.(10/10 in the Pangbourne Lock this time!) All the moorings were full so we had to turn back and we ended up with me having to scramble up a steep bank and Nick to climb a tree to tie up the bow rope. Later we were able to secure a mooring nearer the lock.There is still a cool wind but it is still very pleasant. I was busy all afternoon sorting our evening meal - the head of Hungerford Nursery, Suzanne and her husband Jonathan came for supper and matters about school were discussed after our meal. Weather still good tho' quite chilly in evenings.
Sunday 15th June
I had tried to get a lift to Wallingford Quaker Meeting from a couple of folk who I discovered from our members list lived in Goring and Streatley. Unfortunately one wasn't going and the other wasn't returning my way so I had to abandon that idea! We then awaited Alan and Kim and Kim's sister Debs who had flown from the other side of the world to a conference in Iceland. We had a light lunch then cruised back Pangbourne way (6/10 going into Pangbourne Lock) and after Alan had caught the train back to Goring to collect the car we had the option of a curry takeaway or a curry takeaway. It was most acceptable and Caspar enjoyed licking the dishes. Kim and Alan have a busy 3 weeks with Debs including Paris next weekend so we won't see them for a month, and then maybe in Warwick or Stratford.
Monday 16th June
Another cold morning, but during the day it really warmed up. Jac did launderette and shopping and coffee with Jen Holiday - lovely to make contact with her again. Nick meanwhile did train to Newbury, walked to Speen to collect the TR, drove to Hungerford then Bracknell to collect some electrical gizmo for the boat and to deliver the car into Alan's safekeeping! He was back in Pangbourne early afternoon and starving! Jean brought over the dreaded boat keys and stayed for supper. Caspar is chilling out now and doesn't follow us around, seemingly anxious that he might be left behind!
Tuesday 17th June
Another cool start and a gentle cruise upstream and beyond thro' Cleeve Lock taking on water and we then moored up on a meadow where Nick installed the new gizmo! Caspar is certainly chilling out - he went for a dip this afternoon and goes further from us and the boat. We actually got him using the new improved extra wide gangplank. I've started taking down old curtains and cleaning brass rods. Forecast not good for tomorrow so will probably continue with that and we need to get back to Goring so I can catch train to Oxford on Thursday. Cool but beautiful evening.
Wednesday 18th June: Goring
Back to Goring after lunch: staying here overnight to allow access to the train in the morning. Thought a lot about the sadness in Scotland as the Scots folk bid a sad farewell to Lizzy Gartshore. Have been looking in Quaker Faith and Practice and these famous words by James Nayler can support the sad and bereaved:
"Art thou in darkness? Mind it not, for if thou dost it will fill thee more, but stand still and act not, and wait in patience till Light arises out of the Darkness to lead thee"
Thursday 19th June: Cleeve
Weather very nice today although a very strong wind. Jac left for her appointment at the John Radcliffe fairly early. It was all a very benign experience - trains on time, and squeaky clean, as were the buses, with pleasant helpful drivers. Saw the registrar and it's good news - as I'm well. They need to continue to monitor and will want to know of any changes. The 'blip' in the nerve is surprisingly big - 2.7cm which surprised me. The chap was English, thorough, pleasant and unhurried and I was heading back into the city centre in no time. A quick dash round the Oxford Covered market for what looked like some fresh mackerel and yummy English asparagus and in no time I was back in Goring. We travelled upstream through Cleeve lock where we again topped up with water, and are moored this time where the further boat in the photo above is, entertained the local elderly farmer, who was cutting the meadow to a cuppa and enjoyed our meal in the evening sunshine. For those who know this stretch of river we're just downstream of the Beetle and Wedge at Moulsford and of Moulsford Prep School where I used to teach. At some point tomorrow we head towards Wallingford. We will stay local so that this coming Sunday I will indeed make Meeting for Worship there. For anyone wondering how we're coping with the locks it's generally 9 or 10/10 now, though I wasn't entirely professional climbing up the the slippy lock steps in Goring this afternoon, rope trailing round my legs and the boat overtaking me!
Invitation : We will be between Wallingford and Oxford until 27th June, then the southern part of the Oxford Canal and we do hope that friends and family will ring us if they would like to join us for a half day or day. The river is particularly interesting near Dorchester with tall hills and Wittenham Clump to the south and some lovely walks.
Friday 20th June: Wallingford
A very relaxed start, dawdling up to Wallingford to allow the batteries to recharge. Wallingford is very pleasant but its facilities for a narrowboat with a dog you can't pick up and carry are limited, to say the least: Caspar couldn't disembark. So after some separate shopping in the town we continued up towards Benson identifying a suitable mooring a short way out. Weather-wise, the morning was nice, but the cool wind which was very evident last night due to its strength is beginning to pick up again: the forecast is not good for the weekend! Jobs continue to be done in small batches: now that we have a battery monitor the guesswork is over and it is easier to manage the power system.
Saturday 21st June: Wallingford
Imagine this if you can! Between 8.30 and 9.30.pm on Saturday evening two heads are bent over their work under a work lamp (many thanks Alyce and Hans) ! Jac is busy sowing curtain rings onto the new curtains while Nick is busy working on the new ties which he has designed. You should also note we are sharing the scissors and the needle threader! Sweet!
Jac bought the cord in Wallingford's charmingly old-fashioned independent department store, a wonderful taste of the past. We arrived in Wallingford on Friday afternoon and initially found it narrow boat unfriendly. There was some smart mooring just beyond the bridge but it was not at all narrow boat friendly, just gin-palace boat friendly. Caspar could not get off or indeed if he had managed it he would have injured himself getting off. We have divided boats into roughly 4 groups: narrow boats, gin palaces, soap boxes (mostly hired), and small launches. After a quick shop we had to move on but luckily found some space up-stream away and stayed there for a couple of days as the forecast was not good and I really wanted to say farewell to Reading Monthly Meeting by attending Meeting for Worship in Wallingford.
On Saturday we did jobs on board. Nick achieved a lot building the locker for the generator, priming it and scraping all the rust from the floor and treating it. We were moored alongside the Castle meadows. I walked into town and hit the carnival and found my way back through the Castle gardens which are lovely but not dog friendly. It was a grey, cool day and a bit depressing considering it was the solstice!
Sunday 22nd June: Wallingford
Sunday morning we woke at 6-ish to brilliant sunshine but sadly it had completely clouded over by 8 o'clock. I actually fished out some warmer trousers that were stowed away under the bed. I left Nick starting yet more painting of lockers and found Wallingford Meeting House. It's lovely - I've been to other old Meeting Houses but they were all much bigger - Wallingford is on an intimate scale. A lovely Meeting, and guess what! The "Live Adventurously" advice was read, because it was the week to read it! Back to Gloriana again thro' the lovely Castle gardens and the meadows with the cows and a benign bull, a quick sandwich and a read of the Sunday papers and we leave to arrive at Benson just after the lock keeper's lunch break. As we proceed it is really it is sunny but extraordinarily windy and we see our first Thames kingfisher - so wonderful, like sapphire quicksilver! As we pass Shillingford Bridge and approach Day's Lock it seems to get increasingly windy and we notice not many folk are brave enough to be out on the river. I suggest we moor up when possible rather than make for our intended Clifton Hampden overnighter. So quite soon Nick sees a lovely grassy bank - the wind is blowing strongly from the SW and we have no trouble at all getting the boat onto a NE bank which we will almost certainly leave only when the wind drops!
A literary note: I finished Patrick Gale's book, "Facing the Tank" a few day's back. It is an early book of his. Entertaining and witty with a religious setting but nowhere nearly as good as his recent book, the one recommended by Richard and Judy. Patrick Gale is, I believe, a Quaker and in the recent book (I've forgotten the title!) he writes about a Quaker family where the mother is bi-polar and a talented artist. The subject is challenging and is dealt with huge sensitivity, the strong Quaker values of the father holding the dysfunctional family together, as far as is possible. At Oxford Station I couldn't resist a 'buy 1 get another 1/2 price' deal and have consequently read Moshim Hamid's "The Reluctant Fundamentalist". It was beautifully written, spine-chilling, thought-provoking and hard to put down. Highly recommended.
Tuesday 24th June: Abingdon
Sitting alone on the boat in Abingdon tonight and have enjoyed 2 summery June days. We travelled on upstream on Monday, stopping for an hour or two just beyond Culham Lock where Jim Bradshaw joined us for an early lunch in warm sunshine. We travelled on to Abingdon, through the lock, as we needed water, stayed up above the lock enjoying a warm and balmy evening, eating alfresco. In the morning we dropped down to a mooring just upstream of the lovely old bridge and town front, had an early lunch and Nick met Alyce and Hans for a lift back to Hungerford. He's staying with Emm tonight and heading back here tomorrow. It's not such a balmy evening but I think that fishing out my warmer trousers a couple of days ago did the trick! I spoke to a family in the next door boat - 2 women had been enjoying a baby all day - I was gobsmacked to discover that the older of the two was the extremely glamorous great granma!
Thursday 26th June: Oxford
I'm sitting just downstream of Folly Bridge in Oxford and it's raining quite steadily. We arrived early afternoon after a pleasantly breezy trip upstream and I spent an hour or so at the launderette. Nick took the dog for a walk in Christchurch Meadows and returned just before the rain. We spent 3 nights altogether in Abingdon - it is the most inviting and pleasant town. In spite of the new large Waitrose in the centre (there is already a large and expanding Tesco out towards the A34) there are still a number of independent stores: a wonderful haberdasher, bookshop, hardware/deli and importantly, Frugal Food, my favourite healthfood shop, where they still sell rice and oats from sacks on the ground and herbs and spices from jars at ridiculously cheap prices. Sadly no independent butcher, baker or greengrocer - I wonder why!
When Nick returned on Wednesday morning he brought the inventory for 20 Canal Walk which I found really depressing. Now, I know I'm not a world class housewife, and I admit that in the clearing and cleaning, I became aware of my shortcomings in that area, but for the last 2 months before we left I worked hard cleaning. The comments "grubby" occurred so frequently that I began to wonder whether I had imagined all that hard work! I guess the only way you can get the place seriously clean is to have a team of cleaners in as you leave!
While Nick was away I finished "On Chesil Beach" by Ian McEwan.The previous day in 'The Independent' I'd read a celebrity saying they found the book dreary and that it was a book to be put down and not picked up. I understood this to an extent but it was not a long book and I found that I empathised with the characters, possibly because they were my contemporaries. The end of the book, definitely made it worth the effort - although the outcome of the honeymoon night was disastrous, it was what happened much much later that was significant and truly poignant.
On Wednesday, still smarting from the comments in the inventory, I did some intensive cleaning on Gloriana - at least there isn't the space to cover but it is all awkward - much has to be done on your knees and getting into the backs of cupboards requires you be a bit of Houdini! While we are travelling the front of the boat needs cleaning every day and looks shabby two minutes later!. A note to my Quaker friends on the welfare of the lovely miniature orchid you so kindly gave us. I confess it wasn't looking too happy and realised it was too draughty, just inside the open front door while we are travelling, so it's been moved into the galley area, protected from the chill and is consequently altogether happier! We still have too much clutter - every time we sit down to eat we have to de-clutter the table and there really isn't anywhere to put things!
Friday 27th June a.m.: Oxford.
It's a beautiful morning and because of a disappointing forecast I'm up at 7 to walk Caspar downstream. Across the river is Christchurch Meadows, and to my right I pass 2 beautifully manicured cricket grounds with elegant pavilions and then a field with some handsome horses including a piebald with her foal, and further still a nature reserve which we wandered around. On the way back I caught glimpses of the spires and towers between the trees. It's all beautiful and Oxford is coming alive with runners and cyclists on the tow path and rowers out - lots of women crews, apart from a young male coach! After breakfast and a quick tidy, I leave Nick doing the interminable rust rubbing down to do a quick 'reccy' upstream. I end up crossing the river by an elegant footbridge and up into the shopping centre to buy the few provisions, and then the covered market to get fish and veg for supper. I'm getting quite tired by the time I get back to the boat but before long we're off on out last experience of the Thames for a who knows how long! We had a bit of adventure attempting to get up a part of the Oxford Canal which it became clear was no longer navigable! In the process a weeping willow knocked our cast iron bar-b-q from the roof. I guess our guide is really old and out of date! So we pass thro' our last Thames Lock and very soon we are passing thro' the narrow, narrow, really narrow Isis Lock onto the Oxford. We were correct in our decision to make a reasonably early start and by the time we are mooring in Jericho at midday a gentle rain is falling.
Saturday 28 June: Oxford
We're still in Oxford on the canal in Jericho. We are moored by a huge new development of apartments/flats on our right which are right down on the canal. I guess they are really expensive but I wouldn't like to live in them - I've tried to like the modernity but failed - they are grey and grim (although they are redbrick) and the underground car park was brightly lit all night. The small boatyard a few hundred yards is under threat from developers which is a real shame. Yesterday wasn't so miserable weather-wise after all. Nick spent most of the remaining day doing tax and VAT returns on line, worth doing because he's due a reasonable rebate. In the evening we went for a walk and discovered that the heart of Jericho, which turns out to be especially charming with a decent size Co-op and some lovely independent shops with real bread, greengrocery and a small fishmonger. The houses further up the canal are beautiful terraced 4 storey places with charming and varied extensions and gardens, so the apartments next to us seem even more out of place.
Today I walked into the city while Nick did some extra works - there appears to be lots to keep him occupied. In the afternoon Alison Jones visited us. As she walked up the tow path it could have been Dorothy (her mum). It was lovely to see her and we enjoyed a summery treat of Pimms and strawberries and cream - well it was a sunny, June afternoon, an afternoon where we shared memories from long ago and those not with us now, and the sadness of debilitating old age.
When we left home I had to be particularly selective when choosing which books to bring. One book which I selected had been sitting on my bookshelf unread for a number of years was "Learning to Dance" by Michael Mayne, a cleric who apparently was the former Head of Religious programmes for the BBC. I am finding it a really worth while read and recommend it to the Newbury Quakers Book Group. I've just read the 3rd Chapter, entitled 'The Stillness at the Dance's Centre' where he argues persuasively for importance of finding God through quiet and peace, the natural world and the arts. It seems to me a scholarly, cultured and hugely sympathetic book.
Sunday 29th June: Thrupp
Well, it's Sunday and I was really keen to go to Oxford Meeting. I decided to go to the early 45 minute meeting as we were on a 48hour mooring as Nick was anxious to press on. It's a lovely Meeting House and I was made welcome. The Oxford Meeting House has a lovely traditional feel tho' it' not so very old, apparently. It was a lovely meeting with at least 30 minutes silence and then 2 quite profound ministries followed by a light hearted but pertinent addition. I thought o Bernard's idea about taping ministry because I wanted to remember the deeply considered thoughts. I may share the gist of them with anyone who is interested at the end of this entry. I introduced myself to Peggy Heekes who I remember was the Berkshire Children's Librarian many moons ago when I taught at Compton. She sent her best wishes to Newbury and Reading Monthly Meeting. Oxford is certainly a vibrant Meeting with lots going on every day of the week.
I walked back to Jericho and did some shopping in the Co-op and bought some real bread from a small deli, got back to the boat and after a quick coffee and snack we were heading north. The Oxford is so very different from the Thames and the K&A. We are going into locks and under lift bridges in channels just the width of the boat and under bridges which are really low. Nick winds me up by not taking down the back chimney and getting thro' by a millimetre! Quite soon it becomes really rural but the wind picks up and buffets us across the canal when we are in the open. At 4.00 we arrive in Thrupp, a really lovely canal-side village and I think tonight we may have our first meal out.
The family on the next boat appear to have adopted Caspar - he is being extremely spoilt and fussed and is loving every minute, tho' he wasn't impressed with their cat who know exactly how to deal with troublesome dogs - all he could do was back away sharply and bark half-heartedly! One of the people on board is a neighbour of Trish and Edward in the Warren. I took Caspar for a walk tonight and a while upstream crossed a bridge just as a lady was coming out of her house to lock up the church at Shipton on Stour. I asked if I could take a quick look and ended up chatting, saying I had been to Quaker Meeting in Oxford that morning and she told me that her mother had been an attender there and how they had appreciated her Quaker Memorial Service. She then directed me back to Thrupp thro' the churchyard and back through fields of green wheat dotted with poppies which looked wonderful in the evening sunlight. Yes, we did go for an evening meal at The Boat and yes, it was good not to have to prepare and clear up a meal in Gloriana's toytown galley!
Quaker Ministry 1 (as I remember) Point 1: The theme common to all faiths is the subduing of the ego and a contact with something transcendental. Point 2 This is not easy. Story illustrated by Moses who leads his people for many tedious years and they reach a barren spot with no water. God tells Moses and Aaron to gather the people together and to strike a particular rock. Water gushes forth. The only trouble is Moses claims the glory and God is displeased! ( It's that ego!) Point 3 Ministry points out that as a religious group Quaker's Business Meetings call on members to lay aside their egos to reach the right decision having listened to each other and awaited spiritual guidance. (Note the points are mine) Ministry 2 A member was just back from the Lake District where he recalled a shepherd berating his recalcitrant sheepdogs with "Come By" That, and the previous ministry had caused him to bring to mind words of Isacc Pennington which he quoted slowly in a wonderfully deep, rich voice. 'Give over thine own willing, give over thine own running, give over thine own desiring to know, or be anything, and sink down to the seed which God sows in the heart, and let that grow in thee and be in thee and breathe in thee and thou shalt find by sweet experience that the Lord knows that and loves that and owns that and will lead it to the inheritance of Life which is its portion'