Monday 1st September
We set off back towards New Mills, stopping for Nick to walk up to Disley to collect TV components. The morning is really quite pleasant and we intend to walk into New Mills to do the Heritage Walk. Leaving the boat. we chatted to Lizzie who lives on a boat and enthusiastically told us about working with young adults with challenging behaviour. We walk into town collecting bread from "the best local baker" and then start to follow the trail through The Torrs where the River Goyt passes below the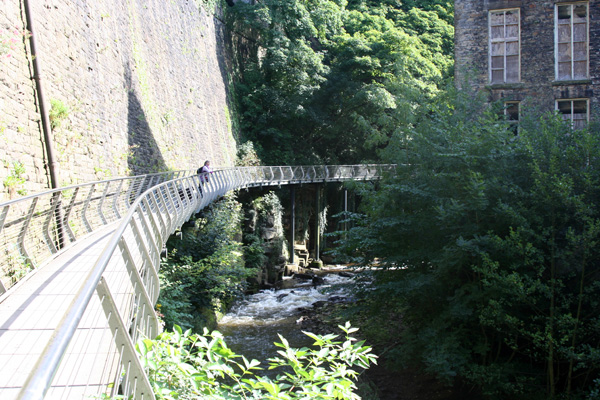 town in a gorge with derelict mills and impressive old bridges and viaducts and is joined by the River Settle. I loved it, it reminded me a little of parts of Rome! Sadly the Archimedes Screw, a recent installation driving a 70kW generator, was not working. We wondered whether Caspar would set foot on the amazing Millennium Walkway alongside the edge of the gorge and a sheer wall. For a dog with vertigo who had to have a double width gangplank built to get onto the boat over water 2 feet below, he amazed us by leading the way! Following the guide book instruction and map we still managed to go wrong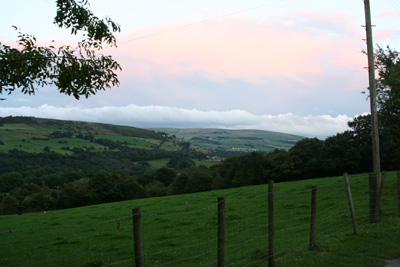 , and after a climb encountered an ancient bearded character plus dog rooting thro' a litter bin for aluminium cans. Eric Smith proved to be an entertaining character, a real countryman. having lived in New Mills all his life, with a passion for guns, hunting and shooting. His visits to the south were for game fairs. He hadn't agreed with the cost of the walkway and was surprised by my enthusiasm. He put us back on track and we trekked back down into the gorge and met and chatted to chap with a dog who turned out to be another solo boater who was familiar with this area and the Llangollen and happily shared his knowledge. Sadly we didn't finish the trail which took in more architectural features in the town and a viewing point. I'd taken all the exercise I needed! So with a few extra bits of shopping we headed back to the boat for lunch and set off back towards Marple: we have moored with a glorious view, right by Splines Aqueduct where a stone arch allows a cobbled track under the canal. There has been a fair amount of sunshine with just a few light showers today. but sadly sit seems this may be the best day of the week.
Tuesday 2nd September: Marple
It's a gloriously bright clear morning, but distinctly chilly, so much so that I put porridge on before I sallied forth with Caspar, returning with some beautiful blackberries which we put on top of the porridge with yoghourt. We set off, Nick having adjusted the fan belt, and arrived in Marple before 10.00am. We took on water and rid ourselves of rubbish, which accumulates surprisingly in five days. By the time we have walked into town and back the best of the day is over and sometime after one o'clock we have the first of the promised heavy showers with hail.
There's not a great deal to report except we are now moored next to a boat called 'A Perfect Sin' - I like that name tho' when I analyse it I get philosophical. 'Sin' suggests something bad but the worst it can be is indulgence, and indeed I sometimes feel that our Odyssey is pure indulgence, in spite of the poor weather we have experienced and the prospect of winter on board. It has always been Nick's dream which I have gone along with, but I confess that I already wonder whether, like many others, I could carry on for an extended period. I am already planning routes for next year and wonder if we will have the time to see all we want to see in a leisurely enough way to fully appreciate it all. I love seeing new places and people and shopping in small towns with lots of independent shops is fun. Of course I'm not the one solving the never ending technical issues, but Nick almost seems to thrive on the challenges even though they have to be met in awkward situations, in cupboards and confined spaces. At present I'm reading an account of Keenan's and McCarthy's journey to Chile ten years after their release after 4 and 5 years as hostages in Lebanon. It appears they talked of setting up a yak farm in Patagonia while in captivity. Because the book is about a journey to unfamiliar territory it resonates with me. After all, Nick and I are doing the same and this blog is a form a travel writing so pieces like the following are significant:
"As we discussed what travel writing should be I remember remarking that the travel writer has to engage the reader with a new and imagined present. He has to convey the essence of an incident or place rather than the fact of it." and "All travel is, after all, is a journey in time and in mind. Like many people I believe that physical landscapes are a mirror of, or a key into our inner landscapes." B.Keenan
I know that I will never achieve the literary heights achieved by Keegan and McCarthy but I hope I'm improving. I confess I feel in tune with the countryside and towns around here, the dry stone walls, the cobbles and steep steps, the towns with terraces interspersed with small industrial units that are not huge plastic monstrosities, the friendliness, the way dramatic countryside and town blend. I feel privileged to be healthy enough to enjoy it all and indeed I am coping with the physical demands better than I expected.
Returning to the reading material above, besides learning about Chile, the people, the place, the history and culture the book is truly fascinating because of the different perspective offered by the two writers. Like Nick and myself, they are travelling together with little respite from one another. Let me tell you of two incidents today. Incident 1: Nick has just had a shower while I prepare a lovingly put-together lunch. The tiny galley has little space and is a tad messy. As Nick moves thro' he notices the gas lighter is not in its home so he leans over in front of me and pointedly puts it in place. I tell him to never, ever to do it again! An hour later as I am writing I say "As you are just standing there would you fetch my book from the back of the boat" He wanders off to get it saying "I'd find it quite difficult to do that if I was just standing there!" Let me also relate a minor drama. It takes place when I have just started the washing up while a thundery shower plus hail creates the backdrop. Nick has closed the front of the boat hurriedly and forgotten the dog bed and I dash out leaving the tap running. The consequence (and this is partly because of the toy-town size sink with no overflow!) is that within less than what seems to be a few seconds Nick discovers water flowing onto the galley floor and says he will need to fix a dead man's handle on the taps! So you see, he has to cope with my dappiness, and me with his pedantry, and we both like to do things like we like to do things. Somebody said early on our journey that if you do it 'a deux' you need to be good friends; on the whole. I guess we are!
Wednesday 3rd September: High Lane
It was 8.15 when we surfaced and probably missed the best of the day. After a quick breakfast and doggy walk, I left Nick to do a pump out while I launderetted. Another boat slipped in to the sanitary station while Nick was turning the boat around and it was nearly midday when we set off. As we prepared to go to the pub in High Lane after mooring less than an hour later, the heavens opened. The rain was heavy until just before dark and now the dreaded forecasters are denying us the good day they had promised us tomorrow. Furthermore Friday, when Simon and George are coming looks especially dire! We need an imaginative approach like food, drink, games, whatever. Tonight we had a fire, not that it was especially cold but it was exceedingly cheery and cosy! We were just exclaiming on how comfortable we were when poor George rang with a serious problem with water gushing into and over her kitchen sink uncontrollably: it transpired that she was receiving bathwater from her upstairs neighbours! Lots of emergency advice while the plumber was on his way! We just hope it won't prevent her coming on Friday.
Thursday 4th September: Bollington
Another cool, porridge, morning and a fairly prompt getaway after Nick fetched bread from the excellent baker in High Lane. It wasn't raining but was dull and not at all promising. In spite of this I still cannot resist sitting up front to watch the world go by. We had Caspar walking by himself with the encouragement of the odd biccy. For the last stretch he appeared to have grasped the idea that biscuits came at every bridge hole and seemed quite relaxed. It had been raining for a while when we eventually reached Bollington. Before lunch and when the rain stopped I went for some shopping, Co-op and family butcher (since 1860 and photos to prove it!). He actually had the names of the farms from where the beef, lamb and pork came this week. A bacon hock was bought for soup. Yes, it's that Autumnal! In the evening I took Caspar for a walk up the hill. At the top of the lane I turned and there was the most amazing sunset with dramatic blacks and purples and views Cheshire way, hills in the distance and a clear sky silhouetting a mill with castle-like turrets. I really must get a pocket camera. Fire lit again: we'll have to start collecting wood soon!
Saturday 6th September
| | |
| --- | --- |
| The weather is horrid as we travel towards Macclesfield and remains so all of Friday until the not so early hours of Saturday. In spite of this George and then Simon arrive and we walk back to the boat, have lunch and head back to Bollington where the weather is particularly bad as Nick turns and moors the boat. He and a heavyweight chap need to use the iron railings of the mill to haul the boat in as the wind appears to gust badly just there. I acquaint myself (with lots of help from the others) with my new camera, a Canon Powershot which is compact enough for my pocket but a comfortably fits my hand. We light the fire, share an evening meal and experience the pleasures of Chinese chequers which is new to the younger generation. It is lovely to have family here with us but terrible that the weather is so ghastly for them. We wake to an improved day and by the time we set off after shopping it is really quite pleasant, and George, Simon and Nick enjoy each others company on the stern. We pass through Macclesfield and stop at the Olde Kings Head, an 400 year old pub by Gurnett Aqueduct, and we actually sit and enjoy the sun. Simon is able to set my camera for a successful picture of us all - we are laughing because a car crossing the path of the shot actually sees what is going on and stops for the picture! | |
| | | |
| --- | --- | --- |
| | We have lunch and then travel a little further to a canalside 10-pin bowling venue. I think the last time I did that sort of bowling was on Greenham Common when I was a teenager! It's great arm wrenching fun and we return to the boat and Caspar for a quick stir-fry and quiet evening. all of us reading. | |
Sunday/Monday 7/8th September
| | |
| --- | --- |
| | On Sunday morning after travelling onwards to a winding hole we turned back towards Macclesfield. The Furrs trooped back to the Olde King's Head while yours truly cooked a Sunday roast. It's a doddle, certainly easier than the full English breakfast which was attempted the previous day! We then had to proceed because we were expecting Patrick and granddaughter Elanor. There was just a short time to socialise before Nick had to leave with Simon and George for the station. Elanor had to wait patiently for Nick to return to go for a short ride, That, of course is obligatory when she visits! After that I pack to go with them to share the experience of Elanor's first day at big school the following day. It was only 2 hours from 1 till 3 but she spent the whole morning dying to get into her uniform and was too excited to eat! It was all great and after school Pat returned me to the boat in Congleton. Nick had travelled all the way there working the Bosley Flight of 12 locks solo (well, he did have the Caspar for company!) As we arrived Elanor was able to see a narrow boat passing over the road on the aqueduct. No ride for her this time as Patrick wanted to avoid the rush hour traffic. |
Tuesday 9th September

After a rainy night and early morning we travelled on and by 3 o'clock turned north west onto the T&M locking down towards the Cheshire Plain - this stretch is called Heartbreak Hill as there are 23 locks which are in groups of 2 or 3! The next one is always just round the next corner and there's never time to put the kettle on! You need a full day to do it! A lot different to the idle cruising on the Macclesfield and good exercise! It was very busy but as a number of the locks are in pairs and there were boats coming up, there was not a lot of hanging about. We did just four so there are nineteen tomorrow! There was a lovely bright, light sunset after a very fine shower: amazingly, no rain is forecast for tomorrow.
Wednesday 10th September: Wheelock
We were just surfacing this morning when a boat went past indicating that the lock below was empty, and by 7.30. we were through what was the first of 23 locks. It was quiet at first and really quite rural. We made a couple of brief stops for breakfast, coffee and lunch and were in Wheelock, just south of Sandbach, before 3 o'clock. The second part of the journey was quite sociable - although many of the locks were twins there were queues when singles held us up. Then everyone helps out and chats about where from, where to. the weather, place of origin, whatever. I crashed out for an hour then found the village store - not impressive - but the chip shop opened at five, so fish and chips it was! We moved on to a quieter spot, Paddys Wood, away from noisy roads after supper and are moored in pleasant countryside but there is quite a lot of wind noise this evening -it makes a change from rain!
Thursday 11th September: Middlewich
A moderately early start, three locks and we were in Middlewich by 11 this morning for a late breakfast, passing through a fairly industrial area - salt and chemicals - before mooring by a busy road just south of the Middlewich Arm of the Shropshire Canal which will take us to the Llangollen next week. Meanwhile Nick has to finalise arrangements for this weekend - car hire and find a moderately secure place to leave the boat. We can leave it where we are, or travel on to Northwich possibly leaving it in a marina. We decide late on in the day to do the Northwich option and travel down the Middlewich flight to moor just outside 'The Big Lock', a pub (believe it or not) standing by a double width lock. This lock is bizarre as it's the first of its type we've negotiated since the K&A and the Thames and is the only one! And we were especially delighted to hear that Patrick and Elanor will join us tomorrow to do what is apparently a particularly pretty bit of the canal before we reach the heavy chemical industry outside Northwich. Elanor will bring her school uniform as she has to be at school by 1.00pm.
Friday 12th September: Northwich (on the T&M)
| | |
| --- | --- |
| Our visitors arrived at 9.30 just as we prepared to go through the Big Lock, then it was plain sailing all the way to Northwich. After an hour and a half we stopped in a beautiful area where the canal was particularly wide, I guess because of subsidence. Across the cut was a bank of reeds and to the south a field with Canada Geese in the foreground and cows and calves in the distance. Within minutes a swan was tapping on my kitchen window and Elanor fed it, along with ducks and Canada geese. We also enjoyed watching grebe diving, checking out how long they were under and guessing where they would appear. We had a sandwich lunch after which Elanor changed into her school uniform. Nick chatted to Ruth and David on Winddrift. It appears they are staying put over the weekend and would keep an eye on the boat if we left it alongside them. This was excellent as all we had to do was deliver our lovely visitors to Orchard Marina, which turned out to be just close to Elanor's ex-nursery. Nick set off on the bike to locate the car hire place and when he returned we stayed there awhile, sharing a cuppa with some canal walkers. We then returned to the magically peaceful place. It was hard to imagine the heavy industry of Northwich just a mile or so way. To enhance the beauty of the place there was a rainbow. Ruth and David came and shared a bottle of wine with us and it turns out that they, like us, are considering winter on the Llangollen. When they left we observed a beautiful sunset with spine-tingling skeins of Canada geese encircling our lagoon. | This place is perfection! But we'll be bidding farewell to our floating home tomorrow for three days. It will be lovely to see Canal Walk neighbours (sadly, minus Alyce), my sister, and Friends at Newbury Meeting. |
Wednesday 17th September: Northwich (on the River Weaver)
We left the boat mid morning on Saturday to collect a hire car and travel south. It was really great to see friends (capital and small letter!), neighbours and family but I'll not explain in detail as we were land-based. Except I'd like to say a huge "thankyou" to all those who were so generous in entertaining us.
We left the boat rather regretfully on a beautiful morning and returned on a grey Tuesday and it started raining as we arrived, leaving me feeling a little sad and regretful. When is the weather going to improve? I'm not unrealistic but we honestly haven't had a pleasant, settled spell since the end of July, just the odd half day and most tow paths are as water logged as you would expect in winter! No wonder I felt low, trekking a mile along with rucksack!
However David and Ruth entertained us to drinks after supper and this morning, wonder of wonders, the barometer is rising and it hasn't done that for ages! We set off towards Northwich and the Anderton Lift. Apart from passing through the ICI chemical plant the journey was pleasant. Just before the lift we stopped for pump-out and washing and then booked for a 3.15. descent which was impressive - a bit like a flight in that it takes twenty minutes being directed, getting into position to enter the chamber, entering, securing us in our caisson and awaiting the thing to take us the 50 foot to the river below. The descent, a bit juddery at first, took just a few minutes and then there was a further five-minute waiting to be let out onto the river. Opposite is an industrial landscape, but we very soon left that behind and realised that the weather was beautiful, the river delightful, and the vegetation lush, quite different from the canal. We took the last of the moorings in the centre of Northwich between the two handsome black and white swing bridges and I made a quick foray into town for something for supper.
The barometer is still looking good! Glory be!
Thursday 18th September: between Northwich & Winsford (on the River Weaver)
It is a particularly chilly morning so we opt to stay under the duvet but by 8.30 when the guy from the next boat had been to Sainsburys at the top end of town and back, we surfaced and I did a walk with Caspar. After crossing the exceedingly busy handsome black and white swing bridge, within minutes I found myself on a really pleasant riverside path where I collected wild flowers and after a while climbed high into woodland and headed back. By this time I discovered I did not need the layers of clothes I had donned, shivering, just 30 minutes earlier! Back at the boat, we had breakfast and onwards.
We had to wait awhile at the first lock as Mac, the lovely lady lock-keeper, was one hand down and awaiting a helping hand. We loved the locks with their old fashioned lamps and railway style signals. As we came out of the lock we could already see the boatyard opposite Pat and Abbi's house and I was surprised that we were able to moor comfortably just below the house. We had been unable to make contact with Abby, but as I expected, she was in, and we were able to off-load a couple of items which were taking unnecessary space, and replace a bag of summer clothes with warmer gear. She was pretty busy and sadly we were unable to see Elanor, so after a quick shopping sortie by Nick we set off to investigate the upper reaches of the Weaver. Within a short time we were approaching Vale Royal Lock and were summoned in exactly on time. This was really interesting. Ropes are lowered to collect our ropes and the lock has 2 sets of upper gates tho' only the top ones work. One of the lock-keepers has to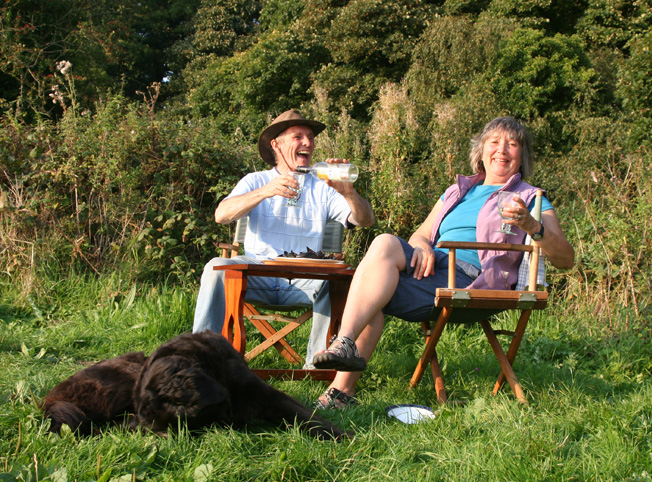 push a wooden handle around laboriously to close the lock gate reminding me of a donkey circling, threshing corn in the Argave, years back. Then, a lengthy swing bridge has to be swung before we can pass on and out of the top lock gates. sAs we left the lock we passed a memory card to the boat coming down as we had photographed each other on the Anderton and were sharing the results! Travelling on there is a beautiful mooring. which we earmark for the evening and pass on to past huge industrial salt workings on our right, while retaining the pastoral aspect on the left. We pass onwards to Winford and turn, (Jackie) reluctant to enter the Flashes, a huge shallow lake, we turn and have a cuppa tea.
We are delighted to return to the lovely mooring which is on the eastern side of the river, so there is plenty of precious warm evening sun to enjoy supper on the bank with photos to prove it! We have waited for six weeks for this so we open some wine to celebrate as advised by the lock-keeper at Vale Royal earlier. ( It is absolutely essential to comply with a lock-keeper's instructions!) The few people who pass are all anxious to stop and chat. One gentleman remembered climbing on the Anderton Lift as a boy and also the horse drawn boats (coal down and salt back!) with the boat people ('illiterate they were but we played with the kids!')
passing thro' the Anderton Lift. One dad with his elder son stops and Edward, aged nine, comes on board and chats with great confidence. I discover that he lives on Kingsmead, near my lovely family. He goes to school at Davenham as Kingmead had not been built when he started school and his younger brother and now his little sister have joined him there. Otherwise, I guess, she would have started Kingsmead with Elanor! The next day we receive an e-mail from him and he is a 'Penny'!
Saturday 20th September: Trent & Mersey - Bridge 206

On Friday morning there was a mist on the river as I walked the dog early and we had to make the 8.30. upstream locking at Vale Royal. I walked along meadow, then thro' woodland, then to the lock, where I took some photos. On my return to the boat I noticed a kingfisher and the the heron screeched unkindly as I disturbed his morning fishing. At the boat we had a quick breakfast and were at the lock promptly. On our passage thro' I was given a history lesson on the local Vale Royal Abbey, just a 10 minute walk west of the lock by one of the lockkeepers, ex navy with standard Captain Haddock beard to prove it! We had to make progress thro' Hunts Lock and on to Northwich for a quick shopping excursion and then on to Anderton to meet Paul, who, it turned out, had been delayed by the passage of a large boat thro' one of the Northwich Swing Bridges!

It was lovely to see him and we resolved to travel back to Vale Royal to see the abbey. Time was a tad tight so we lunched en route and this allowed us an hour to wander up the path to the Abbey. Nothing much of the ancient Cistercian Abbey, dissolved by Henry VIII but an extremely handsome manor remains which was once crown property and now houses smart apartments and a golf club which is vast, beautifully green and busy today, as there is a ladies match in progress. Paul engages the manager in conversation to find out about the club, after which we head back to the boat and back, past Dukes Way, the keen rowers from the boat club nearby, and through Hunts Lock for the third time that day. These locks are truly amazing and the lock keepers are all personable and helpful. perhaps because they are like that, and maybe because, unlike the Thames, they only have a handful of pleasure boats a day! We feel privileged to have experienced this river as it is obviously expensive to maintain for the few craft that use it. It is part of our heritage, and long may it last!
There is not a great deal of time to spare and when we reach Anderton holding our breath: there is just one place left on the upward lift that day! We get it and arrive at the top and turn west to allow Paul to experience a canal tunnel. This leaves him a couple of miles from his car but a helpful fellow boater, Diane, who is waiting with her two girls, Emily (4) and Nicole (6), for her husband to arrive with their boat through the Saltersford tunnel, leaves the friendly girls with us and ferries him back to Anderton to collect his car which is then parked by the boat, ready for an early departure. Meanwhile Dad, Mick, arrives, a muscular chap, could be a bouncer, but turns out to be a tattooist, hence the decoration across his forehead and forearms! He was not too fazed to find his girls being cared for by complete strangers! By this time I have started supper, acknowledged to be a splendid fish pie with a great selection of fish from the fishmonger in Northwich. As we finish supper the girls come tumbling into the boat with gifts of sweet corn which they had picked from an adjacent field! Paul noticed they had a floral smell; perhaps the girls had washed their hands before removing the greenery from the outside! The quality subsequently proved to be "cattle feed" rather than "sweet" so we didn't eat them.

It was lovely just talk into the evening with Paul, about beliefs, my impending application for membership, the Quaker approach to faith, and Nick shared his religious background. We sorted ourselves out for bed early as it had been a long day for all of us and Paul had to leave early to get to Ackworth. We all rose early, made our farewells, and we were on through the next tunnel and through glorious countryside with the Weaver below us to the south, and were at the Preston Brook Tunnel and through it by 10.30! So it is chandlery time, a quick shop, and find a place to do some painting for the rest of the day as this has been impossible for weeks and there is much to do and the days are getting shorter!
Monday 22th September: Northwich on the Weaver
We are now back on the Weaver, having come down mid afternoon yesterday. After the visit to the chandlery in Preston Brook, we turned around and back towards Northwich, still glorious sunshine, lovely countryside and no locks. We stopped with lovely views down a steep incline to the River Weaver and, altho' we saw no evidence, some background-aggressive traffic noise. Could Oulton Park be that close? We sorted out my visit to the Quaker Meeting House in Frandley for the next day. This necessitated a moderately early night as we had to get back to Anderton and I would need to organise a taxi. I had phoned the co-clerk but unfortunately no one would be coming from my direction.
So on Sunday morning we headed back thro' 2 tunnels, sorted some washing in the BW complex and I called Pat's taxi company. It was just as well I had the address because the local taxi driver just did not know of its existence, maybe with some justification as it stands alone in the countryside 3 or 4 miles outside Northwich. The Meeting House is of brick and clearly purpose built, possibly Victorian, but that's a guess. Alongside is what appears to be an older brick building, similar in size with kitchen and further rooms including a special children's room, with children! Meeting for Worship was serene with ministries about the financial turmoil and a comment about the virtues of Quaker Banking. Another Ministry was about an art project one of the members had been involved with, where a dry stone wall and a wishing tree had been created out of felt. Each stone had a wish placed inside. The artist responsible for the installation had been impressed by the very few wishes which were for self-gratification. That is heart warming this week, and in this economic climate where one feels that we have all been profligate and greedy. At the end of meeting the children shared their work; they had looked at aspects of Quakerly concerns - peace, appeals and truth and written the words and artified them! There were 5 children, 2 five year olds and 3 younger children. The children were nurtured in the meeting, as were 2 quite elderly and frail ladies. Sadly I couldn't stay for long as I was offered a lift back to Anderton. It was a busy meeting, a number of members were off to monthly meeting and others were off to do a sponsored Memory Walk in aid of an Alzheimer's charity.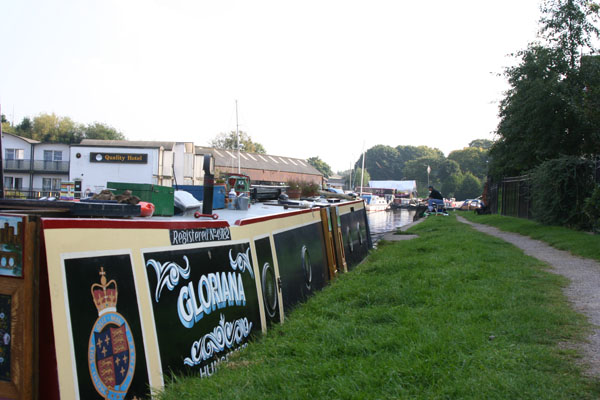 Back at the boat there was still washing to be sorted and we booked our passage back onto the river and back into Northwich where we had things like haircuts and suchlike to sort. We were specially delighted to get a phone call from Abi, returning from climbing a Welsh mountain with Elanor, and the two of them joined us for supper. Elanor was full of energy, clearly well rested on the car journey back from Welsh Wales and her exertions! In the evening we lit a fire - lovely, a little too hot for Nick and even I had to shed a few layers which had been put on once the sun went down. Nick has booked in at the boatyard across the way to have a skin fitting on the hull to take the discharge from the washing machine. That's tomorrow, and the machine has now been ordered to be delivered to us on the river below Dukes Way on Friday. The barometer is still high but it's overcast - let's hope this is not the end of the sun for September!
Tuesday 23rd September: Acton Bridge
We had to be up and about moderately early to be organised for the trip across the river to the boatyard.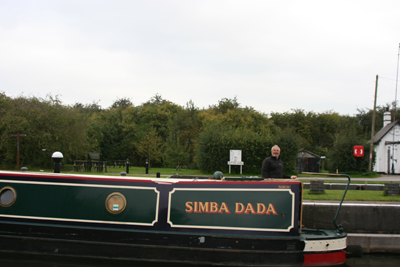 Nick gave the dog a short walk and after breakfast I took him out so he wouldn't be stuck on the boat with noisy drilling. I had a coffee and then found a hairdresser. Caspar was tethered outside and fussed by the owner of the shop and passers by; two of the employees are planning to look us up on Kingsmead on Friday! There was still time to kill so I attempted to find a riverside park at the top of town. The attempt was unsuccessful so I turned back and found Nick just tying up. The weather had started the day cool and dull but the sun was beginning to come out and up stream we stopped for lunch and sitting on the towpath the sun was as hot as is comfortable for me! We travelled on through the next lock which had to be set for us and then eventually 4 further boats arrived so the operation took almost an hour. This time we passed through the enormous ship lock - even 5 boats hardly started to fill it! Onwards we approached Acton Bridge and as we passed there we saw Simba Dada so we hurriedly stopped and greeted Wes and Lizzie warmly. Caspar remembered them and has only just returned to our boat having made himself comfortable on Lizzie's couch! We enjoyed a drink with delicious nachos in the sunshine as the sun went down with Lizzie, Wes and Barbara and Bob on Costalot who had travelled down on the lift with Simba Dada. Tomorrow we all intend to travel on down river together.
Thursday 25th September: Northwich
We all set off together but the others wanted to fit in a lot and we opted for a lazy day at Devil's Garden a lovely spot with walks. Well,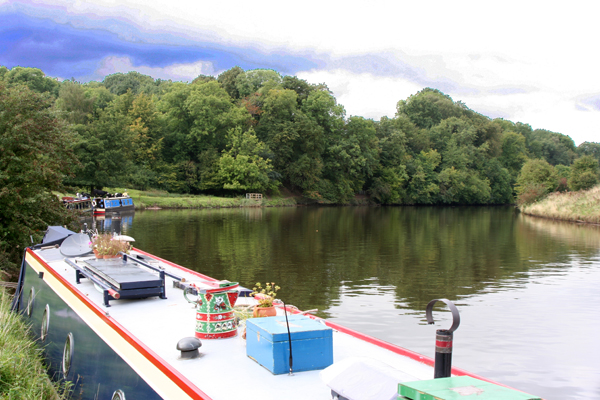 Nick didn't have much of a lazy time, finishing the washing machine area that now looks pretty good. We now have to hold our breath now and hope we can get the dreaded thing into the area that's been prepared. The sun came out for a while and we did a particularly lovely walk along the river together in the afternoon.
We planned to get up early to travel on down to Frodsham and go to the market and we did just that. It was a trek from our mooring but I jumped on a bus half way there and we all came back on one! It was market day and very busy. We found a lovely baker and a butcher. Now something I've noticed is that one regularly finds women in butchers up north and I cannot recall ever seeing one in the south. This butcher was clearly very busy - there were 6 women, 3 of them young women and two men, all of them busy! We also bought fruit on the market and then went up a side street to see whether the flat where Nick had lived 38 years ago was still there. It was, and there is still a florist below in a sixties building which has weathered well. He recalls that he and the couple in the neighbouring flat threw a party with over a 100 guests!
Back down on the river we had to make tracks (or rather waves) as we needed to be back at Kingsmead to receive the washing machine on Friday. Abi came over with the gizmo to help Nick locate the Freesat satellite but sadly still had no joy although the sky to the south was clear! So Nick will be on the helpline tomorrow!
Sunday 28th September
We were at Hunts Lock at 8am on Friday and they helped us through promptly. We were five minutes from Kingsmead when the delivery chap rang to say he was 10 minutes away so the timing was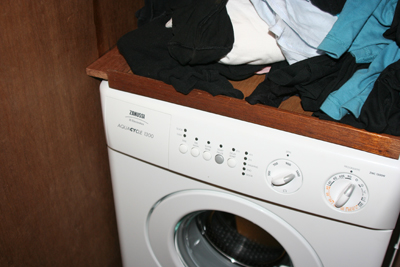 perfect. The washing machine was left up at the house and shortly thereafter Patrick arrived back from Connecticut looking jet-lagged because of a troublesome youngster on the flight. He and a passing stranger (ex-Reading and Harwell) kindly helped Nick get the machine on board watched at one point by a lady dog-walker (a Newburian!) So Nick spent the next few hours struggling to get it into place and ready to go and I caught the bus into Northwich to get one final electrical component for Nick and the makings of what has become a family favourite -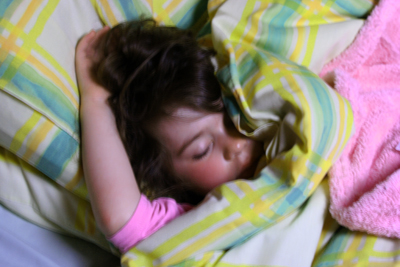 Rick Stein's monkfish with new potatoes and watercress which Abi had volunteered to do for supper. Then I went with Patrick to pick up Elanor from school and naturally she was very anxious to come to the boat. We had to coax her to return to the house for supper and to pack her overnight bag! So we were privileged to share the excitement of her first sleep-over. She was so good as was Nick who seems to have a magic touch with children. She settled quickly and we had to go to bed at nine so as not to disturb her! We had to get up to her a couple of times in the night but she settled again quickly.
We were awake before Elanor on a cold morning but we had set the fire and soon we were warm, breakfasting, and enjoying her lively chatter until 9.30 when we went up to the house to enjoy a cooked breakfast. At midday we set off towards the Anderton Lift, stopping off for gas, and at one point, to pull an Australian couple off the bank where they were stuck. We were booked for the last lift up so we were able to cruise downstream and stop to enjoy the warm autumn sunshine. Sadly Abi missed the ride as she joined us just a few minutes after we were in the caisson. I then returned to the house to help with them the supper and to watch the pre-recorded the first two 'Come Dancing', excellent 'cos you can skip all the rubbish and watch the dancing! It's going to be another excellent series - with luck we may have our TV working by next Saturday but will unfortunately have to endure the rubbishy glitz and the pouting and posturing of the female presenter, Tess or whatever her name is!
On Sunday morning I was kindly taken to the local Co-op by a neighbouring boater who had a car and I then took Caspar for a long walk in the Anderton Nature Park while Nick did a pump out. Then we were on our way and after a quick forage in Marbury Park for dead wood for the fire, we headed for the beautiful spot on the Flashings between Northwich and Middlewich where we had stayed over two weeks previously. It has been a beautiful evening. Nick has done a little painting on the front of the boat but sadly the barometer appears to be falling; it appears this lovely settled period is coming to an end. It will be an early start in the morning as we have a two hour journey into Middlewich where we'll need to do some shopping prior to receiving our next guests, Pat and Ros.
Tuesday 30th September: Middlewich on the Shropshire Union Canal
On Monday we set off early so as to reach Middlewich and to do some shopping before the arrival of Pat and Ros. When I set off on the towpath with Caspar it was a clear and bright day but shortly after getting on board Nick was calling for the umbrella and we had an April showery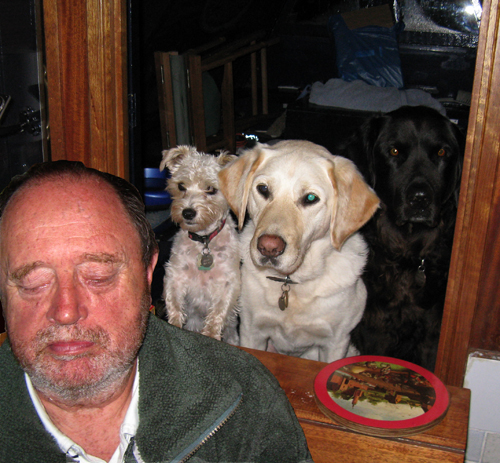 time all the way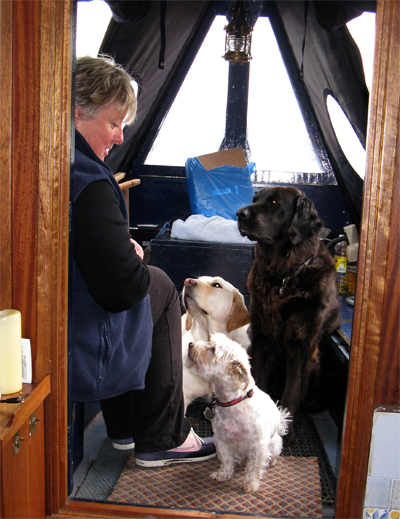 to Middlewich. We needn't have bothered to rush because Patrick rang to say they were delayed having elected to come the scenic route and been stuck behind all sorts of vehicles. Nick had arranged for them to leave their dormobile in a canal-side pub car park so we awaited their arrival there. Caspar didn't seem too bemused (nor A-mused for that matter) by their dogs, King, Pat's exceedingly lovely and lively guide dog, and a little tearaway terrier cross, Diggory, though he was certainly kept on his toes during their short, but pleasant 24 hours with us! After a cold lunch we travelled west, up the Middlewich branch of the Shropshire Union which soon became really quite remote. The weather was okay but nothing special and we stopped for the night as the weather seemed to be deteriorating. Much fun was had with doggy antics particularly trying to keep the three of them in the cratch, so we had room to move, and Diggory's attempts to escape! We have some lovely pictures of them together. By the time we had supped, shared experiences and future plans it was time to organise ourselves for bed. Ros and Pat know all about surviving in cramped conditions from their travels in a dormobile with dogs, to Ireland and France.
We all slept well and woke to a rainy morning and as soon as it had eased Nick set off for the winding point, turned and shortly thereafter Pat and I walked with the dogs and until we stopped for a cooked breakfast, took on diesel and coal from a passing working boat, and travelled on back towards Middlewich with Ros getting stuck in to locking and helming the boat. At the same location as we had taken on diesel we met Peter and Valerie on "Kinver" who had been following us for a half-hour or so: as they went to pass us we recognised each other. Peter and Valerie, and their tortoise, had stopped in Hungerford in May and had had tea with us on the front patio at No20. We had been searching for their house whilst up near Anderton, without success, and here in the middle of nowhere we remake our acquaintance. We share a cup of tea and they carry on homeward bound.
All too soon, Pat & Ros's short period with us was over though they have promised to return! We had to shop as we worked out we would be away from civilisation for a few days and Nick did the oil change, after having had to buy a new pump with which to extract the old oil.
Thus endeth the epistle for the fourth month of our journeys.