April 1st: Chester
After a pleasantly warm Spring day yesterday, we were disappointed to wake to an overcast sky. I met a chap on my walk up the Cheshire Cycle Way which was strewn with celandine who assured me that the sun would be out by ten and it was certainly much brighter by the time we moored up in Tower Wharf at eleven. After coffee I walked into town; it's wonderful to walk via the amazing ancient city wall and then down a quiet cobbled street lined with elegant Georgian homes. After doing a quick recce in Next and a number of charity shops, I attended a short mid week Meeting at the Chester Meeting House, clearly well used by the community with an electric glass door and manned entry kiosk. Clearly, a mid-week meeting in the city centre is designed for city workers (we had considered an arrangement like this in Newbury once) but there was just me and a small group of retired Friends, Our thoughts and prayers turned to the G20 Meeting tomorrow, One of our number had actually phoned the American Embassy earlier in the day and left a recorded message. Tesco seem to dominate the Chester shopping scene and after a quick shop there and a detour to the covered market for some fish, I returned to the boat and after lunch enjoyed a lazy afternoon. We think we will stay for several days and really acquaint ourselves with the city and hopefully get some jobs done on the boat.
April 4th: Chester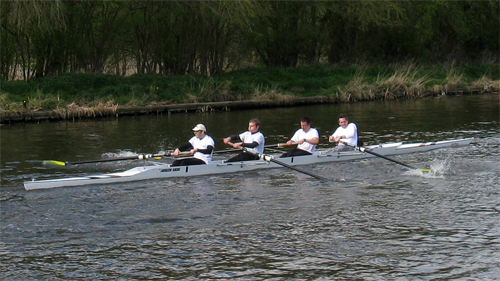 I'm back after my final weekly trip to Northwich, this week, two sleepovers in order to support Patrick in his rowing endeavours (he's at the pointed end). There was a huge 'meet' - boats from rowing clubs from the north - including York and Nottingham - in a huge competition which must have taken a lot of organisation. I've never been to anything quite like it. Over about 40 minutes there is an intensive activity where the marshals get about sixty boats into the water and one by one they disappear down river to the starting point and then 'race' back at 30sec intervals. This happened 3 times during the day with Patrick rowing in an eight and later in a four. There were an amazing number of spectators , probably half from Northwich, and lots of visiting supporters, mostly parents of youngsters. Apparently you can start at 13 or 14, but when you are young you shouldn't handle a single oar as that involves a degree of twist in your back. And a team of local ladies kept the soup, bacon and sausages butties, tea, coffee and cakes going all day!
After Patrick's second race he and Elanor whizzed me back to Gloriana and Nick in Chester.
April 5th: Chester
I was awake early to a chilly morning for a walk with Caspar, and Sunday paper collection before breakfast and then hurried off to Quaker Meeting in central Chester. This was the largest meeting I've attended since Oxford, slightly busier than normal - about 50 worshippers and a lovely meeting, the one ministry being about Quaker 'irreverence'. After meeting I started chatting to Don who had been sitting by me and soon after my return, he and his wife, Karen, joined us for a pleasurable second coffee and found an amazing number of 'connections' such as second marriages and family issues arising. Since then we've had a website message from them. How lovely these connections are! Apart from our Sunday roast 'a deux', that was our Sunday.
April 7th: Beeston Castle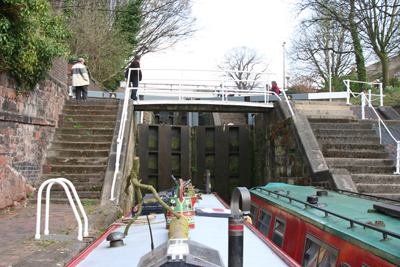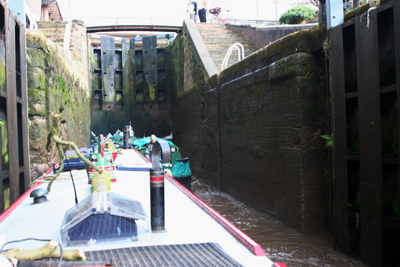 On Monday morning we received delivery of one four year old. Patrick has taken a week off to child-mind but, because of 'end of quarter' and 'new systems' issues, needed an extra day to devote to all that. We wandered around the beautiful city and along the walls for the morning, ending in the park near the boat, where the medieval maze absorbed her for a while.
Then we were on our way, starting halfway up the triple staircase lock because Nick had already started, and after a quick stop at Tesco found our new boating live-aboard friends, Geoff & Margaret on Seyella, with whom we had shared the staircase out of Tower Wharf, awaiting us at the next lock.
Elanor enjoyed involvement in the working of the locks but was somewhat grumpy over a walk between locks which was further than she had expected, tho' she was warned!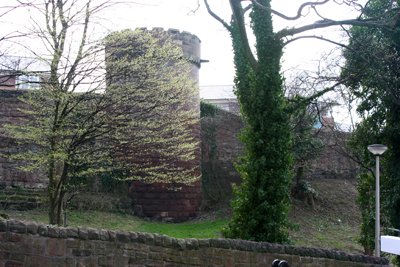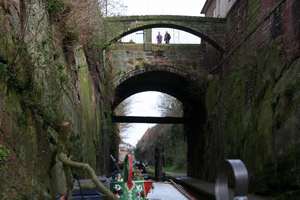 Still. we were happy that she was getting lots of exercise and fresh air because after a pasta supper which was 'fantastic', it produced a willing bed time child. Necessarily, we also retired to bed early, and not unwillingly!
Chester has its own Bridge of Sighs across which doomed prisoners took their last journey from the gaol, hewn, without windows and only a pipe for air, from the rock beneath the walls, to the chapel in the Bluecoat Hospital on the other side of what was later the canal.
Tuesday was even more eventful as Patrick and Michaela, with Emily and Ben, joined us at ten for a day's cruising after organising their cars at strategic locations. It was a glorious morning and as we came out of the city,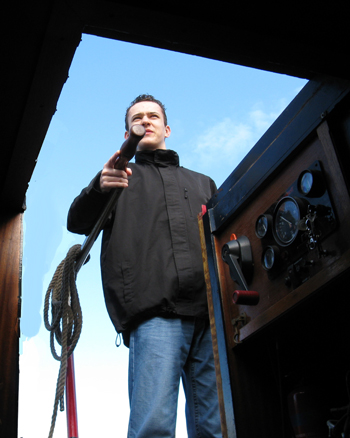 the banks were lined with wonderful blackthorn in full bloom, and fresh lime-coloured willows, weeping and otherwise. It was great to see this lovely family again. Both children have shot up in the four years since we last saw them, and Ben towering above us is a delight with Elanor and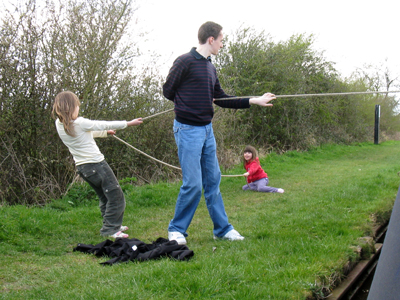 Emily. It's great to see a teenage boy confident enough to deal with little girls. Everybody helped for some time on the helm, and for short times Ben was left on his own and was entirely confident and competent. I trust that these cousins, separated after a rift between their mothers (two whole years in their short childhoods!) will really now have the opportunity to bond with one another. They made a great start yesterday and Michaela took some lovely photos to prove the point! We enjoyed a buffet lunch and coats were found as the wind cooled. Then as Beeston Castle loomed to the south we were able to work together the only lock of the day, before arriving at our overnight mooring below the castle and saying goodbye to all our lovely guests. Nick was troubled with a bit of a headache after dinner and with a stiff back, went to bed early (five minutes before me). Let's hope he is okay in the morning!
Wednesday 8th April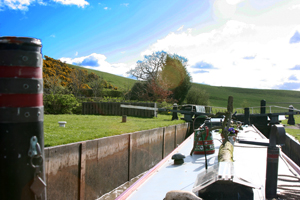 Nick, ok this morning apart from a twinge in his back. We approached Beeston Brook in bright sunshine through the iron, and then the stone lock, Geoff and Margaret on Seyella (the Elven goddess of Time and Destiny) following at a distance. No deer on Peckforton Castle this time, and we resisted the lure of a large market which is held there twice a week. How strange that a small place with not even a shop has a large market! At the next lock as Geoff and Margaret caught up we saw a hire boat from Anderton Marina in trouble - they had 'cilled' the boat, and the rudder was in a bad state. 'Looked like the end of their little holiday and a headache for the marina, having to dry dock one of their fleet as the season starts and in the Easter holiday! After the staircase at Bunbury, where Margaret became a tad agitated as Geoff had disappeared to pay for his diesel, we stopped for a coffee all together before travelling on, Seyella to do the domestics at Calveley, and Gloriana to off-load rubbish and take on water at Barbridge Junction. By the time we were ready to head east, back along the Middlewich branch of the Shroppie, Geoff and Margaret had caught up with us. We stopped just south of Church Minshull and the aqueduct over the River Weaver. On a steep wooded falling bank to the north, were primroses, cowslips, wood anemone and lots of young nettles. I must find a recipe for nettle soup on line as this is the season. Seyella moored just behind us and we joined Margaret and Geoff for a drink after supper. The evening whizzed by, a sure sign we were having a good time. Margaret is an amazing lady, and looks a classic boat-woman: she was a clippie on the Manchester trams, adopted three boys after their single father's death, having been housekeeper to the family; had another boy, and now has a huge family with growing-up great grandchildren! They all follow her 'water gypsy' life from places, far and near. She has had such a busy life, running pubs and other businesses. Geoff seems to be like Nick, a great do-it-yourselfer and a fixer. He is also, unlike Nick, a long distance runner - Great North and so on and is heading south to do the Oxford Half marathon. And he is a classic car 'saddo' (sorry, didn't mean it!), Rileys being his first love; he bought the fully indexed component parts of a Riley Pathfinder from a guy who was minimising the value of his assets to share with his divorcing wife, and thus got it for a fraction of its value. It went on, when he had rebuilt it, to win several national awards. We are repeatedly amazed by the wonderful folk we meet on the canal system! We feel very ordinary! Oh yes, our first entry in the accident book. I found some wood as we arrived at our destination at tea time and Nick decided to christen his new saw and had a good attempt at taking his finger off. We dealt with it quite well, and quickly, but he may take it to the surgery in Middlewich tomorrow to be checked out! He doesn't intend to leave it there!
Thursday 9th April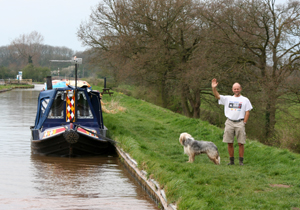 We were even later getting up after a somewhat late evening, meeting a dull grey start to the day. After our walk and a leisurely breakfast we said farewell to Seyella and set off at about eleven. By the time we had taken on diesel, gas, coal, and goodness knows how many other bits from the chandlery in Middlewich, it was almost 2 o'clock and Nick went off to show his finger to the local surgery. Having taken all his details and asked him to wait (for 20 minutes), the surgery receptionist then told him that they couldn't deal with him because they were doing babies immunisation that afternoon and that he should go to A&E! Nick returned directly to the boat and started down the three Middlewich locks while I did a quick shop for a few essentials, and together we did the solitary broad lock travelling north on the Trent & Mersey, finding a pleasant mooring a mile or so out of Middlewich, the River Dane flowing to the west. Nick's finger dressing was then undone, the wound bathed in antiseptic and re-dressed. It looked really clean, and we reckon it will heal in time if it is kept dry and avoids knocks. Nick thinks that means no washing up for the next six weeks!
The weather has been quite disappointing today, and tomorrow it seems is unlikely to be any better. Whilst circumnavigating Northwich, we will identify possible spots for me to stay whilst Nick goes south on Monday for the week. We hope to get a passage down on the Anderton lift onto the Weaver so that we can do our Easter shopping from the centre of Northwich on Saturday morning.
Friday 10th April: Good Friday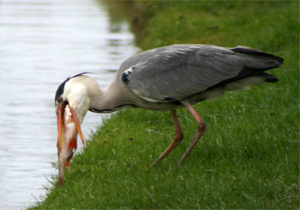 We were awake early, with Gloriana on the move at ten minutes past eight. By half past ten we had passed through the Billinge Green Flash where we had stayed back in September,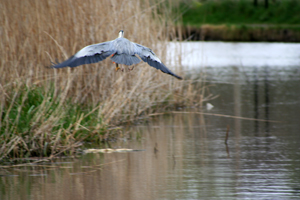 through the channel of pipe bridges associated with the ICI chemical works, and on to Marbury Country Park where we moored for a short while for coffee. We then moved on to the BW service station where a load of washing was completed (including tumble drying).
Whilst Jac was so employed, I tended the boat, ready to move off the mooring if anyone else arrived requiring the services. As I was passing the time of day with a fellow boater, we saw a heron come out of the water with a fish in its mouth, the size of which would satisfy the keenest coarse angler. It was so large, relative to the gullet of its protagonist, that I had time to fetch my camera and take a number of photographs. As a dog came along the towpath towards it, it took off across the canal with the fish halfway down its throat and only just managed to gain enough height to reach the other side!
Just ten minutes further on was the Anderton lift and we booked in for the 2.30pm drop. The trip down on the lift is no longer a unique heritage experience for us, merely a transit medium, and the fact that it takes 30 minutes for the 6 or so that the it is operating, and that's in addition to time in the waiting area 30 minutes before lift up/down. Rather like the interminable waits before and after an airplane flight! One gazes hopefully at the huge metal plate that finally lifts to allow you out of the caisson and which inconsiderately rains on you as you pass under it! After an unexpectedly clement Spring morning, the weather had suddenly changed and I was so cold as we came out of the lift that I lit the fire. Shortly after three we were mooring in the centre of Northwich. We were lucky to find a place on the wharf as one boat was about to leave as we were trying to fit in a few boat-lengths up. As is often the case, there is somebody at hand to take a rope and help. I slipped into town hoping against hope that the fishmonger might be open, but sadly was disappointed. So, an indulgent visit to M&S for fish, (obligatory on Good Friday) hot cross buns. (ditto, their own apple and cinnamon - delicious!) and a selection of small eggs for an Easter Egg Hunt for Elanor, time and place to be decided. Presently listening to a Good Friday selection of readings and music on Radio 2 which is rather lovely.
Sunday 12th Easter Sunday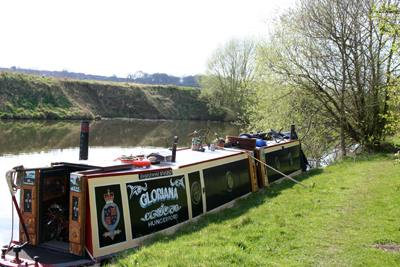 On Saturday morning we went into town shopping making a quick detour to Lidl where we were told there was a 'fab' sale. A couple of boaters had been early, and arrived back with a trolley load of stuff which they claimed was worth well over £100 for £17! By the time we arrived there was just a load of rubbish left! While we were in Sainsburys we were surprised to receive a telephone call from Lee to say they were 10 minutes away! So we hurried back to the boat and they arrived after taking a while finding parking. We had a leisurely coffee before Lee set off to see his team, Arsenal, play Wigan, and the lovely Clare from Australia stayed with us! We travelled down stream to Barnton Cut where we had lunch, lazed around in the sun, walked the dog, then travelled back upstream to the mooring outside 31, Dukes Way so Patrick could join us for a fish pie, courtesy the fab fishmonger in Northwich. A pleasant evening was enjoyed by all followed by the usual bedtime 'organised-chaos' in a constricted space! We all slept well.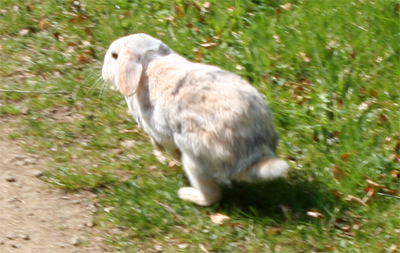 In the morning I went to put some eggs for an Easter Egg Hunt but discovered Abby had already put out some large offerings (large = no need to look for them!) I had to scurry out of the garden as I heard them coming! So we had another hunt down by the boat a little later when Patrick dropped her off on his way to the rowing club. She had a great time, sharing some of her eggs with us and then even more fun hiding them for all of us to find.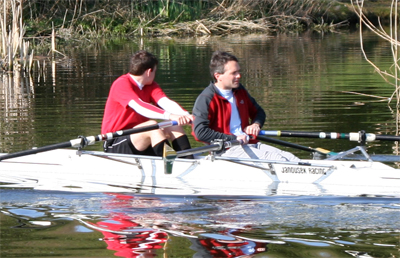 Patrick was up and down the river getting a little training on skulls with a more experienced member of the club. Apparently this is quite tricky and inexperienced rowers can easily find themselves in the water if they don't manage to coordinate their strokes! He didn't quite treat us to a tip into the drink this morning! Not a very busy morning for rowing , but it was Easter Morning! We said goodbye to Lee and Claire on their way to Lyme Park and all stations south. Abby even stopped by for a coffee, after a run! I did a bit of stowing of the really wintery clothes and resurrecting of lighter togs! We had high drama at midday when I spotted the most beautiful rabbit on the public footpath beyond Patrick's front fence. I ran to ask if he knew of a neighbour to whom it might belong! He quickly identified the neighbour and there ensued a grand 'corral' involving mum (officer in charge with box and blankets), dad, and 3 children, myself and Nick! Each time any one of us was close, it out-manoeuvred us, though Snowball finally did oblige and ran right into dad's hands., Soon after we set off back downstream, through Hunts Lock and back to our sunny spot on Barnton Cut for reading of the Sunday papers, walking the dog and supper. I'm presently listening to a 'Messiah' Songs of Praise blasting out over a sunny evening scene, and have just walked up river to see a wonderful bank of bluebells, wild flowering cherry and wild garlic Nick had found whilst walking the hound . We are so lucky that the weather here has been so good! Apparently down south it has not been so. We are crossing our fingers for it to stay bright and dry tomorrow for Kim and Allan.
Tuesday 28th April: Anderton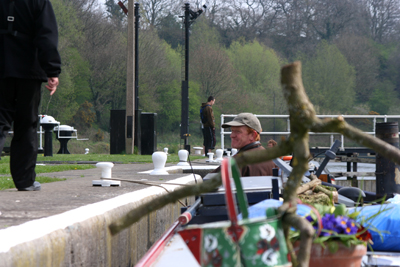 We are now both back on the boat after our various forays away from base-camp, Gloriana. On Easter Monday we had a lovely time with Kim and Allan who arrived surprisingly early, having driven from Morecombe. They had been most impressed by the Yorkshire Moors as the scenery in the Lake District had been very much like areas of New Zealand with which they were familiar. We picked them up at Anderton and travelled down stream, through Saltersford Lock to Acton Bridge for a quick pint before returning to Barnton cut for a splendid sirloin roast and then on back to Anderton to meet extra guests as we had booked our passage back up on the 4 o'clock lift. With Michaela and family plus Patrick and Elanor, we had 10 on board for our journey back up onto the Trent and Mersey. But before long I was on my own as Nick travelled south with Allan & Kim to meet his grandson and the rest of our guests disappeared.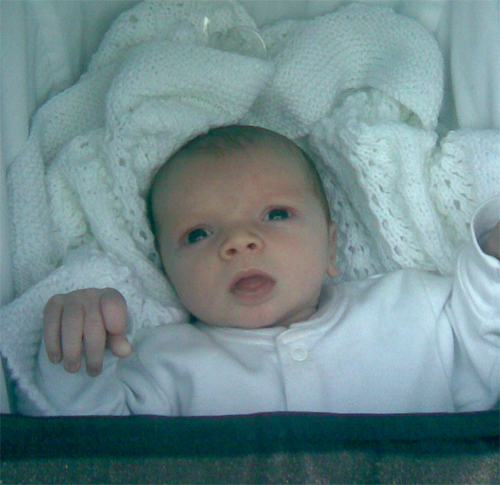 My journey south with Kim & Allan on the eve of Easter Monday was so simple compared with my normal mode, British Rail, not that I'm really knocking that. After an overnight stay in Binfield, I caught an early train via Reading arriving in Newbury mid-morning. By lunchtime I had come face to face with my grandson Joseph, and with Sue, the midwife, who checked my finger wound, and robustly suggested that I go to A&E to have it seen to. In the event, it proved to be clean and healing well, though a 15mm scar will remain as proof of the momentary lapse of attention for some time. George, Emm, and Joe accompanied me to the hospital from where we subsequently walked to the the cranial osteopath on the other side of Newbury, stopping for a short while to introduce the new arrival to his Great Aunt Mag, and his second cousin Jo (my niece, Mag's daughter). The cousins George/Emm and Jo have probably not seen one another for 20 years so it was an interesting, if brief, reunion. Because of the very hard birth Joseph had undergone, Sean and Emm had agreed that he undergo some cranial osteopathy, a very gentle massaging technique, which addressed compression of the temples; a very tight diaphragm; and a twist of the pelvis: apparently nothing at all unusual for a forceps delivery. Two more sessions over the following seven days will have given Joseph a more comfortable start to his initial growing period.
It was not an especially eventful four days for me whilst Nick was away; there was lots of walking in the lovely country parks and a trip into town on the bus, a fair amount of reading, lots of Radio 4, but no TV!
My brother, Tim, had kindly agreed to accommodate me for the week, and I was able to repay him by fixing some electrics in his house: I was in line for installing some wooden venetian blinds but they weren't delivered before my departure at the weekend for Gloriana. He tried subsequently to persuade me that he had put them up himself, and though his argument was supported with a photograph, my continued and unshakable disbelief was eventually vindicated when he admitted that his sister's maintenance man had been round and had fitted them in about twenty minutes flat. Other than the certainty of taxation and death, the only reliable odds-on bet is that Tim won't have done anything useful requiring the application of a screwdriver or hammer!
At the weekend I moved to Isabel & Barry's in Donnington Square where Jac joined me on Saturday afternoon; my having stayed for the two previous nights at Richard & Evie's (Sean's parents) house. The week involved a lot of walking across Newbury from my night-time abode to Emm's home: I have, more or less, adjusted to being car-less, though I am quite happy to accept a lift if it is offered.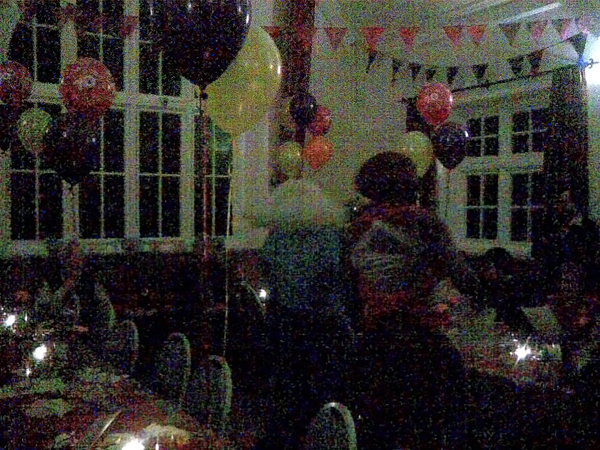 Patrick picked me and Caspar up early on Saturday and with Elanor we travelled south for Penny's wonderful birthday bash. It was great to see old friends and relatives, the girls provided a splendid buffet and especially memorable entertainment, rounded off with Katie's rendition of Mama Mia with her friend Harold (apologies for the picture but it was dark and the camera was Nick's mobile. I remained down south for the week, for the first 3 days at Donnington Square with Isobel and Barry and on Sunday morning went to Newbury Meeting, just a small gathering on this occasion. Nick returned north with Patrick on Sunday, Elanor, having cemented a short relationship with Isabel by asking if it might be possible to have a sleep-over there at some future time. Then, my week down south just whizzed by with a day in Hungerford, lots of visits to Walton Way, new-mum Emm, and growing baby Joseph. I fear that what might have been a smile at almost 4 weeks was not and that any day soon Sean and Emm will enjoy that special moment! On Tuesday I moved to the other end of town and spent the day with Penny before she did an unusually spontaneous motorway trip up to Carlisle and Scotland and I settled for the remainder of my time with a solicitous Tony in Gwyn Close. The week continued to whizz by and I was able to enjoy a second Sunday at Newbury Meeting, this time with the children and an especially large and extremely powerful meeting with ministries that left me breathless. What an amazing group of people are attracted to Quakers and how privileged I felt to just be there!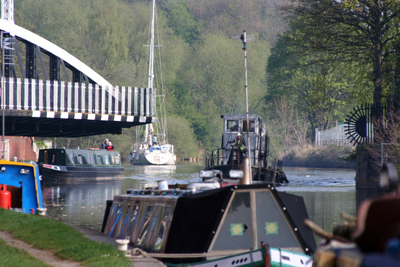 The dog and I arrived back at the boat, courtesy of Patrick, about 7,30 on the Sunday evening, and on the following morning I took the lift down, again, onto the River Weaver, mooring up between the swing bridges in Northwich. Shortly after I had arrived, the bridges were opened to allow a yacht and a large tug through; the yacht leaving the Weaver for Ireland, and the tug coming upstream to take some pontoons up to Vale Royal locks.
A small bone of contention on board for a month or two has been the state of the floor covering, so, remembering as positive a reaction as I had had from Jac on the subject when we were on board Seyella with Geoff and Margaret, I took an executive decision and ordered a wood effect vinyl floor covering. By Thursday it was laid, the major cutting-out being done on the floor in the supplier's storeroom, and the remainder being done in Patrick's garage. All that was left was to await the reaction of she-who-must-be-satisfied! One or two other tasks were completed during the week including a final(?) coat of paint in the cratch.
On Saturday morning, I dropped down again through Hunt's Locks into the town centre, did some shopping and filled up with water. There had been an incident the evening before at a local bar, renowned for weekend troublemaking, where, we subsequently learned, a youth had had his head badly modified with a spade (he remains in intensive care in a medically induced coma) so the presence of police and forensics meant I had to moor a little further down. I decided not to moor in town that night (!) so slipped out to Anderton and stopped overnight where Caspar had free roam of about 30 acres. On Sunday morning, after a long walk with the dog, most of which was in the company of Kath and her two dogs, I returned to the town centre. I cycled up to B&Q for bits to finish off the flooring, and shopped at Sainsbury for provisions for the evening meal.
As I moored up below Patrick's house I received a text message from Penny to the effect that she had arrived in Northwich.
My journey back was long and tedious. The first stage involved a transfer to coach at Reading West and a long wait at Reading and a further and unscheduled wait in Oxford as there were lengthy delays in Birmingham. Finally, arriving in New Street, the train had to double back with stops for a second time at Birmingham International and Coventry and an unscheduled stop at Nuneaton, until we were finally back 'en-track!' By then I realized that my connection at Stockport was compromised and I would not get into Northwich until 9.30, a whole eight and a half hours after departure at Newbury. However, as the train was drawing into Stafford an announcement indicated that there was a connection there for a Liverpool train which stopped at Winsford and Hartford, both close to Patrick, so I grabbed by bags and leapt off, thereby by Patrick's kindness, arriving back to the boat two hours earlier than expected! And further pleasure and amazement: Penny was there, having decided to break her journey south by two nights and one whole day!
On Monday the weather was grim – really very wet and rainy. We travelled from the marina below Patrick's house, through Hunts Locks and into Northwich where we did some shopping and I discovered that I didn't have my wallet, the last time I remember having it was just before my hurried departure from the train the day before! In spite of a lovely walk with Penny yesterday in beautiful washed-clean world with the fresh green on the trees, abundant cowslips, bluebells and wild garlic I have, been struggling to contact an appropriate Lost Property place where my wallet might have been handed in. This seems to be a quite thankless task and although, when I finally speak to somebody (and I've spoken to lots of pleasant and helpful people) I am given yet another number to ring. It hasn't helped that we have a poor signal here and for much of the time I've been standing in the rain with a damp piece of paper and a pen, writing yet another number down! So now I have contacted my bank and stopped my debit card and have yet to deal with Senior Rail Card and Bus Pass! I wonder how it happened when I keep my bag with the essentials across my shoulder at all times, but as Patrick says, "though it is impossible to lose an e-mail, I might be an exception"!
Thursday 30th April: Anderton
We have been stuck at Anderton awaiting a courier to collect Nick's laptop. The weather has been changeable - there was a memorable brilliantly sunny, early morning walk through Marbury Park with the bluebells at their very best and huge swathes of the creamy flowers of wild garlic, then back with a very soggy doggy through the Anderton Country Park and that remarkable avenue of cowslips, again at their best. There is a small shop at Anderton with very limited provisions so we ate out one evening and were down to basic stuff. In spite of this we have still managed to eat quite well. A highlight on Thursday afternoon was a visit from Clive. my cousin, and Sheila who were staying awhile with Sheila's life-long friend along the canal at Barnton. Though only a couple of hours, we managed to fit in some intensive 'catching up', somehow not achieved at Penny's party the previous weekend and Nick managed a ride for them, down on the lift. And the computer has still not been collected though we have been kicking our heels waiting for the courier!