Monday 2nd February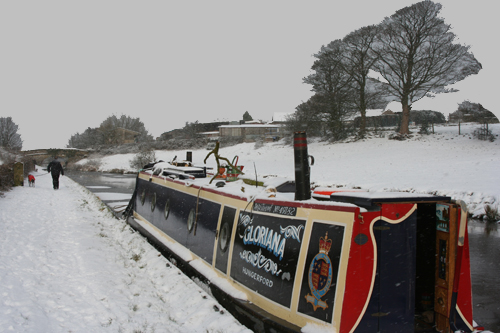 On Sunday morning we started back to High Lane soon after eight as there seemed to be less wind. It was still exceedingly cold and after a quick breakfast I caught the Trans Peak Bus to Disley. Every time I walk up to the Meeting House I wish I had a camera and today was no exception; even though it was cold it was bright. I sat with my back to a radiator - it is great to feel warmth from behind as that rarely happens on the boat! I was facing a window overlooking a small valley and beyond trees and a graveyard. It was a lovely meeting - just two ministries, an advice and a reading from QF&P and I found the warmth a bit soporific. Preparations were underway for Monthly Meeting as I left to grab a Sunday paper and the bus back. After some soup we travelled back towards Marple and stopped south of Goyt Mill where we almost always get a good signal. The wind has still been pretty fresh but it died back and allowed us to put up the dish and enjoy Lark Rise after supper, which was cooked by Nick. Sadly the wind freshened and we missed the second half of David Attenborough's programme on Darwin. which had been excellent. Every time I see a programme like that I envy young people who can learn their science in such an engaging and entertaining way.
When we awoke there was just a sprinkling of snow but we were concerned to see that the canal was freezing over. Aware that the forecast for the week was for continued cold, we thought it advisable to head into Marple and the facilities it offered. By the time we set off some time after eleven there was quite a blizzard blowing. Caspar appeared quite excited by the cold and walked along with us and by the time we arrived there were several inches of snow. I've been out with Caspar again and seen youngsters tobogganing down a steep hill, alarmingly with the canal at the bottom, and now there are children coming out of school and lots of excited voices.
Tuesday 3rd February
We woke just before eight this morning, I had had a sore throat in the night and had taken Paracetamol so I missed both 'Thought for the Day' and the weather forecast! Nick had planned to walk this morning with camera to take pictures of pristine snow and laden branches. Unfortunately for photographic opportunity it had rained a little in the night washing the snow off the foliage. Then a frost had crisped up the snow. I had an especially lazy morning taking large doses of Echinacea and whatever, and so far seem to be fine! I went back to bed and read Barrack Obama's 'Dreams of my Father' and I'm so impressed. It was written long before he became famous and has only recently been republished. He writes as well as he speaks and shows huge and sensitive adult perception of his unique and cosmopolitan upbringing as a child of mixed race, estranged from his father. He then describes a disturbed adolescence and you begin to understand the circumstances which created the man he is today.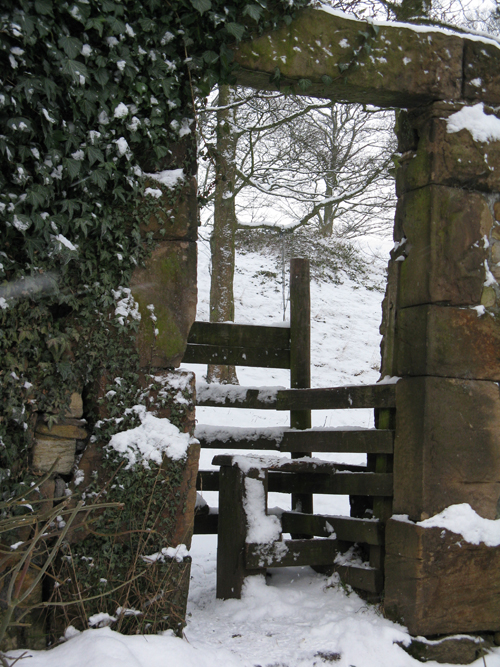 I am just starting the part where he moves to Chicago to work to improve the lot of the downtrodden. Watch this space.
After an early lunch for us, I left Nick to take the boat to top up with water while I took the dog to collect our post from Hilary. After a quick cuppa, we set off to see Wally, one of Hilary's old folk (she does some care work) who lives just up the hill from the canal and who is very much in need of company. He is on Age Concern's list for visiting but apparently the list is long, so I'm going to visit when I'm in Marple. Wally is a great dog man and had pictures of all his dogs around. Obviously Caspar was a hit! He is very much flat bound, and quite poorly at present but cheered up with our company. His small flat looks out over snowy fields to the snow-laden High Peaks which were touched with golden sunshine as we left. Hilary took the high road back to her place while Caspar and I returned to the boat seen here, moored just below the Ring o'Bells pub. Note the snowy towpath. Nick took the photo early but we have had blue sky for most of today - really welcome after the last couple of days!
Wednesday 4th February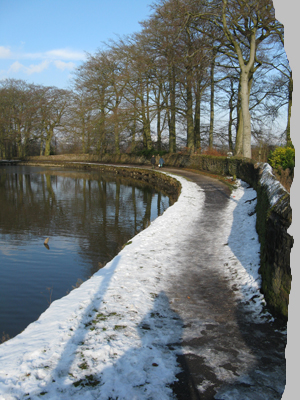 That bloomin' cold I had been fending off has caught up with me! It doesn't seem too awful at the moment but it is a bore!
We had a moderately lazy morning. I did the early walk, had a leisurely breakfast, and after Hungerford Nursery business had been completed and Nick had been to the shops, we had a late coffee avec croissant and set off on a walk, procuring some walking poles from the outdoor shop to help keep me upright - it's still very icy underfoot in places.
We set off down the Marple Flight, cutting off downhill and east, heading towards Compstall. It's a lovely walk, along the towpath and through park and woodland. There were lots of folk out and about enjoying the winter sunshine and many stopped to chat - that's the north for you! We crossed the handsome and historic cast iron bridge over the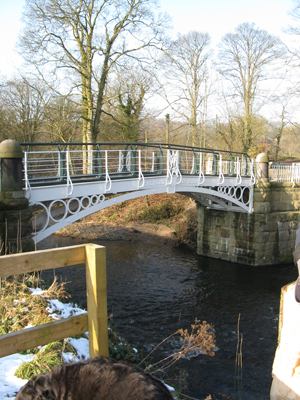 River Goyt: the builder was the first to use cast iron rather than stone in the north of England. When we reached Compstall we sat in the pale and wintery sunshine at the back of the George Inn supping a pint. Revitalised, we crossed the road and walked around the lake and along its canal to a powerful weir at its source (such a lot of unharnessed power!) where even more people were enjoying the sunshine and wildlife.
And now for a bit of plagiarism:
At the turn of the 19th century the Salford Iron Works was a substantial Iron Foundry operated by James Bateman and William Sherratt. Their association with Wright began when they supplied him with a pumping engine for one of his coalmines in 1795. Sherratt was an engineer of considerable repute and it is easy to imagine him telling his friend Wright that he could build him a bridge of iron that would impress his peers. In 1813 he did just that when he constructed the slender and elegant cast iron carriage bridge with a personalised 'W' motif for Wright on his Brabyns estate. Despite sharing some similarities in design with several other cast iron bridges of the time, this is the only one of its kind known to have been built by the Salford Iron Works. Today the Brabyns Iron Bridge is a listed structure of national importance. As the only known surviving cast iron bridge of its kind in the Northwest, it is now a unique example and is of particular importance because it has remained intact since its original construction without alteration or significant loss of fabric.
I caught the bus back into town leaving Nick and Caspar to walk back to the boat. After my wait for the bus and stopping in town for muslin and lemons for marmalade-making, dog and man reached the boat at the same time as me - they must have returned at speed attempting to prove something!
Friday 6th February
Thursday started in standard fashion, and I decided that as my services were required in Northwich it might be wise to set off earlier rather than later, which I did. As it turned out the journey was straight forward - no delays due to the snow! Nick was left behind and Mary dropped in with jars for my marmalade. I had the most luxuriously lazy bath in Northwich before picking Elanor up from school.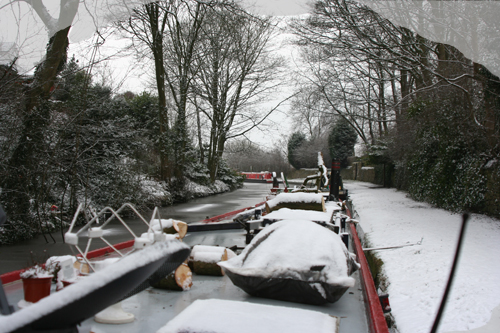 This morning, after taking Elanor to school, I travelled into Manchester on the tram - passing indifferent suburbs and then the impressive Salford Quays. I stepped off in St Peters Square and went and found the Quaker Meeting House which I hope to visit one Sunday in the near future. Then I walked to the Arndale Centre and found the city centre shopping experience a bit depressing. I do feel the need to cheer up my wardrobe as I feel I'm living like a hobo and worse still, looking like one! After this I walked to Piccadilly Gardens and caught a bus to Stockport and followed by another to Marple. In the pet shop in Marple I went to put the dog food into my rucksack and, shock horror, I'd left it on the bus. I was pretty sure I knew which one, but not certain. We have rung and it had not been handed in at four-ish when we last spoke to the lost property office! But it doesn't help when you don't remember the number of the bus you caught. So it's now fingers and toes and everything else crossed for when we ring tomorrow. It's the second time I've forgotten something this week. I feel so cross with myself - I'm hoping it's not serious degeneration of some sort but I guess I've been a prize leaver of bags, specs, shopping, you name it I've forgotten it, for my entire life.
I continue to be impressed by the courtesy and good manners of people here. I particularly notice young people of all races who make eye contact and give way to adults on buses and elsewhere. I actually mentioned this in the newsagent to two young persons and the girl replied, 'You can thank me mam for that'! Thank goodness for all those wonderful parents who are doing a wonderful job, particularly in a week when parents in general are getting a bad press after a Children's Society report which was quite damning and judgemental about them.
Caspar and I called on Wally but our timing was not good. However, he was absolutely delighted and insistent that we try again.
Monday 9th February
Saturday, and the wintery weather continued unabated. My miserable mood relating to the rucksack was not improved when I found the lost property office did not operate till Monday. I slipped down into town and when I returned Mary had arrived to ferry Nick to Compstall Mill for gas replacements. After a quick coffee they disappeared only to find the place didn't open weekends and they went on to a caravan place at Glossop only to find the place didn't stock the correct bottles ie those with a low collar. Saturday night was the coldest we have had and we actually fished out our visitor's duvet to keep us warm.
On Sunday I did Marple Meeting and then returned to he boat quite promptly to organise a quick brunch for Patrick and Elanor and we set off for Buxton to see 'Giraffes can't Dance', a children's show based on a popular children's book. Three young actors presented a magical show. lasting just an hour, with endless fun, music, masks, song. poetry, puppetry and audience involvement. We really enjoyed it! I especially enjoyed 18 month old twins in front of me standing on their parents knees and having a ball! They just creased me up! When we came out of the Opera House it was snowing and Elanor rushed out into the Pavilion Gardens. She wasn't interested in snow balls or snowmen, and there was plenty of snow for that! She just wanted to walk in the pristine white - I suppose when you have never experience snow like that, just doing that is magical. We travelled back over the hills in quite serious snow and when we arrived at the boat Nick had sorted a wonderful roast meal and after that Patrick and Elanor were anxious to be on their way before there were problems with the roads.
We were actually over-warm and had to discard the extra bedding in the night. I did my regular walk with Caspar and after that Nick went down to Marple Swimming Pool. After his return Heather from Sunray across the cut came over to have a coffee with us (that's not quite true, she is sensitive to caffeine and had a rooibos) and then kindly took Nick to get the gas. On their return Nick moved the boat across the cut with great difficulty - although the night had been warmer the ice on the canal was still surprisingly thick. Then it took us 30 minutes or more to reverse the boat under the bridge, just 40yds, to a mooring where we would get a better radio signal for the computing. Nick was exhausted from all the bashing of ice that was involved! I went down to the town in the afternoon; sadly I had to get another rucksack, socks, pants, toothbrushes, shampoo because my efforts to locate the lost rucksack had come to nothing.
Friday 13th February
Where has the week gone? I walked along the canal this afternoon and there is snow on the distant Peaks to the north and east, and there is still ice on the canal though some boats are getting through, but slowly. In spite of that, the blue skies, and the temperature in the middle of the day made me think that there are just a few weeks before we hope to see distinct signs of Spring. We have already spotted catkins though they are not yet yellow and dusty with pollen. However, now as the evening sets in, it seems we will have another cold night. We are still in Marple though we have moved a bit and topped up with water.
There has been some fun with Skype this week - Nick spent 10-15 minutes getting brother Tim sorted with Skype - he, Nick, should get a job on a help line. Then the same evening we have a jolly three-way conference with Tim and sister, Mag. Joe, Tim's son, and the birthday boy, spoiled the fun, calling the oldies 'a load of old codgers' attempting to prove something! I think it is pretty clever though - we've had conversations with a friend in Kenya when she was alone and somewhat alarmed by distant gun noise. And to hear voices from home echoing down the boat seems quite uncanny, almost miraculous! Then, a couple of days ago, I made contact with Sue Stoodley, a school friend. The line was bad, well pretty dire, but it's great that we are now in touch by e-mail.
It has been marmalade-making week - the Tuesday batch was so successful that I've started another batch which will be boiled up tomorrow, and Nick has bought another kilo of oranges for a yet further batch. In the meantime I've done my weekly trip to Northwich. Apart from stepping on a bus which took me on an excursion around half of Marple and the entire southern suburbs of Stockport, causing me to miss the Northwich train, the trip was worthwhile. It seems as if the Relate sessions are going well; from what Patrick tells me, the counsellor seems to be remarkably switched on. Even though I'm back at the house while the two of them go thro' the gruelling process, I am personally wrung out and overwrought and don't sleep for half the night! But it's great to see Elanor every week - I spent an hour last night playing animal hospital; various soft toys had been run over, punched, lost their hearing and sight, been covered with blood and were variously bandaged, transfused, whatever, and returned to the wild.
Sunday 15th February
Saturday was pretty uneventful - perhaps the rugby international was the highlight, an exciting match and good to see England playing well. Uneventful, that is, but for a virtual visit from friends in Johannesburg: we had a Skype connection with Karren who is visiting her brother and his family in Jo'burg, and a texting discussion between Nick and Karren developed into a video tour within Gloriana for the five of them. Beam me up Scotty! I was engrossed in a play on Radio 4 in the afternoon with Dawn French playing Joan of Arc. A straight role like her old man who has just opened ,playing Othello. Two comics going serious - though there were some beautifully comic moments in the radio play, the end was initially painful and then inspiring. One felt drawn into the drama.
On Sunday after an early walk for me, I was down the road to the Methodist Church where Marple Quakers meet. This was 'Messy Church' Sunday. Breakfast at 9.30 and afterwards the group of Quakers prepared a room for a possible influx of visitors. Then we adjourned to the main Church and after 10 minutes folk chose to join us for silent worship, do drama, crafts, coffee and papers or remain for a traditional Methodist service. We found ourselves inundated! I guess half the church came along to join us for silent worship so lots of extra chairs had to be hurriedly set out. After a very brief introduction and distribution of leaflets about First Time in a Quaker Meeting we settled and the meeting was powerful with one helpful reading from QF&P and another about faith and doubt; just 25 minutes and then 5 minutes reflection, again thoughtful with comments about the very fruitful and productive connections between Methodists and Quakers in Marple. Everyone then adjourned to the main church to share what had occurred; 3 short dramatic pieces, craft items, clearly inspired by love and Valentines, all this followed by a hymn and prayer and a short DVD addressing quite profound issues of faith. And afterwards, lots of quite profound talk with coffee. A talk with a lovely Methodist lady, who, like me is really uncomfortable with those who profess unshakeable convictions and certainties on matters of faith. A wonderful morning. Well done Marple Methodists and Quakers!
In the afternoon we spent a while in Cyber Space with Georgina, Nick's daughter. It almost felt as if she was on the boat - chat and companionable silences, and checking out recent improvements in her flat with the aid of her new webcam! It really is clever stuff! Then we travelled on along the ice-free cut towards High Lane for a while and we settled in a more countrified location where we enjoyed a lovely long chat with Matt and Eileen and now I'm due to sort supper.
Saturday 21st February
A whole week has passed during which Nick added a year to his age. We have moved and are now in Bugsworth Basin again having had an extraordinarily mild week, using half the fuel and still feeling over-heated at times. Now there are daffodils pushing up from the warming ground and catkins all over down here at the southern end of the Peak Forest Canal. I brought Elanor back with me this Friday on the train and bus. She is a delight at times and quite challenging at others. She settled to sleep at nine on her bed in the saloon, which left me reading and Nick computing in our cramped sleeping quarters at the back of the boat. I was awoken by a melodious dawn chorus (birds, not Elanor who slept through without a break) before six and by seven we heard the first train and the start of traffic along the A6, directly across the cut in Whaley Bridge. We have now moved along and into our favourite spot in Buggy Basin. We have Mary and Julia from Marple Quakers coming to lunch tomorrow and Nick is off down south, doing his Chair of Governors thing, on Wednesday for a few days. As February draws to an end we are starting to think of moving on, maybe sometime in mid or late March though that is the time the new baby Furr is due to put in an appearance so we will need to be flexible.
Sunday 22nd February
After a short-ish doggy walk and a touch of food preparation, I walked down the cut to the bus stop to catch the bus to Disley Meeting. I went without raingear and watched the rain fall steadily through meeting which was a very special hour as per normal. Both ministries were connected to the Alan Bennett play on Radio 4 the previous day - it seems half the meeting had listened to it and reflections after the meeting for worship were also spiritually illuminating. One ministry praised Alan Bennett's tolerance towards the two batty old women in his life. Yes, we all need to be tolerant, but where does it stop being tolerant and sting art being just 'wet'! Bennett's voice and work is a treasured part of our national culture but it can be dreary when listened to for long periods of time. I watched the rain fall all through meeting - somewhat disquieting, as I had no rain gear, but amazingly it had stopped for my walk, bus and walk return to Bugsworth Basin. Mary and Julia arrived a little later and Nick had the meal organised, as ever, impressive in the kitchen. It's lovely that we are entertaining our friends in our winter home in the Peaks, lamb from the hillside just local, and rhubarb from across the Pennines! After an exceedingly leisurely meal we took a walk around the basin and said goodbye. We had an indulgent evening of TV - skating, Larkrise and something else remarkable 'cos neither Nick nor I can remember what it was! Except I just have - Paxman's The Victorians where he explored how the art of the time reflected the society. Excellent and memorable rather than forgettable - probably the best TV of the evening!
Monday 23rd February
On Monday we travelled back to Marple, stopping in New Mills for me to go to the organic shop, and apart from a delay caused by a fouled propeller, we made Marple in good time where Nick did a further de-foul, this time of the septic tank - lovely stuff! In the evening we went to see Slimdog Millionaire at the Marple Regency which we did enjoy - it's great that it has won so many awards because it had no Hollywood stars or big names and is so original wit lots to say about India (or indeed about our inequitable power-driven, materialistic world) and the recent economic development there. I loved the music and the only 'media' star in the whole thing - the Indian compere was brilliantly sleazy! Then the ending, which some might claim was sentimental, was just joyous! Having won 20 million rupees was not relevant - just goodness and steadfast love triumphing over violence, control and greed!
Tuesday 24th February
On Monday Lesley. a Newbury Quaker, visited us on the boat, bearing a Quaker book gift from Newbury meeting, which I've already delved into - it is good that great minds can put down on paper so many of the deeply felt spiritual insights I feel, but always struggle to communicate. We enjoyed a leisurely coffee and shared family concerns. That's two Newbury Quakers who have visited us on our travels. Perhaps we'll see more before the end of 2009. And family and friends! We then travelled on to Higher Poynton from where Nick will leave tomorrow for Hungerford, and I will be picked up on Thursday to go to Northwich to mark another year in my life! Aaagh!
Saturday 28th February
And so our ninth month away from Hungerford draws to a close, though some will say they've seen more of me about the town than they might have expected. Yes. we journeyed south east to Poynton in weather that continues to be unseasonably warm, Caspar jogging along beside the boat. Higher Poynton is a lovely mooring apart from the fact that the towpath is horribly muddy (we haven't had rain so I guess much of that is from the great thaw!) I have found the essential thing for me is light. We often stop in Marple below the 'Ring o'Bells' beside a high wall because the signal is good for the computer but I feel the winter is still closing around me there. We both left the boat mid-morning. Nick heading for Stockport and stations south to Hungerford while I did a little shopping in Poynton and caught the next bus back. I went on a cross country walk along the cut, over a footbridge and up the hill. It was a pleasant afternoon and the view down towards Hazel Grove was splendid. I had planned a circuit having checked our map. Unfortunately when I reached the ridge the footpath struck off across field with deep slippery mud and a group of friendly/frisky horses and I wasn't big and brave enough to try that with Caspar. I managed without the technical manager to get the TV going and enjoy the box, not specially great on a Wednesday but company when you are on your own!
On Thursday, and my birthday - yes, Nick did abandon me on my birthday - I sorted the boat hurriedly as Patrick announced he was arriving quite early. It is important to leave the boat secure but I handled that, again without management! I take advantage of the washing facilities in Northwich and with walking boots, dog food and bed we piled into Patrick's little car. I picked up Elanor from Super Kids and was delighted when she shyly wished me a happy birthday on my arrival. What better birthday treat can I have than a thoughtful little grand-daughter! Patrick seems to me to be wonderfully strong considering the domestic situation in which he finds himself. An added problem is causing him anxiety as he is seriously concerned about his company's financial health, so much so that he has changed the insurance on the huge mortgage they have taken out for the house which Abi wanted so much! Unfortunately the new insurance doesn't come into operation for 60 days! So fingers crossed! All over, the same thing is happening to countless families but that doesn't make it any easier.
I stayed over in Northwich on Friday and I had a luxurious bath and went into Northwich to buy fish for a fish pie and get myself a specially birthday treat - a pack of 7 knickers from M&S! And my sorties into charity shops paid off - I found a super, quite natty little black corduroy jacket. I picked Elanor up straight from school at her request. Superkids (her after school club) appears excellent in my view but she was so delighted to be picked up with the majority of her class. Her huge smile was another gift - so many things like that that money can't buy!
On Saturday I can claim to return to a waterways theme. Elanor and I went with Patrick to the Rowing Club and watched him set off in an eight. Goodness! isn't rowing complicated and so very marshalled and almost militaristic! It's certainly not a sport for the faint-hearted and sensitive and I guess, is a wonderful lesson in teamwork, Then Elanor and I visited the farmer's market held at her school on a monthly basis where I bought some veg and meat for the weekend. After a light lunch I was returned to the boat and prepared for a disgruntled Nick's return - he had to walk from High Lane (two miles) because of the weekend bus timetable. Later that evening we agreed that it is possible to be agrophobic away from the boat rather than claustrophobic on board!