Tuesday 3rd March
On Sunday morning we made an early start in order to get back to Marple for me to attend Meeting for Worship at 10.30. It was a totally silent meeting, just 8 people but the silent communion was very powerful and comfortable. Sharing time afterwards was good and as we were missing elders and overseers notices were limited to sharing information from QPSW - that's the organisation of Quaker work out there - peace work, prison work and social work, nationally and internationally. I recommended the book New Light which Lesley had bought from Newbury. In it twelve Quakers write about their take on issues central to the Quaker way - their views on God, pacifism, Jesus, evil, equality, simplicity etc. I haven't finished it yet, but it is a wonderful way to read and understand what modern Quakers are thinking, believing and striving for in their lives. Our socialising afterwards tended to the seriousness of the downturn/recession/depression - not the cheeriest of topics.
I returned to the boat and after chatting to James and Heather we changed our plans for the forthcoming week. Apparently there had been fifteen boat break-ins down on the High Peak Canal with laptops and even a wood burning stove taken. Apparently some people had been caught but they alone did not account for all the trespassing, so James and Heather felt safer in Marple. We had intended to go back down to Whaley and Bugsworth but decided to return along to Poynton and beyond. So here we are right along at Bollington. The barometer is way down and we have had rain from midday and now it is quite windy. And again we have problems! As we were entering Bollington an unpleasant banging indicated that the prop was again fouled but when Nick investigated he found it apparently clear - so something else must be amiss and we hope the weather tomorrow will enable Nick to investigate further. We are moored just near Clarence Mill, a few yards from a dramatic aqueduct which passes approximately 50ft above the road. There are views over the roofs of the town, north and south, the neat, well equipped recreation ground, a distant viaduct, now taking the Middlewood way from Macclesfield to Marple, and the dramatic hills rising in the east. Luckily there are amenities here if Nick is unable to sort the problem tomorrow.
Friday 6th March
Early Wednesday morning was sparkling bright and really cold. I did an unusually long walk, back along the canal, down a lane and back along the Middlewood Way, a disused railway track which goes from Middlewood, just south of Marple, to Macclesfield. After breakfast, Gloriana set off tentatively, prepared to stop, and lo - no indication of any disturbing knocking from the nether regions! The problem seemed to have cured itself although Nick had been fiddling with one or two things. So we felt confident enough to travel on towards Macclesfield and arrived early afternoon. I popped down into town and was concerned to find that a number of prominent shops in the High Street had shut down. It appears the recession has made its depressing mark here.
On Thursday I made an interesting journey to Northwich. Nick walked with me into town where I set the ball in motion to change my bank account from Barclays to The Cooperative Bank, something I've been meaning to do for ages. Then it was a bus to Knutsford - a lovely town with an excellent Booths - the only supermarket I've been in which is architecturally interesting, inside and out. Onwards I travelled, on the bus to Northwich, and after a quick foray into the town whilst waiting for a connection, a third bus took me to Kingsmead and my weekly appointment with Elanor and 'civilized' household living (that is with respect to bath and washing machine rather than family ethic), and a granddaughter with particularly challenging behaviour.
Meanwhile, back at the boat, after an hour or two's work for Hungerford Nursery, the decision is made to take the boat down beyond the Macclesfield-Leek road to where we had previously picked up some decent wood for logging. Having been told the previous day that passage South was possible beyond Macclesfield, it was a little concerning to be stopped by men working with a crane from a barge, particularly as Gloriana was a quarter mile beyond the winding hole, but they kindly stopped their activities and made way for Gloriana to pass through. She was moored overnight near the bowling alley we had visited with Simon and George in September, and moved a half mile further in the morning to the wood where several branches were harvested which now await logging.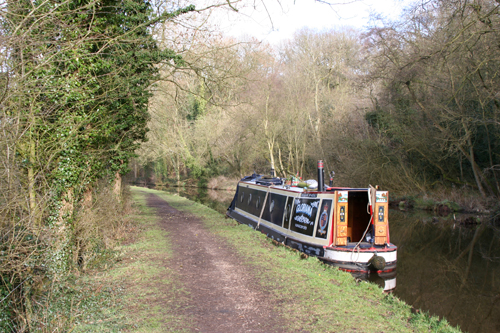 Then on Friday Patrick dropped me at Knutsford and I returned to Macclesfield and a new and interesting bus journey out of town, past the football ground. towards the canal to be met by Nick and Caspar (I would have missed the stop if Nick hadn't hailed the bus) and lead past a horrid retail business park and on to an ultimately green, Spring-like, leafy canal bank and dear Gloriana who was looking in need of a good spring-clean!
After coffee we set off further down the cut to the winding hole where, after winding, we moored for a while (picture) to have lunch. Much debate ensued as to what our plans are for the coming months. There are many elements, some conflicting, which are ordering our ideas, but the consensus for the moment is that we'll reverse our earlier intent and do the West coast before crossing the Pennines for Leeds. This has the advantage that we will remain easily accessible for Patrick and Elanor, and our start date for leaving this area will be sooner than it might have been.
A very poor mobile signal decided us to move back to our previous mooring by the wood at Broadhurst swing bridge, and by half past four we were moored up for the night - with an acceptable TV signal.
Saturday 7th March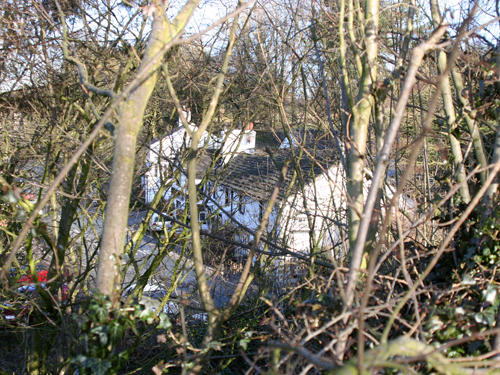 One of the real advantages of our being south of Macclesfield is that, once again we can visit one of our favourite hostelries, the Old Kings Head on Byron Lane by the Gurnett aqueduct to which we had introduced Simon and George in September. We woke on Saturday morning at our usual civilised hour of about eight o'clock to a cooler sky than the previous day, though to an acceptably comfortable air temperature. After a leisurely breakfast followed by a short spell of logging, we moved back towards the aqueduct, with a brief if unproductive visit to Homebase on the way. Having selected a mooring to give she who must be obeyed a good TV signal whilst he who must provide all goes south for a day or two, we set off to find out how the Kings Head had developed since our last visit.
The landlord had only just moved in when our first pint at the Kings' was downed, but, six months on, he remains as ebullient as ever, and his apparent initial recognition of us was later confirmed when he referred to having looked at the photo of us on our website taken across the road in the face of oncoming traffic (see 6th September). We were persuaded to try their Steak & Ale pie, something the Kings Head has, with all justification, become renowned for: it was, with chunky chips and vegetables in attendance, superb! Apparently, boaters are telephoning to order in advance of their arrival on the mooring as it takes twenty-five minutes to prepare, and Xmas day diners were asking for it in preference to the seasonal fare. One might even recommend a journey from the south to those with a penchant for steak pies.
After lunch I set off to walk into Macclesfield centre for provisions: it took half an hour to get to the railway station (useful data for Monday morning) a similar time to do the shopping. and only a little more to get back. Tonight there is a live Blues band at the King's so we are both taking it easy 'til nine o'clock. Which was busy! We crept in and found a seat in the furthest corner from the band but did not stop long - the place was heaving with groups, making us feel a little isolated and lonely, which is not usual. They do say you can feel lonely in a crowd. We enjoyed a drink and some people-watching and returned to the boat and bed.
Wednesday 11th March
This was my first Sunday without a paper or Quaker Meeting - an intellectual and spiritual void! After an uneventful morning we went down to the pub which had been cleared up after the party which apparently went on well into the early hours. The smell of the roast rib of beef, advertised on the board. was wafting from the kitchen and was just too tempting! And there were the Sunday papers - not entirely to my taste but better than nothing! A decision then had to be made - travel into Macclesfield with easier access to shops or stay by the Gurnett Aqueduct and The King's Head and get a TV signal for while Nick was away. I chose the latter!
My few days alone have been okay - and I am now quite familiar with the Gurnett and Sutton Lane Ends area which is really pleasant - lovely houses, full of character, gardens full of snowdrops, crocus and a few early daffodils, and countryside with more and more signs of swelling buds, and the suspicion of green shoots, the odd celandine and daisy - which have been explored thoroughly by Caspar and myself. I walked into town on Tuesday to do a little shopping and get some reading material from the charity shops. This means I've now embarked on The Golden Notebook by Doris Lessing. This is her most famous book and as she has won the Nobel Prize for Literature I felt I should widen my horizons. I wondered if it would be too challenging and intellectual but I'm quite absorbed. I chatted to a delightful chap with the face of an angel and a mop of white curls who knocked on the boat - he asked about how we were coping with permanently cruising and turned out to be a healer. Somehow I could believe it - he seemed amazingly gentle and benign! By the time Nick returned on Wednesday I had done a lovely 3 mile walk and a fair bit of boat cleaning and tidying. Tomorrow we will travel north and I will travel to Northwich to my family and Nick will travel on towards Bollington and Poynton.
Friday 13th March
While I was away over in West Cheshire, Patrick expressed extreme puzzlement as to why I was electing to travel back to join Gloriana on three buses (it would have been five if he hadn't run me over to Knutsford), so I will explain. Firstly I have approximately £5 in my purse; that covered the delightful 'Next' cotton top, the leather belt (now trousers regularly fit off the waist and sit on the hips, my existing one is no good!) and a book for Elanor from three of the excellent charity shops in Knutsford. Now, Knutsford's a delightful town in the Cheshire stockbroker belt, photograph in The Independent today, because on Tuesday, an Everton striker (big and black!), presently incapacitated, was accosted by two police officers outside a smart jeweller's; they thought thought he was 'casing the joint' as opposed to indulging in some window shopping! While travelling on public transport I can indulge in the sport of people watching and ear-wigging. For instance, while I waited in Macclesfield for the bus connection, I sat opposite a beautiful young thing. She was extremely attractive with delicate features, beautifully pencilled eyebrows and a porcelain, English rose, complexion, her hair pulled back quite severely. She was wearing, what could be described best as bother boots with three-inch soles and enormous buckles, combat trousers, hand-cuffs attached to her handbag and an elegant voluminous black coat which could have been worn over an evening gown. What an odd combination - but she looked great! Then, just as fascinating are the numerous grannies, just like yours truly , who clearly travel regularly on buses and are always on the lookout for a fellow traveller, to share the cares and interests of the world - blood pressure, Jade, Goody's dying days, value-for-money buys, whatever! Then the driver from Stockport was a surprise. Bus drivers usually come middle-aged and benign with endless pleasantries. This one came as a fresh-faced lad, hardly out of school! I also love to look out at the architecture - much of it indifferent but if you keep looking there are always fascinating touches. For instance, the bus coming out of Stockport stopped at lights: just out of the window was a delightfully old, cast iron, black and white signpost, circle atop with 'Stockport' around it, and the signs indicating distances to Buxton and London to the south and Manchester and Carlisle (119 miles!) to the north. So beautiful compared with the modern signage! There were 2 small pubs and the small one across the road, not much more than the end of a terrace of two up, two down, has lovely stained-glass windows - all part of our amazing heritage! Oh yes, I am now acquainted with a distant view of Jodrell Bank, at some point, between Northwich and Macclesfield; quite impressive, even from a distance. Then there was the amazing Civic Centre in one of the charming streets in Knutsford - quite strange. I thought, from a distance, the tower might have been a mosque. The building is exotic, the opposite of English heritage, but strangely, because of its dimensions still seemed comfortable in the charming market town.
Sunday 15th March
I had joined Gloriana in High Lane on Friday, driven there by the delicious and pleasant young busdriver, and we (Nick and I) stayed the night in order to collect some of the wonderful bread from the special baker there, a young man with long hair and metal-framed specs who could easily have been a philosophy student. It's before eight in the morning and he has just popped home for a shower having been up all night tending his wonderful bread - "Well, it's been produced slowly, a lengthy overnight rise with care and attention," producing bread that is more dense than most modern breads and is still really good 5 days later. Then we travel on to Marple where Mary picks us up to take us to her place in Romiley for a leisurely coffee and lots of talk about human development and relationships. Nick offers to organise a Freesat TV service, something she has been considering for awhile. In the afternoon we shop, and much of the remainder is taken up with a lengthy 'virtual' conference with Simon where he and Nick discuss options for an MP3 player while discussing options and reviews on the net. Because we have an excellent signal it seems as if Simon is on board and I can chip in on the conversation wherever I am on the boat, just as if I am in the next room! While talking, Nick also has a virtual typed communication with Karren in Kenya, and Simon and he advise her on issues concerning bauxite mining, with the help of the web. It's all bizarre and miraculous, really! We are also keeping up to date with the ongoing progress of the Italy/Wales game which is quite engrossing and when the conference finishes we watch the end of the match which Wales only just manage to win.
On Sunday I attend what is in all likelihood my last Marple Meeting whilst Nick sees to an immediately necessary pump-out and logs the timber remaining on the roof. It is lovely - the ministry, about the idea of focusing on yourself as a garden, as a stimulus for a meditation. Sue, who gave the ministry, said that she could only think of herself as a gardener, but that during the silence had reconsidered and found the idea quite stimulating, which we all did, Hilary moving into retirement saw her earlier, busy life as a gardener, very much as a 'doer' but looked forward to retirement when she would learn just 'to be.' It certainly gave me lots to consider. The garden is there, with its own particular soil structure, landscape and plants but it then gets lots of attention, some of which is nurturing, entirely fitting the garden, while there can be neglect. or some destructive intervention, or even 'acts of God' like extreme weather or fire! It's a wonderful analogy. I started to think of how different people I know would 'transmogrify' as a garden and indeed what a perfect Quaker garden would be like!
We've just caught the end of the England/France match, the last 10 minutes demonstrating that we should have tuned in earlier, but we had had to travel to get a decent signal. A great result.
Monday 16th March
It has been a glorious day in the High Peaks and the number of boats on the cut indicate that folk are on the move. We travelled south from Strines to Disley as we are waiting to hear how long we are likely to be delayed by the pollution at the bottom of the flight in Marple, It's ironic that this occurred just as we had resolved to go that way and then east. Furthermore we have heard that the problem is serious and there is a meeting today in Wigan to discuss the problem. It seems we might yet be going West! Mary arrived mid afternoon and Nick accompanied her to the TV shop in Disley where we had acquired our Freesat kit several months ago. We travelled on to New Mills and tomorrow will pay our final visit to Bugsworth Basin before we begin our 2009 travels, proper!
Tuesday 17th March

The dull sky and distinctly chilly wind was a disappointment on Tuesday morning. We travelled on, stopping briefly to consult a mechanic at Furness Vale Marina as the engine is running too fast and Nick hasn't yet managed to sort it. No joy there! So we travelled on to Whaley Bridge where Sarah from Disley Quakers unexpectedly joined us for coffee before I went shopping in Whaley. I picked up a leaflet about Dunge Valley Hidden Gardens a mile or so out of Whaley offering "a March garden, full of anticipation with early flowering Rhododendron and Snowdrops, followed by Narcissi and Daffodils in profusion and the return of the Curlew their calls filling the air" Joyous! Until I discovered the garden was open only for the second half of the week.

Then we set off for Bugsworth, surprisingly busy so we were delighted to find our lovely private mooring free with its seat and garden. After lunch we listened to the afternoon play, a beautifully poignant and poetic piece by Danny Abse about his grief after his wife's sudden death in a road accident. It was particularly touching as theirs was such a long marriage and I couldn't help feeling especially sad about the fact that Patrick and Abi have been unable to enjoy a loving, long term relationship. Then I took Caspar for a walk, over the A6 and through a small community, Crist, not much more than a terrace of stone cottages looking over a deliciously lop-sided cricket field and a football pitch. It seemed that the community could barely support the teams but it was clear that the cricket square and pavilion was much loved and cared for! Perhaps the folk from Bugsworth across the valley (and the A6) support the teams. I took a narrow, winding road leading up the hillside with dry stone walls encircling small fields (not a huge amount of livestock; a few sheep and cows): I didn't quite manage to reach the summit, Caspar had started to stop and look at me and tell me it was a fair way back and nearly tea time! A relaxed TV evening followed with Andrew Marr's 'Darwin' documentary, quite dark this week with eugenics and the Nazis. Then rubbishy Holby, followed by a fascinating Horizon programme about children's development. Alan Baddiel explored education and the balancing of attainment with well-being: looking at his and his family's educational backgrounds and the ideas supported by the latest research into learning and attainment. All fascinating stuff which probably accounted for my brain being unable to shut down at bed-time.

Wednesday 18th March
The weather forecast had not been especially promising but we awoke to a bright day and though it clouded a little for an hour or so, we have enjoyed a glorious Spring day. We left Bugsworth quite early and stopped again at Furness Vale for Nick to go and talk to a mechanic he rated re the engine problem. He was back quite quickly and within 5 minutes our engine problem was sorted! We then travelled on to New Mills for coffee and I set off to collect a stash of organic apricot muesli from the organic shop - the best muesli we've ever had. I found a new way, a quick and wonderfully scenic route to the town via the Torrs Gorge and took some photos of this impressive heritage site, looking especially lovely in the sunshine. I love the way the industrial structures, viaducts, mills, chimneys, blend fit comfortably into the dramatic landscape. I find industrial architecture just splendid. Back on the boat we travelled a little further and stopped in a wonderful spot just close to the Strines Aqueduct where we enjoyed lunch and the sunshine, enjoying a chat with a pleasant and newly appointed linesman who was unable to give us positive news about the stoppage at the bottom of the Marple flight. After this we moved on to Marple where we are expected for supper with Hilary and Joan and where we will collect a parcel which has been delivered there.
Sunday 22nd March
We had a lovely evening on Wednesday with Hilary and Joan. This was my farewell to Marple and Friends there. Hilary, Clerk at Marple Friends, is a delight. She is just on the point of retiring from some care work she still does and is preparing for a new life with Geoff, wonderfully upbeat and joyous at this new love in her life after what I understand has been a busy and challenging family life and career, mainly in education and in active Quaker life.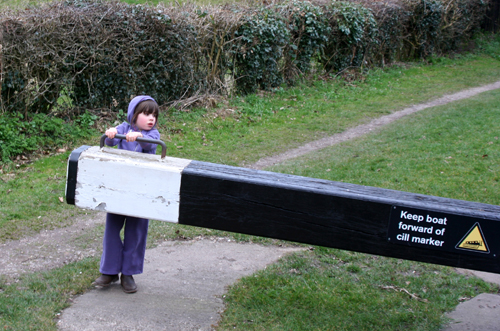 The next morning I set off for Stockport and Northwich leaving Nick in Marple where he managed to get a lift with James to Compstall to get gas. I returned next day to High Lane to find Disley friends Sarah and Pravin enjoying coffee on the towpath with Nick. On our recommendation they had come to find our wonderful baker and were delighted with the delicious sun-dried tomato bread. Better still, they invited us to their place at Disley to enjoy a feast al fresco on their newly built patio. If somebody had told us that we would be enjoying a picnic in mid March we would never have believed it! Yet another lovely farewell to this part of the canal system, all thanks to Friends!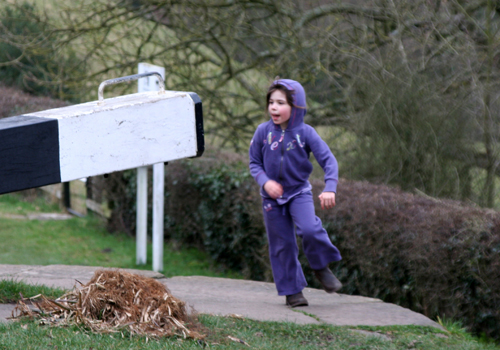 On Saturday we travelled onwards. We are now resolved to travel West as it appears we are unable to travel East, due to oil pollution which is unlikely, in Nick's opinion, to be cleared before the end of April at the earliest.
The glorious weather is over and it is grey and increasingly windy as we make the Gurnett Aqueduct on Saturday evening. We set off early on Sunday, stopping to collect wood and have brunch awhile, heading onward to the Bosley Flight where we are to meet Patrick and Elanor, a delightful visit in prospect on Mothering Sunday. Elanor just loved helping with the locks, insisting on pushing the gates all by herself and rushing on to the next one and dancing around with excitement. Then at the bottom of the flight she was still lively and went off with Nick for ages exploring the woods. The only time she sat still was for dinner and the 10 minutes quiet book time we insisted on afterwards. Then we were up and off again back to the car, with an excursion into the woods to show Daddy and Granma en route! A refreshing few hours!
Monday 23rd March
We woke to wind that has increased as the day has progressed. We were moored in a beautiful and relatively remote spot at the foot of the Bosley flight and, for some reason, I sang Rutter's arrangement of a hymn I heard on the service on Radio 4 yesterday at the top of my voice as I walked with the dog in the lovely countryside. The sap must be rising! After breakfast we set off and reached Congleton for coffee and lunch, after which I slipped into town for a few items as we are now having to plan our shopping trips more carefully. We then travelled on as the wind blew more and more fiercely. I'm afraid we would have made a wonderful subject for 'Candid Camera.' Nick knew we would have problems getting the boat moored where we had planned to stop so I stood by with the front rope. All went as planned as I took the rope while Nick struggled unsuccessfully to get the back in, but I threw the front rope back on board causing Nick to shout in incredulous falsetto angst at me. He took another go at it and managed to get ashore with the centre rope which I held while he fixed the stern. Then for some reason he revved the boat forward to tighten the rope but this caused the pointy end to blow out and I was quite unable to hold the dear thing in - so it was my turn to curse and shout at himself! We are now secure, calm and showered, "Archer"ed, and ready to prepare the evening meal.
Wednesday 25th March
Seven and a half hours! Yes, that was from eight thirty, when we started up Gloriana, three miles or so north west of Kidsgrove on the Macclesfield, 'til we turned the key to switch the engine off at four o'clock, just two locks south of Wheelock on the Trent and Mersey! That was yesterday! The weather was bright and breezy from the start and with bad weather forecast we just kept going. I must say I lost my 'get up and go' from midday and my contribution to the epic day was sporadic! Nick kept insisting that he could cope by himself but I find it difficult not to help. My just driving dear Gloriana out of the locks (25 in all) means Nick does not have to i) climb down on to the boat, and ii) get off as he leaves the tail of the lock to close the gates: that does make a difference. The locks are fairly well maintained on the whole and the scenery mostly attractive, and lunch was cheese on toast on the hoof. There was not a great deal of canal traffic though most of the locks were set against us. We met just one boat coming up and I believe just three or four boats travelled down the flight behind us! Within a half hour it was raining and blowing hard, which it continued to do all night and into this morning, with 6" waves blowing along the cut and regular heavy downpours. We had a brilliant internet signal and consequently enjoyed some leisurely and extended phone calls, but no TV signal! We are presently locking down the final two locks into Wheelock and Nick has insisted I don't get involved - better one wet and bedraggled soul than two! But exciting news from Emmeline - baby Furr/Bird is on the way - will it be 25th, 26th or (I wouldn't wish this on her!) 27th! We are standing by for news!
Saturday 28th March
It was the 26th! Welcome to Joseph, and congratulations to Emmeline and Sean, and also to Susie and Ian, in even-further-away Cornwall, for their good news (a brother or sister for Gabriella and Evie in September). Ironically, we are presently encountering the worst telephone and network coverage for absolutely ages, just when we would really like to have it at its best! We received the splendid news of the arrival of Joseph Benjamin on 26th, apparently he arrived at 4.14am and we heard at 8'ish. Shortly after receiving the news, Nick was engaging with a child in a pushchair on the tow path and unbelievably the child was called - Joseph Benjamin! By tea time on his birthday, the new arrival's image (of him less than 6 hours old) was on this website, and by Friday evening pictures of proud, but exhausted Mum (and Dad), and a radiant Aunt Georgina, had been added to a dedicated page in the Picture Gallery. George looks like she's going to be a very devoted aunt! While all this was happening I had made my weekly excursion to Northwich and on my return stocked up with provisions for our journey into urban-free territory. We are now on the Shropshire Canal, a day or two away from Chester and both of us are missing those wonderful High Peaks. Still, lots of cultural things await us in Chester. The weather is blustery and unsettled. We locked up, along the Middlewich Arm to the Shroppy and spent an exceedingly quiet night in the middle of nowhere last night. We have just stopped to allow Nick a break, and our next obstacle is a double width, staircase lock. Beyond this we hope to be in communication again, but who knows. A text message from Emmeline tells us that she and Joseph are going home today.
The two-step staircase lock at Bunbury was interesting; two boats were coming up and we were going down. After much cogitation it was decided we could all go for it and pass mid-way, which we did. Soon after this, the flat and rather tedious outlook improved, with a view of imposing and rather forbidding Beeston Castle on its dramatic hilltop to our left and a delightful bank of primroses on our right. I haven't previously mentioned that there are plentiful celandine and daisy: the willows are suddenly displaying their pale green curtains and the hawthorn hedges are beginning to green up. Everywhere there are daffodils. We've seen magnolia coming into bloom but a marked frost has been forecast: Oh dear! We are now in Beeston Brook, a pretty settlement with 2 locks, one of cast iron sitting on shifting sands. Looking at the map we find ourselves on the low-lying Cheshire Plain and six hours should see us in Chester.
Monday 30th March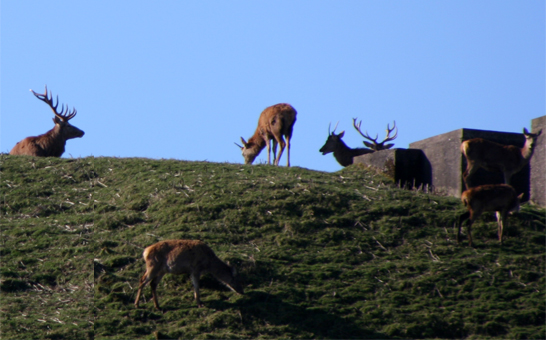 It was a especially cold on Saturday morning. I tried to walk up onto Peckforton Castle which looked like an inviting Jac style climb (easy) but couldn't find access, the reason being that there was a herd of deer including a one or more stag with amazing antlers all over the summit by the time dog and woman arrived back at the boat! We set off onwards in a northerly and westerly direction towards Chester through a few more locks passing Beeston Castle a mile or so away to the south. and then a couple of miles of moored boats - the canal equivalent of ribbon development. Finally we moored in the outskirts of Chester, a perfectly satisfactory mooring with daffodils, ducks and ponies to starboard and a fine wall shielding us from traffic noise to port! A seriously dire Sunday with no paper or Quaker meeting though I am hoping to sort a mid-week meeting in Chester on Wednesday.
On Monday, we motored on into Chester dropping down through four locks, past industrial architecture, then through a residential area with tasteful old, new, large and small homes, and finally we found ourselves in a sandstone cutting with the city walls above us and the triple staircase, double width locks away in the mid-distance, and beyond the distant plain where the Dee estuary flows across the Wirral to the Mersey.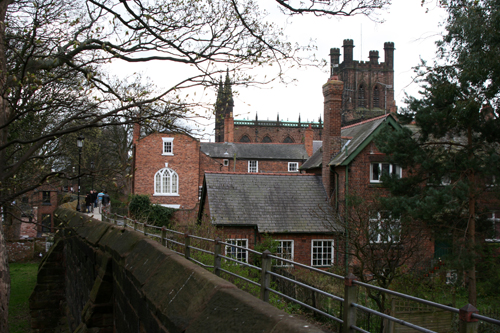 We discovered that in spite of the fact we were in a deep cutting we had a good signal, so after Nick had done his various computer tinkering we set off, via a pleasant walk along the ancient wall of the city and down into town, where we found the covered market and wandered around the city centre, identifying Town Hall, cathedral, covered market and grabbing a bite to eat at a small deli on one of the amazing galleries above street level that one finds in Chester. Thus, re-energised we returned towards the boat in a leisurely fashion and I was delayed awhile in a wonderful half price bookstore, on the walls of the city. On our return the folk on the one other boat in the area asked if we would like to join them on the staircase locks ,and we did. Quite dramatic, it was and I was consequently surprised, when I checked, that it was only 40 feet. Right at the bottom of this flight the canal takes you under the railway and turns into Tower Wharf, a pleasant open stretch of water where it is possible to lock down on to the River Dee a) if you give a week's notice and b) when the tide is high! However, we decided to travel on northwards towards Ellesmere Port and are now moored a mile or so out of Chester in the middle of nowhere but with the lights of Ellesmere's chemical industries casting an orange glow in the sky ahead!
Tuesday 31st March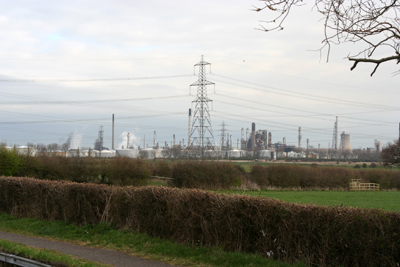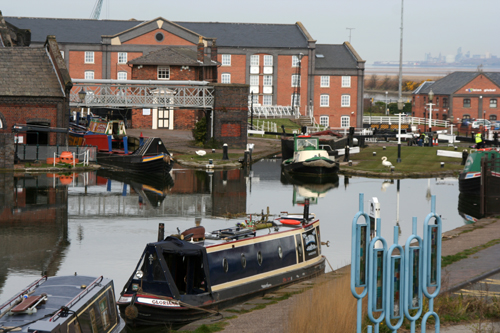 An early start saw us in the basin of the boat museum at Ellesmere Port by 11am, and by half past two we had walked round most of the exhibits and dabbled with several of the interactive displays, The landscape approaching Ellesmere Port is decidedly industrial, known to be more attractive by night, but we didn't stop to prove the point. But in the museum basin there was a lot to see by way of vintage boats in varying states of repair, and we learned that there will be a meet of classic working boats and boats such as our own over the Easter weekend: we are thinking seriously of being involved.
As we were low on provisions and we were not certain about how to access shops or buses we decided to return to Chester and found a pleasant, quiet rural spot to end the day. We had woken to a seriously struggling fire and the temperature was so mellow that I didn't bother with it, so 31st March is our first day without a fire since way back, though we did just light it for a little comfort in the evening.