Tuesday December 1st: Lancaster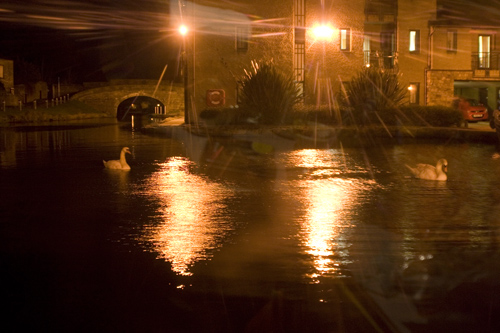 .....and the morning dawned, just as it did on this very date last year, with the first ice of the winter on the canal. Soon after eight, having wrestled with frozen mooring ropes, we set off, Angela aboard with us, Within a few hundred yards, Gloriana was in ice-breaker mode and this continued intermittently, but for long stretches, until we approached Garstang. A five-minute stop to pick up another 25kg of coal en-route and we were moored in Garstang just before ten. Whilst Jackie and Angela walked into the town centre to do a little shopping, and, apparently, to experience the superb toilet facilities at Booths, I emptied the foul tank but was unable to top up with water because the supply pipe was frozen. After coffee and croissant, we set off again. The weather was very cold but dry and not too dull; by midday the sun had burned through the cloud and we were enjoying a very pleasant journey. We stopped briefly in Galgate to return Ken's diesel containers (thrown indecorously across an expanse of water to him!) and soon after three o'clock we were tied up alongside our previous mooring in Lancaster, but with a better view, and a TV signal.
Angela was indomitable, outside for most of the time in spite of the temperature, and yes, it's good to be back in Lancaster again: within minutes of arriving Nick was employing the excellent internet signal we get here and having a skype video conference with Emm and Joseph. I'm looking forward to rediscovering the city and skipping across the road to the launderette tomorrow.
Thursday December 3rd: Lancaster
Wednesday was a bright and pleasant day and much warmer. We haven't been overly busy; I've done a couple of visits to the launderette and some much needed sorting and tidying. The highlight of today was a walk up to the Meeting House where the local CND had organised a talk by Bruce Kent. He is quite a venerable gentleman now; I remember him from the CND Marches from Aldermaston to London when I was not much more than a kid. He was an excellent speaker and hugely well informed, positive and up-beat, self-deprecating, with an obvious sense of humour. If I started a trifle cynical and pessimistic about the issues he raised, I became convinced by his conviction that the change we want can happen if we chip away at issues and take advantage of every situation as it arises, to argue our point. He had talked to 6th Formers in the afternoon and had been equally well received.
I've just finished another book, but hence forward I will do my book reviews on a dedicated page on the web so as to avoid boring the less literary-minded of our readers. For the moment you can access it by clicking here.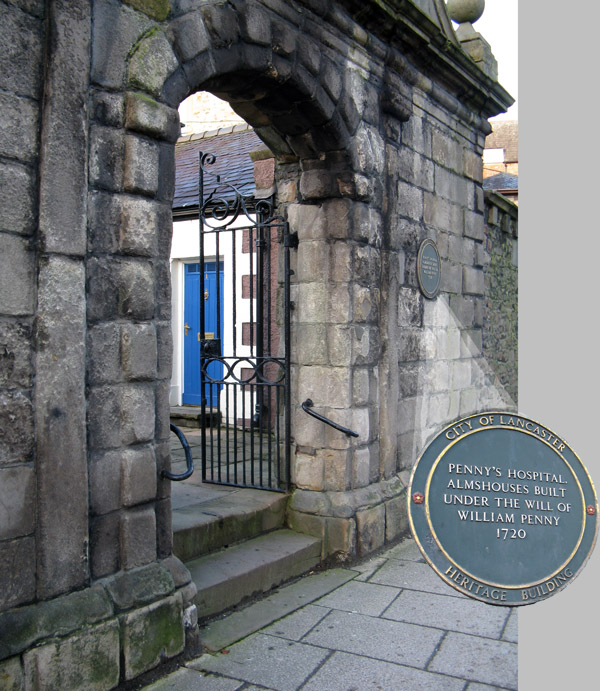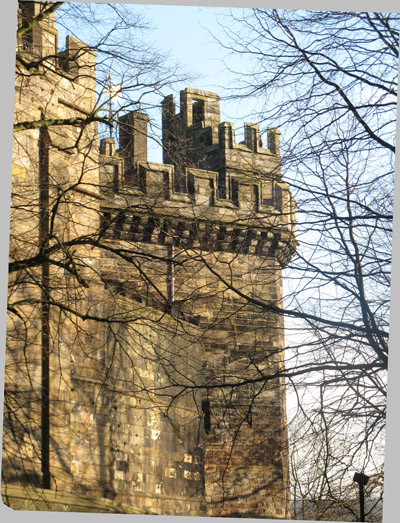 Saturday December 5th: Lancaster
We are still not entirely dry up here in the north-west but at least it's happening mostly at night. So, yesterday I set off in bright sunshine, into the city with my clever little camera in an attempt to record why I feel at home here. I walked along the canal first passing Penny Street Bridge and its hotel across the road from the bridge. Then I walked down Penny Street, past Penny's Cafe and on to The Penny Bank Pub. This was followed by a walk through the covered market and into King Street to the most attractive Penny's Alms Houses. I then made what I'm afraid was an abortive attempt at Christmas shopping. It really is no good wandering and hoping for inspiration! I get to the point where I feel like cutting my throat! My mood was lifted by three adult carol singers singing in harmony; they made a delightful sound. It was further improved by the attention of a delightful gentleman at Tourist Information in the Storey Institute who couldn't have been more helpful. We have a few 'issues' at present: Nick has an intermittent earache and my knee is painful if I walk or have my weight on it for too long!
This morning Nick caught the bus to the one Booths, just outside the city and was a bit disappointed as they didn't have a bakery. I popped up to town and found two wonderful artisan bakery stalls, one French and one organic. There were a number of farm stalls selling their produce, and an organic fruit and veg' stall, though this wasn't a Farmer's Market as such. On the way back I visited 'Single Step', an amazing warehouse of a place selling a vast range of weigh it yourself stuff, mostly organic. We had our main meal mid-afternoon after which Nick took Caspar out. We intend to go out to a concert this evening, but the rain has already started so we'll see .......
Wednesday 9th December: Lancaster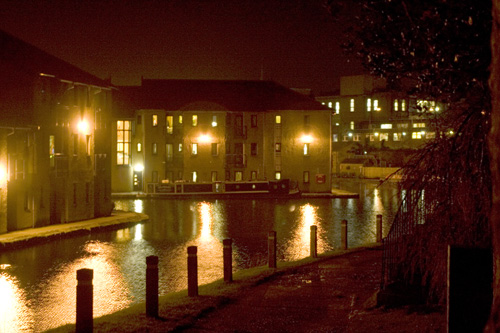 Goodness! It's already mid-week and the twinges in Nick's right ear which appeared to be improving have jumped to his left ear and are quite troublesome again. My action-man is in contemplative mood - no major jobs attacked or completed. I went to Meeting on Sunday after which Nick met me with the dog and we walked up by the Castle, past the Priory Church, and down the steep incline to the River Lune. When we've been down there before, there's been a trickle of water and expanses of mud flats but on Sunday there was an angry muddy river carrying tree trunks and seabirds down stream at an alarming rate of knots!
We walked along the river but I wasn't warmly dressed so we turned back but were caught less than five minutes from the boat in a deluge which also caused the umbrella to turn inside out and one metal piece to bend at an alarming angle! So,.. three soggy creatures and more stuff to dry out! Today I travelled into Manchester to meet Jo (Dr Jo!), an old college friend - our lives have differed enormously since three years of closeness, now over 40 years ago. She taught in schools, was a Go-Jo dancer for a couple of years, then steadily built a career for herself in dance and academia. Though she's now 'retired' she still does lots in the dance world. One of her ex-pupils is featured this coming weekend on the South Bank Show! Woo! And here I am, a hobo, drifting round the inland waterways. Well, what more can one expect of a Pisces! Tomorrow we'll be moving on again and we are expecting Angela to join us.
Thursday 10th December: Hest Bank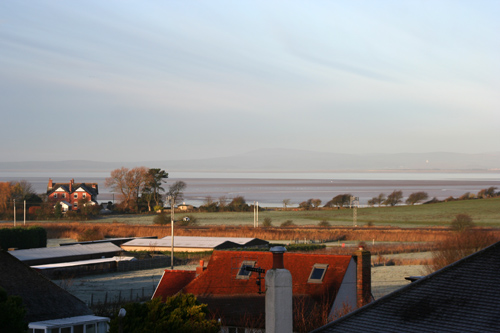 We went to bed to the sound of rain but awoke to a glorious morning, a clear sky and a waning moon. Angela encouraged us to get our skates on, suggesting that, as the weather was so lovely she'd bring the car and arrive an hour earlier. We had just moved onto the water point when she arrived. It was a perfect day for a winter cruise. We stopped briefly to collect wood by the aqueduct. Again there's that spell-binding moment when you leave the northern edges of Morecombe to the west and there is Hest Bank ahead and the shimmery, watery flats of the bay on your left. After a relaxed lunch we had a lovely walk on the beach and Angela caught a bus into Morecombe from where she had to get another bus into Lancaster to pick up her car. A lovely day with lovely company!
Friday 11th December: Carnforth
Another morning of rigid ropes, but the canal free of ice. With a recommendation from Hannah, Jac had made an appointment to see a masseuse in Carnforth for half after midday on Friday, so soon after nine we set off from Hest Bank arriving in Carnforth precisely an hour and a half la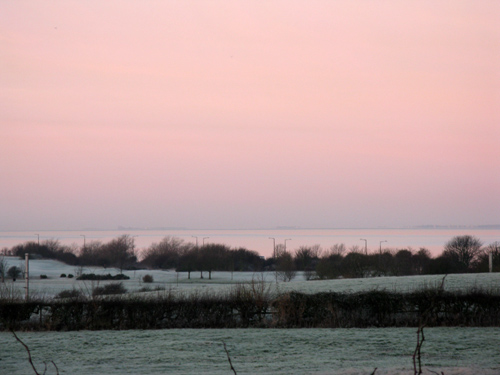 ter. After coffee, Jac went off to the clinic and I to the shops. Yes, but it's a shame that Nick wasn't up at eight when I stepped off the boat and looked down to the bay where the tide was half in or out when, with the sun low in the sky the effect on the bay of muted pinks, pearls and browns on the watery sands was quite amazing. I hurried back to the boat to find my camera, which took an absolute age and when I did find it the effect was not good, my camera is not so sophisticated as Nick's and the best shot I got was the sun behind some wintery trees in the opposite direction. Tonight at Carnforth there was a tremendous sunset; had we been at Hest Bank or Bolton le Sands we would have had tremendous pictures. So, today I visited Siew Allen in Carnforth. She is an acupuncturist, of oriental roots as her name would suggest, with a strongly holistic approach - nutrition, acupuncture and massage. She worked particularly on my left knee with acupuncture and massage and was encouraging me to buy an electric massage machine - not too good an idea with the power situation on the boat. I bought a similar thing way back and you need to be disciplined in using it.
I think I will go back to her as the work on my knee was excellent: so good that I managed a walk up into Carnforth this afternoon, returning to find Nick attacking the really thick Larch trunk we've had on the roof, and chatting to Brian, a local Rotarian, with his lovely young collie. We shared a brew on the towpath as the sun went down and it became too cold to be outside and inactive. Looking forward to a programme about Ballet Russe on TV tonight.
Saturday 12th December: Tewitfield
We awake to a cold morning, the impact exacerbated by the fact that the fire had gone out! But we had had a warm cosy night and, after a short walk for the dog. and a bowl of porridge for the crew, we set off for Tewitfield. It was a brilliant morning with clear blue skies, and ice on those parts of the canal shaded in the early morning from the thawing effect of the sun. But it was thin enough for Gloriana to break through without too much trouble and within a couple of hours we were moored at the terminus of the canal, making preparation for Jac to catch the bus to Kendal, and Nick to attend to the less attractive domestic chores. Soon after leaving the outskirts of Carnforth, I had taken pity on a young man walking the towpath, laden with shopping bags, and offered him a lift. I have myself had cause over the last eighteen months to walk (relatively) long distances along the towpath to get provisions and would have accepted such an offer myself. It transpired that he was a Essex boy, an escapee from a local bible school (Capernwray Hall) where he was interned for nine months. Well, the internment was of his own free will, and he had run into Carnforth to go to the library but found it closed at the early hour: he said that he expected nine months study to make a significant difference to his life: I do hope that difference is of a positive nature. While Jac was wandering Kendal, I cut and split more of the heavy Larch bough, intermittently passing the time, and putting the waterways world to rights with Mark, a live-aboard boater of fifteen years (I guess he was in his late fifties). On Jac's return and after a late lunch, we moved a mile or so south where we moored for the night away from the motorway. It will be another early start in the morning to get back into Carnforth for Jac to catch the train into Lancaster for her Meeting. Yes, the trip to Kendal was lovely in the sunshine - and it gets better as you are presented panoramic views of the Lakeland Fells, and at one point you get a birds-eye view, from the top deck, of the magnificent topiary in the grounds of Levens Hall. But still no inspired Christmas present buying. We are in a lonely spot here and unfortunately no TV signal - I'll have to catch up with 'Strictly' on the internet - probably tomorrow. We are however looking forward to seeing some spectacular meteor showers this evening. Apparently the show starts at ten, and we have a crystal clear sky with less than usual light pollution!
Sunday 13th December: Hest Bank
Well, soon after ten last night we stood out on the towpath to view the promised spectacle: we stood for about ten minutes until the chill air and the lack of shooting stars persuaded us that the warmth of the fire was a far more attractive focus. The sky was clear, with Orion, The Plough, and later Cassiopeia, (these being the only ones I could readily recognise) standing their eternal station. Jackie fancies she did see a shooter from the porthole before we went to bed, but all I saw moving were the nav lights of aircraft. The conditions for the shooting stars are supposed to be good for the next day or two, so perhaps we'll be luckier tonight from Hest Bank.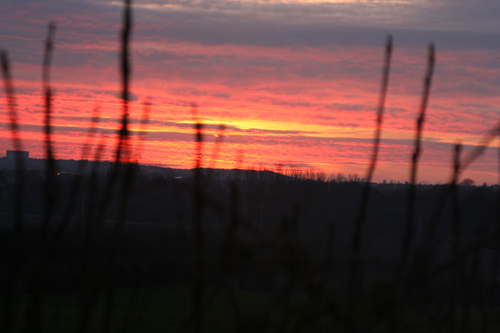 As planned, we were both up at eight and, with hot porridge inside us, and on our way before half-past. The journey into Carnforth took precisely one hour, and might have been quicker had not the canal been covered in ice for ninety percent of the distance, sometimes, I guess, as much as 5mm thick. The sub-zero temperatures of the night-time were as yet unchanged as the sun was only just rising above the horizon as we set off, but four or five layers of clothing ensured I was comfortable on the helm. Arriving in Carnforth, we had coffee and toast, the coffee a particularly nice Columbian blend, and Jac set off to catch the train into Lancaster. Around about half past twelve I take an call from Jac and receive instruction to leave immediately for Hest Bank as she has been offered a lift back from Lancaster by Jean. By about two-ish we are moored up at Hest Bank and having lunch.
Yes, I was at the station in Carnforth before ten this morning. Five minutes before the 10.08 was due there was an announcement that it was to be 5 minutes late. This changed to 10 and then 15 and I did a quick recce of the visitors centre on the station and stepped back in time to the 'Brief Encounters' set - delicious... I did a brief inspection of the centre which also houses rail memorabilia and a Carnforth Museum. The approaching train caused me to leave this charming place which hosts all sorts of events during the year. Yes, we will return. So..., I was late for Meeting. It struck me that the dozen or more Friends waiting to be let in as the young persons came out, were about the same number, or indeed more, than many smaller meetings might expect on any Sunday! There had been a reading from Advices and Queries relating to the Peace Testimony and there was a very personal and brave ministry from one of the elders relating how easily we can become defensive and subsequently aggressive. Another ministry, most relevant, was about choices, again with a personal slant, recalling a Radio 4 play with the solo character, God, having to chose whether or not to intervene when petitioned by mortals. And finally a lovely ministry about today, the day where St Lucia is celebrated in Sweden. This was a delightful ministry where she, the ministrant, awakes to find her students dressed in white, singing Santa Lucia in her room. And after the notices the son of a lady who runs a wonderful charity for orphans of Aids in Kenya, Double Joy Children's Farm, spoke about the place. Clearly wonderful work is being done there, at a cost, all through the generous support of the public. (Incidentally later we spoke to Karren in Cambridge - she did a search on this worthy charity and promised she would mention it to an eminent Kenyan responsible for Aids over there). Finally we were all treated to biscuits baked by the children, the biscuits' decorations being interestingly defined by the wide range of ages of the children! Luckily a request to a Friend as to whether anyone in the Meeting came from north of the city was fruitful. Jean actually lives in a house adjoining the canal in Hest Bank. I rang Nick and having arrived in Hest Bank walked up towards Bolton le Sands to meet Gloriana, heading south. And I've an invite to a coffee with her tomorrow morning.
Monday 14th December: Lancaster
A slow start this morning; Caspar wanted to go out early which was fortuitous as, soon after, it started to rain and consequently I didn't need to take him. Nick crawled out of bed at nine, we had breakfast, and after a quick tidy up I set off for my coffee appointment with Jean which turned out to be most pleasant. Jean is a widow with three children and four grandchildren. She was brought up in the Disley area and her daughter lives in Congleton, so she knew all about our last winter's haunts. We exchanged information on family and Quakerly issues. As soon as I returned to the boat we set off in the continuing intermittent (?) rain and arrived in Lancaster at about two o'clock by which time I had made some soup for lunch. I seem to be developing another dastardly cold on top of the remnants of the last - probably picked up from the bus to and from Kendal. We have ordered a delivery of coal which could take up to seven days to arrive but hopefully will be with us by the end of the week.
Sunday 20th December: Garstang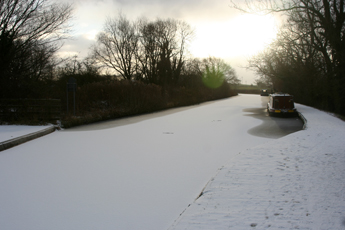 Well, we thought that being on a canal not much above sea-level we might escape the rigours of the bleak mid-winter, but not so!
Having taken delivery of the coal quite promptly on Wednesday, Nick drove the boat through an increasingly icy canal on Friday while I headed south to family in Northwich by bus and train. We had enjoyed an evening of seasonal music and reading in the very grand Guildhall in Lancaster Castle on Thursday night. A talented group of five singers and four further performers kept us entertained and we enjoyed a mince pie and mulled wine in the interval. Nick, running after me, as I left on Friday morning, with forgotten headgear, found himself gasping heavily because of his congested lungs, and later in the week had to prop himself in bed to sleep. We think he needs to have his chest checked by a doc early this week, given his past medical history. I'm back from Northwich earlier than anticipated, but we may be receiving Elanor for a sleep-over this coming week. Angela kindly picked me up to go to Meeting this morning - just half an hour of silent worship and then a programme of carols (unaccompanied but melodious, even with descants!) and readings. Afterwards some spicy apple punch with nibbles - lovely! When I arrived back at the boat I found we had visitors, Alan and Lynn from Farthing Hook were enjoying a coffee with Nick.
Monday 21st December Garstang
It was bitterly cold last evening and from the early hours onwards there was sound of dramatic shower - probably hail and snow so, when I awoke there were a few inches of sno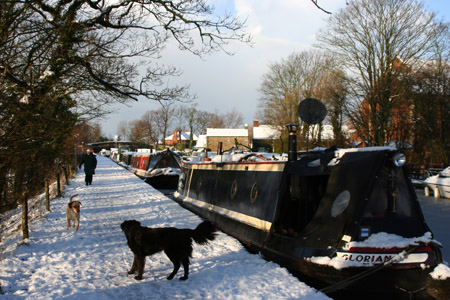 w on the footpath. In the brief interval between looking out and dressing, the footprints I had seen on the path were covered. It was a true winter wonderland and as I walked south down the cut, Gilly of Unchained Melody flung open the side hatch, full of enthusiastic seasonal cheer. All dogs were full of excitement and Caspar was entirely happy to walk on and on enjoying the snow, whereas he normally turns back with breakfast in mind! Early on was certainly the easiest time to walk around safely as when I walked up into town after lunch it was treacherous underfoot. Nick trogged off to the local surgery where a specialist nurse, listened to his chest and prescribed antibiotics and an x-ray; he is planning on going to Lancaster tomorrow and Alan from Farthing Hook has offered to take him as he is going in that direction tomorrow. We are so lucky! Angela delivered our new super-sophisticated pressure cooker so we are studying the instructions though it won't be put in operation tonight - I don't think you pressure cook stir fry's! We also spent an hour with Alan and Lynn and their golden retriever, Jamie, enjoying coffee and a home made mince pie - the only sort which count! Caspar is already a dedicated fan as Lynn is very 'Mumsie', with dogs and gravy bones always readily available. Nick and I are having some altercations about an additional feature - a duct which will, supposedly divert the heat which over-warms our heads and upper bodies, down towards our feet and knees. Good idea, but I'm not keen when it's so near Christmas and we are possibly expecting a little visitor in the next two days! The space is already rather restricted on board and as I am in my usual panicky late preparation mode, and Nick seems determined to press on, (understandable in this cold snap I hesitantly concede): I am not a particularly happy bunny!
Wednesday 23rd December: Continuing Icebound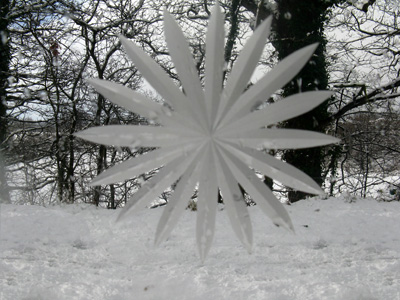 The weather has continued to challenge us. Throughout Monday night and right through 'til this morning, it has been incredibly cold, the barometer on rain/storm, and flurries of sleet though more often snow. The new fall makes the towpath easier to walk on but many areas are treacherous including all pavements into and in town. Worrier that I am, I discouraged Patrick from bringing Elanor over and immediately regretted it, as she would have enjoyed the snowfall and the slope adjacent to the boat where kids of all ages are tobogganing from dawn until ten at night or later! Yesterday Nick cleared the roof of snow, using it to build a snowman of sorts. My planned excursions into Preston to complete Christmas shopping have been aborted. For one day the Morecombe-Preston bus didn't make it from the A6 up into Garstang town centre, though yesterday Nick caught it to go to the x-ray department at the Lancaster Hospital, a round trip of just under three hours which included x-ray, B&Q and shopping for Simon's gift. We were expecting a fair bit more snow in the night but luckily that didn't happen. This morning I returned from town along the River, fine until I reached the steps taking us up onto the aqueduct: Nick had to come and rescue me as two hands were needed and even then it was a really slow ascent! This morning the saloon was chaotic as Nick was constructing his warmth circulation duct; moving the over-hot air at ceiling level down to our feet! He's been told that by noon tomorrow I want everything clear and nothing at all unsightly; so the boat looks suitably seasonal and inviting.
Xmas Eve
One of the simplest laws of Physics is that heat rises. And thus it was that by eleven in the forenoon on Xmas Eve, my ducting system was commissioned, with the greater part, sufficient that is to minimise further ear-bashing, cosmetically enhanced. Indeed, when Angela arrived just before noon for coffee, she commented that she had not noticed it until I mentioned it. For those who may be interested in the detail, you'll have to click here to read all about it because it has been banned from this page!
Being frozen in, we are unable to move the boat to the waterhole so, today, after the commissioning of the adaptation to the heating system, was the time for carrying water the half mile or so from watering point to boat. Fortunately, with Angela visiting us by road with car, and the roads improving in pass-ability, I was able to collect the water on four wheels rather than one (wheelbarrow) thus reducing the time-to-do to about a tenth of what it might have been. In the evening we both went, after a final visit to Booths supermarket, to a short Meeting (Quakers) after which we returned to the boat and settled for the night. The candlelit meeting is a feature of this area and normally is very well attended by folk from other meetings but with the snowy and icy conditions the numbers were considerably down - about 20 or so - and the silent gathering in candlelight was especially lovely.
Tomorrow morning we are going to have a swim, sauna, and Jacuzzi, courtesy of Jilly (Unchained Melody) We are expecting Patrick to join us about midday. He can look forward to having warm feet!
Christmas Day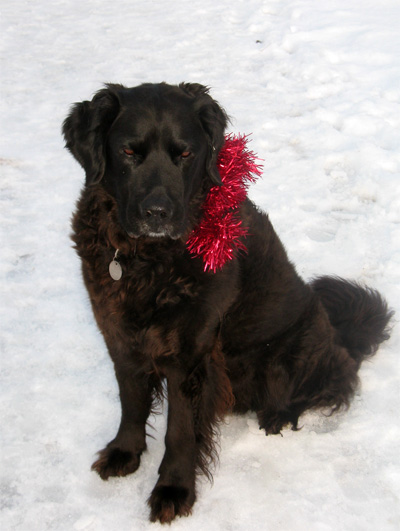 Yes, we had to be up bright and early to be organised for a nine o'clock departure. I walked the dog over a crisp (and uneven!) towpath. A glorious white Christmas morning, misty, with the sun rising to burn away the mist. After Caspar had had his breakfast he appeared with red tinsel around his neck provided by Lynn, next door. I believe we might have our photo for next year's Christmas cards. It took a while to clear Jilly's car of frost and sort out an errant driver's door closure, and we were off in the direction of Glasson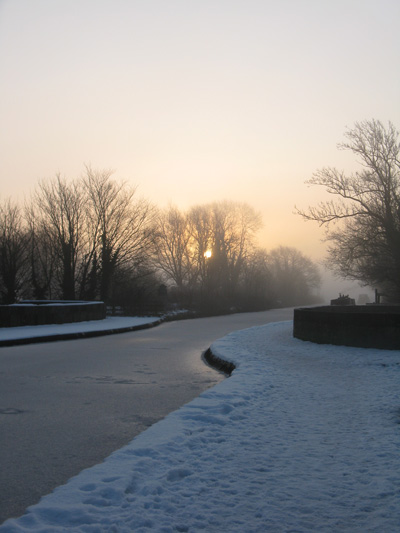 Basin to Thornbury Hall where we spent a leisurely couple of hours; as we had been strictly rationing our water because of the iced canal it was good to be indulgent with the H2O! After the swim, sauna, and Jacuzzi, we both felt thoroughly relaxed. Gilly joined us for a festive punch back on the boat and there was just time for a quick tidy up before Patrick joined us as I was finishing the Lancashire black pudding stuffing for the two pheasant. Nick and Pat walked the dog and visited the Oud Tythe Barn for a pint, by which time lunch was virtually ready. No crackers, no Christmas pudding, but, I felt, a successful meal! Lots of phone calls later in the evening, to friends and family, including a lovely long chat with our old friend Susie, from Hungerford, now settled in Cornwall, new home and new baby; and Susie as bubbly and lovely as ever, at last with a man who truly appreciates her. Outside tonight the rain is falling - perhaps we may be clear of ice in the morning or perhaps that's being a little too optimistic!
Boxing Day
Yes, it was more than a little optimistic! In spite of the rain as we went to bed on Christmas night, Nick, who unusually did the morning walk found the towpath to be a sheet of ice. The surface of the canal had a milky, glassy sheen caused by the rain which had frozen. People going for their Boxing Day Walk along the cut were hanging on to the boats to keep upright! Gilly was coming along inch by inch to collect her daily supply of wood from where she keeps it in her car which doubles as a van/shed.