Tuesday 2nd February: Lancaster
Yes, a new month dawned bright but not for long. The final day alone changed, and at lunch time, after the coal had been delivered, I was caught in a quite heavy shower as I took Caspar out. It brightened somewhat but soon after dark the serious rain started. The change in humidity was marked in my joints - I felt ache-y and lost my get-up-and-go! After an energetic few days of walks, I only managed three short-ish efforts. Nick returned just before midnight. On Tuesday we had a settling in day. It seems the connection to my lap-top had inadvertently been switched off and, as I was the only one here, it could only have been me! We listened to an amazing programme on Radio 4 - a phone-in about assisted dying. It was intensely moving and stimulating radio, with about two thirds of the calls being in favour, with some intensely poignant stories to support the views, One, a woman whose husband had died of Huntingdon's disease - and had then seen both of her sons die, one who elected to have an assisted death, the other suffering a long and desperately painful final few weeks. Another was from a lady whose father had pleaded with her from his hospital bed to help him die: she had spent every day since regretting that she had refused. The programme made one realise how complex the issues are, and how there is passion on both sides of the argument. Another excellent radio programme this week is the story at the end of Woman's Hour where characters involved are with a psycho-analyst exposing their all too human frailties and dilemmas. And in the evening there was Lark Rise', a beautifully poignant episode when measles strikes the rural community at harvest time. Some excellent acting which held us both spellbound. A quiet day for us both and lots of catching up on this website!
Saturday 6th: Borwick (near Tewitfield)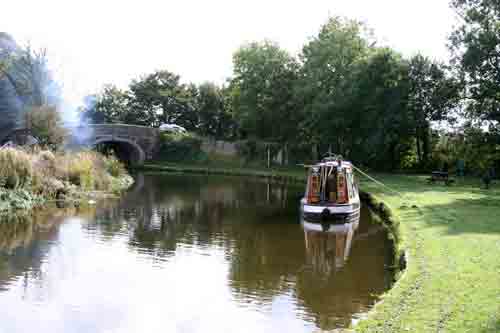 The rest of this week was spent in Lancaster as the ice formed and melted quite spectacularly. One night there was a complete covering of ice over the cut within hours. By midday the next day it was virtually gone! On Wednesday I went to the mid-day Meeting for Worship followed by a Jacob's Join. It was interesting to talk with someone who had been to school in this building when it was a Quaker School, way back, and I learned something about the recent past and how Friends had lost an adjoining building because of a duplicitous business man and his dastardly lawyers. Angela came up to the boat on Thursday, having had an awful hour or so consulting a solicitor the previous day, only to discover that her ex could still make significant financial claims on her. It made me think how terribly unjust/immoral the law can be. Considering her present situation she is coping and delighted that one of her sons is hot-footing it home to offer moral support this weekend. Yesterday was unusual as Nick did a longish walk with the dog early. Then the gas paid out just as I was finishing breakfast. That meant that we now have two empty gas bottles and something needed to be done about it, so .... we set forth, north. Under an overcast, but not lowering sky we travelled, past Hest Bank stopping for a couple of pies at Bolton le Sands, and enjoying them on our arrival in Carnforth. The dog seemed to appreciate the fact that we were on the move again and gamely trotted along with us for a couple of miles. I did a quick shop and we were off again, through a short section of unexpectedly thickish ice, the sky brightening a little as we did the lovely section at the end of this canal. We stopped briefly for Nick to pick up a fine long piece of wood and on arrival at the end of the canal (thefurthest point north on the BW section of the inland waterways) he managed to get hold of just one bottle of gas . This will, hopefully satisfy our needs for the next two weeks. We returned south in the dark to get away from the noise of the M6 and found a lonely spot: by this time the skies had cleared, promising a cold night. This morning I walked Caspar early while it was bright and a touch hazy. Within a half hour the boat was enshrouded in mist and we had lost the green and brown wintery aspect. Then by ten thirty we were enjoying glorious sunshine. Later we will head on south to Carnforth and take on provisions for a few days as the Bolton le Sands and Hest Bank areas where we plan to stay for a day or so are not good for shopping, though they do have some excellent pubs and I think it's time we enjoyed the flavour of them in one way or another. Many folk who know we are on the boat think we are on an everlasting canal holiday, where at least one meal a day is enjoyed in waterside hostelries. When you live on a boat this doesn't happen, but I am of the opinion that perhaps it should happen once a week or so.
Monday 6th: Carnforth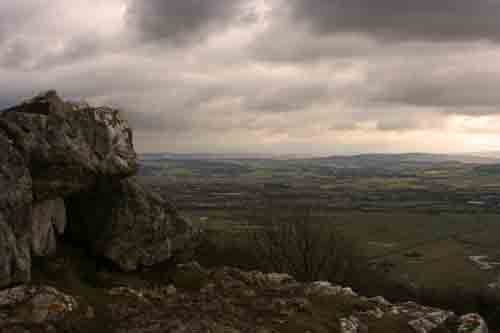 We arrived in Carnforth on Saturday afternoon and shopped. We don't have a brilliant internet signal here but we do have television. Watched an amazing documentary about the railways in Mombai - organised chaos that's quite unbelievable,; while we live in a environment of health and safety with gangs of men in yellow coats and clipboards as seen this morning here in Carnforth. On Sunday morning I caught the train into Lancaster for meeting for Worship. Another lovely and well attended meeting. Some Friends here had celebrated their Golden Wedding the previous day and the ministry about love ended with a reading from 'Faith and Practice' on the subject of marriage. Lovely! I had to leave promptly to catch the train back or I would have been stuck in Lancaster for upwards of two hours.
With the weather fair, though chilly this morning, we took the advice by a passer-by on the towpath to go to Warton Crags, the hillock that sits north of Ca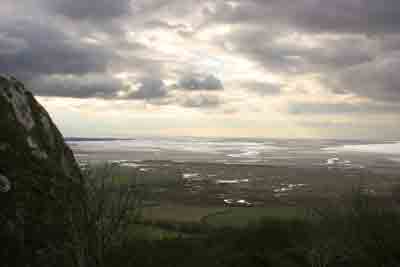 rnforth, where, he said, we would enjoy splendid views. So just before midday, as the blue skies of the morning were turning to grey, we set off, the first bit not too enticing, though we soon found ourselves heading across fields to Warton, the home of the ancestors of George Washington. We started climbing up through a field of sheep (no lambs here!) and from there started our steady ascent up through the Nature Reserve. We climbed as far as the Rocking Stones - not quite the top but we enjoyed a tremendous view across the bay easterly and round to the north-west. I was quite anxious about my knee giving problems on the way down but the exercises, given me by Ian at Brooklands, seem to have been beneficial. We marched into the George Washington pub just before two as they were shutting up for the day, so had no chance to recover before the final lap back to the town. I managed to catch a bus back into Carnforth while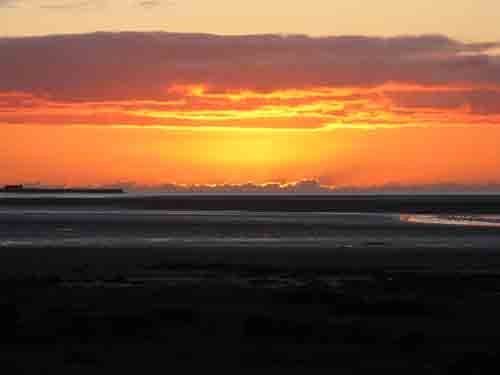 Nick walked back with Caspar. After lunch I lay on the bed to read and totally zonked out! Not surprising! The boat needs a good tidy but not much more will be done today, apart from preparing a meal.
Tuesday 7th Hest Bank
A moderately early start, launderette and pump-out, with a touch of shopping, and we were off, south-bound again in a particularly chilly easterly. It has been bright and clear, a perfect day for the views over Morecombe Bay with the snow capped fells of the Lake District away to the north, the bay, with the sea fully out. It's quite busy here so we are in the culvert - excellent internet signal but, in all likelihood, no TV. Nick has spent the afternoon with his new IT toy - the photo gallery whatsits, thereby setting up a detailed helmsman's view of today's journey. I'm amazed we didn't hit a bridge or a plastic launch, with him taking so many photos!
I just thought it would be interesting to take you on the journey we did today.
Click on this text to go to our Slideshows, and select "from Carnforth to Hest Bank"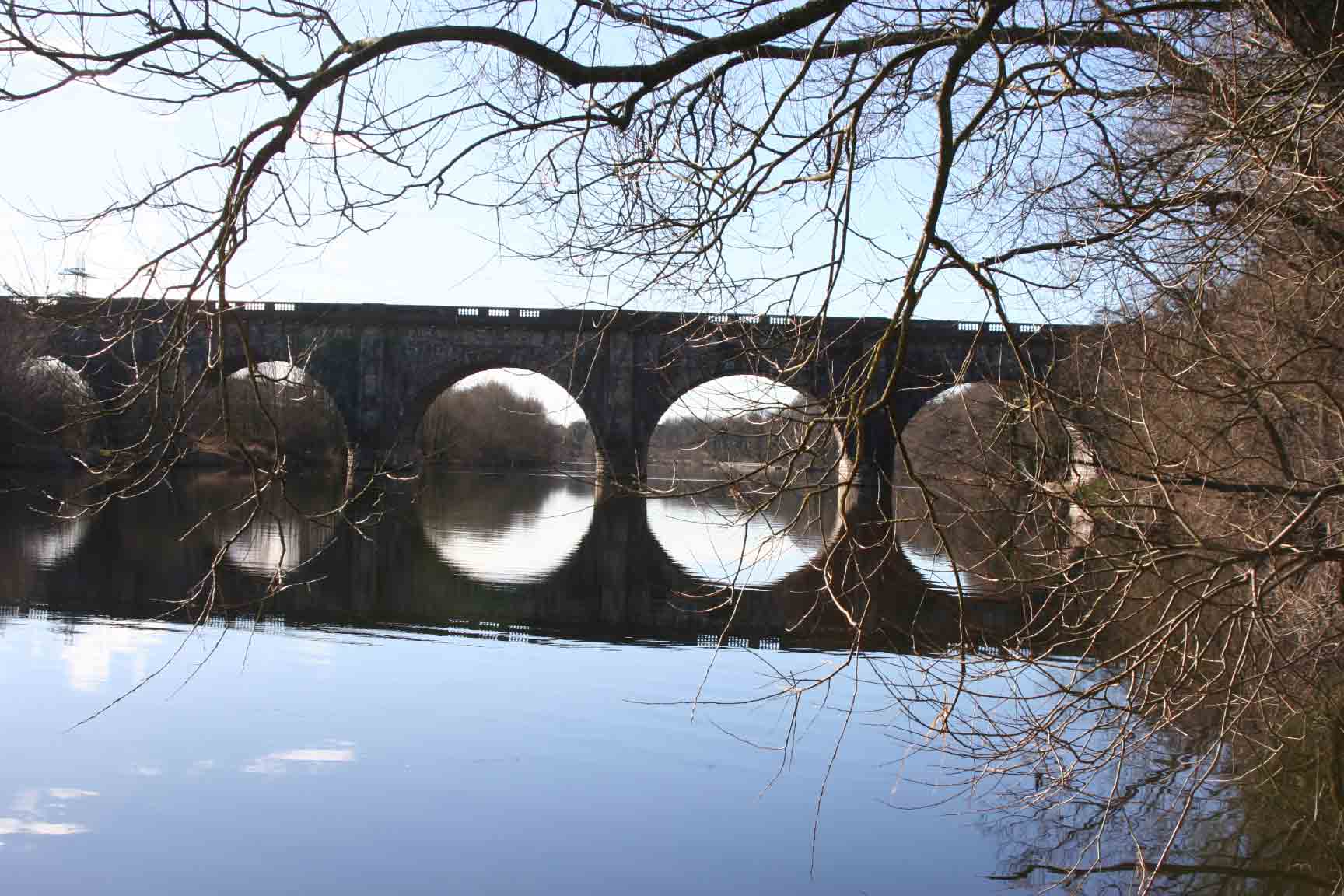 Thursday 11th: Lune Aqueduct
Yesterday I did another long walk. With Nick & Caspar I walked north along the beach from Hest Bank on yet another bright, but bright, day - beautiful clear views across the sands to the snow capped peaks to the north. We crossed areas of water and Caspar jumped in one only to find it quite a bit deeper than expected, making us laugh. We saw a car, a Land Rover, part-buried in the sand, out quarter-way from and between Bolton Le sands and Humphrey Head Point; and also a chap with kite and trolley - the kite was pulling him, whooshing him across the sand - must have be truly exhilarating, with his dog unfailingly and faithfully chasing him back and forth. Leaving the sands, we wa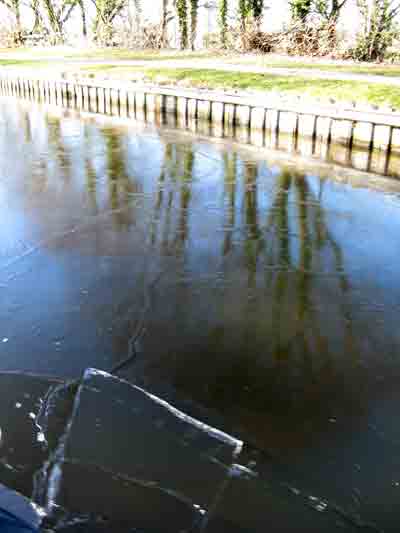 lked inland toward Bolton Town End, finding ourselves by the swing bridge from where we walked along the towpath to The Hest Bank where we enjoyed a most suitable Lancashire Hotpot and a pint.
I guess I need to learn how to make a decent hotpot. In the afternoon we chilled out, and I started my final batch of marmalade for this year - last batch with a whisky twist. Last night was probably one of the coldest nights of recent date - though not quite cold enough to have to fish out the extra duvet in the night. And the ice on the canal was a concern - surely it was not cold enough, just one hard frost, to stop us moving on into the city centre. The answer to that, as I write at 1.30.pm is, 'Oh yes it is!' After walks along the Lune on the north shore, the collection o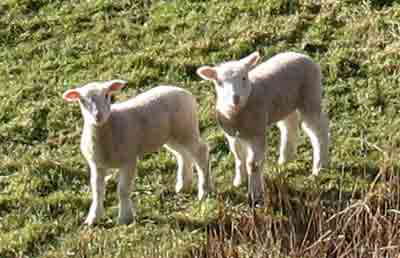 f wood, and the avoidance of a feral dog thanks to an informative passer-by, and coffee, we set off some time after midday. But the ice was amazingly thick and we went less than a quarter of a mile crossing the Lune aqueduct and the secondary aqueduct over the A683 (another, shorter, slideshow). Standing at the front, I watched the ice crack, as we laboriously pushed through it, like icy lightning travelling ahead of us. Quite mesmerising!
Nick made the decision that it was all too much for dear Gloriana. Indeed, the buffeting has stirred up our water tank at the pointy end, and for a while the water was a bit cloudy. So at present we're moored up - lucky for us we actually were able to pull in, as places on this canal for mooring are few and far between. Nick has just walked up away and thinks that we may have another go as the ice seems to be melting and indeed the sun does seem quite warm.
Friday 12th: Lancaster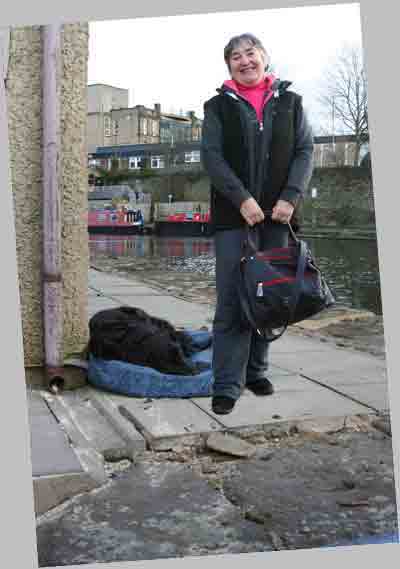 As promised awhile back, here I am posing with my 'trendy' bag from TK Max and attempting to look cool (Caspar's under-impressed!).
Well, I did try!
On Thursday we did actually manage to crunch our way through the ice into the centre of Lancaster. I think I would have stayed but Nick seems to like a challenge. On our arrival we drained our water tank completely and flushed through a fair amount of the sediment and now our water seems to be clear again. It was good to be back in Lancaster; we find it a most benign place for a city, and our nights here continue to be peaceful. The most noise we get, and that is in the daytime, is the air ambulance on its quite regular visits to the hospital, across the cut. On Friday we awoke to yet another lovely day and we both did a foray into town and prepared for Angela's visit. It was such a relief to hear her news - she has managed a deal with her ex and, with the financial generosity of her wonderful family, can feel safe staying in her lovely canal-side cottage. We shared lots of chat with the G&T and Salt & Balsamic Kettle Chips; Nick did our favourite Rick Stein monkfish recipe; and at the end of the evening, I saw Angela safely onto her bus, Bilsborrow bound.
Checking the email inbox before retiring to bed, I found details from BW regarding passage back to the T&M: I am delighted to find that they have caught up with the internet revolution because we are now allowed to submit our requests electronically, such a good idea for we continuous cruisers!. Though we were planning to be in the first group across, we have decided to stay 'til the middle of the month (of April): we await confirmation of our request for 14th or 17th: this allows us to enjoy more time with our friends here, and possibly to meet new ones, John and Elizabeth, from Corte Madera in the States, a relative stone's throw (ten miles as the crow flies) from Alcatraz, who are coming over to do the Lancaster in April: we have been whetting their appetite with the photographic record of our journey from Carnforth to Hest Bank; though we may have to suffer the appearance of Wes and Lizzie as part of the package! (WHICH WILL BE LUVLY!)
It seems appropriate now, particularly as we have the technology, to present a slideshow (click here) of our trip across from Tarleton in September: it may encourage someone to think about joining me for the return trip (there again, it may dissuade those who are already expressing an interest). I could have arranged the pictures in reverse order to give a closer idea of the journey in prospect but, as I have no intention of doing it in reverse gear, I didn't want to confuse the issue. As Jac has a couple of NHS appointments south during that week, I am currently planning the crossing solo.
I finally went to bed with thoughts of having to spend £700+ on a new refrigerator: Jac had noticed mid-evening that it was defrosting, and close investigation indicated that it wasn't working though there was good power to it (12.7V), and it was switched on!
Sunday 14th: Lancaster
Saturday dawned brilliant and stayed so all day. Jac took herself off to The Friend's Meeting House for the day and I settl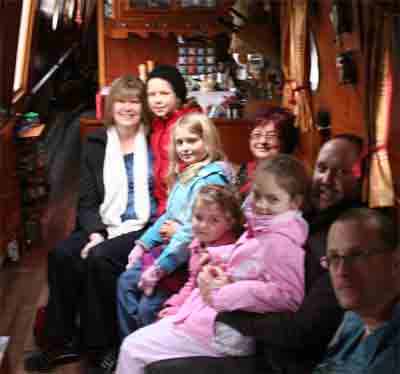 ed down to consider the options with the refrigerator. To cut a long story a little shorter, I recalled the issue with the water pump several months earlier, and indeed also our problems with the Eberspacher a year or more ago. So I disconnected all wiring into the controller, checked as much as I could of the terminals (spade connections) and reconnected. When I turned the switch, the hum of the compressor was as the sweetest music to my ears! Though there was no visible corrosion, it can only have been a dirty connection causing the problem, this seems to be endemic where low voltage dc circuits are concerned. If only the rest of life's problems were as painlessly resolved. Hound and I then took ourselves off for a walk around Williamson Park and got back to the boat just before Jackie returned from her distractions.
My day was an informative Fellowship Day with Friends from other local meetings gathering to learn and explore about asylum seekers and refugees and the facts, rather than media hype we get from the tabloids. It is good to know that there are charitable organisations working to help their difficulties, with many Friends involved. In the afternoon we explored the complex issues created by the Muslim/Christian/British divisions or perceived divisions and to consider the means to connect the divided cultures.
(I returned to the boat via M& S and was consumed by un/righteous indignation at the rafts of pancake batter in plastic containers! What! Are there 'euman beens who cannot make a batter!) My involvement with Lancaster Friends continued, on Sunday morning, with a visit to the boat by four young Quaker Friends, two parents, two helpers and after a while two more adults. The children explored the boat, met Caspar, learned about our simple way of living - no car, limited media input, water and toilet practicalities; and there were lots of questions. We then enjoyed a short period of quiet worship and walked back up to the Meeting House. I thoroughly enjoyed it and I hope they did.
Monday 15th: Lancaster
We awoke to a grey dawn, which didn't improve throughout the whole day. I was peacefully dozing after my morning nettle and ginger tea when rudely awoken by my phone's new, much improved, ring tone. Yes, it was Angela, always the early riser, just about to leave for Lancaster for an hour or so of the 6am to 6pm Peace Vigil, supporting the Aldermaston Blockade. She had heard the news of further deaths of NATO troops in Helmand and. in view of the fact that her youngest is off to Afghanistan within the next few months, felt moved to take part in the vigil. So ... a quick skip with Caspar and we'd hardly started breakfast when in she bobbed - traffic clear because of Half Term. We were up at the Meeting House soon after ten where there were about ten or so people sitting quietly. The main Meeting Room looked lovely with a dramatic focus of fabrics in primary colours, candle, flowers and board with peace prayer. I went up later for the final hour and a half. The beauty and serenity of the space and the people contrasted with the ugly facts of the nuclear submarines prowling the seas carrying up to 48 nuclear warheads, each one able to cause devastation way beyond that of the bombs dropped on Japan. I walked back with Margaret who had brought her grand daughter, Grace, to the boat yesterday. She is investing in a green project: land has been bought on the banks of the River Lune and the plan is to build a dozen 'green' homes and to form an entirely sustainable community. Sounds amazing! Grace, incidentally, was taken by Margaret on a March to mark an anniversary of the Aldermaston Marches. When somebody commented that a child could not understand the issues, Margaret challenged them to ask Grace what she thought 'Peace' was, and Grace replied that she thought it was when people were kind and thoughtful and listened to each other to solve problems. Out of the mouths of babes!
Wednesday 17th: Ratcliffe Wharf;
Tuesday was damp and rainy - I popped up to town and also did a launderette trip. In the afternoon a subdued Angela arrived, having had her aged and ailing mog, Dexter, put down. After supper she and I went to a poetry evening at the Meeting House. A surprising number of people were there to learn and share the poetry of E. A. Fanthorpe, a Quaker, and a respected and well published poet. She was the daughter of a judge, went to Cambridge and taught for a number of years at Cheltenham Ladies College. Then, in her o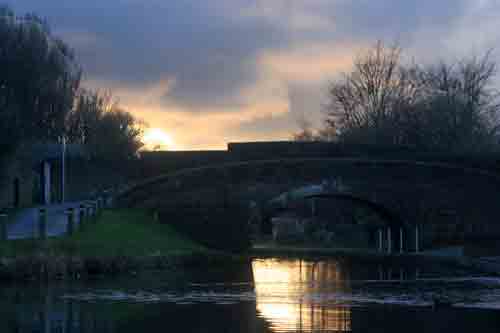 wn words she became a middle aged drop-out, worked as a receptionist in a neurological clinic in Bristol and started to write a serious amount of poetry. She became successful and her literary career brought her here to teach in a local college. A number of those present knew her and received an annual Christmas poem from her; some of these were read during the evening. An academic from the university here introduced the evening with an overview of her poetry and then memories and favourite poems were shared. Her work was quite radical and perceptive with compassion and humour. I intend to read more. On the boat we three talked about our faith and on the walk up to the Meeting House Angela explained how she came to Quakers. Having served the Anglican Church faithfully she decided she wanted to become a Lay Reader but was prevented because of the 'traditional' views of the local priest and bishop. She was so upset at their careless and dismissive attitude that she left the church. We felt sad for her when Angela left to return to an empty house.
Wednesday dawned bright and beautiful and cold; again a film of ice had formed across the cut. Caspar popped out just before seven when I was attending to the fire and soon decided to come back in and cuddle down. I did the same! I then did another launderette visit as the Lancaster setup is so convenient. Nick and I walked up into town together to the Assembly Rooms, now a place selling memorabilia, and I bought a very smart trilby for the birthday boy for tomorrow! We were lucky to come away with just one titfer as the chap was very persuasive and the selection enticing! I went on to the market, and to have my eyes tested, and on my return we set off south, a journey in beautiful weather and arrived at Ratcliffe Wharf just before dark, breasting up alongside Farthings Hook. Caspar was so excited he overcame his anxst and making his way from our cratch to the wooden board on the back of their helm, straight into the boat to demolish half of Jamie's dinner - that's after having had his supper minutes before! Then the two of them were out in the field adjacent to the boat, Jamie dashing around in wild excitement. We enjoyed a welcome cuppa before encouraging Caspar back on board Gloriana and then backing up to moor on the other side of the cut next to Gilly on Unchained Melody. Nick feels a cold coming on! Not the best birthday present from the universe! Echinacea and Vit C at the ready!
Thursday 18th: Ratcliffe Wharf: Happy Birthday to Nick!
A damp drizzly morn - that, and the prospect of a cold! One source of celebration - I managed to succeed in completing Spider Solitaire (level 2) for two consecutive games, something I've been attempting for ages! Sad or what! One of the joys of the Lancaster has been Gilly introducing us to wobbly coffee and, as we are moored alongside, and the dreaded birthday, there was really no alternative but to have Gilly on board. Gilly has been here at Ratcliffe Wharf for a while and one of her nephews, a blond Adonis called Freddie, is putting a bath in the boat for her. Freddie is one of the four young people Gilly took under her wing way back when her sister died. All four of them went to Sibford Quaker School - another connection established. The installing of the bath has been a major job - all the bathroom furniture has been removed and been given a spring clean. Lovely! Sadly Freddie didn't join us for our wobbly coffee so I could feast my eyes on him! As I write this at lunch time the rain has turned to wet snow.
Now, you wouldn't believe this, but, having finished the blog, I just availed myself of Spider Solitaire on Nick's computer and da-da! I completed a third successive game. It should be my birthday! I'll stop while I'm ahead and offer the boy some cold-defying French onion soup!
Saturday 20th: Garstang
We did very little more, worthy of report, on Thursday, though I did empty the bilges, and I well remember the superb lamb shank Jackie served for dinner which was accompanied by a very acceptable Bordeaux (Lussac St Emilion) and preceded by G&T with smoked salmon: I would endorse my brother's quotation of my mother's tenet (click to read if you're interested) that one "feeds a cold" though I hope to be able to foreshorten the 9-day cycle. The weather for the day had been as poor as we've had it for several weeks, grey and wet without let-up.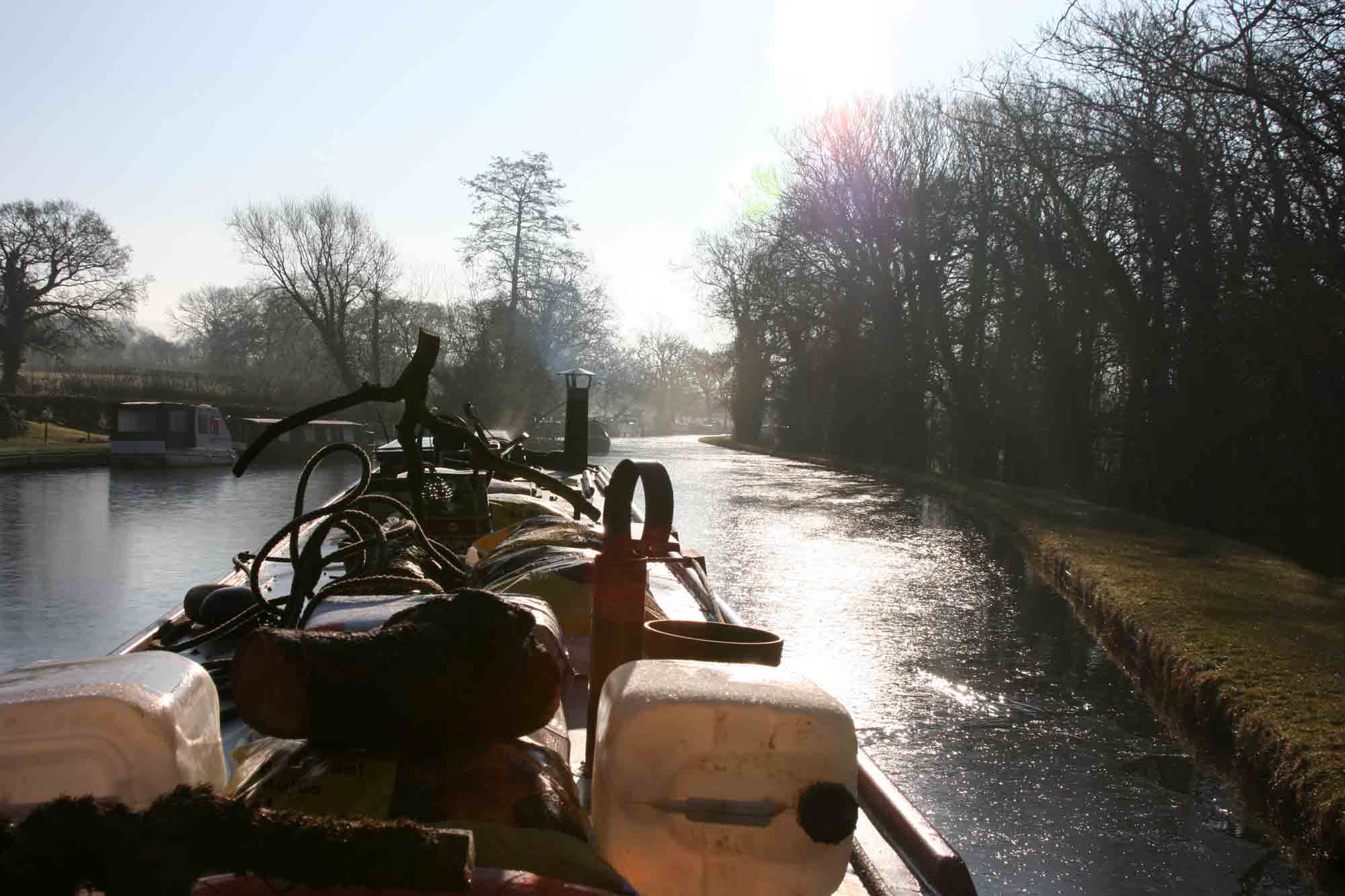 But Friday was brilliant. It had been a cold night and ice had re-established itself on the cut though not to such a thickness that would cause a problem travelling. Jackie was planning to go to Northwich for the weekend so we decided to make our way into Garstang where she could catch a bus with less hassle. I had offered Gilly the loan of our Aquavac, a five-pint vacuum device superb for removing the last millimetre of water from the bilge, so after leaving it in her cratch, as there was no sign of life aboard, we set off south. I have navigated up and down between Bilsborrow and Carnforth so many times now that the novelty has worn off (though I still find it delightful), so recording the journey in snapshots adds another perspective for me which I hope may add interest to our ramblings for others. The journey proceeded with little of the remarkable: no comment could be as comprehensive as your looking at the slideshow, and we arrived in Garstang soon after midday having stopped twice; once to pick up Angela who had walked out from the town to meet us, and a second time for a coffee break. Indeed, we had our coffee break only five minutes out of Garstang, by the marina, more so that I could try the internet connection - there was a mast in direct line of sight and only a couple of hundred yards away. But despite this, the signal was useless! I later learned that Vodafone are having problems with their transmitter in this area at the moment, and not for the first time (it's not good at the best of times), so I had to resort to the Th'Auld Tithebarne's wifi later in the day.
We duly arrived at Moss Lane and Jackie went off with Angela to catch her bus. I filled up with water, and took advantage of the arrival of Gooseander to hitch a lift (in their hired car) to top-up with diesel. Gloriana then proceeded to her usual Garstang mooring, and after a reasonable walk taking in Sainsbury's, Caspar and I settled down. A trip to the pub to upload data to the web, the cooking of a meal, the watching of TV for an hour or so (yes, a good signal here!), and the day was done.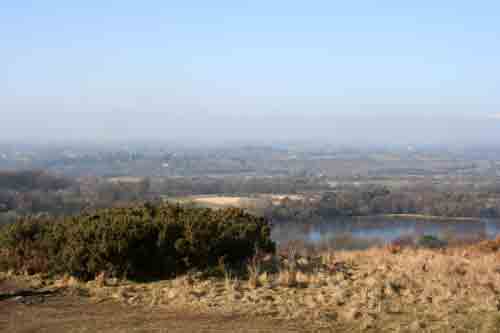 Eight o'clock on Saturday morn, and I surfaced to another brilliant morning, but by half-ten it was foggy. After a foray into town for provisions, not least some decent bread, I had coffee and a couple of bacon sarnies, and was duly joined by Angela. We had agreed to go for a decent walk if the weather were good, and by one o'clock the sky was a clear blue so we set off for Scorton and Nicky Nook. Nicky Nook c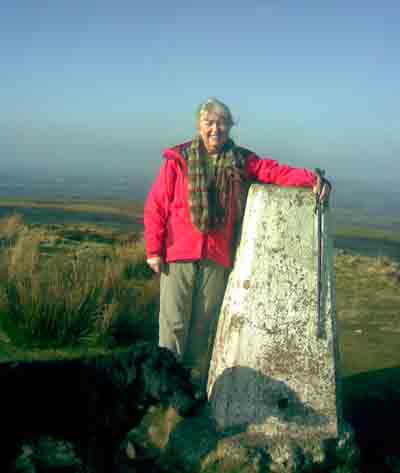 ould be translated as "heart and lung exercise" but, more prosaically, it is a fabulous area of the fells to the north-east of Garstang. As I was packing the rucksack to leave, I checked the camera battery, and though it was at the low end, thought it was OK. How wrong can you be! So the sights and scenes of a beautiful area are, with three exceptions, for the time being, only in my memory. Another trip up the Nok is definitely on the cards, and the battery is on charge as I type! (the problem is, that the battery in the Canon 350D is so good that one charge lasts for a very long time. So one can forget to check it). It took us about an hour and a half to walk to the triangulation point and down again by a circular route that took us above and alongside the Grisedale reservoir, through a thick pinewood, and along a quiet road back to where we had left the car. We returned to the boat for a brew after which Angela left for home: altogether, a splendid afternoon! On Saturday evening I continue to have problems with Vodafone so another visit to the pub in prospect for tomorrow. I wonder if I could backcharge Vodafone for the pint.
Sunday 21st: Garstang
More snow! Woke again to a white towpath with the snow still falling, though it seems that Jackie and Elanor, in Northwich, have a deeper covering. However, it had all disappeared by mid-morning bequeathing a semi-bright, dry, relatively mild day. A quick trip to t' Tithebarne to upload this and a hundred or more other files, an hour or two of television, and once more to bed.
Monday 22nd: Bilsborrow
Nick met me well after mid-day although I had left Northwich after dropping Elanor at school. I had a lovely weekend which included an early morning foray with sledge so that Elanor had her first taste of tobogganing which she loved, and has a battle-scarred forehead to prove it!. By the time we left the slope at eleven it was getting really busy. and we had had the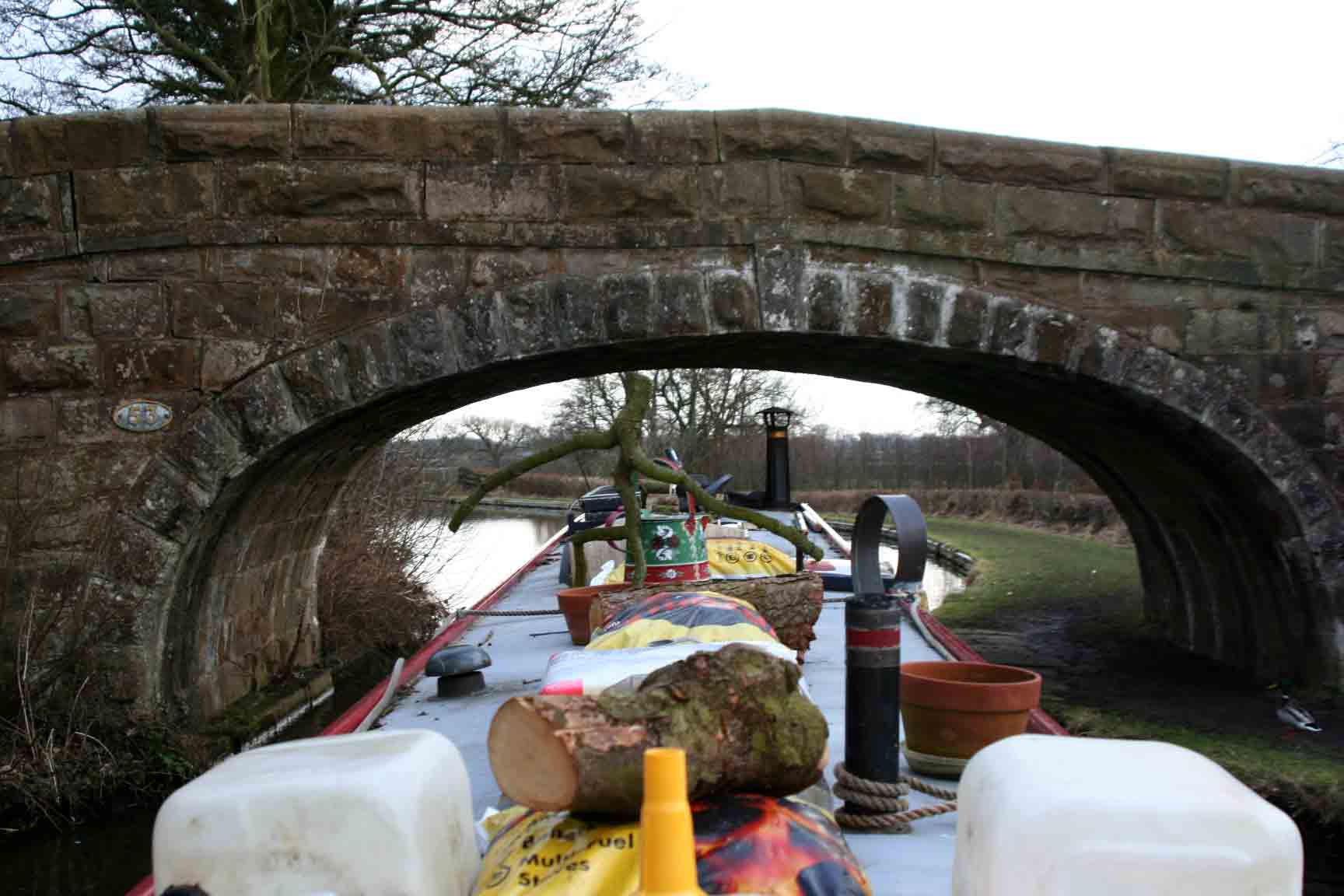 best of the snow. That was after accompanying her to a new class; football is no longer flavour of the month and she loved her second ever gymnastics class - held in a unit on an industrial estate quite near Anderton. It was an impressive set-up with a serious warm up, after which the kids worked in groups on various disciplines with young coaches who were clearly competent - balancing bar, box, floor, trampoline, hanging bar. She has been invited to do join a squad - an hour and a half session. A first for me was a 'go' on a home-based karaoke set up - it made me realise that I can't sing very well at all. Best effort -'Tell me on a Sunday' tho' there were dicey moments! It was great to see Patrick's parenting skills - he's just great, but I guess I'm biased!
I've now done Preston to Liverpool 3 times, twice on the X2 Express (2 hours!), I've sussed it now in that I jump off in Southport - an exceedingly elegant seaside resort where I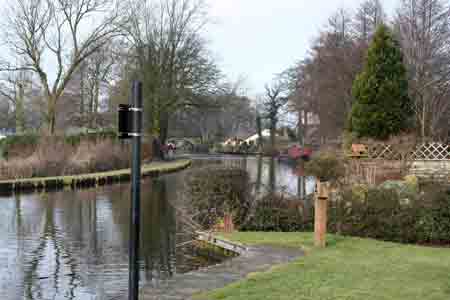 can get a coffee and enjoy a walk along the front and window shop until I feel like jumping back on the bus (30 minute intervals). I usually manage a front seat on the upper deck and note the endless fields of what seem to be peaty soil. Today I struck up a conversation with Liverpudlian chap along side me atop the vehicle. He offered to share his sannies and had started to serenade me as we approached Southport. From my limited experience of Liverpool they make them like that! In the Autumn there was serious harvesting of leeks and at present there are just fields of sodden Savoy cabbages. As you approach Liverpool you pass the busy container port. After Bootle you pass an especially run down part of the city with lots of boarded up shops and sadly some quite handsome, though closed down, Victorian pubs.
I was up at eight this morning and, after a short walk with Caspar, had a light breakfast. I was expecting two visitors this morning, Gilly who was to return my Aquavac, and Angela who was going to give me a lift to get some LPG. By eleven-ish, the three of us were sitting enjoying wobbly coffees, and Gilly was entertaining Angela with snippets of her past history. I had established earlier that the gas bottle wasn't quite empty, indeed I managed to get more than an hour's generator operation from what was left, so the replacement gas bottle is a task for another day. Angela gave me a lift two or three miles to the local builders merchant where I was able to establish the availability of Sapele veneered plywood in the gauges I need, and that they will cut to size. Replacement of a ceiling panel and of the wall panelling around the centre hatch is high on the agenda!
Shortly before one, Jac texted to say she was on the way from Preston and we arranged to meet, her off the bus, me from the boat, at Sainsbury's. Back at the boat we had crusty bacon rolls for lunch and set off for Bilsborrow.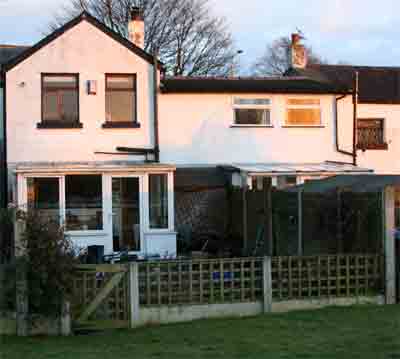 Where the morning had been brilliant with blue skies, the afternoon was cloudy with occasional glimpses of the sun, but it stayed dry. There was far more ice on the canal, for most of the journey, than expected, and when we encountered significant amounts on the final straight into Bilsborrow, we stopped for a cup of tea and a moment to think. The issue was that, when we had last travelled into Bilsborrow after the January freeze, the canal on the final long bend into the village had had the thickest ice of the journey: if such were to be the case this time, we would have a problem getting through. In the event I decided to go for it, and, when we crossed the aqueduct and rounded the bend there was clear water. We moored outside Angela's cottage and were soon sitting in her conservatory, brew in hand.
Tuesday 23rd: Bilsborrow - East Bank
This morning the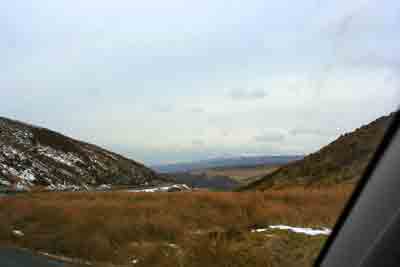 re was as much ice inside the windows as there has ever been. I was glad when Angela knocked on the boat to take Caspar. We couldn't hang about as we had been offered the car on what was likely to be the last of the bright sunny days, our instructions - to explore the Trough of Bowland - a large upland area to the east and Lancashire's answer to the Yorkshire Dales. The weather closed in, so that by midday we had lost any sun and there was a vicious wind. Although we had all the gear we were still not comfortable when we stopped to walk by a rocky mountain stream where giant icicles hung from the craggy banks. The fell peaks were sn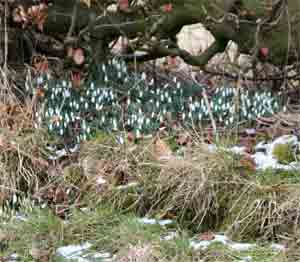 ow covered and there was just a sprinkling of snow at our level. We were supposed to do a circular tour but managed to do a mini-circuit mid-way and found ourselves returning whence we came! We weren't so sad to get back to a moderately warm boat and have a bite for lunch. This evening we were entertained royally by Angela - our joint birthday meal! I wish I'd had a video of Angela feeding Caspar the last of her fillet steak, encouraging him to enjoy each shred instead of gobbling it - somehow she succeeded! For some reason we have both struggled to stay awake today- the cold is encouraging us into hibernation mode four months adrift, when the snowdrops are out and other bulbs are forcing their green shoots up out of the cold ground. So it's hot water bottles at the ready and off to bed!
Saturday 27th: Bilsborrow - West Bank
Yes, still here. Nick has been very busy re-jigging the electrics, stuck in the engine room in cramped conditio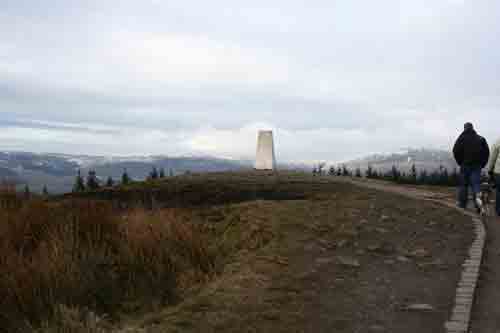 ns, muttering, chuntering, grumbling, expleting! While I'm on board I'm in a constant state of anxst, listening to it. Angela has continued enthusiastic with morning walks, though now we've moved across the cut to leave the 24-hour mooring available to others for the weekend she may not be so keen and I may turn into a morning slug. Yesterday, my birthday, and probably the most dismally wet day we've had in Lancashire, Nick actually did the honours. We had intended to go to Fleetwood where there is allegedly a fine market, and where we were planning to have a fresh fish lunch. We abandoned that idea but were told the fish we had in the Royal Oak in Garstang had been delivered from Fleetwood, fresh that morning. In the evening I went with Angela to a Quaker gathering to learn about Friends House, Moscow. Daphne, who is a Garstang Friend, is Co-Clerk, and explained about all the worthwhile projects that were funded, especially educational work in orphanages and work with young people with mental health issues. There is particular con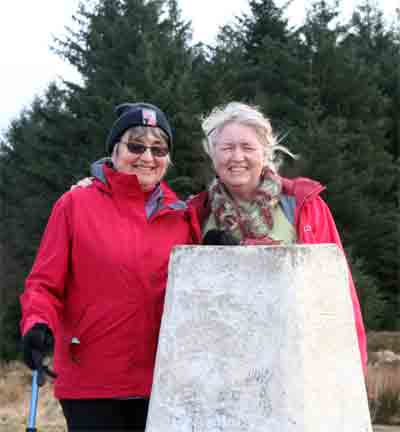 cern about future as the money from a legacy, which had been funding much of the work is drying up! We enjoyed a wonderful supper of borsht and rye bread, all made by the social committee, Wonderful, especially as it was followed by Russian chocolates and cake! We were unable to get a television signal on the East Bank; who knows about here.
This morning I collected my new specs from Lancaster, visiting the market to get organic veg (wonderful value) and meat (not so wonderful value!) and First Steps for some quinoa and beans (wonderful value!) This afternoon Angela took us up to Beacon Fell for a walk. It's quite heavily wooded, with giant conifers though rather water-logged this afternoon. There were dozens of cars parked i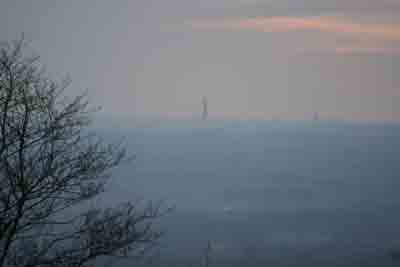 n the car park of the Discovery Centre, but we spent much of our walk quite alone. There was still some snow on the northern slopes as we made our way way up to the triangulation point at the top where it was just clear enough to see the Blackpool Tower, though it was well shrouded in mist.
We returned from our walk to Angela's cottage and to a very welcome brew, accompanied by her superb scones; a perfect way to finish a winter afternoon's external exercise! Over the course of the last few days I had been upgrading the 12V power distribution: those of you who have followed this saga from early months will remember my writing about problems with invisible corrosion of fuses: I have finally replaced the eight-way continental style fuse board with two eight-way blade style fuse boards and I have beefed up the connection from the battery to minimise the problems of volt-drop that can cause failure of the Eberspacher (our water heater). In the evening, we introduced Angela to the culinary pleasure of a Skate wing, beautifully cooked by Jackie with a garnish of capers, this followed by a very pleasant fruit salad. Jac and I had the same.
Sunday 28th:
We woke to a dry morning which became brighter as the day progressed and by half-eleven the sun had broken through the cloud. Jac, as is her normal practice on a Sunday, had gone off to her Meeting, and I spent the morning finishing parts of the electrics and removing more water from the bilge. Jac returned just as the coffee was percolating. The afternoon passed at leisure and we joined Angela in the evening for a very enjoyable beef and orange casserole followed by, for me, a novel dessert, cherry clafoutis, a baked French dessert typically made by baking fresh fruit (traditionally cherries) and a batter, halfway between a pancake batter and a custard, in a baking dish. Highly recommended! After watching Lark Rise to Candleford we walked back to the boat and said goodbye to February.