Saturday 2nd January: Garstang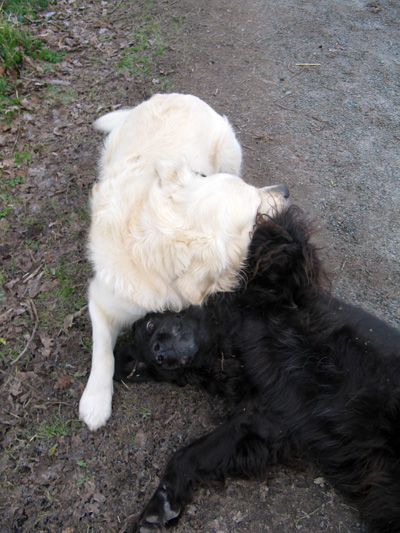 We returned from a short but exceedingly busy visit south on New Years Eve. We had considered a further few days south to take in the turn of the year, but Nick decided to return and the decision was inspired, because we found the canal defrosted for the most part. We were able to move the boat the 400 metres to the sanitary station to pump out. We had to crunch through a section, still surprisingly icy, me on the helm and Nick smashing and moving huge thick sections, taking care not to damage the plastic launches moored en route. We had already had our water tank filled, courtesy of Alan (Farthings Hook), who had sorted a hose across the canal and watered a number of boats on the west side of the cut, and generously included us in our absence. So we were 'sorted' and back on our mooring as the sun set on what was a cold but bright New Years Eve. After supper we went over to th'Aud Tythe Barn with Nigel from Goosander and Alan and Lin, for a drink but left well before midnight just as things were getting lively. Lynn is looking much better than she was on Boxing Day. I was in bed at midnight but heard the chimes and the local fireworks were decidedly noisy, greeting the new decade.
On Friday after a slow start, we took the car back to Angela and she returned with us to the boat for a light curry. The freeze continues - it actually forced Nick to get up and find our visitor's bedding to pile on our bed during the night. A leisurely sociable afternoon was punctuated by Sheila (another Friend) and family walking along the tow path (at that point in time clear of treacherous ice) and her two grandsons were duly impressed with a tour of the boat!
Rain started before dawn on Saturday, finishing with hail, sleet and snow, but the barometer kept rising and by midday it was fine but, yet again towpath and pavements were awful. I visited Booths and was delighted to be picked up from there by Patrick and Elanor who joined us on the boat for a late lunch. Elanor, now five was delightful and entertaining. She looks forward to seeing Caspar as much as us and was disappointed to find he was on Farthings Hook with his new special mate, Jamie, a three year old golden retriever whose boundless energy has infected Caspar to a degree. They play and romp around together on the towpath when the weather is dry and fine as it was yesterday. Now when we return to the boat it is often two dogs gambolling along the the path to greet us. All in all, a most satisfactory start to 2010 but there are no signs of this bitter weather easing.
Monday 4th January
On Sunday morning Angela picked me up, again on a bitterly cold but bright morning. Roads were acce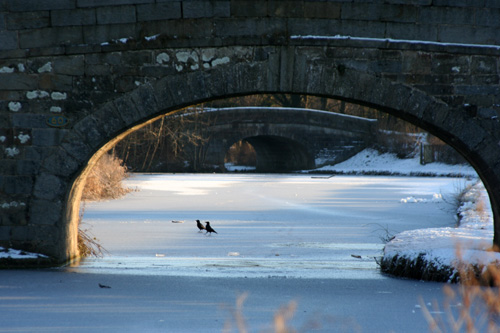 ptable, just, but pavements were treacherous, as was the cobbled lane down to the Meeting House was horrific and Angela is extremely nervous with ice underfoot. Halfway down the lane we collected some cardboard from the defunct stables and used it as stepping stones! A Friend said she wished she'd had a video of us which could be speeded up for a Laurel and Hardy effect! A quiet meeting, not surprising with the conditions and with sad news of the death of a long-lived but poorly ex-clerk. There was a helpful suggestion from Jim, regarding the negotiation of the icy surfaces which he proceeded to put into operation - socks over shoes. There had been a talk scheduled about Warden-ship by a visiting warden from Yelland but that had been cancelled because of the weather. Angela dropped me off and we had a light lunch and both went up to Booths where I had left my wallet on Saturday. (What a dipstick! and thank goodness for honest folk and an efficient lost property system) And a quiet evening - the highlight, being a viewing of Wallander. There followed the coldest night we've ever had on the boat - evidence, the ice inside the windows, particularly in the bathroom. Nothing like the wonderful patterns I remember on windows from my childhood - yes, I am a dinosaur!
Angela picked up Nick to collect gas and diesel this morning so now we have full batteries and a reasonably full tank to see us through the cold snap which we are told will last for the first half of January, at least. After coffee, and scones courtesy of the ever generous Angela, she disappeared and so did I to the dreaded launderette. I usually buy a paper in the convenience store next door but that was shut till the end of January and so I had a wonderful time watching the laundry circling endlessly. Back on the boat we had soup and garlic bread - an excellent soup marking the end of the Christmas pheasants, the stock which had travelled south with us and returned to Lancashire none the worse for wear!
Thursday 7th January
Goodness, time flies while the UK freezes! It seems we are having an easier time than those down south where they have had a lot more snow, and at last our dear grandaughter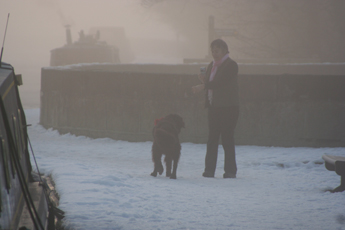 Elanor has had three inches and had a day off from school, and apparently had a lovely time with her friends. Monday night was very cold - ice inside windows again, cold; Tuesday night was warmer but last night was the coldest to date, ice index, and I'm certain that includes our time at 500ft above sea level last winter! The bathroom porthole was almost entirely frozen over and there were icy ferns on the inside of the cratch portholes. Last evening I just could not get my feet warm all evening. We had just a little more snow - enough to allow the children out on the slope in the field with their toboggans and tea trays! On Monday afternoon and evening there was a boating cry for help from across the cut where it was found that a stand pipe had frozen and burst. Amazingly, Nick had the wherewithal to sort it and it was eight or nine at night by the time the boat across the cut (completely out of water!) was filled and hoses had been passed across the frozen cut (with various dramas such as the loss of boat poles and hooks which at least don't sink!) and boats over this side topped up. Nigel next door topped up, and then delivered 4 large containers, 100 litres, of water up to Gilly, beyond the aqueduct.
I'm afraid Gilly is responsible for a new practice - 'wobbly coffee!'- that is a morning coffee with a kick. (only allowed in exacting circumstances!) With Gilly on Tuesday morning it was maximo cheapo Lidl brandy, yesterday here it was Armagnac (classy but all we had!) and today, at Alan and Lynn's it was Tia Maria (classier!). I loved Gilly's boat - so entirely her - a long wooden table to allow largish family gatherings, free standing furniture, fascinating books and wonderfully naff Christmas lights and decorations. Well into her seventies and in her third year solo on the boat she has a fascinating and by no means easy history but remains joyous for the most part and spirited. Alan and Lynn's boat is sooo warm compared with ours (even with our new, noisy, blowing contraption!) I wonder how a narrow boat can stay so warm; having the wood-burning stove mid-way down the saloon has to help. Caspar and Jamie are becoming wonderful friends they romp on the tow path for hours; it seems Caspar has had a new lease of life. Tomorrow Lynn intends to give him a professional grooming.
Nick popped into Preston on the bus this afternoon, and I popped up to town to get fish from a somewhat depleted Garstang market. I enjoyed listening to Alexander McColl (of
1st Lady Detective fame) talking about his popular 44 Scotland Street series of books. I've just finished the third or fourth and find them delightful. I like them for their 'everyday life' dilemmas and range of characters. Tomorrow we are due to go to Angela for a mid-day meal and I'm hoping to do a towel wash at the launderette before we go.
Sunday 10th January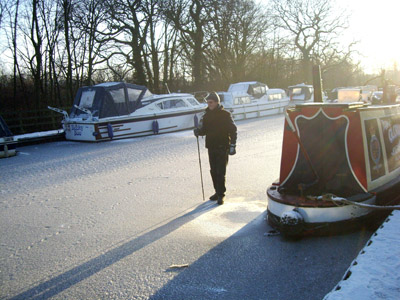 Well, it's now ten-to-five in the evening, and I've heated a couple of Angela's scones on the fire-top to have, with a brew, as they say up here. We were advised by herself to eat them on the day of baking but, as we ran out of time on Friday, the day of their arrival, we put them in the icebox.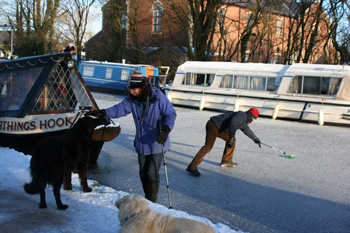 The temptation to defrost and griddle the remaining two is almost overwhelming; I cannot remember having had such an enjoyable scone - light inside with a crunchy bottom. Which reminds me to record that Jackie has gone to spend the day with Patrick to celebrate his birthday.
This morning started relatively late with arousal from bed being soon after nine. This followed a late night spent with Alan and Lin: we prepared the starter and finishing courses and they provided the main. The menu read: Kettle chips and Olives with aperitifs (on Gloriana), followed by a superb Cottage Pie, Sherry Trifle, all rounded off with Cheeses and biscuits accompanied by a glass or two of Port (these aboard Farthings Hook). The evening was drawn to a satisfactory conclusion by Lin and me beating Alan and Jac at a game of Articulate, the whole experience being punctuated with raucous, and at times uncontrollable, laughter. Jac decided to catch the 10.30 bus to Preston for the onward train journey to Northwich whilst I went for a walk with Caspar. meeting Alan, Lin, and Jamie at what was the final lap of their morning walk. In the event, we all walked for a further hour or more doing all three fields of the Millennium Route,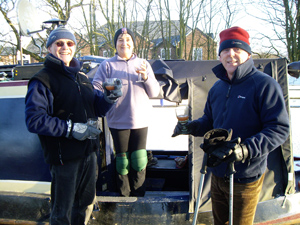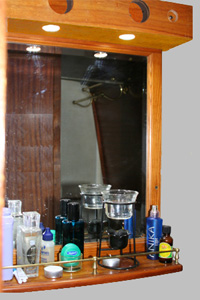 returning via the Co=op to enjoy bacon butties with coffee. In the late afternoon, after fitting zener diodes to Alan's lighting circuits (to protect the new led lights I'd persuaded him to invest in), I went across to th'Aud Tythebarn to use their wifi - primarily to update this website, but also to send some pic's for Alan to an associate of his who publishes the Lancaster boaters' magazine. Unfortunately, their wi-fi speed didn't live up to my expectation so, when my battery power failed before I'd managed to transmit the 32Mb email, I returned to the boat and, after cooking my dinner, Roast Duck, I split the email into six separate packages and will have to return to the 'barn tomorrow.
On Saturday morning, Gloriana and Farthings Hook crews (minus Jackie but including canines) had gone for a walk returning to the boats to find Jac ready with a most welcoming hot punch. As it was so bright though still very cool, I went for a further short walk down the port side of Gloriana, and Alan took the opportunity to remove a little detritus from the canal. It is probably as well to note, for the H&S 'officionados', that the ice on this occasion is of the order of four inches thick. Saturday afternoon saw the replacement of the fluorescent light (never particularly good and a high energy consumer) over the bathroom mirror with new led illumination: as I don't have too much to say about this, and as it's not Xmas day, you see the resultant on this page. The illumination is now brilliant, and whilst Jac has no excuse for poorly applied lipstick, I have one reason less for forgetting to shave.
On Friday morning, Angela had taken me down to the A6 where I was able to pick up a bag of logs (I don't like paying for firewood but we don't have mu
ch choice whilst we can't travel) after which we continued into Garstang for some diesel. Angela doesn't like the icy roads (does anyone?) so when she realised we'd have to go over a hump-back bridge, she stopped, and I took the wheel. After picking up her friend Sally, and subsequently Jac, we went to Bilsborrow to have a very pleasant lunch at Ring the Hill Cottage, Angela's cosy canal-side home.
Monday 11th January
As I sit here with a brew, and the last two scones (Angela!), one in my hand and the other about to come off the fire-top, I note that today has returned us to the worst of our lifestyle - grey and wet outside, though the fire is roaring and all is cosy inside. Jac has decided that her 24-hour escape will be 48, so I might get yet another undisturbed night's sleep. I was up at eight this morning: the dog's walk was one of the shortest for the towpath surface has been one of the worst - like walking on a surface of well-oiled ball-bearings. After a quick breakfast I went off with Alan for two hours of Badminton - I can't remember the last time I played (the last scone crunching and melting in my mouth as I type! ) and I was party to two winning games and three of the other. Because of the weather, the rest of the day has been spent onboard, excepting a twenty-minute walk across the adjacent field with Caspar. My next sortie will be across the cut to use the wi-fi again, after which it's bangers and mash, feet up, and TV.
Tuesday 12th January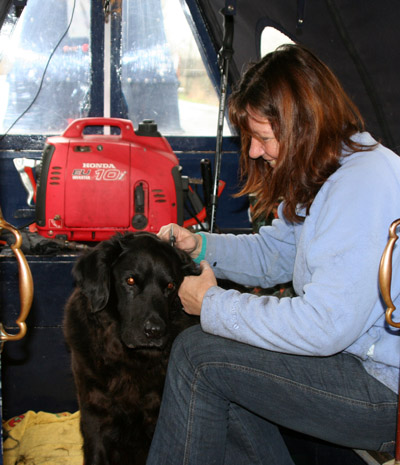 After a good night's sleep, only broken about 5-ish by a strong wind causing the boat to knock against the towpath because of a relaxed stern mooring rope, I took Caspar for a walk which was curtailed by an icy wind and yet more slippery towpath. On my return, Lin hailed me from Farthings Hook to ask if she might groom Caspar this morning. And so, by midday, Caspar was walking the towpath as if he were about to enter a show, looking a neat and tidy as ever in his ten and a half years. To quote a quote from Cath, the publisher of the Lancaster boaters' magazine, who quotes Lin when speaking to a local journalist a year or two ago, "I love my dog, my boat, and I love my husband." We ar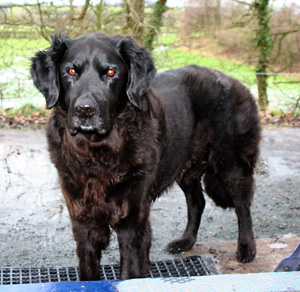 e uncertain regarding the prioritisation: the gap before the final phrase is not a typo! Lin is certainly in her element when relating to a dog, and is apparently 'bowled over' with Caspar. She said she thoroughly enjoyed the hour and a half's working on Caspar and he, as well as looking very trim, will be far more comfortable now that he has had a lot of matted hair removed, and the hair between his toes trimmed and thinned. The exercise identified the need for a bit of professional attention, though the activity thus far has appeared far from amateur.
Jackie returned to the boat on Wednesday afternoon. I had risen too late to go with Alan for another session of Badminton, having worked on a revised front page layout for this website almost into the early hours. In the afternoon I went with Alan to Blackpool to see if I could help with a couple of problems he had at one of his houses: unfortunately, unsuccessfully, but there you are, nobody's perfect. Jac was back when we returned, having come with a stop-over at Angela's.
With the weather changing from bright and white to grim 'n dim, there was little activity on Gloriana on Thursday and Friday though another run was made for diesel and logs, and Jackie went with Angela to Preston, buying the first instalment of Seville oranges for this season's marmalade which may be endowed with a touch of Armagnac: this will be for consumption only aboard Gloriana! In the afternoon, we again strung five hoses, total length of about one hundred metres, to refill the tanks of Gloriana, Farthings Hook, Gooseander, Bluestone, Dorothy Anne, Kara Sea (a soapbox, but we're charitable in our shared adversity!), and one more narrow which doesn't sport a name on its bow (though is now known to be Thursday's Child); the whole exercise starting at about two in the afternoon, with the final hose being reeled at about nine in the evening.
This afternoon, Jackie is off, as Angela's guest, for a bit of pampering at Brooklands Country Club, to all intents and purposes a girls-only establishment and we have lost the snow and icy paths; it was strange being able to stride into town, rather than shuffle. Yesterday afternoon, when I walked the dog along the river the Wyre was 2 feet below the path under the bridge but today was higher than we've ever seen it - probably over 3 feet above yesterday evening - no way can you walk down there to access the steps. It was good to have Gilly on board this morning for a coffee and as I write this I have five and a half pots of marmalade cooling - no Armagnac - we'll start with a classic version! There is an inch of water over quite thick ice on the canal.
Tuesday 19th January
Still in place but there's little ice left in our immediate vicinity and what there is looks soft and/or thin, so Nick is seriously considering an attempt to reach the sanitary station this afternoon - important with just a day or two's ullage in the loo tank. Aagh! We've had a busy-ish time. On Saturday Angela took me to her health club at Brooklands - awfully smart, in lovely grounds with a surprising number of women being pampered with pedicures, facials, whatever. The pool was distinctly chilly but there was the largest warm Jacuzzi pool I've visited with plenty of space to exercise in warm water. We used the steam room, and the solarium (moderate, dry heat) caused us to emerge positively glowing!
A lovely Meeting in Garstang on Sunday was followed by a visit to Bilsborrow for Sunday lunch and for Nick to do a few jobs for Angela followed by some decent TV back on the boat in the evening. Then on Monday afternoon Angela and I went to a gentile literary afternoon, the theme 'Renewal' with a group of eight or so people contributing - very pleasant. That was yesterday before a big clean-up on the boat -for'ard, and today, a concerted attempt aft. But I'm due for another visit to Brooklands this afternoon.
And while Jackie was luxuriating at Brooklands, I did indeed motor down to the sanitary station, breaking ice only for a short distance though I had to back off and hit it two or three times before breaking through. Arriving at Moss Lane ( the location of the Sani Station) I was greeted by Jilly (Unchained Melody) who had driven there by road to dispose of rubbish: she took advantage of my trip by loading two or three bags of logs and a case of provisions aboard Gloriana for me to deliver on my return. This saved her five or six 600-metre walks from car to boat, so I was quite happy to do it.
Perhaps I should have waited until they had gone before getting out and assembling all the paraphernalia required for the pump-out, but before I could start the evacuation, I had an extended discussion with three BW guys who were relaxing in their truck alongside the station. Having watched me prepare everything, and as I was about to start pumping, two emerged from the vehicle, one saying that I shouldn't be using the manhole; he said I would block the drain (the main drain to the sewer): the other introduced himself as the H&S man and asked where my barriers and sign were. The barrier was no problem because I always, and already had, set the manhole cover up to warn anyone approaching, and for good measure on this occasion, I added one of the locker covers from the boat: I said that as the person doing the work, I was acting as my own H&S advisor and that my risk analysis determined that line of sight with the open hole, only fifteen feet from where I would be operating was an acceptable alternative to a sign. They said I ought to be using the BW pump-out facility on site but could not provide me with a card to run it. When they again said I might block the drains, I drew their attention to the fact that what I was about to do would have exactly the same hydraulic effect as the aforementioned BW pump and that, from my previous professional experience, I was satisfied that the drain would survive the experience (or words to that effect). When I sat down and started to empty our tank, they climbed aboard their vehicle and drove away. Within the hour I was on my way back to our mooring, reversing for the final couple of hundred yards to deliver Jilly's consignment before moving on to our mooring and tying up with our portside to the towpath: this to allow access for a bit of maintenance tomorrow morning (if it isn't pelting down with the heavy rain forecast).
Sunday 24th January: Garstang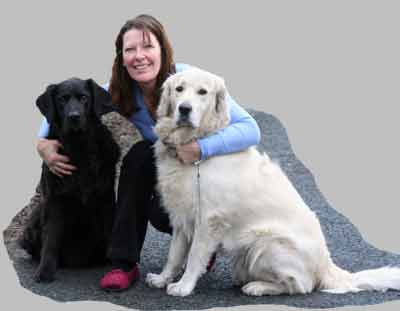 Having been to Bilsborrow for a couple of nights, we are back again in Garstang planning to travel toward Lancaster tomorrow. Yes, and with reference to the 'pump-out', above I am greatly relieved as we only had a day or so to spare! It is conceivable but unlikely, that the 'great freeze' might have lasted through much of February. Somebody 'up-there' was looking kindly on our plight! I have now enjoyed the indulgences offered at Brooklands three times and am now considering taking up the offer of 15 visits for £60! I guess I'd be quite happy to commit to that before we leave the Lancaster Canal. I guess we've (at least I've) kept our/myself quite busy - I also spent a pleasant evening of scrabble with some Garstang Friends. Last time I played, I remember feeling quite inadequate but this time was okay. Nick seems to have coped with being left while I did 'girlie' stuff. Probably good to have some 'space' - this is the time of the year when you can suffer from cabin fever and it does get tedious having to make way for each other as we pass back and forth down our restricted living accommodation! Our journey south was moderately uneventful - two icy sections as we left Garstang and quite a significant one as we approached Bilsborrow. What Jac doesn't mention is what might be called the overture to our southerly jaunt. Because we were unsure as to whether we would reach Billsborrow (not knowing the ice conditions over the route), we first went into town for provisions lest we be stuck in the Styx. On our way back along the towpath we saw two fishermen, one bending and showing as much 'builder's bottom' as is good for anybody! Unfortunately. as we approached them, Jac saw Caspar well ahead and chose this moment to whistle! The guy stood up quickly - almost losing his breaches to the force of gravity. Most of us would have ignored the situation but Jac had to confound the issue by assuring the bloke that she hadn't be whistling at him. He made no comment!
Before we set off, Lin had to have a photograph with the dogs: she said she would miss us, though clarified her intent by adding "well, I mean Caspar." When we arrived back on Sunday, Farthings Hook had gone, returned to their permanent mooring at Ratcliffe Wharf, we may see them again on our journey up to Lancaster. Certainly, Caspar looked lost when he couldn't find his friend, Jamie, on the towpath, though the loss of his secondary larder (Lin was forever giving him 'gravy bones') might have been a contributory factor.
Last week I also visited a Lidl in Preston (thanks Angela), did two more marmalade marathons, and we both enjoyed meals with Angela, one on board and one at her place. Yesterday afternoon she took us to Lytham, a charming small town south of Blackpool on the estuary of the Ribble, with a wide, grassy esplanade complete with lone windmill. As the weather was disappointing, dry but overcast and foggy, we wandered round the pleasant town centre. For the last two dayys Angela - a poor sleeper and an early-bird has called to walk Caspar, particularly virtuous this morning, as it was raining, and allowed me an even longer lie-in than usual! I went to Meeting for Worship this morning - a good turn-out this week (20'ish) Whilst I was there, Nick had travelled north and was back in Garstang. Caspar has been looking for his best mate, Jamie, but sadly Lynn and Alan have also moved on, back to their permanent mooring - perhaps we'll see them as we go through to Lancaster.
Thursday 28th January: Lancaster
On Monday morning we set off after Nick had done a mini-pump-out and Angela had kindly ferried him to get diesel, and I had slipped into town for provisions. It was dry but overcast but it didn't take much imagination to s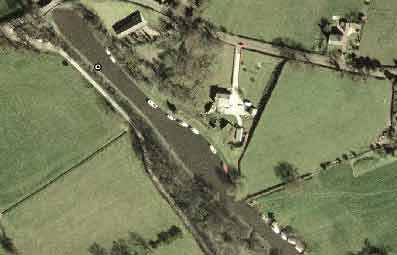 ee how lovely Lancashire is, albeit on a cold January day. It was just an hour and a half to Ratcliffe Wharf where we planned to stay and hopefully allow Caspar a walk and play with Jamie. We found ourselves moored by a copse where Nick found some useful wood so we are now self-sufficient in wood at least. Nick is muttering that we may be able to keep ourselves warm on our winter fuel allowance. Lin and Alan have a delightful mooring with canal-side patio. They have to walk through a field of sheep to the farm where they have a caravan and their road transport. This is a part of the canal where the A6 and M6 are so far away you get no noise pollution. In the carpark by the wharf I spotted some snowdrops - lovely! On Tuesday morning Lin and I took the two dogs for a walk and after a farewell coffee aboard Gloriana we set off again, gently puttering our way north through yet more lovely countryside. This canal has to have an award for its hedges, which are trimmed so boaters enjoy the countryside beyond. We stopped briefly by a bench which allowed Nick to saw up wood and have some soup before passing through Deep Cutting and from there entering the pleasant southern approach to Lancaster, just in time for a welcome brew.
We were lucky to find our regular mooring with its splendid internet connection. Sadly we have no TV - in spite of a strong signal and shifting the boat forward and back and turning it about, still we had nothing. Luckily Nick has installed i-player on my computer so I can enjoy some of the best/most popular programmes: so I'm not over-grumpy! And it was good to renew my acquaintance with Lancaster again. I went to an intimate mid-week Meeting for Worship - just 8 of us and this is regularly followed by a Jacob's Join (Bring and Share) which I must remember, should I go again on a Wednesday. I returned to the boat via the town to find a splendid market and, having discovered that my pension had been paid in, went into TKMaxx. Now, I have a rather puritanical attitude for the present penchant for designer handbags - the price of some of them I find offensive! However, I am also conscious of my image and the rucksack attached to me whenever and wherever I go. There are times when a capacious bag would serve for a small shopping trip and would even serve as an overnight bag on visits to Northwich. So I found myself looking at bags - hundreds of them. prices from £5 to £80! Most were far too fanciful and designer for my taste - one I especially liked was originally £180+, cost £79, so was dismissed. I plumped for a smart black bag with red stitching. Photo to follow when I next smarten myself up enough to do a photo-shoot. To complete the indulgence I tasted a freebie piece of Belgium chocolate fudge on the market and bought a bag of that instead of the usual bar of fair trade chocolate we enjoy regularly after our evening meal. I don't usually like fudge but this was exceptionally choclatty and not sickly sweet. And finally I bought a wild duck for supper - never had a wild one before and it was quite different to the farmed variety - less fatty, darker meat and delicious. Nick is travelling south today to sort out a problem with the Saniflow back in Hungerford. He just seems to attract the shitty jobs, poor Nick. The bonus, of course, is seeing Simon, Emm, Sean and last, but certainly not least, baby Joe! So, there's just me here till next Tuesday effectively.
Sunday 31st January: Lancaster
I was surprised to be awoken by a phone call from Nick quite early on Friday - how solicitous I thought. However, after a brief greeting it appeared that he was in a bit or a grump, having found his rucksack awash with marmalade! Now, there's a story behind this! I am always being accused of failing to secure lids while I regularly complain that he leaves lids off entirely. I put out jars of the seasonal sticky stuff to go south without checking lids but he might have checked lids before putting them in his rucksack! Anyway, poor Nick had a great marmalade clean up before heading off to deal with a shitty-poo clean-up!
I have enjoyed a few days of cold and bright weather where the canal has slowly frozen. I've walked for most days on the circular walk past skipping lambs. Why, when David Archer is only starting lambing are there well-grown Lancashire lambs as well as the quite newly-born ? As we walk through the Millennium Orchard the sound of birdsong is marked. On Friday evening I found that my lap top determinedly dead so now I am without any form of media communication except radio and mobile phone. The bright weather is a bonus but the evenings are long and tedious. I continue to be impressed by the Saturday market and bought a bag of veg from the organic stall - potatoes, carrots, parsnips, a Savoy cabbage, a red pepper - £3! Brilliant value! Sleep is not so good while Nick is away - it seems I sleep better in a 2-foot space than when I can spread-eagle in 4 feet!
On Sunday morning I took Caspar on my circular walk early and set off for Lancaster Meeting. This was a meeting for Worship when I feel so very privileged to be a Quaker. There have never been occasions before my time with Friends when I have felt such spiritual love and strength in those hour long Meetings for Worship. I had previously thought that a small Meeting might be more socially cohesive but this gathering of 50 or more people disproved that idea. A ministry from one of the clerks shared some extremely sad news about the untimely death of the son of one of its members. She was clearly feeling very emotional and the silence following was so laden with sadness and loving concern and support that it was palpable. There followed a further ministry on the subject of suffering and how tragedy can teach us what it is to be fully human and allow us to share our personal sadnesses and tragedies. The next ministry was on a subject that had been occupying the thoughts of many of us for the last day or so and that is Tony Blair's evidence at the Chilcott Enquiry. This lady shared my astonishment at how our shared Quaker values, such as those of truth and integrity, and our commitment to peace and conciliation had been so abused by Tony Blair and his dangerous conviction of being so entirely right in the decisions he made. More of this issue at the end of this entry. The final ministry after the sadness and seriousness allowed the meeting to regain a feeling of serenity - a recalling and reading of Christ's parable of the separating of sheep and goats and the questions of "Where were you when I was hungry, homeless..." etc. He suggested we should add a question asking "Where were you when I was grieving. Did you sit with me, supporting me with loving concern? He suggested that Quaker concern for the dispossessed at the Homeless Centre in Lancaster was fruitful. He had been talking with a local girl, Candy, whose chaotic lifestyle and behaviour had caused her mother to kick her out of her home, aged nineteen. Through the support of the Centre, Candy has now sorted her life.
I return to a subject which has been preoccupying me. The dastardly Tony Blair. Yes, that is how I think of him. I have a fair amount of leisure time to read and listen on Radio 4 to commentaries on the present inquiry. Listening to 'Mock the Week' on I-Player and 'The News Quiz' I was conscious of the scorn and powerfully negative feelings that he engenders. Almost all the people who applied for tickets to be present on the day he appeared before the inquiry were exceedingly sceptical about his motives. Listening to 'Any Questions' last week, all the panel were negative and two points were made which I felt were important; one was that he, a Labour leader, allied himself with a narrow-minded, right-wing bigot of a USA President (whoo! that's not Quakerly - but where do I find 'that of God' in Bush or Blair? I'll work on it!); and two, it seems that he acted in an extraordinarily high handed way, freezing out many of the members of the cabinet. Then I remind myself that there was a vote in the House and, in spite of opposition within his own party, the issue was carried with the support of the Tories, apart that is, for a few astute characters like Ken Clarke. Now for an interesting consideration - my tendency to always see the other side. I have been considering just what life in the Blair household is like at present, and am feeling some concern - not quite so much for Tony and Cherie but for the children. How are they coping when they see pictures of banners with the two vowels of their names reversed. How is the charisma and astute political nowse that put him in Downing Street for twelve or more years, playing out at home now? How are the family dynamics, and how are his kids coping with their lives: Leo, at school and the others in their adult lives, at work and with friends? I guess things must be rather uncomfortable and I do feel compassion for them. An "annus 'orrible", I guess!