Saturday August 1st: Castleford
Nick awoke early this morning and fortuitously set off just about missing the rain. I'm back! After an amazing and stimulating wee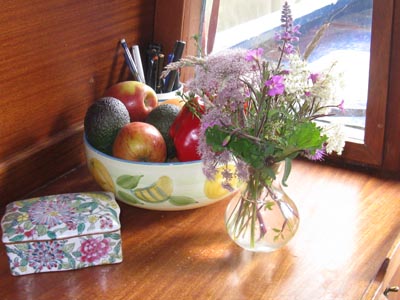 k, I haven't stopped talking, trying to tell Nick about it all in a muddled, garbled way. I have made notes and will write more anon and elsewhere, for those who may be interested in my Quaker experience! (click here for the full story) I left the university campus in York soon after nine after a clearing of my room and the communal kitchen. My luggage (it felt heavy enough!) was remarked upon for its meagreness. The journey went like clockwork, bus to bus to bus, but the weather was cool and depressing. Seated at the front, on the top deck of a double-decker, on the way to Leeds I saw nothing but fug with rain which cascaded down the window from the roof each time we stopped!, I tried to spot Gloriana as we crossed the canal, coming into Castleford, but looked the wrong way apparently. Nick hadn't made it to the bus station, but with a little electronic technology there was a happy reunion in the market by Lloyds TSB and we had a coffee and did a shop before returning to the boat and Caspar.
It being a rainy afternoon, and me being ready for a sensible meal with real veg, Nick did lunch while I unpacked and did a few useful things on the computer (yes, and a game!) While I was away Nick had put himself on Facebook and, after reading the entries of a number of folk who were on, he opened an account for me! Festina Lente passed by, seen last at Preston Brook on the Trent & Mersey. Nick hailed them, and though they were well down river they backed up and we exchanged info about where they had come from, where we were going, and vice-versa. By half seven, the evening was much improved weather-wise so we enjoyed a pleasant walk with the dog and picked pillar-box red, wild (and a little damp) raspberries which we will have on our cereal tomorrow morn. The sky suggests that we may even have a better day tomorrow, but who knows!
Yes, despite having had a poor night's sleep on Thursday/Friday, I was awake before five, and was only persuaded not to get up before six by two heavy-ish showers. By seven o'clock I was through Bank Dole lock and on to the Aire & Calder, and through Ferrybridge Flood lock by eight. By this time Caspar was salivating heavily so his breakfast was served. The remaining journey to Castleford was uneventful, the promised rain only starting as Gloriana approached Bulholme lock, just a third of a mile downstream of where we finally moored to meet Jackie and where we stayed for the night.
Sunday August 2nd: Stanley Ferry Aqueducts
After an enjoyable breakfast with the wild raspberries, we set off in overcast conditions and didn't travel that far. Nick was delighted to catch up with Brian and Ann on Arcadia, who had travelled with him down the tidal Ouse and who had experienced an unsettled night at Selby. We joined them for a pleasant late lunch-time drink and, returning to Gloriana, enjoyed a late snack and a moderately lazy afternoon, hailing other fellow travellers from the Ouse. Stanley Ferry is a pleasant stopping point with excellent BW facilities and a pub. It seems a popular location for Sunday afternoon strolls, with pleasant walks through wetlands awash with meadowsweet and purple loosestrife.
Monday August 3rd: Figure of Three Locks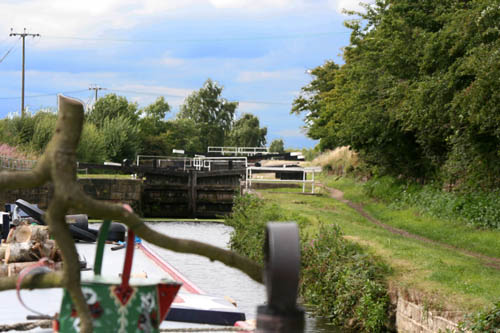 It has been sunny and warm today, and we set off some time mid-morning. Our first lock on the Calder and Hebble was a challenge. Luckily a solo boater pulled up behind us and he had local knowledge and a special windlass for the extremely stiff lock gear. (this is an example of where Jackie's perspective can be a little misleading: apart from its size, Fall Ing Lock was nothing unusual and would have been no real problem though, as always, and on any lock, it's nice to have help) We had to shop so stopped in Wakefield. I had expected to do a quick shop in a parade of shops near the canal but when I eventually found the them I was only five minutes from the centre of town. However we now have provisions for a few days. So, we had to manage the next "challenging" (?) couple of locks alone. We did stop a short way out of Wakefield at The Navigation for liquid refreshment to wash down our lunch. Towards tea-time we approached Figure of Three Locks, which are, in fact two, the third being derelict and off-line. These proved to be tricky - in the short pound between the two, the direct line between the two was really shallow; when I managed to manoeuvre to the lock entrance I had to use the engine to push the gate open as Nick just couldn't open it without assistance (agreed). We waited for Jenny Wren to join us as we spotted them coming up behind us to the lower lock, and Nick went back to help Eric and Sue with it. So we had to be especially careful as Jenny Wren was a small, plastic craft and, because the locks are fierce, we had to rope up to be really careful. By the time we were through we were ready for a stop and are currently in a really pleasant spot. We enjoyed a much appreciated cuppa, in the sun on the tow path. It's been awhile since we've done that! Gargrave, I think, was the last time.
Tuesday August 4th: Kirklees Top Lock
We slept late and were anxious about the weather which in fact, has not been so bad today. In fact it's been mild, and damp now and again, with a downpour which lasted just a short time. We've travelled west from low, rolling countryside to a far more upland area - we've been up through fourteen locks now on the Calder and Hebble, moving from wide river section to the more narrow canal sections, the locks, regularly turning sharply off the main stream. They continue to be challenging, quite fierce with different paddle gear and differing responses as we attempt to hold the boat steady in the lock. Consequently we roped up in most of them and proceeded cautiously. We stopped to shop at a Lidl at Ledgard. Tonight is glorious again and we are in a lovely spot a couple of miles from Brighouse of brass band fame. Tomorrow Nick may well be looking for a computer technician as this computer is playing up. It's very slow and we're getting no internet signal, which is surprising as we're quite near civilization and the M62.
Wednesday 5th August: Salterhebble Locks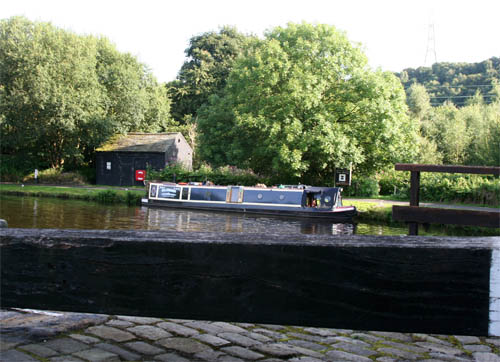 Late on Tuesday, after phone conversations with Simon (not particularly productive) and a great deal of angst, Nick managed to sort the computer and lo, we were in contact with the inside world again! Hallelulya! We followed a solo boater, Dave, up the cut, sharing a lock and he offered us a rudimentary 'spike', a 3" x 2" x 3' piece of timber - essential equipment on this waterway. Until today Nick had managed with a mooring pin but, fortuitously, he found today's paddle gear needed a great deal more leverage, afforded by the gift-spike. That was the first bit of serendipity. We passed through a very industrial stretch heading into Brighouse, but the centre was pleasant with a small basin, good mooring by a Sainsburys store, and we had arrived on market day. We moved on at lunch time, the tree-lined hills rearing up on both sides, the Calder to the south and the cut enclosed with dappled sunlight. The locks continue, carrying us up through Elland to the dramatic electrically-powered guillotine lock at Salterhebble. I was tired and, commenting that Nick had been working hard physically, he needed little encouragement when I suggested stopping in a sunny spot in the basin. After I'd had a short zizz, Nick suggested I catch up with e-mails. I was just in the process of informing Mary Wright in Romily that we would be travelling south of Romily at the end of the month, when my phone rang, and yes, it was Mary, who had been spending the day with grand-daughter, Rebecca, just up the cut from where we were now moored, in Sowerbury Bridge (originally our destination for the day). They later joined us - what a special surprise, and a great pleasure to see Mary, meet Rebecca, and catch up with Marple news. After a lovely, sunny, sociable evening, we slept like the dead!
Thursday 6th August: Hebden Bridge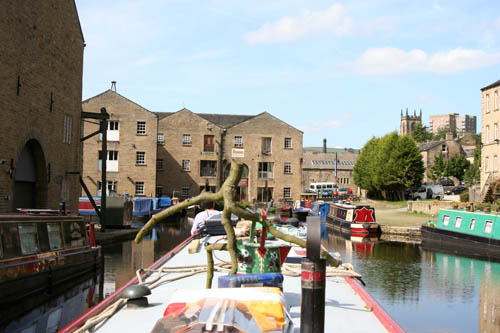 To all intents and purposes, we spent the day with Victoria and Dan, leastways, we spent the periods locking between Salterhebble and Hebden with them. We woke relatively late and, whilst we were preparing breakfast, they came up through the guillotine lock. In the interests of conserving water and making our intended destination by the end of the day, I prepared the second lock of the Salterhebble-three and followed them in. Two teachers of English, Victoria and Dan were bringing their newly acquired twenty-foot narrowboat from Skipton to its permanent mooring just above Mayroyd lock in Hebden Bridge. They had had several problems with the boat since buying it, the main one necessitating a complete rebuild of the engine, so they were travelling very slowly, a very wise decision given that the alternator wasn't connected, which was typical of the rest of the electrics on board. We travelled ahead of them on each pound, preparing the following lock and waiting for them to catch up.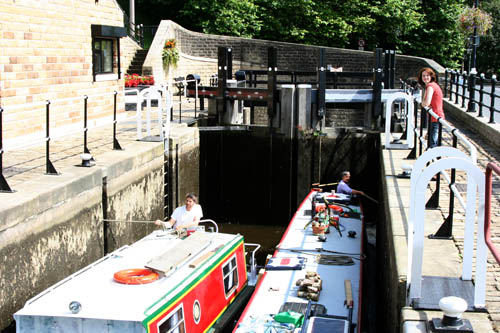 Around about elevenish, we arrived in Sowerby Bridge and, before turning on to the Rochdale canal, took a brief trip into Sowerby Wharf. By the time we had prepared the first lock, Victoria and Dan had arrived. The three Tuel Lane locks are close together though the third is beyond a tunnel under the main road. Whilst the two boats were rising in the second, I went on to prepare the third: it was just under twenty feet deep, and full. A sign at the entrance to the tunnel had indicated that boaters should not proceed until given the OK by the lock keeper. So dutifully I had gone forward to get the OK but found that he would not be there for a couple of hours. So I opened the paddles and waited for the lock to empty. Shortly afterwards, Dan arrived with Nicholson in hand, quoting that "passage will only be permitted when the lock is manned" which is a pretty obvious statement! It just happens that it was me who was manning it on this occasion. The lock was, in fact, a lot easier to handle and much less turbulent than many we have dealt with over the years; Bath Bottom lock and Somerton Deep lock (on the Oxford) come easily to mind. So, soon after twelve, we were on our way again, having "saved" more than an hour in overall journey time.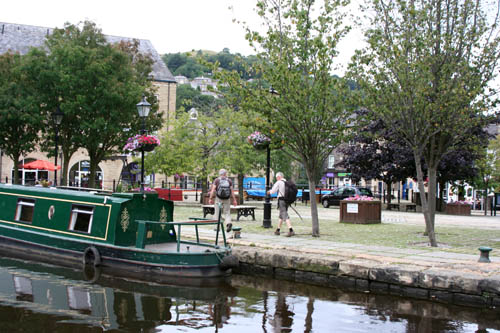 Five and a quarter miles, and four locks later, we arrived in Hebden Bridge where we moored and prepared for a 48-hour stay. There had been just one more executive decision taken on the last lap: due to subsidence, it was advised that only one boat at a time use the Edward Kilner lock but, as it was plenty long enough, and Victoria's boat was compact, she agreed that it was OK to travel up together. So careful positioning of the two craft in the lock ensured a safe and uneventful rise for us all.
Victoria had found travelling with Gloriana reassuring after their several solo days, and Dan asked us to join them for a celebration arrival drink; an invitation that I wasn't going to turn down. So after they had secured their boat (Victoria, does it have a name?) (I know - it's El Barco!), they found us on our mooring, and we crossed over the cut to spend a very pleasant time talking over a couple of pints.
This had been another long day, 6+ hours travelling so we were ready for an early night though being in the centre of a town close to a couple of bars has never been conducive to a peaceful night's sleep. But now we plan to stay put for a couple of days and chill-out!
Friday: Jac says that, in spite of Nick's protestations, the Calder and Hebble and the first part of the Rochdale are challenging. Most of the locking gear is quite impossible for me to operate! Going into the deep lock yesterday, straight from the tunnel, was, for me, scarey! And Nick was early to bed and up late this morning, taking full advantage of a lazy day with no travelling. Furthermore this seems to be agreed by those few boaters, with whom I have chatted, who have made it here. Another note: yesterday we passed through Mytholmroyd, where Ted Hughes was born. It is unfortunate that it is next weekend there is a birthday festival with walks and poetry readings. By then we will be well on our way, south of here, on the Huddersfield Narrow. We have been told it is so narrow that it's not much more than a ditch! We will see!
Sunday 9th August: Sowerby Bridge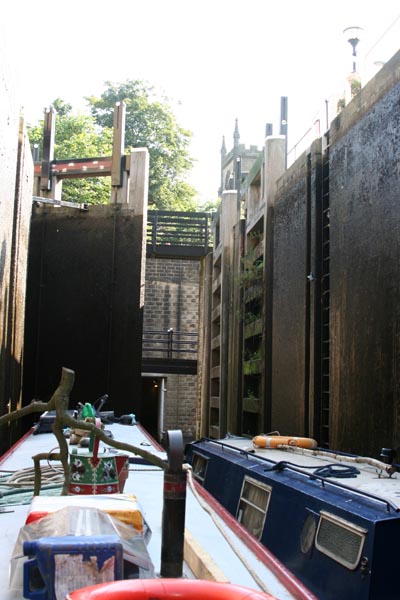 Friday and Saturday were pretty relaxed, travelling nowhere until Saturday midday when we decided to slip out of the town centre to ensure a good night's sleep. We shared the four locks toward Sowerby Bridge with Colin and Anne on a boat with a name of character pairs so eclectic that I can't remember it (perhaps Jac will). By mid-afternoon we were through Edward Kilner Lock and had decided to moor below for the night.
On Sunday morning we got up at about eight and set off for Sowerby Bridge with the intention of arriving there in time for Jac to catch a train back to Hebden Bridge for her Quaker Meeting. Just before nine we arrived at the top lock and Jac, with the lock keeper's directions, set off immediately for the railway station. We had arrived as another boat was already locking down so, being in no hurry whatsoever, I told the lock keeper that I was happy to wait to share the lock with the next boat to arrive from upstream. However, he had halted the emptying, though it was ninety percent complete, and asked me if I would be 'community-hearted' and give Kenny, sitting in the lock, some help down the remaining flight. Though he had only had it repaired a few days earlier, his starter motor would not engage, so, leaving the lock, I took his bow line and towed him through the tunnel, into the middle lock, and out of that to leave him moored in the pound above the bottom lock. Having received such help myself in the past, I was only too happy to be able to return the favour to the boating community.
Tuesday 11th August: Luddendenfoot
We travelled gently yesterday as we have lots of time. It rained in morning so we had an especially leisurely start. The day turned out to be quite acceptable and we travelled enough to walk the dog and get the water hot. We also sorted a weekend trip for me to Northwich this coming weekend, and a trip south in September for Mid-Thames Monthly Meeting. Now, we have a bit of a dilemma - it seems that there is a problem with a lock on the Huddersfield Canal - Sally and Andrew on Puzzler are booked for the Standedge Tunnel this Friday and have been phoned to be forewarned that there were 'issues'. We will not know till later this week but we are now considering doing the Rochdale as we have been told the security issues are insignificant. The worse they encountered were a few 'pebbles' chucked by kids, a long shot from the drug-dealing gangsters and chancers we were told of by Dave who went through in 2004! The issue is 'Do we wait and see' or do we turn again and head west on the Rochdale Canal as, if there are serious issues, other boats will be doing the same and, as the passage of boats over the summit is restricted, we would have an advantage! Watch this space.
Wednesday 12th August: Smithyholm Lock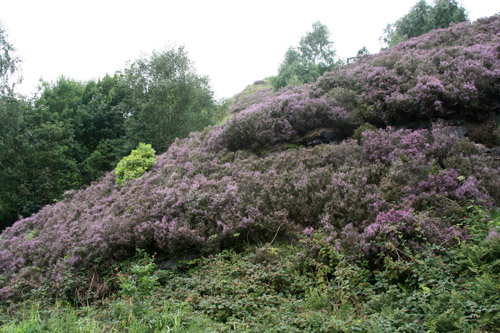 Lots has happened and been decided since yesterday. We gently turned back west, reckoning that if we were in Hebden Bridge or thereabouts we would be in a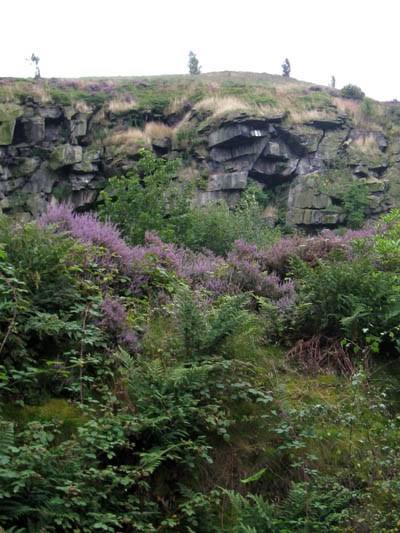 position to go the Huddersfield or the Rochdale route. So, after yet another extremely lazy start, yesterday, we turned again and headed west. We stopped in Sowerby Bridge (pronounced Sorbry) to enjoy a late lunch in the historic basin there. Suddenly we realised we had to get moving as the lock-keeper finished at four o'clock. We just made it, going through with another boat of a similar age to ours, Marcassin, with skipper Karin, daughter Karla and three of her grandchildren. After the next lock which was for single use only due to subsidence, they went on and we gave up for the day. However, this morning we caught up with them in Mytholmroyd and have travelled with them all day, consequently having a considerably easier time than we might have done, thanks to the stalwart efforts of their crew, two or three of whom were on the tow path preparing and working locks all day. So, we are now just eight or so locks from the summit of the Rochdale canal and first thing tomorrow will book our passage over: only four boats pass each day, but there is not much traffic - we met two boats yesterday who came over the top, and one today. The scenery has changed a great deal as the day has gone by. Leaving the leafiness of Hebden Bridge, the valley narrowed with quite dense woodland on each side. It wasn't too oppressive, as we saw grass dappled with sunlight on the southern slopes. We continued to climb, sometimes through green hills, sometimes with more rugged hills where the heather is just coming out. The houses are built of dark grey stone with many terraces adjacent to the cut. The same dark terraces and isolated farms can be seen up the hills and on the skyline. We passed through Todmorden and had to go on for five or more locks climbing up a valley which closes in, but in spite of this we have an excellent network signal and even a good TV signal though the FM radio reception isn't that special. Shame there seems to be nothing on but football or football.
Thursday 13th August: Lock 33
Wednesday had been nearly ten hours of travelling though, because of the sterling help we'd had from the crew of Marcassin, a relatively easy day. Even so, after a good dinner, washed down with the remnants of a bottle of Merlot, it was good to get to bed. We woke just before eight and, returning from a short walk with Caspar, Jac reported that the level in the pound above us seemed rather low. I had noticed the previous evening that it was showing nearly a foot of earth beneath the vegetation but this morning that had doubled: dipping the canal just below the upstream lock showed only 18 inches of depth. So, whilst booking our passage over the summit for Friday, I told BW about the possible problem. We decided to delay our departure, allowing the level to rise over the next hour or two to somewhere near normal, which allowed us to proceed, albeit with care. Lock 26 is another case of "one boat only" because of subsidence: we went through first and, while we were waiting for Mar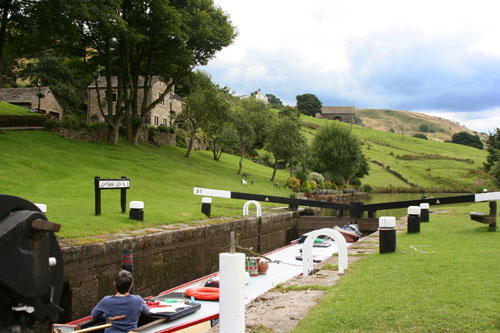 cassin to join us in Lock 27, Jac went to get some of Grandma Pollards Fish 'n Chips which we ate together on the helm as we motored to Lock 28 (much to the envy of the Marcassin crew: though they did return for their own later). Sadly Granma Pollard is no longer with us but Grandad was doing sterling work over hot fat, and had been doing so for over 50 years. To help him he had a bevy of ladies serving a long queue, and those who had come to eat in the cafe or in Granma Pollards bus out the back. I had just a fiver clutched in my hot little hand and realised that I would be unable to buy one of the pies (savoury or sweet, and very obviously made on the premises.) I'm pleased to say Grandad does have a break: the shop is only open form Monday to Friday. Above Lock 28, we said goodbye to Karin, Karla, and the younger adults; they were winding to return to Smithyholm Lock where Karin's other half and his pal are taking over to take the boat back to its home mooring. We continued up through a couple of more locks to moor overnight below Lock 33, arriving just before three, to await assisted passage over the summit on Friday morning. Tomorrow will be another long day so a relaxing several hours this evening is just what the doctor ordered! So we enjoyed a leisurely drink on the towpath with Mike and Jules from Ebony, our boating companions for the next few days, enjoying the evening light on the hills to the East, troubled only by midges. We returned to give the boat a quick insect repellent spray and walked up the cut in the fading light. It looks as though it will be an impressive journey tomorrow and we pray the weather will not be as bad as is threatened!
Friday 14th August: South of Rochdale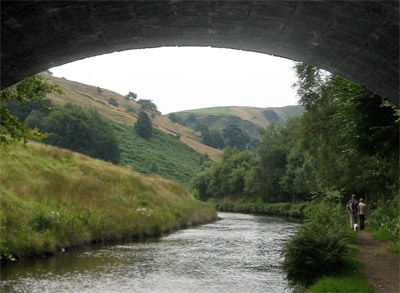 On the strike of nine, Gloriana moved into Lock 33, and so began a nine hour journey to the Slattocks, a mile or so south of Rochdale. Part of the preparation for moving off , on this occasion, was to ensure that the local feline, who had tried to adopt us over the previous 18 hours, and who had helped itself to a good part of our loaf of bread the night before, didn't stowaway. We rather suspect that it might have been left behind by another boat. Our ascent up to the 600ft summit of the Rochdale took a little over an hour and, at Lock 36,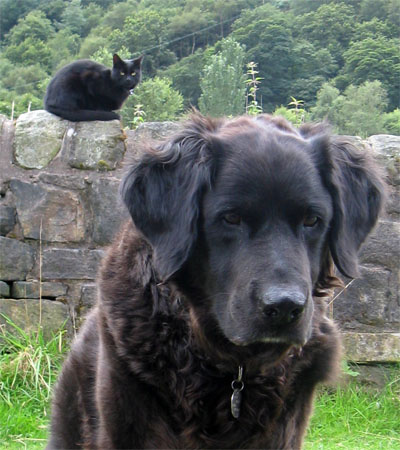 we said goodbye to Yorkshire as we passed through a swing bridge immediately upstream of the lock. We have very much enjoyed our two months in what some refer to as "God's Own Country"
The weather, for the first part of the day, was ideal for travelling; dry, bright, comfortably warm, with a light breeze. As we travelled into the afternoon it became overcast but remained dry until well after we had moored for the night, excepting, that is, a five minute spray whilst we were stopped in Littleborough for lunch and a shopping trip. As we progressed into Lancashire we dropped down from the summit and, passing through Littleborough, were slowed down significantly by a very shallow cut which was made that much more difficult by a lot of rubbish in the water, one piece of which wrapped itself around our prop. As we approached Rochdale, we began to see signs of trouble; a boat coming the other way was pulled into the bank and its owner was at his weedhatch in the process of removing the remains of a mattress which, in all probability had been put in the canal by three youths who were watching the proceedings from the bridge behind him.
Travelling a broad canal is so much easier when you are one of a pair of boats, and so much more enjoyable when there is an easy relationship with your partners, and such is the case, from our perspective, with Mike and Jules. The twenty-one locks travelled today were as comfortable as the eighteen put under our belt on Thursday.

Saturday 15th August: Chadderton
Today was an altogether easier day, not least because of its brevity, though we had a challenge or two on the way. I walked downstream to Slattocks with Caspar to prepare the lock at the top of the Laneside Flight. The only issue was that there seemed to be a surfeit of water coming down-stream. I had to virtually paddle through the tun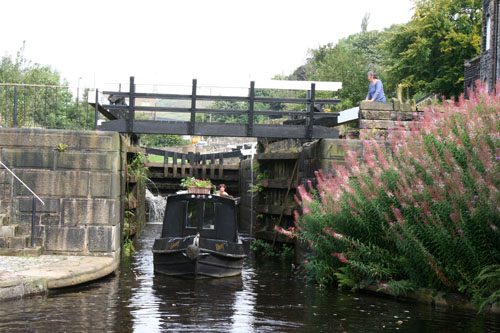 nel leading down from the first lock and all locks, except for one, were over-topping. We worked well as a team, sorting out problems - once Ebony had her bow stuck, and there was much rope pulling and tying, dashing back to the previous lock to let more water down!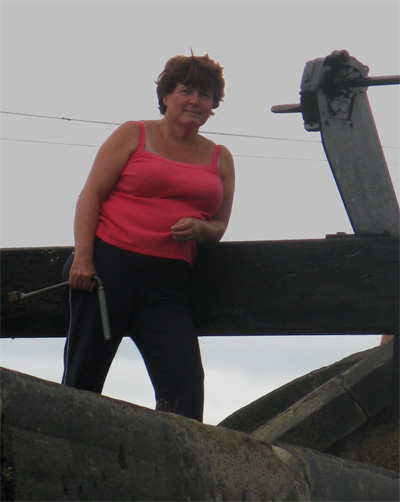 We are now in the outskirts of Manchester and a number of passers-by are negative about the prospects of our journey tomorrow. We are now just an hour away from the official start of our 'shadowed' journey down into Manchester tomorrow. We have to be ready and waiting at Failsworth at 8.30. prompt, BW orders! We arrived here at about twelve, just as the wind blew and the heavens opened. A leisurely coffee was enjoyed, and Jules and Mike disappeared to prepare the 'buy and share' roast which we will enjoy together this evening. The rain has now blown away and we have a leisurely afternoon. I think I'll surprise them with one of my chocolate bread and butter and berry puddings!
And the meal was superb! Mike had cooked the meat, a leg of lamb, to perfection. My standard roast lamb has slivers of garlic adorning the skin as if it were a hedgehog: Mike's formula is to coat the skin with blackcurrant jam and to cook slowly, something I will have to try in future because it was delicious. We had prepared the vegetables and provided olives, and chillies stuffed with cream cheese, for an appetiser, and Jac had indeed done her renowned chocolate bread and butter pudding. The starter washed down with a beer, and the main course accompanied by two eminently drinkable reds, what more could one ask as the basis for a thoroughly enjoyable evening? But we had agreed an early start which meant setting an alarm for six o'clock!
Sunday 16th August: Manchester, Piccadily Basin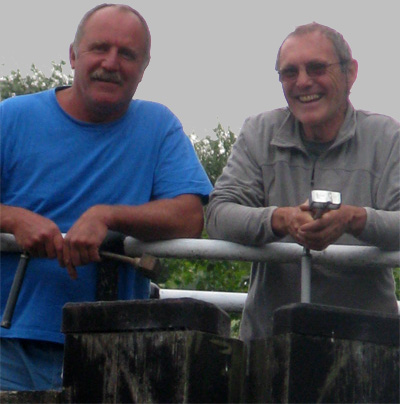 And s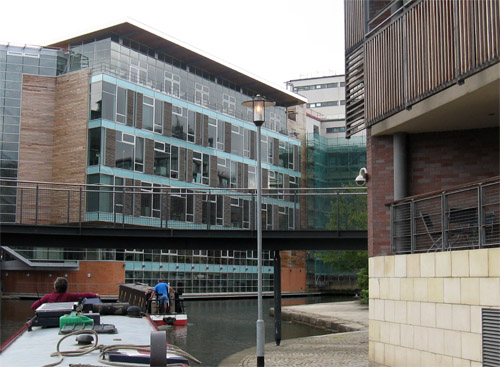 o it was that we pulled pins at six-fifty and set off to meet BW at the appointed hour. We arrived at Lock 65 ten minutes before the deadline, we had taken an hour and a half as compared with the Nicholson advice of one hour. This stretch of the canal is very shallow which limits ones speed, and in the seven hours of today's travelling I have had my arm down the weed hatch as many times as I have since leaving Hungerford! But we had no hassle from locals, perhaps because it was a Sunday morning; and our only delay was due to the fact that Tom, the flight-keeper, had not unlocked the padlocks on Lock 71 before our arrival there which delayed us by about three-quarters of an hour. We had no time issues other than to get this stretch behind us as soon as possible, but Mike and Jules had plans to meet Mike's older half-sister and her partner (75/84) on our arrival in Manchester. So after waiting a reasonable time we brought out our security key, a hacksaw and, just after we'd opened the top paddle, BW turned up. Apologies for taking a link out of his chain were accepted, and we continued our journey arriving at the bottom of the flight on the stroke of two. Yes, through twenty locks today, and sadly we will be saying farewell to yet another couple of engaging travelling companions all too soon. When you share coffee, locking, drinkies and leisuretime, (not to mention a leg of lamb) for two or three days solid, you get to be pretty matey! We especially fell for Mike's mum, Molly: she who provided the blackcurrants and jam for the lamb, the oatcakes and the gooseberry wine in the cupboard, too powerful for guests to touch! She wasn't on board but that's boating for you! You often get to know the relatives, back home! The final descent into the city centre is not especially attractive but we are now in Piccadilly Village - smart flats around a small basin, and an ancient boat, 'Double Dutch' has just joined us - with (guess what) a Dutch couple aboard, possible companions for the final locks of the Rochdale Canal tomorrow. Note the picture of Mike and Nick today: Jules and I saw them jawing away like this a number of times as they watched the water empty from the locks. And they say women are the chatterboxes/gossips!
Monday 17th August: Central Manchester; Castlefield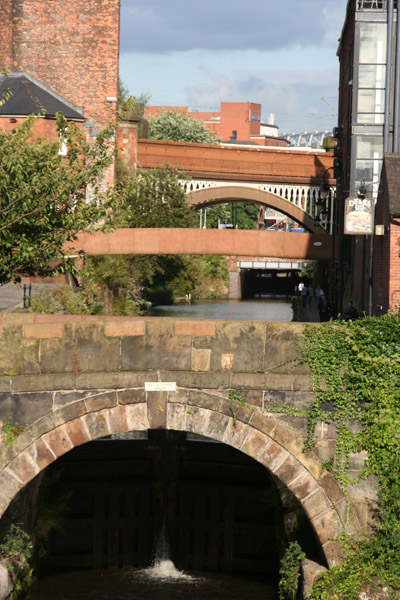 An extraordinary morning starting at six. We wondered if Mike and Jules actually saw us waving from a tiny porthole as they disappeared waving wildly! We did return to bed for a while but were at the top of the Rochdale 9 soon after eight and waiting for a boat, small but efficiently crewed, to accompany us down; always good news through a tricky flight which takes you secretly under the busy city. As we locked down, we ent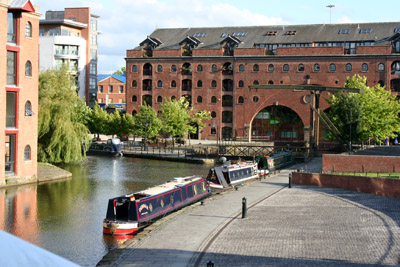 ered a subterranean world in what seemed to be the canal version of an underground garage with designer graffiti on the walls and a trio of oafs we felt needed to be watched. That's when you feel much more comfortable as one of six, rather than of two! It's an interesting passage down the Nine with lots of features, old and new. I took six, maybe eight pictures in one lock, all offering interest, at least as I saw it. We were a tad concerned by a couple of hire boats meeting their first locks coming up and seemingly unable to work out what to do, and a young girl of eight, or so, attempting to work the heavy and potentially dangerous locking mechanisms; they were heading into areas we considered to be particularly daunting for the experienced let alone the novice. The area at the bottom is again impressive, with bridges, ancient and modern, carrying road, rail, resident and other pedestrians across an area which is comfortingly spacious after the squeeze through the under-belly of the city. We now can look back towards the hugely impressive Hilton, towering back away, where an hour before I couldn't get the top in the photo frame!
Tuesday 18th August: Central Manchester; Castlefield
We both slept solidly through to 8.30: it may have been hearing from Mike and Jules that they had done 34 locks in the one day and were now up on the Upper Peak Forest that was the soporific element. After a full breakfast, Jac and I went our separate ways, me to the Science and Industry Museum, and herself to the cathedral and the Art Gallery. The museum was impressive, both in the ground it covered (several listed buildings on the site of the worlds oldest surviving purpose-built railway station); and in the diversity of its exhibits, most of which reflect the industrial heritage of Manchester. I was particularly struck by the Powerhouse wherein there were a couple of dozen or more steam driven engines, several of which are permanently 'under steam'. Another building, the 1830 Warehouse had displays associated with electricity, of interest naturally because of my former profession, but I was amused by two displays in particular. On the ground floor they showed a 1930's and a 1950's sitting room with all the contemporary electrical appliances: I remember all the furnishing from the 50's display, but much of that in the 30's display, notably the 9" television screen in a 3'x 2' cabinet, which I recall being in our own home. My parent's were very 'green', if they could make do with something twenty years old, they would.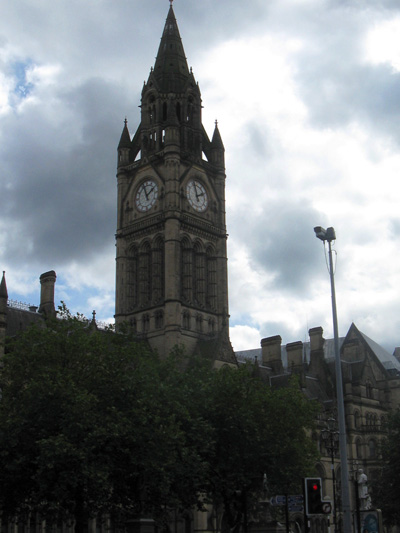 I had a stimulating morning which started with a walk across the wide open historical spaces of Castlefield Quays, through the Roman Gardens to the Science Museum and then down Deansgate to the Cathedral. It was not quite as impressive, size-wise, as one might expect of this splendid city. (The Town Hall is far, far grander and for those reading this diary, a 'must do' on any visit to Manchester) The stone interior of the cathedral is dark but some beautiful tapestries on the pillars relieve the darkness as do the modern, stained-glass windows, many of which had to be replaced a second time after the city centre bombing, back in the time of the IRA campaign on the mainland. The crypt is now a resource for the homeless in the city and there is clearly a great deal of peace work going on there. So maybe not visually impressive but some impressive Christian works here. I talked with an earnest 'usher' who was familiar with Quaker theology and knew, and highly approved of, the outcome of our recent gathering in York. I then made my way to the Art Gallery where I spent a couple of hours and resolved to come again and again. There is so much to see. Firstly, the building is spectacular. The classical style of the original is solid and balanced, and the adjoining part, built later in the 19th Century, is also classically elegant. The contemporary glass and steel building which connects the two, I found impressive and equally beautiful. And this, it seems, is what Manchester is about. I see it here, from where I sit on the boat , two Victorian structures carrying the railways and in front of them the elegant pedestrian footbridge over this area towards the end of the Rochdale Canal, and close to the Manchester Ship Canal. As you step from the boat the modern city skyline is impressive and easy on the eye, even the soaring Hilton Hotel.
I return to the Manchester Art Gallery. The first gallery I visited was entirely connected to the history and essence of modern Manchester, and was worthy of an hour or so. I then visited one of the present exhibitions, 'The Sting of Passion' where international jewellery artists exhibited their pieces inspired by particular pictures in the Pre-Raphaelite collection here, for which this gallery is renowned. I then moved on to that gallery, which was when I sent Nick a text 'mindblowing'! So I passed from gallery to gallery pausing to gaze at Millais, Turner, Poussin, and artists who painted local scenes, Valette and of course, Lowry. I then passed through the amazing glass and steel, interconnecting space and up to the second floor which housed beautiful craft and design pieces and an amazing huge white sculptural piece, designed as a space in which to listen to the chamber music of Bach. I guess there was seating in the space for about 100 or so people. Strange that such a contemporary space seemed totally suited to early music. As I am so determined to return I bought a publication celebrating up to fifty or so of the significant pieces here, only to discover that I had barely started to see all the treasures! I look forward to bringing Elanor here. There were quite a lot of youngsters, enjoying looking and being involved in the interactive activities, especially the present one - 'What are you like?' They can post up their work for all to share. After all that cultural excitement I had to sit and take a leisurely coffee and snack in order to energise myself to make for a local Sainsburys and the boat. The weather continues dry and pleasant and I took the dog around the basin as it was getting dark. This is certainly a lovely area and there are still people sitting out some of the bars, cafes and restaurants around here. The Hilton is lit up and looks quite inviting.
Wednesday 19th August: Lymm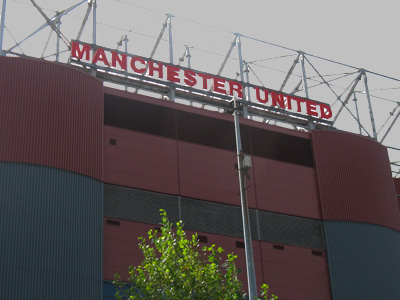 Not an especially restful night; unlike the previous night when we slept like the dead, it was noisy. A number of goods trains trundled across one of the bridges and it seems there was work on the line as the clanging and drilling went on well into the early hours, and, because it was warm and the doors on the boat were open, we were unable to sleep. So it was approaching nine when we surfaced and breakfasted. Disinclined for more culture if it meant a sleepless night, we set out and were shortly passing the very impressive state of the art stadium, home of Man U! The surrounding area is very urban, the tramway ran alongside the canal with us for a while, railway on the other side, with used and unused industrial units and waste ground. Soon we were past Waters Meeting (sounds lovely but not so!) and travelling south and west on the Bridgewater Canal and bereft of locks. The journey through Stretford and Sale is pretty built up and we stopped in Sale for a quick shop and dog food which we needed urgently. From there we were in a typically English countryside soft, green countryside we had not experienced for quite a while. With the warm sunshine it's quite soporific.
Thursday 20th August: South of Preston Brook Tunnel
This is a regular stop-over for us now. We're above the River Weaver and in lovely countryside, just a couple of hours from Anderton and next week we'll probably be cruising down there. After a dull and rainy morning we are enjoying a bright evening, though we seem to have lost the real warmth which we've enjoyed for a week or more. We have continued our journey south west on the Bridgewater Canal and now we're back on the Trent and Mersey. We've done just one stop-lock today and it seems as if there is something missing in our lives after the relentless locking last week and weekend. At least a little cleaning and tidying has been done! Our journey today has taken us through different areas, residential, tree-lined culverts, and over wide open spaces across which the wind was blowing strongly! We took a rain break in Lymm where I visited the shops, and another break awaiting our time to go south through the tunnel.
Friday 21st August: Anderton
A strange day, sometimes raining, sometimes sunny, sometimes warm, and within a while, distinctly chilly! Neither of us slept well last night and consequently we didn't wake 'til almost nine. I took the dog and found some lovely blackberries so we'll have a pie or pudding some time this weekend. Sadly for me, Patrick is going south this weekend and then is off to the States next week, just as we're back in the area. Still I'm sure we'll see Elanor, and hopefully Patrick, on Monday. We've done three more tunnels on the, now familiar, route between Preston Brook and Anderton in this mixed weather, stopping above Acton Bridge for the farm shop. We are surprised by the number of boats after the quiet Rochdale. Just a comment on a book I've just finished 'The Queen's Fool' by Phillipa Gregory. An historical novel covering the reign of Queen Mary, a romantic tale but the historical element is paramount, with honest yet sympathetic presentations of both Queen Mary and the Princess Elizabeth. I'm always in awe of novelists who manage to follow history as closely as they are able.
Saturday 22nd August: above Vale Royal Locks on River Weaver
Today has been splendid. I rose at a more respectable hour than of late and put on the first load of washing at the Anderton BW facility, then took Caspar for a walk along the canal and back through the edge of Marbury Park. By this time Nick had moved the boat to the sanitary station, a further wash was started and a pump out completed. I discovered that our BW credit card had run out so had to walk to the lift where I bought another card and booked the boat for the 1.45 lift down. By the time the washing was dried and folded we were ready for a naughty brunch and a bit of a rest before setting off for the lift on what has turned out to be a lovely summer day. Arriving in Northwich I did a quick shop before we travelled on in glorious weather, drifting gently along, past swans and ducks, cheery(?!) fishermen, flowers, butterflies and the distant sound of England doing really quite well in the cricket on Radio 4 Long Wave! All pretty idyllic, up through Hunts Lock, past 31 Dukes Way, enjoying dappled sunlight through trees, and meadows with cattle, to Vale Royal Lock where the lovely Mac saw us safe through, and then along onto our mooring, complete with mown grass, a bench, really hot sunshine and a somewhat truncated video conference with Joseph, Sean and Emm. No TV tonight - as Nick stepped on an ants nest which somehow caused the satellite receiver to break(?). Surgery is required and the freshly glued device has to set: so no TV for 24 hours!
Cricket news not so good - 2 hours ago they were talking about a comprehensive England victory. Why did they declare, silly twerps! Now Australia are in and could even win as they are clocking up runs at a rate of knots! Aagh!
Sunday 23rd August: continuing above Vale Royal Locks on River Weaver
Yes, we stayed where we were and the picture shown at the end of this month shows the outlook to the north, with various wild fowl overseeing proceedings. Although the weather remained dry, it was somewhat overcast. Now there are 'classes' within the community on the cut. There are those whose boats are cared for and nurtured. These boaters are out mopping down their boats at dawn, polishing the brass, coiling and plaiting the ropes and generally creating boat palaces. Even I can concede this might seem a trifle excessive. Then there are the extreme hobos whose boats are rust buckets. On our travels we have been entertained by boaters whose boats are verging on the palatial. 'Gloriana's complex exterior decor with panels and scumbling, and its interior with dark wood and traditional 'L' shaped lounge, has charm but there are issues where Nick and I can have marked differences of opinion. One is the state of the boat; where I see us moving towards hobo status, Nick seems comfortable with some marked 'blemishes' (him) 'eyesores' (me)!! So, sadly, on Sunday pm we had a falling out over this state of affairs resulting in his taking a long solitary walk, infuriating me further by leaving the dog behind, who would have to be walked by me, again later! We felt somewhat more agreeable by late evening after an excellent piece of roast pork, plus trimmings, followed by a blackberry crumble. He may, however, have been a trifle foolish to mention that he wanted no further blackberry dishes as the pips were a nuisance between his teeth! There was the distinct possibility of the bowl of blackberries I had picked landing on his head. At least I'm spared making blackberry jam! And we've won the Ashes! It makes one feel quite jingoistic!
Wednesday 26th August: Dukes Way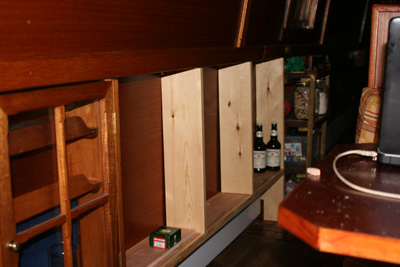 On Monday we moved down-stream through Vale Royal Lock - four boats went through together, probably the most this year! We stopped below No31 to touch base with Patrick who was off to the States early the next day. I was able to see Elanor for a while and Patrick joined us for supper which was very nice. On Tuesday morning we moved down into Northwich to do some shopping and, apart from a thundery downpour which caused some sewage output into the river by us (yuk!), it was a fairly relaxed day. Nick went on the bus to B&Q with a shopping list for his next project on the boat - some shelving for the starboard side to increase/balance the storage and, because it will have doors, there will be an added advantage; the hiding hiding of an unsightly rain-damaged area that has been upsetting me since we left Hungerford, way back! Nick has cured the cause of the damage and can now refurbish the area without having to match the existing finish. He has the key for the garage at 31 Dukes Way to do the preparatory work. A B&Q employee advised him that he could get exactly what he needed closer to the boat in Northwich thus removing the need to carry a lot of timber on the bus. So on Wednesday, after Nick had visited the local timber yard and had had wood prepared to his exact specification, though the weather was rather threatening, we set off back upstream with all the components required for the job, and Nick got cracking using the roomier facilities available in Patrick's workshop. As I write this, the carcass for the cupboards is in place and the three doors have been created from the single large door we removed from the clothing cupboard when we installed the washing machine.
Saturday 29th August: Barnton Cut
On Thursday work on the cupboards continued apace and by evening they were substantially completed. As Nick has been so busy I have been able to a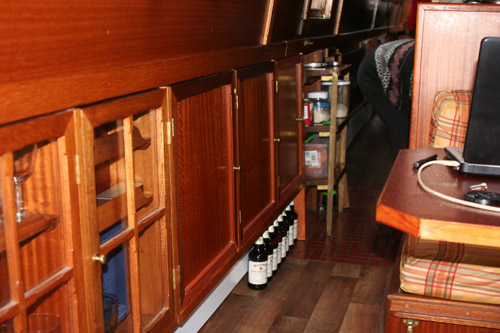 ttend to my reading and will just treat you to a Jac review of some books I have read in the last week or two. It is the custom to use BW Shower Blocks as libraries; boaters drop books off and pick up offerings left there. I'm not generally tempted, finding charity shops offer a more challenging selection. I did, however start a Maeve Binchy - "Light a Penny Candle", I believe it to have been her first novel and I really enjoyed it. Set in WWII it follows the fortunes of an only child from a relatively miserable home in London, sent as an evacuee to live with a boisterous Irish family and the consequent history of the two families. I thoroughly enjoyed it and was so involved that a few tears were shed at the death of Eileen, the very lovable, intensely committed Catholic mother: and I don't often get sentimental about books - am I getting maudlin in my dotage? I guess that what I picked up from the writing was the warmth, tolerance and sympathy Binchy affords a wide range of varying and contrasting characters. I was less certain of the ending; was it a tad contrived? Not sure! I also really enjoyed "Testimony" by Anita Shreve. The first chapter where a Head Teacher is looking at a tape where students at his school are involved in an unsavoury orgy, three older boys and a 14 year old girl involved, made me feel sick. However as various youngsters, parents, the police, the press, researchers, and the Head Teacher record the history leading up to and after the event, which turns out to have tragic consequences, I was drawn into the book. One of the final pieces where one of the boys involved writes about the incident, I found remarkably moving. The novel reminds me how crazy and indulgent moments (for youngsters and equally for adults) can have dire consequences and how difficult it is to find the truth in a situation that 'goes public' with hysteria setting in.
That's my literary input for August. Now for Friday. We had Elanor for the day and. as usual found her a joy and exhausting! She joined us for porridge - a must it appears for any boat visit. The weather was not at all promising and I suggested we do a holiday book. I did a list of things she could remember and found her surprisingly forthcoming. Strangely it is little things that she recalls; not the content of the visit to the Museum of Science and Technology, with her Daddy, Georgie and Amanda, but that there was a thunder storm! Her description of rides in Disney Paris were funny. Luckily the weather improved as the time went by and by the end of the day she wasn't too sure about the effort needed to complete her book! She enjoyed screwing two pieces of wood together and learned the difference between screws and nails, and the mashing of the potato for a fish pie was an extended exercise resulting in the smoothest mash ever! Two walks were accomplished, one with me and Caspar up to the park in Northwich, and another later with Nick and the dog at Anderton. Oh yes, and the spitting mussels at Hunts Lock performed brilliantly for her!
Today we had a sort out and tidy up before moving down to Northwich for a shopping excursion after which we headed back down river to Barnton Cut where we are now moored. Nick has just been taking photos of the cupboards in all their glory! It was raining again as we arrived but as I write the sun is shining through the window. We cannot expect much good weather can we; after all it is a Bank Holiday weekend.
Monday 31st August: Northwich; Dukes Way
Barnton Cut is one of our preferred moorings on the Weaver, peaceful and remote, though on Saturday night there was the sound of heavy music coming as if from a music festival, though it may have been from another boat moored a quarter of a mile downstream, but it was muted enough to have been of little concern. We stayed for two nights, the second being marked by the sound of fireworks somewhere upstream on the outskirts of Northwich.
It was after she had looked over my shoulder to see, but not fully appreciate, my design for the new cupboards, that Jac had had her 'wobbly'. Having had problems with access into the deep cupboards in the galley, she had decided she wanted open shelves below the centre hatch, arguing that the cupboard doors would be forever left open. I was equally decided that open shelves would look ghastly but, acknowledging that Jac has a predisposition to leaving a door open, I designed the cupboards to have self-closing doors. An almost imperceptible transition from the existing cupboards (glazed doors) to the new has achieved this feature to near perfection. And she does now value the new facility. There is just a little more design & build to house the beer in a vertical rack by the steps. The problem with a relatively minor difference of opinion, and it applies to all of us, is that it can snowball to collect all other flakes of contention: so on Saturday afternoon I reserved the under-cover dry docking unit at Northwich Marina such that, at the end of October, I have a week of maintenance of the hull to occupy me, and I hope to be able to do a good deal of final paintwork on the superstructure. This was ever on my agenda.
On Monday morning we dropped back to Anderton where my first task was to log the oak boughs I had picked up on Saturday: this to provide Jackie with fuel whilst I'm away next week if it gets too cool for her comfort. The boughs were from a full oak that had come down some time ago so it should burn well: but because we are intending much travel before winter sets in, I collected no more than we need for immediate use, planning to pick up a goodly store when we return in October. As arranged the night before, Elanor joined us again to travel back to our Dukes Way mooring where she would spend the night on board with us. I was due to leave early on Tuesday morning for the train south.