Tuesday September 1st: Northwich; Dukes Way
Nick was supposed to have left at eight-thirty this morning to travel to Newbury but, on checking the email from CrossCountryTrains for his seat reservations, found that they were for Wednesday rather than Tuesday! So with nothing planned for today, it looks like relaxation before the challenging work in promise for the next few days.
Saturday 5th September Dukes Way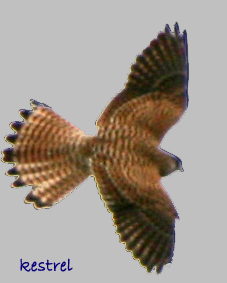 You can guarantee that when Nick goes away I manage to get problems. On Tuesday evening I went to bed and awoke in the middle of the night with worrying wind and rain. It was gusting so much I decided I would not even attempt to go out and take the satellite dish down. The boat was rocking and banging, not surprising when dawn revealed I was only on one rope and the stern was now under the wall where there is outflow and now Caspar was unable to get off. I got onto the stern and was just not confident enough to climb up onto the roof and attach a second line. Luckily the boatyard across the way saw my dilemma and phoned BW who sent two officious lady minions to check me out though by that time Abby had come down and helped me secure myself and move forward enough to allow Caspar to leap off. Not much later the charming and helpful top BW man on the river turned up and pulled me up right away from the wall and outflow! I'd never met him before - it seemed strange that an Egyptian gent should be in charge of a heritage waterway, but he was lovely and inspired confidence, sending two lock-keepers to check on me next morning,
The weather has quietened considerably since then. I popped into Northwich on Friday, picked up Elanor from school and stayed up at the house overnight to take her to football, Patrick arrived back from the States just as we were leaving looking somewhat jet-lagged. Elanor cycled (no stabilisers!) with Caspar and myself puffing along behind. Then we had to wait for the hour's class but Caspar was a delight with the young children, and the consequent adult chatter ensured the hour wasn't too hard on my legs. By the time we had toiled home in drizzly rain Caspar and I were exhausted but Elanor was still going strong! Patrick and Elanor went off for a party and I did some food prep for the evening - fish pie and beans from the garden and a summer pudding with fruits from the garden. I'm now back on the boat, quite ready for a quiet evening.
Wednesday 9th September: Dukes Way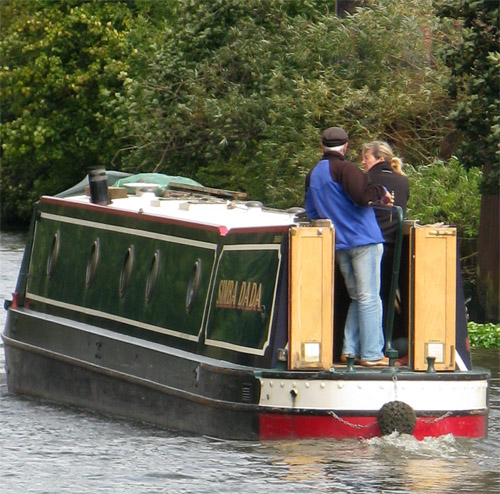 My time by myself continued. I can't remember quite what I did Sunday - I think I prepared a meal for Patrick and Elanor on Sunday evening - yes, that's right. Patrick was looking semi-human, the worst of the jet-lag well over. But time dragged and I was looking forward to Nick's return on Monday. It almost didn't happen! He hit a late electrical problem but fortunately sorted it with minutes to spare! I picked Elanor up from school and we walked back by the river, to allow Caspar a swim and as we arrived, there were Wes and Lizzie on Simba Dada. It was lovely to see them again and the three of us were quite merry, sitting on the Weaver Riviera in the warm, late summer sun, when Nick arrived. By this time it was getting cool and we adjourned to the boat for a hastily arranged meal. Next morning we all travelled down through Hunts Lock and up the lift. At the Anderton services we said farewell to Simba Dada, sorted ourselves out with water, laundry and toilet disposal as the heavens opened. It had eased just before dusk and we moved down to the lift in preparation for an early drop back down onto the river. We had an appointment with 30 children, assorted teachers, parents, even head teacher, who were on an educational walk and who all admired the boat and Caspar. Elanor, with her classmates did her best to melt into the melee! I am just starting to get my head around planning my journey south tomorrow.
Thursday 19th September: Garstang
Jackie and I are now moored at Garstang, 17 miles north of Preston on the Lancaster Canal, having said goodbye to Simon at Bilsborrow, 4 miles south of where we now sit. The last ten days have been very full: Simon and I have travelled 75 miles going through 27 locks which has used 33 hours of engine running time.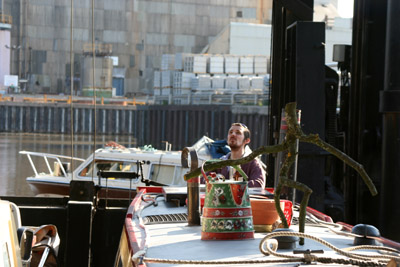 After Jackie left for Newbury on Thursday morning I did very little until Saturday afternoon when Simon arrived in Northwich. I had stayed in Northwich primarily to take Elanor to her Saturday morning football session thus allo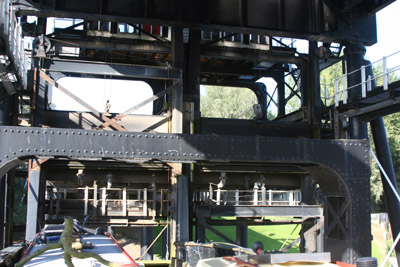 wing Patrick to spend a couple of hours rowing. Unfortunately, this arrangement meant that I saw an old friend only for moments as I passed out of Hunts Lock heading to meet Simon: Brian Williams (the Reverend of "Come Dine with Me" fame) whom we had first met way back in July last year, hailed Gloriana as he went into the lock going the other way: it would have been nice to have stopped to talk but time constraints (sod's law, we don't usually have them!) and the difficult configuration of Hunts lock conspired against us. Simon arrived in Northwich soon after three and we set off for Anderton arriving in perfect time to take the 4 o'clock lift to the Trent & Mersey. We travelled for a couple of hours, mooring a mile or two short of Dutton, looking down on the Weaver below. Because I had decided to stay in Northwich for Simon he was able to experience the lift passage, which took a little longer than usual for waiting for the trip boat to sort itself out on the upper level.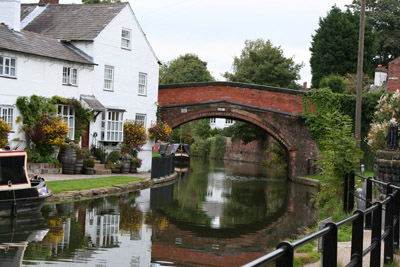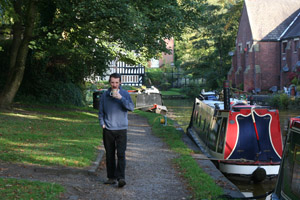 On Sunday morning we made an early start making do with tea and toast until we stopped at about 10.30 for egg, bacon, black pudding, sausage, and fried bread, this seeing us through 'till evening as sustenance. Sunday was to be a short day (5 hours travelling), for soon after 3 pm we moored up in Lymm, though Monday was even shorter, just over 4 hours for the leg to Worsley.
The real work was to start on Tuesday for which the distance was no longer, but it was punctuated by seven locks, with the exception of the stop lock at Dutton, the first of our journey. During this few days much of my photography was of bridges with iron railings: the canal bridge at Hungerford is very narrow and its pedestrian facility has always been a matter of great concern, now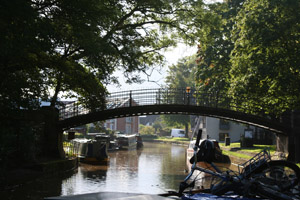 being addressed by the addition of a parallel footbridge. My recent trip to Hungerford coincided with a town meeting to receive proposals by designers: unfortunately they offered only one proposal considered by the vast majority of those present to be totally inappropriate. As the view from our kitchen window (in Hungerford) has this bridge at its focal point, we have as much an interest as anybody in the outcome of design decision, so I make no apology for sticking my oar in. I contributed to discussion at the meeting and have since contributed design ideas by email to all interested parties. My preferred design, accepted in principle by a number of associates in Hungerford (the principle being that it should be of a design contemporary with that of the existing bridge) borrows the railing design used on Henhurst Canal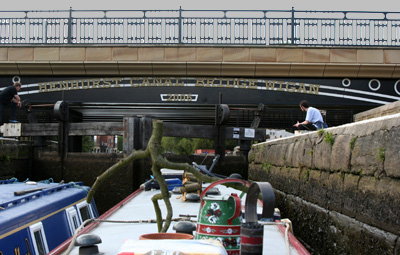 Bridge in Wigan (see below left, and if you're interested in my mock-up see my proposal) though the simplicity of the Worsley bridge (right) has some appeal.
Again on Tuesday we made an early start for this was scheduled to be the longest leg, 23 lock-miles and 7 hours, our destination for the evening being Appley Bridge. We were soon passing the Colliery Museum and, though we reached it at their lunchtime, the BW staff let us through with little delay when we arrived at Plank Lane swing bridge. At the foot of the lock flight up to Wig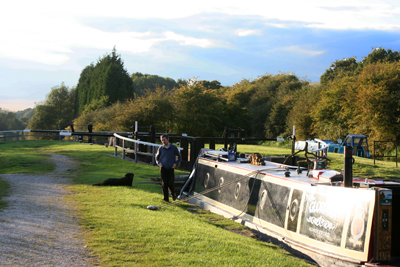 an we caught up with a narrowboat with whom we'd been leapfrogging for the previous 48 hours and we shared the locks as far as Crooke. The weather for the whole of the week has been good, if not too warm at times, but it has remained dry. We had just one hour more of travel after Crooke and, failing to find a moorable location earlier, we continued to Appley Bridge Lock where we moored at its entrance. This was a delightful location which I shall remember for the return journey in October.
Wednesday's schedule was not quite as demanding as Tuesday's but there were eight locks to contend with, and it was impe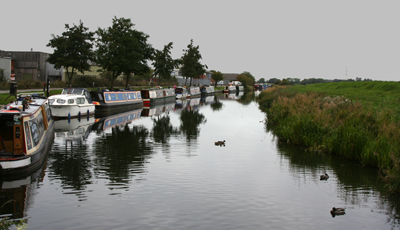 rative that we be in Tarleton by the evening, so again we left early. By this time, Simon's nasal dysfunction was developing into a flu-like cold, headache and other aches, so after the first couple of locks on the Rufford Arm, he wrapped himself up and stayed inboard for the rest of the day. So, although progress was slower at first, it enabled another boat to catch up with us so the remaining locks were shared, and we arrived in Tarleton at the scheduled time soon after three. After my walking up to the lock seeking, unsuccessfully, the lock keeper, we both walked into the village to do some shopping. This evening Simon was on galley duty, and a quick sortie through the Co-op resulted in a couple of pints of beer and a pizza. The dog had walked a fair distance today, in preparation for a possible extended period of inactivity during the Ribble crossing, but his statutory visit to all the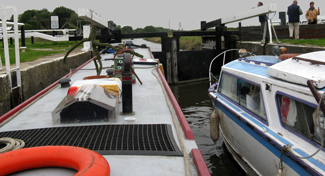 boats moored ahead was not to be missed and, as we were moored close to the dog walk route, he had plenty of socialising to do. At about five-ish the lock keeper appeared and gave his standard briefing as to procedure for the next day: the convoy of six boats was due to leave at 0920 in the morning.
So on Thursday morning I was up even earlier to allow Caspar a reasonable walk before the crossing, and at 9.15 we slipped our moorings and headed after the other five boats for Tarleton Lock. It took about half an hour for the four ahead of us to go through the lock and we finally pulled out at maximum power into the River Douglas at ten o'clock. With the tide coming in fast, one has to put a fai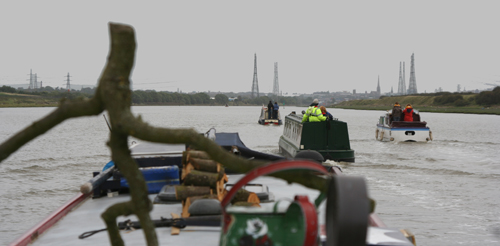 r amount of power on as one exits the lock so, at 3000 revs we went onto the River Douglas are the last vessel to leave Tarleton northwards that day. Ahead of us are a young couple in a 25ft plastic cruiser which has seen better days and we have given then our mobile number in case they need assistance. We soon settle down to a steady 2200 revs, twice our normal canal cruising power and, as the waves pass beneath us there is the unusual banging of the prop as it occasionally cavitates, The two lead boats have gone well ahead, helped by an unspecified delay after they left the lock, and the remaining four, with Gloriana taking up the rear, soon form a close convoy. (click here to see a 3-minute condensation of the journey)
2200 revs was maintained going down the Douglas against the tide but as we turned into the Ribble, now going upstream with the tide, I had to reduce to 1800 to maintain my di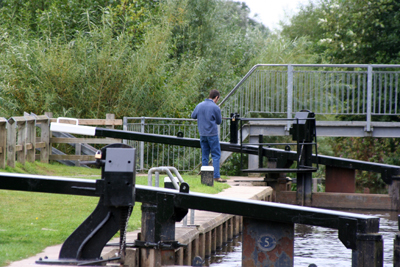 stance from the boat in front: this may have been easier to do as, for most of the time, I was able to use the advantage of her slipstream. Migrating birds learnt this trick millennia ago. All to soon, it seemed, we approached the Savick Brook with Preston two miles ahead of us and, just over two hours after leaving Tarleton, we were moored up with ten others below the first lock on the Link up to the Lancaster Canal. Yes, ten others, because on the previous day the wind had been so strong that five had had to divert to Preston dock and had come down on this morning to complete their crossing. The first lock was operated by BW personnel, as were the three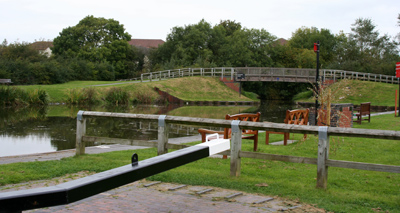 on the staircase onto the Lancaster, but boaters had to operate the four locks in between. Savick Brook is known as "the Ditch" by locals, a fairly apt pseudonym as it is very narrow and equally shallow for most of its length. Simon was now feeling a bit better and resumed locking duty, walking ahead to prepare the next lock with Caspar in tow. By late afternoon we were through the top lock and onto the Lancaster Canal. We turned eastward to travel to the terminus in Preston, one and a half miles, before winding and heading for our overnight mooring. At about this time Jackie rang and said that Patrick would bring her over later that evening so, we moored, coincidentally, just up from Quakers Bridge to await her arrival. I finished our working day by serving a roast chicken dinner which was much enjoyed. Jac joined us at about 9.30 and it wasn't long before we were all asleep.
Saturday 19th September: Garstang
Wow! An impressive and lengthy entry by Nick - doing it, with the photos, has taken most of Saturday morning, apart from a brief foray into Garstang to help me with the carrying of shopping which included a 15kg bag of dog foods. I was exceedingly happy to get back to the boat, after a week away, despite the wonderful hospitality of Penny and Tony for the first few days, and Isabel and Barry for the latter part of my stay south. Many, many thanks to them all! My journey back was uneventful and it was great to see Patrick and Elanor on my arrival in Northwich. It was late when I arrived back at the boat as Patrick went rowing and we had a meal before leaving. It's quite surreal being delivered to your destination along a dark towpath and seeing your surroundings as the sun rises. It was particularly surprising as Patrick and I had b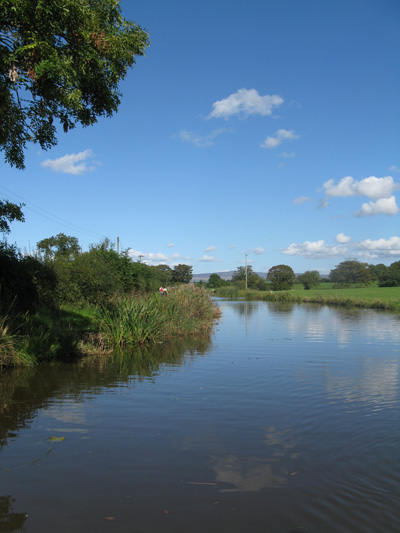 een driving for 20 minutes through Preston which seemed very busy until I was dropped at Quakers Bridge, a minute's drive down a country lane.
We set off at a reasonable hour as Simon was planning to leave us at Bilsborrow; although much better, he had decided to return a day early to sort himself out before work on Monday. The two and a half hours was extremely pleasant - the countryside is totally rural and pleasant, the canal clean, with evidence of water lilies, sadly not in bloom. It is surprisingly remote - not even walkers today - and in the distance we saw what was probably the Pennine hills! We finally arrived at a splendid canal-side location - a huge thatched pub with cricket pitch, bowls, tea room and lots more. We had missed an Oyster Festival and we will miss a Beerfeste when we come south for Neils' and Didi's wedding celebration. After a pub lunch we said goodbye to Simon who caught the bus for Preston and his train journey south, and then travelled onwards to Garstang which we approached, passing over a Rennie aqueduct, high over the River Wyre. All was well except for a disappointing internet signal and no television, though there should have been a good TV signal. So I've been deprived of the first two 'Strictlys'(!) though reading the review in the Saturday Guardian it seems I haven't missed much!
Garstang is delightful, still at this time with wonderful flowers in all public places. It seems a perfect size, a little smaller than Hungerford, but with all essential shops in a vibrant shopping centre, and to complete the deal, it has an ancient Friends Meeting House only a mile away. I found a launderette this morning and had a leisurely browse around the town later in the day. It's now early evening and I have finally been allowed onto the computer. Although I now have my lap top back it appears to be troublesome: isn't taking charge. And it's started to rain (Mary!)
Monday 21st September: Lancaster
Sunday was a wonderful day to be back on board. First there was the fact that I'd established that there was a Meeting House in Garstang. Getting there was an issue. I'd checked the route on Google Earth but turned in the wrong direction as I left the canal, thus walking a good deal further than the mile or so necessary! The Meeting House is a delightful building, old, though early Victorian, with wooden panelling and a balcony. I was struck by how well most Meetings and particularly Garstang cater for their members; besides the traditional pews with upholstered seats, of course, there were an assortment of armchairs, foot rests and a couple of ergonomic seats, perhaps for those challenged with back issues! Could it be that one of the members is a chiropractor or an osteopath? The Meeting House is surrounded by tall tree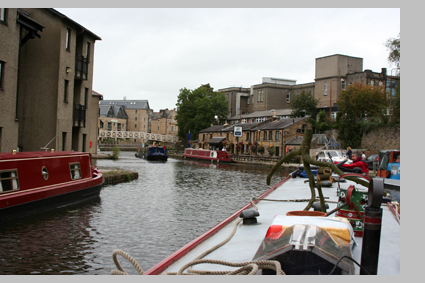 s, but on Sunday the sun was shining brightly through the large windows so within minutes I had calmed myself after the anxiety of losing my way, and I enjoyed a largely silent meeting. One of the members at Garstang was responsible for making the town the very first Fair Trade Town in this country. He is planning to celebrate his 50th birthday doing a Fair Trade walk to Keswick (to be named "the Fair Trade Way"), through a number of Fair Trade towns enjoying the hospitality of Fair Trade enthusiasts en route. I hope to return to Garstang again in three weeks on our return to Preston and the dreaded Link! In the afternoon we enjoyed a truly wonderful afternoon's cruising to find ourselves a quiet and spot mid-way between Garstang and Lancaster. The light was especially good so both of us were busy with cameras. We then sat until well after six in the sunshine on the towpath though I was aware of an uncomfortable throat and had been aware of a fair few sneezes. Oh no!
Oh yes! It seems that every time I leave the boat I return with a cold! Not the best of nights and I decamped to the saloon at about four! Still the throat is better and I'm not too bad as I write this on the boat in Lancaster, just south of the Cathedral and east of the city centre. The canal enters the city through a quite elegant residential area. It's been a grey day with spits and spots of rain, though we have seen some blue sky. It seems there is a lot to do here. We might have gone to the cinema or theatre tonight but I felt it might be anti-social to spread germs. I managed to lose my way yet again getting back to the boat after a foray into town. I used to think I had a good sense of direction but now I'm not so sure! But, with a good internet signal I was able to watch Saturday's "Strictly" on the BBC i Player!
Tuesday 22nd September: Carnforth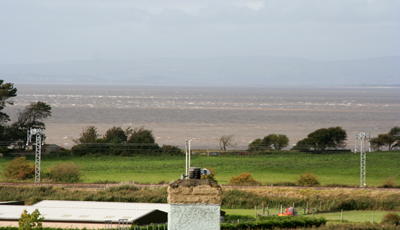 Last evening, after listening to the weather forecast we decided we would do museums and castles in Lancaster. However, apart from a light drizzle early on, the skies cleared and we decided to press on. We passed some handsome stone warehouses and then an industrial area below the embankment with views to the castle and Parish Church beyond. After a short tree-lined section the canal crossed a road and shortly after the impressive Lune Aqueduct. This was certainly one of the most notable aqueducts (Nick thinks the Chirk, and the aqueduct at the bottom of the Marple flight, rate as at least equal) we have passed over, since the famed Pontecyslite: double width, and wide enough to pass another narrowboat. In spite of the height I felt safe with its wide footpaths and stone balustrades. The river, way below, looked wide and deep. Truly amazing engineering for the late 18th Century. Then, within the half hour or so. lo and behold the Inland Waterways meets the seaside. Approaching Hest Bank we had wonderful views over Morecombe Bay. I walked down to the shore with its signs indicating deep water, treacherous currents, and quicksand.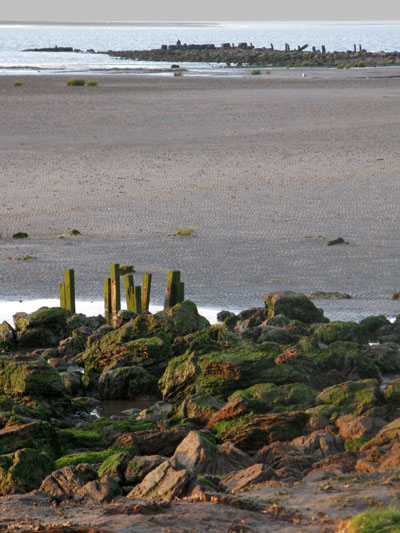 Saturday 25th September: Hest Bank; Morecambe Bay
Since Tuesday we have travelled north, stopping at Carnforth, then onward to the end of the canal at Tewitfield. We stopped for a couple of days, not at the end of the canal whic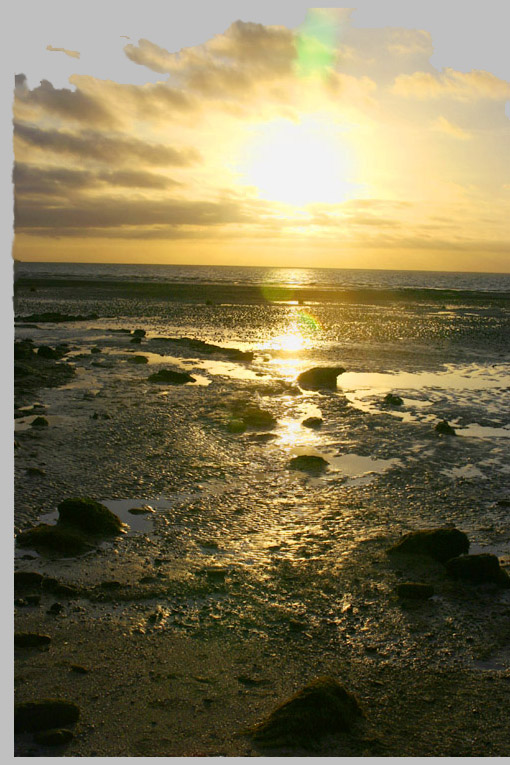 h is close to the M6, but mooring a short way back, which was much preferable . We travelled to Kendal on the bus and went to see the Quaker Tapestry at Kendal Meeting House. The calendars and postcards I have seen just do not do justice to the real thing and I was able to learn more about Quaker history and good works. The colours which can appear dull and drab in photographs are vibrant. It is indeed a wonderful celebration of an amazing group of dedicated spirit-lead people. There is lots more to see and do in Kendal but a steady drizzle prevented this - perhaps we'll get back before we leave the area. The bus journey back took twice as long because of school kids being picked up at various locations. We were not impressed by the mouthy, noisy girls. I feel sorry for the sensitive male adolescent, coping with them! Then we headed back, stopping at Carnforth to visit the kitchen shop and update our tea and coffee pots.
Yesterday we had a wonderful chat with our dear friend Susie, who sounds as bubbly and lovely as ever and thrilled to bits with baby Hugh Edmund Graham, and (she) amazed and incredulous at having an attentive and loving partner. We travelled on south to Hest Bank last evening and this morning I walked the dog on the beach with wonderful views over the bay to the Cumbrian hills. We have had a number of greyish days sitting on the edge of a high pressure system but today is really lovel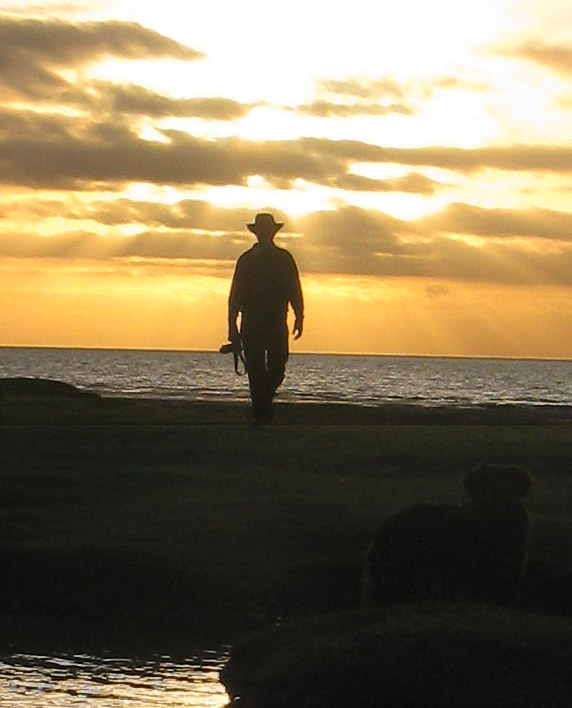 y. We have had to double back to get gas in Carnforth. Yesterday we discovered a Booths Supermarket there. The few stores I've visited (the first in Knutsford) have all been housed in buildings, far more distinguished than those of the ubiquitous mainstream supermarkets; they clearly have an architect who designs buildings that are in keeping with local style and are pleasing to the eye inside and out. I expected to find prices inflated but was pleasantly surprised. We bought the best rye bread ever! And Nick has rarely seen such a wide range of good beers on sale: he couldn't resist adding more weight to the basket.
This evening we supped early so as to go down to the beach as the sun went down and it was a perfect end to the day. I'm still amazed to be on a canal boat and at the seaside. I thought I had sacrificed seaside fixes for life on the canals. The tide was in, as distinct from the morning, and it was just lovely; we enjoyed a drink at the Hest Bank Hotel on the way back and were still in time for Strictly! A signal - first time for ages! A perfect end to a great day!
Sunday 27th September: below Lock Two, Glasson Branch
We made an early start today so that I could get to Lancaster Meeting, crossing again the Lune aqueduct and seeing Lancaster castle in the distance. I had a tidy and clean-up blitz as we went along - it's so easy for things to get untidy and grubby when we're travelling each day. I arrived at Lancaster Meeting ea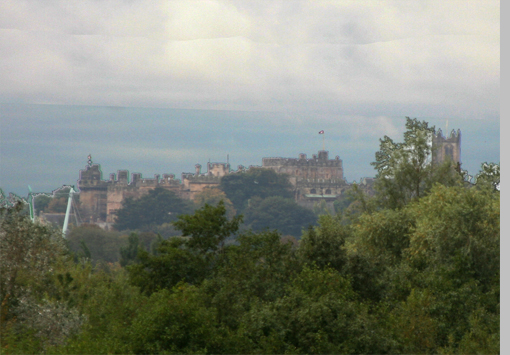 rly. The building is elegant and light, so different from Calder Valley in Garstang, my accommodation last week, not surprising as they were built a hundred years apart: one is rural and the other a city Meeting House. Lancaster Meeting is set back from the road with lovely gardens and established trees. From the outside the building is not grand but the inside is clearly Georgian and the Meeting Room spacious and light. and yes, grand, compared to any other Meeting House I've visited. Apart from a coughing fit ten minutes in, when I was looked after by a kindly soul, it was a lovely meeting with ministries towards the end. One was by a chap who, it turned out, had 15 years experience in family therapy. Isn't synchronicity strange - I have recently read a book, 'The Family Crucible' about this sort of therapy which I found really interesting. The ministry was on the subject of 'faith' as the speaker was in the process of organising a conference on the lack of faith in leaders. He spoke movingly about faith, finally linking it to the 350 year old history of the Society of Friends. A final ministry, again on the issue of faith, was about the bones of Saint Theresa of Lisieux, due to arrive in Lancaster Catholic Cathedral tomorrow. She had watched a local news programme where children from Saint Theresa's Catholic Primary, Liverpool, had talked about what they had learned of their patron saint: i) to do small things to the best of your ability (why not more momentous things as well) and ii) to love everybody. Not bad! I enjoyed talking to a number of local Friends and was certain that if Newbury Friend, Bernard, does finally get round to moving here he will be made most welcome. Arriving back at the boat we were joined briefly by a friend of my cousin Clive, John from Barnton, who we had met a month or two back when Clive and Sheila were up at Anderton and using the opportunity to see Gloriana. He was doing a Sunday walk with two friends which took him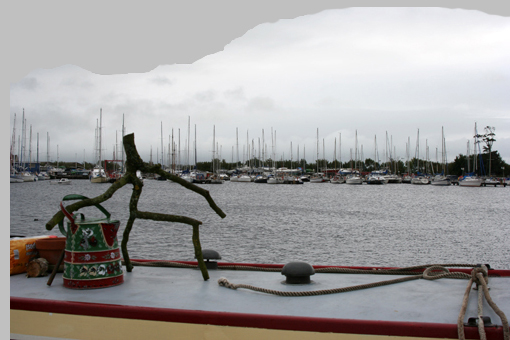 through Lancaster to Glasson Basin where we are heading (he had not walked from Cheshire!). After some lunch, we decided that while the weather is settled we would do the Glasson branch and leave Lancaster 'til after our trip south. So here we are. two locks down, four to go to Glasson Basin. It's really quiet - except at the moment, for two, maybe three, owls who may be spooking Caspar because he keeps barking, apparently at nothing - but it seems not many boaters do this detour, even though it is highly recommended. Again, a good TV signal but nothing really worth watching.
Monday 28th September: Glasson Basin
No, we're not at sea, we're moored in Glasson Basin, but as near to the sea as it's possible to get: in its previous life this was the only access the Lancaster Canal had to the sea lanes through the sea lock which is just along from our mooring. Today has been relaxed; we took three hours to do the two miles and four locks into the basin, under a very grey sky which occasionally released its constituent parts.
I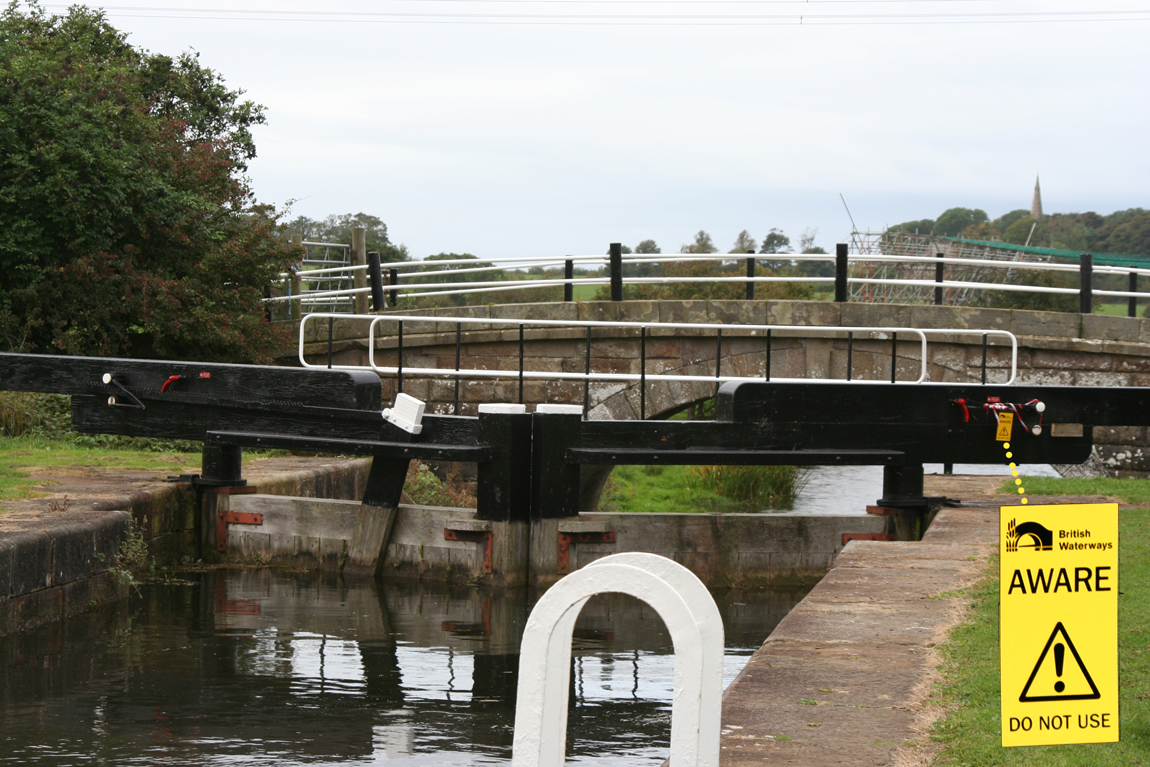 never cease to be amazed at some of the signs one sees that are totally unnecessary. One, often seen at a lock with only one ladder, reads "This lock has only one ladder, use it with care" as if
a) one can't see that there isn't a second, and
b) that one would use it with less care if there were a second.
But today's yellow sign at Lock No3 must take the biscuit: each tail gate has a sliding paddle operated by a ratchet and pinion controlled by a fixed windlass handle, or should have, but at Lock No3 the ratchet and pinion and the paddle are missing on one gate; and the sign attached to the lonely windlass handle reads "AWARE - do not use"! This is, no doubt, another example of the HSE and their broad brush signage requirement
(I'm feeling charitable towards BW management today). Doesn't he go on! Above see Stickman at sea! Yes, it's been well worth it travelling down this arm; there were a few walkers but no boats at all until we arrived in the basin. Tonight we will fall asleep to the tinkling, jingling, of the rigging on the sailing boats across the basin. I guess that when you travel the canals you do find unique and memorable landmarks wherever you go (though often a photo of the rural outlook of fields and trees could be any canal on the network!) but this is just more dramatic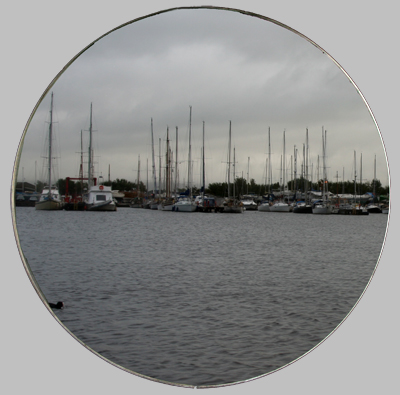 ! There is a small community here - clearly a busy marina and harbour, and a few houses, but it's a place where walkers and cyclists also come, it has a small shop, a vegetarian cafe, a popular caravan, with colourful plants in front, selling ice cream and fish and chips and an attractive pub complete with open fire and shining brass (regrettably, today it had no beer)! We have still had no fire and find that cooking in the evening warms the boat up enough; however, the weatherman suggests we may need one later this week (and Nick has fully fitted the new chimney!). Isn't he wondrous! (Nick, or the weatherman)
Monday 28th September: Glasson Branch Lock Three
A very short day today. We left our overnight mooring just before midday, stopping at the nearby chandlery to take on a bottle of gas. Autumn is upon us and with it the increasing propensity for cooking to create condensation, so one more project off the back burner: I bought an extract fan to fit above the hob in the galley and when we moored above Lock No4 for the night I began its installation though having to wait for the Araldite to set means it won't be operational this evening. But en route, and at about one-thirty, we rose through Lock No6 alongside which is the Mill House pub and restaurant and decided to stop for lunch. John had recommended this particular hostelry to us on Sunday morning and we were not disappointed, both opting for Morecambe Mussels.
Indeed, we haven't done much. I did walk Caspar south this morning, up to a viewing point but it was murky and I was unable to spot the Blackpool Tower, to the south, or some of the quite considerable hills inland. I was able to see the end of the estuary where the River Lune, we crossed on Sunday morning on that amazing aqueduct finally reaches the sea after its perambulations. Glasson Harbour, below the sea lock is quite busy as it has been for a couple of centuries. It was once a busy boat building centre where the Hispaniola, used in Treasure Island was built. I noticed an old wooden hulled boat which had been stripped for caulking. There is a lot of wildlife on the basin and some of the biggest, fattest coots I've ever seen, busy diving for goodies. The water quality is excellent, as it was all up the arm; looking out of the side hatch window I can see the reeds and water plants clearly. That's great! I remember we were not very kind about Lancashire as we passed through Blackburn and Burnley. It's quite different round here.
Wednesday 30th September: Garstang
We travelled onwards in grey murk, up the last few locks and back onto the main line and turned south to Garstang where we sussed out the surroundings, as the next day Nick was due to be picked up in order to go to Preston to collect the car for our journey south. We willcontinue the blog in October.