Tuesday, June 2nd: Gargrave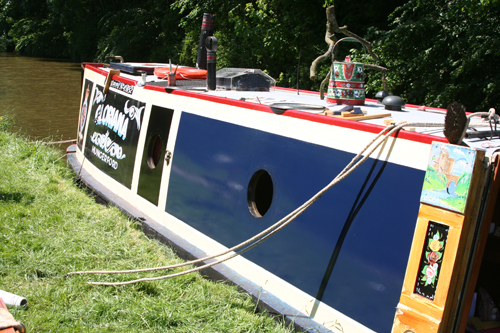 Finally, after a year of waiting, we have the promise of some continuous dry weather so it's off with the porthole glasses, apparently known as scuttles in the Navy, and on with a new coat of paint! We have, for some time, been having trouble with water getting in when the rain was particularly heavy and, as expected, when the porthole frames were removed the cause became obvious. Indeed we noticed a while back that, unbeknown to us at the time, someone had replaced a porthole glass. Our glasses have an engraved 16-point star and this particular one has an etched star: annoyingly, when they replaced it (we suspect someone at our Somerset Coal Canal mooring responsible) they didn't seal it properly causing leakage and rust. But it's done now, and properly! The weather on Monday was very hot, indeed too hot really for painting but, with some oil added to the paint, it went on well and was workable for a reasonable time.
However, having prep'd the next panel the night before, I was up at seven on Tuesday morning, and by eight had completed the second blue panel on the starboard side: the sun was well up but nowhere near as hot as it had been for the previous painting.
The portholes had originally been fitted before the painting was done and were fixed with woodscrews through the steel to wooden battens. Their refitting is directly to the steel with M5 brass countersunk machine screws which I went into Skipton on the bus to procure, along with an M6 tap in case the existing holes proved too large: fortunately they weren't, so dexterous use of an M5 tap completed a long outstanding task.
The bus journey from Gargrave to Skipton takes 15 minutes and goes through the most glorious countryside, virtually the same route as we will make on the canal later today. From my two hour wander around the town, I know we are going to enjoy our two or three week stay, and the bus pass will facilitate viewing and walking of some fabulous places. But before that, weather permitting, we'll be mooring on the port side to paint the other side of the boat.

I walked early with Caspar while Nick was painting, walking north along the Pennine Way. The wild flowers are lovely and the views grand. This is real livestock country, lots of cattle and sheep (black and white), and horses. Nick had almost finished the painting when I returned. We had J&J along for coffee and a croissant but we had used up our 72 hours permitted mooring in Gargrave and though we waited for another boat to come through to save water, none came and we finally set off down the first of three locks. Although we were at the last of the locks well before six o'clock when they were due to be locked, we came to a full stop at the final lock, finding it padlocked. So we are moored just close to the Holme Bridge Aqueduct and the countryside has opened out with splendid views to the east.
Wednesday, June 3rd: Low Bradley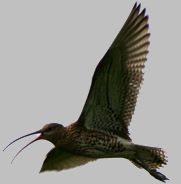 We woke at about seven to the call of the Curlew (not this one photographed later in the morning) and, whilst chatting to a local walking his dogs, met Brian, a Geordie on a hire boat for the first time, with his wife. He virtually begged for assistance through the lock: he'd hired the boat the day before from a local boatyard just the other side of Skipton who refused to give him any instruction other than that printed on an A4 sheet. He had no idea as to how a lock worked and was planning to return to Skipton and stay at a mooring there for the remainder of their 2-week hire. After going through the lock with us he was a lot happier but his wife continued to look totally ill at ease. When told that there were no further locks for 17 miles going east, he decided to try to persuade his wife to continue cruising: fortunately she can handle the swing bridges.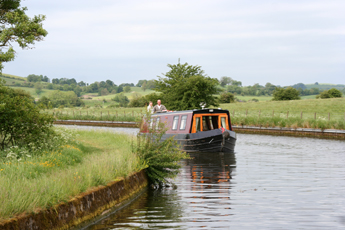 Yes, she disappeared entirely as we locked down, but re-emerged for the swing bridge - she had already handled a few of these. They told us of a retired couple who had set off with them but had returned to base within 24 hours! And yes, the Leeds and Liverpool Canal is certainly not the best canal to start if you are anxious or feeble (in either sense of the word!) Indeed that lock we negotiated this morning had yet another method of working the ground paddles, somewhere between horizontal and vertical which involved turning a bar at an angle! The trip into Skipton involved four swing bridges, just one of them electrically operated. This one had impatient pedestrians who insisted it be returned for them although a trip boat was approaching! The countryside has wide rolling hills. The weather has changed - it was cloudy and cool when we woke this morning but the wind has now died and we are getting enough sunshine for pedal-pushers and tee-shirts to be fished out again. We have made an excursion into Skipton, with its busy market and had a light lunch in the vegetarian cafe above the health store. It's a very attractive and busy town with a wide street, flanked with grey stone houses and lots of passageways and arcades to explore. Certainly we can spend several days here. However the town moorings, although good, are not especially delectable so we plan to travel on into the countryside later. The large Co-op by the Canal, complete with Post Office and small department store, seems run down, clearly having suffered from the Tesco and Morrisons presence. As I write this Nick has shot off to get brass bolts to secure two of the portholes which are only partially fixed.
We have moved on to a more rural mooring just south of Skipton, a beautiful, late afternoon, early evening run, sunny but a fair number of degrees cooler than yesterday. We are now just north of Bradley Swing Bridge, having left the noisy Keighley Road as we wind along the side of the hill in this wonderfully green robust countryside in a l7-mile lock-free pound. (Shame about all the swing bridges!)

Friday June 5th: back in Skipton
On Thursday we had a moderately busy morning sorting the boat - washing and a bit of late spring cleaning - lockers, cupboards, fire cleaned and blacked and fuel stashed away. A foolish move! Nick was able finally to put a top coat on the starboard gunwale, having, because of changing weather conditions, only got as far as an undercoat on two occasions previously. We like Low Bradley. a typical working community with a cared-for cricket ground, a large mill, now converted into apartments and some lovely old houses - 17th, 18th and 19th Century, terraces and beautiful old grey stone houses with lovely gardens (the last of the wisteria, laburnum, azalea and rhododendron, some lovely intense pink and gold honeysuckle and the first roses) one once a Quaker Meeting House, two Chapels, one now the Anglican Church. The village store is especially impressive, making an effort not to be the usual corner shop and instead, selling a range of health foods, a little fresh fruit and veg, local eggs and meat in the freezer, as opposed to pizzas and takeaway tat, and the window displays were original with local interest. And there is a splendid pub - The Slaters Arms, clearly very popular with locals and visiting diners. A benign little community!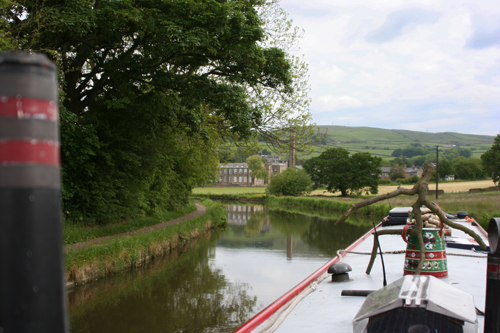 This morning we were up pretty promptly. Unexpectedly there was a clear blue sky, but Nick leapt out of bed when the forecast warned of change on the way. So we passed through two swing bridges before winding and travelling back into Skipton. One of the swing bridges I was unable to budge was merely a pedestrian bridge to a memorial to Polish Airmen, clearly much visited and cared for. By the time we arrived in town it was quite comfortable temperature-wise, and summery tops were donned and I ordered a large sack of dog food for collection next Wednesday. By the time we had finished our shopping (we found our first impressive baker since way back) there was a distinctly chilly feel. We had some lunch and after we'd moved a short way along the cut, passing Joseph and Janet going in the opposite direction, Nick took the dog for a walk, returning just before a really cool shower wishing that he'd taken a woolly hat with him. I have spent this evening regretting the cleaning of the fire. If it is a cool morning tomorrow the chimney will be un-stashed and re-erected, and we will have a little cheer! We hope we will enjoy some reasonable weather with Mary tomorrow but we're not holding our breaths! The forecast is not too good for the next ten days which is a great shame because we have plans for this area for the remainder of the month.
Sunday June 7th: Still in Skipton
Friday night, cocoa to warm myself and warm winter pyjamas (luckily still on board) donned! Saturday morning, (snow in Cairngorms and heavy rain and chill winds in Yorkshire)chimney found, fire lit, porridge prepared and an air of disappointment that it was today of all days that Mary from Marple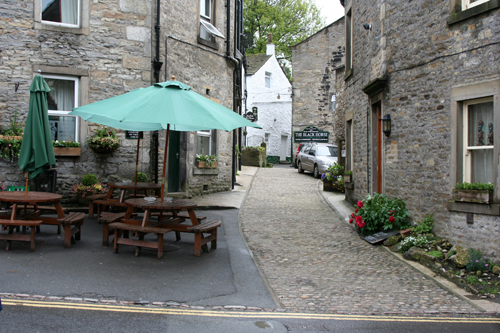 was coming for the day, or maybe the weekend. However, by the time she arrived the rain had stopped and thankfully it remained dry (with the occasional bright interlude) for the rest of the day. Mary is familiar with this part of the world - 8 years of boarding school, an aunt in the area, and many weekend breaks en famille. It was lovely to see her and she was determined to show us the glory of the Yorkshire Dales as well as reminding herself of them. So having driven for an hour or more to see us, we embarked on what must have been a seventy-five mile leisurely trail. First stop, after passing through Rylstone, home of the original Calendar Girls, was Grassington, an unspoiled Dales grey stone village/town complete with narrow cobbled streets, cars being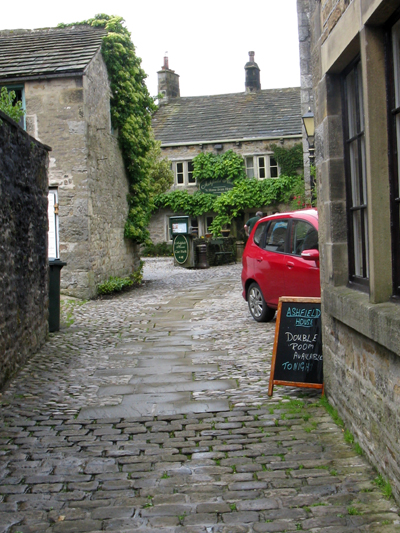 the only marked sign of the times. Shops were touristy, but art and craft and the great outdoors rather than tat. We found a dog-friendly pub where we had a leisurely lunch and where Caspar charmed some young children, before wandering back to the car. Next we travelled along Wharfdale and stopped in Kettlewell to take a walk along a 'darksome burn' (the River Wharfe). Caspar jumped in, and out again quite quickly, not having appreciated the strength of the current. We continue to see fields, quite yellow with buttercups. One field, high above the village with cows and sheep grazing (quite usual here) also had a stone barn (maybe doubling as a cricket pavilion) as there was a roped off, well mown, square in the middle of the field which had to be a cricket square! At this point in the day we were enjoying some pleasant, warming sunshine. For anyone wondering about a visit to this part of the world, all I can say is "Do it!"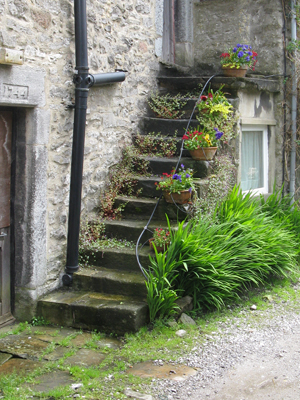 I especially love the wonderful solid dry stone walls and barns. In different parts of our journey they vary in the size and type of stone, What is especially remarkable is how the marks of man, livestock, barns, homes all fit so comfortably into the beautiful landscape. And we saw so many lovely flower meadows with an abundant variety of flowers - buttercups, vetches, red sorrel, just some I recognised. Then, off we went again along the dale, through Starbotton, another small community complete with waterfall, tea rooms and pub and climbing into more dramatic scenery towards Hawes, where yet again we took a stroll through the picturesque streets, complete with antique shops, deli, further tea rooms, eateries and pubs. This is the place where James Herriott based his country vet stories, it's the home of Wensleydale Cheese and also has a rope-making industry. Here we bought the makings of our supper - some chicken breasts for a stir-fry and some delicious Scottish strawberries (must have been grown under plastic) Finally we travel in the tail part of the grand loop, south-east, passing the Ribblehead Viaduct, and through Settle, arriving back in Skipton at 6.30. with a dog thinking his throat had been cut! Thank you, Mary for widening our Yorkshire horizons. After a leisurely supper, we say goodbye to Mary and she sets off for Marple and home.
We took many photo's during the trip: click here to see some of them.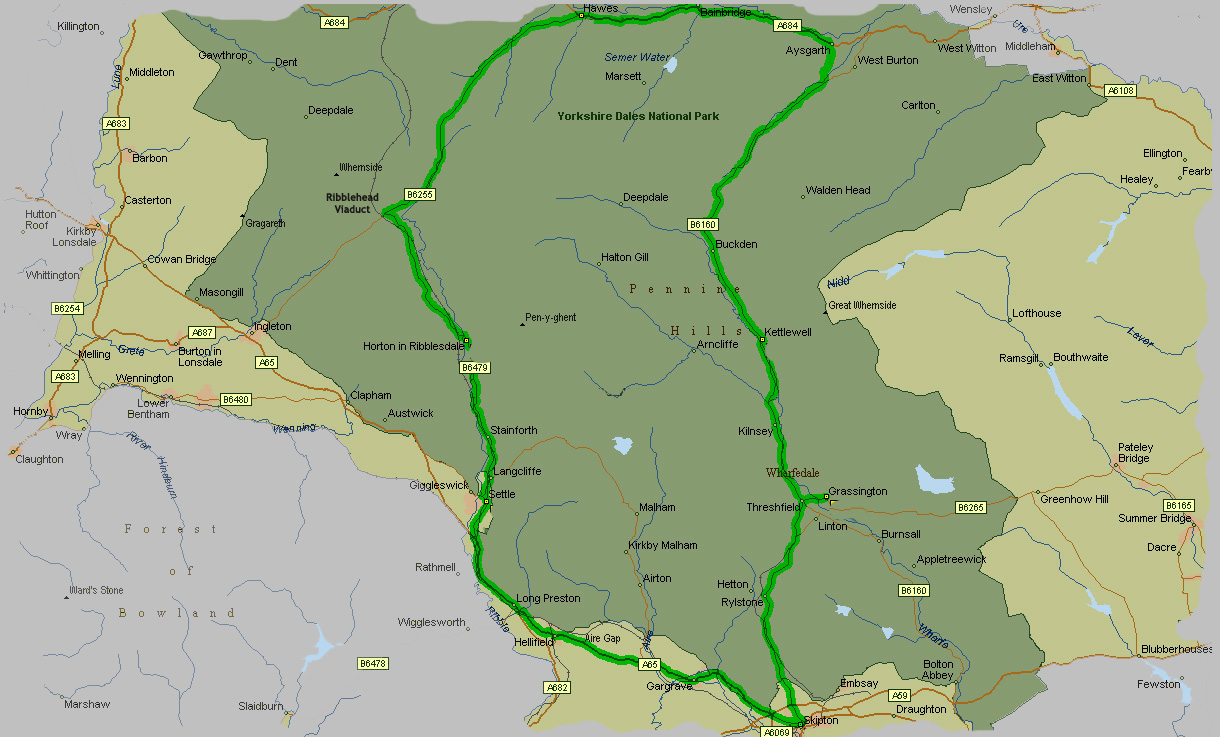 On Sunday morning I allowed myself time to locate the Farmer's Market, held by the canal but still arrived at Skipton Meeting House early enough to spend twenty minutes enjoying the beautiful garden which is walled, and quite sheltered. This is a lovely, friendly meeting. Because of a Preparative Meeting, the Meeting for Worship was shorter than usual.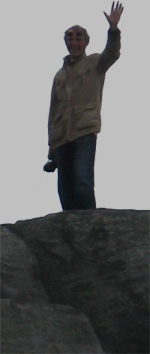 I wonder whether we will still be around for a reading of 'Mid-Summer Night's Dream' on the 19th? Sounds good!
Tuesday June 9th: Thorlby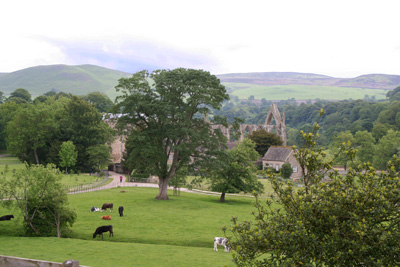 On Monday morning I did a further recce in Skipton and found myself a dentist and am visiting the hygienist on Wednesday. I'm not so certain about the £72 for initial consultation which involves x-rays. As I'm not here for long, that seems excessive. If the dentist were to do a thorough check and then advise on x-rays for a particular reason, that might be different. I've also booked a full body massage for a week Wednesday, after which I guess we'll be on our way! So on Monday afternoon we moved west back towards Gargrave to find an overnight mooring at Highgate Hill, the actual spot decided by a very strong cross-wind. In the morning we turned round and returned to Thorlby Swing Bridge where, after mooring securely for the day, we were picked up by Robert and Sue. They first took us to Bolton Abbey where we had a short walk around the grounds, went into the beautiful abbey church, and walked around the Priory ruins. After a quick coffee we set off into Ilkley, stopping en route to look at an old, now disused, Friends Meeting house built in 1689 (pictures attached). We travelled to a rocky point high above Ilkley called 'Cow and Calf' Lots of activity there with school children walking and teenagers doing challenging things notably rock climbing and abseiling. It certainly blew away the cobwebs! Caspar showed real concern when Nick clambered up to the top of one of the rocks. Then we were taken to Sue and Robert's home in Ilkley for a very civilized, very enjoyable, lunch which, with delightful and informative conversation, lasted until about half past four. They have a lovely home with a large beautifully kept garden on several levels around the building - they must be pretty well occupied with the care of that, and their boat, and the serious walking Sue does! So, within three days we've had two excursions away from dear Gloriana. What fun!
Thursday June 11th: Low Bradley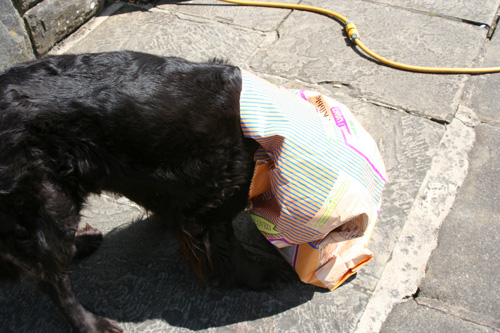 A moderately early start on Wednesday and we were back in Skipton and, lo and behold, there were Joseph and Janet. Even time for a quick coffee before I needed to scurry off. Success with dentist, a quick perusal, gratis, and I was pleasantly surprised at how little unpleasant scraping the hygienist had to do! Nick's turn next week! The weather threatened all day and by the time we set off with J&J for a final fish and chip supper it was over-trousers and brollies. After supper J&J decided we must find a hostelry they remembered with affection. Their memory was justified - a grand, historic pub with a selection of real ale. We went upstairs into a balcony area where there were splendid local and canal scenes painted on the walls. The usual with J&J - two rounds, and when I checked calories I discovered that just those two drinks were half of my calories for the day; add the fish and chips and ...Oh, help! I'll just have to be dead careful for a few days! It's just as well I didn't have the 10% (SG) chocolate flavoured stout I'd asked for!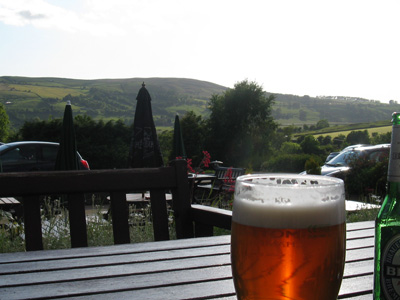 We can't say goodbye without a final coffee and as Morrison's is not so far away it's croissant with a farewell coffee, before we set off in opposite directions. We stop in the town centre for Nick to have a haircut and do some sorting of the engraved portholes which need replacing, besides investigating a computer place to sort my laptop and get compost so we can sort our summer planting on the roof. We collect the dog's food from the Pet store, transfer it to its storage box, and Caspar ensures nothing is wasted! Then we travel east a little out of town: there are festivities this weekend and we may find it a little too noisy!
So back to Low Bradley where, after raising the height of the satellite dish by six inches, we establish a good TV signal. So the evening looks like dinner, another trip to the Slater's Arms (not necessarily in that order), and an hour or so of television.
And thus it was: we walked up to the Slater's Arms and, as the evening was so pleasant, sat outside drinking in the Yorkshire countryside (apart, that is, from something a little closer to hand).
Sunday June 13th: Kildwick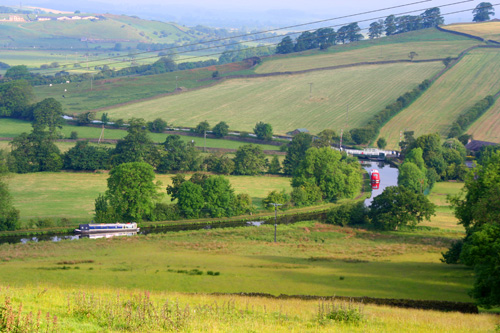 We moved early on Saturday from our mooring in Low Bradley along to Kildwick where we winded and Nick set to work on the port side of the boat, removing the portholes and preparing the main panel for a coat of paint. He worked all day so that on Sunday morning all he had to do was remove the odd screw which was supporting the portholes overnight, put on masking tape and do the final gloss coat. (Then panic about dust and insects!) Kildwick is a small working community - lots of handsome terraces on a steep hillside coming right down to the canal with Kildwick Hall somewhere in countryside to the north. The large stone church (Lang Kirk) boasting one of the longest naves in Parish Churches, and Bronte artefacts, lies immediately to the south with part of the churchyard (somewhat overgrown) left to the north when the canal was built. There is evidence that a crusader was buried here when the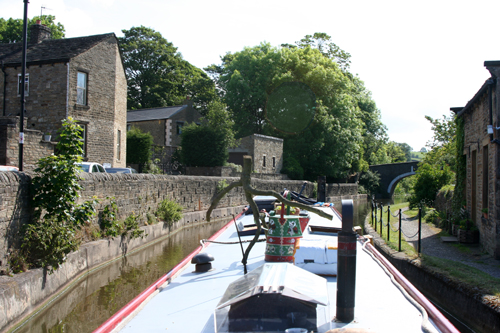 oldest part of the present church was built in 1309, as I remember. To the north and south of the canal, and the River Aire, are rolling, imposing hills. Shame about the noisy A65 (Skipton to Keighley and Leeds) carrying a lot of noisy traffic 400 yards to the south of the canal, beyond the river.
On Sunday morning Nick was up soon after 7.00 taking out portholes and painting. At ten o'clock, Sue picked me up and took me into Skipton where I introduced her to her first Quaker Meeting. This was the third sunny Sunday morning when I could appreciate the beauties of the Skipton Meeting House and its beautiful cottage garden. It was a thoughtful meeting, with ministries concerning the future and care of our wonderful and vulnerable planet. Then Robert and Sue joined us on the boat for a late and leisurely Sunday roast. Nick had bought a duck from the local Co-op and and had cooked it beautifully. They left us some time after five when Super-Nick sprang into action again. As he was unable to find the bag of screws he needed to complete the final securing of the portholes, we plan to head back to Skipton tomorrow, early, to ensure we are water-tight before the rain that is forecast sinks us!
Tuesday June 17th: Back in Skipton Again!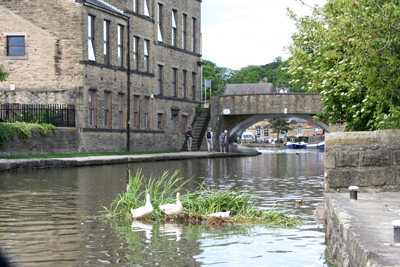 We travelled back into Skipton on Monday, stopping briefly at a place on the way for Nick to get essential screws to make us water-tight. Not successful, but at least it hadn't started raining and he did get a Carbon Monoxide monitor which I'd been talking about for some time. By the time we were back and Nick had the screws from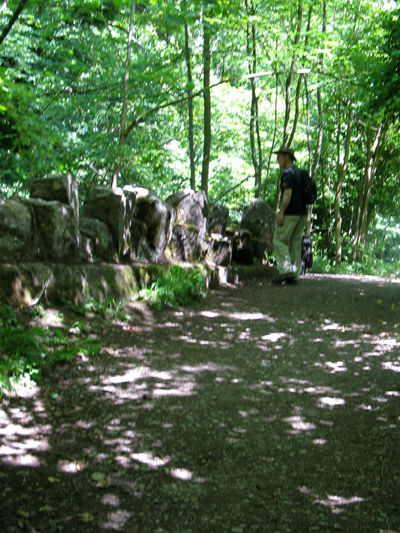 another supplier the weather was looking quite threatening and Nick had to get cracking! Although we had some rain, heard thunder and saw black clouds, in fact we avoided any real downpour. The weather forecast for the next day was exceptional so we plan to catch a bus to Malham Cove where there are some exceptional and lovely geological wonders on offer if one is prepared to walk a way.
Having psych'd myself up for the day out, and greeted a bright and beautiful day. we discovered that there were buses to Malham on Monday, Wednesday and Friday! So.... we had a leisurely breakfast and after listening to the P.C. Bloggs drama on Woman's Hour (a blog by an anonymous woman police officer, hugely entertaining and a real eye-opener about life on the front line) we set off on a walk up the canal branch which took us up the valley, with Skipton Castle high above us, past a working waterwheel, waterfalls (of a sort!), a lake and on up. Caspar enjoyed the water. There was a powerful scent of the wild garlic, now dying back on the steep banks. The walk took us to the by-pass on the northern outskirts of the town, where we crossed over the river, and then walked high above the valley with fields to the east, finally walking down the hill to the entrance to the main castle entrance and collecting some pasties from our favourite baker for our lunch. We have had a lazy day, particularly good for Nick, who has been really busy with boat issues for the last week or more.
Saturday June 20th: Back in Kildwick after a final stretch in Skipton
Wednesday was a bit of a rainy washout - Nick did the dentist and I had a massage - bliss, but perhaps not rigorous enough! And now it's Saturday and we still haven't done Malham! For one reason or another!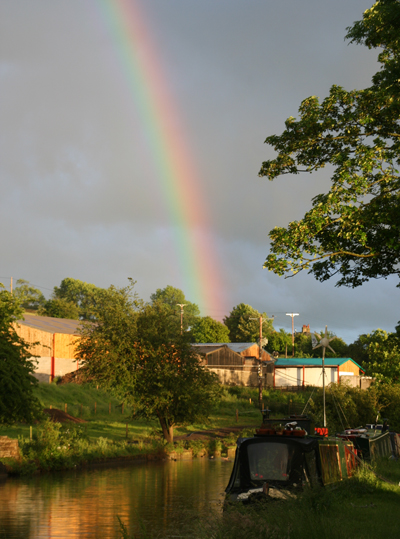 We moved a mile or so south of the town for one night to ensure our mooring in town was legal, undergoing a sudden flash storm but being compensated with a brilliant rainbow.
A word about Skipton: it won the National High Street of the Year Award last year. For four days a week the entire length of the High Street is lined with market stalls, greengrocery, cheese, olives, hardware, carpets, pet stalls, plants, clothes - well virtually everything. And there are really no nationwide multiples there - no Starbucks, Costa Coffee, Cafe Nero and only one telephone shop, an O2, just tucked away, and not too obvious. There's a surfeit of outdoor stores, catering for the great outdoors - not surprising with the beauty of the Dales just on the doorstep. The Morrison's, just out of town is rather grand, in the old cattle market building! And there are a number of fish and chip, and pork pie establishments, some of them 'Celebrated', as well as a fine selection of other eateries.
We have met up with Janet and Joseph for the very last time, sadly, though we'll make contact with them when we go south next year. We have met up again with an Australian couple, Mick and Moira on Blue Toad, whom Nick had entertained to coffee in Marple earlier in the year, on which occasion they established a common point of contact via remembrance of Colin, the chap who moored outside Canal Walk for the winter of 2007-8 and made so much noise with his open-frame generator. Mick and Moira too, are on the way to York, as are Mick and Lynn aboard Tiddie Oggie., so perhaps we'll see more of them all in July.
On Friday evening I went to a reading of Midsummer Night's Dream at the Meeting House. It should have been in the garden but there had been so many blustery showers all day, indeed until a short while before the scheduled time, so it was decided we read inside while the weather settled. I read the part of Bottom, thoroughly enjoyable, though I was a bit sad about missing out on all the beautiful poetry!
So, it's Saturday evening and we are again in Kildwick, finally on our way south and eastwards, having done our final Skipton shop for the weekend. We manage to avoid the working of a number of the interminable swing bridges we encounter because there are so many weekend boaters out on the water. We do understand why J&J endure the rigours of Wigan, Burnley and Blackburn to enjoy this part of the world.

Monday 26th June: Dowley Gap
We set off in a leisurely fashion from Kildwick, too close to lunch to rely on the efforts of others with the swing bridges. We are still on the 17-mile pound which runs along the northern side of the hillside above the valley of the River Aire. We moored briefly east of Silsden,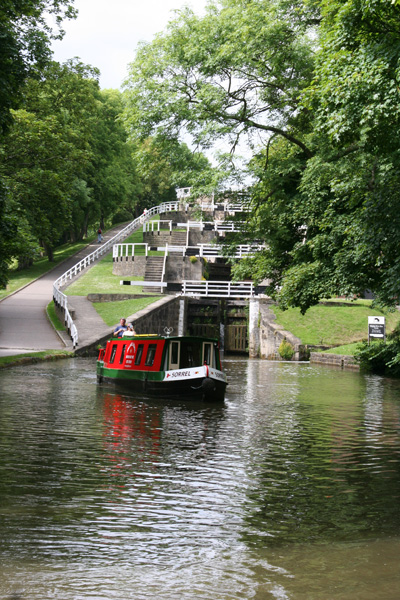 and Nick biked back into the small town to get a bottle of red wine to accompany the Dales shoulder of lamb we were planning to have in the evening.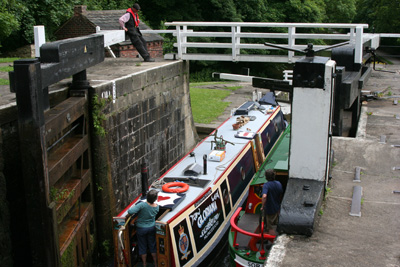 Then onwards we travelled for a while and moored all on our own in the lovely spot (above). The were large fields with sheep, other meadows with wild flowers, and to the north more sheep, and fields that had clearly been cut for hay, all the fields separated by handsome stone walls. Beyond is woodland. That's what is good about the canals - sometimes it is an extremely sociable linear village and that's fine, and at other times you can choose to be solitary. Nick took charge of the meal in the evening and the lamb was succulent, with new potatoes, spring greens and carrots. He had also bought some Kentish strawberries and raspberries to complete a very pleasant evening repast.
The few miles into Keighley was really splendid. This is a particularly beautiful stretch with the northern slopes sometimes sparsely wooded with verdant grass beneath trees, and rocky outcrops overtopped with young oaks. Then there was a section with rhododendron, still in full flower, and yet another with wild roses climbing the oaks and hawthorn trees, again in full flower, while yet another with honeysuckle. Below, to the south you would see the occasional glimpse of the industrial outskirts of Keighley between trees and hedges. Then, I saw what had to be the most beautiful and natural summery garden with the blues of delphinium and the pinky mauve of foxgloves. The water quality is more like a river; we have seen lots of water lilies and aquatic plants in the water. Just perfection! We are planning to take a bus into Keighley and then the steam train to Haworth, and Bronte country.
Later: No, we are not doing that because we've since passed thro' Keighley, down the celebrated Bingley 5-Rise and the following 3-Rise. (except we were locking down, a far quicker and easier affair)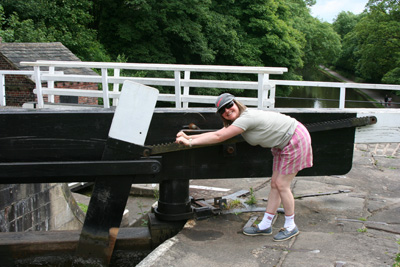 This was because we met up with a couple, Allan & Nicki, in a hire-boat who were travelling on, so we did too! The outcome: we are now not that far from Shipley and it's a way back, especially when it has become quite hot and humid, and leaving the dog on the boat while we have a day out may not be too kind. The 5-Rise is managed by a BW chap who, it is said, can be compared to Brian Clough on a training day! And yes he was a bit like that. When we arrived he was overseeing a boat coming up and we had to wait for nearly an hour, but we were whisked down in not much more than half an hour. At the top we had a bitter seville orange and ginger ice-cream cone. We had to try it because of the originality factor but couldn't taste the ginger and the 'bitter' really was bitter! Won't be trying one of those again! There were yet new types of paddle gear, a gate paddle operated by ratchet and pinion, and a 'capstan'-operated ground paddle, on the bottom 2 locks. For some reason Nikki was having to do lots of heavy work on one side while I had an easy time on mine with Gunga Din managing and overseeing with amazing strength and efficiency. We are now much nearer sea-level almost 100 feet down in those 2 amazing flights. At the bottom of the second flight you are in down-town Bingley with the huge Damart factory on one side and the railway, a busy road and lots of dark industrial buildings to the south. Now, just 15 minutes down the cut, we are in a tree-lined section with dappled sunlight coming through the trees. And here we will stay, this evening by the Fishermans (pub) between Bingley and Shipley, starting to enter a more industrial Yorkshire. (in heavy rain which apparently caused heavy floods which we learned of next day on the local news in a small village near Ilkley, just back aways!)
Tuesday 23rd June: Apperley Bridge
We left Dowley Gap soon after eight o'clock, immediately locking down through a 2-section staircase with the unexpected help of a BW lock-keeper, and within a mile or so, and after a single lock shared with a boat returning to its home mooring after a paint job, we arrived in Saltaire.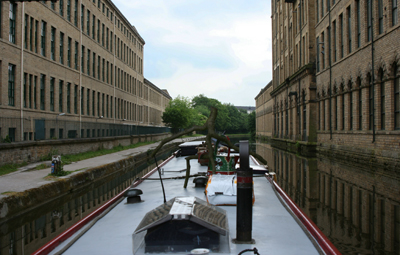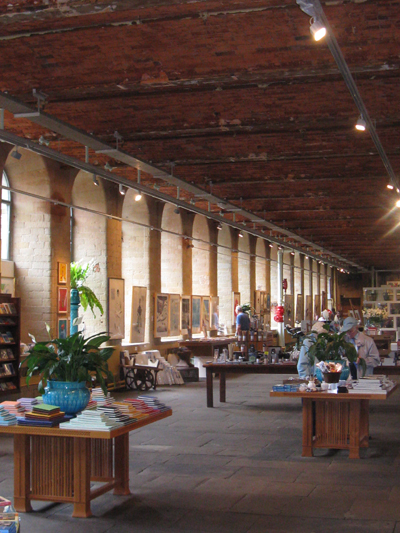 Saltaire was founded in 1853 by Sir Titus Salt, a leading industrialist in the Yorkshire woollen industry. The name of the village is a combination of the founder's surname with the name of the river. Titus moved his entire business (five separate mills) from Bradford to this site near Shipley, partly to provide better arrangements for his workers than could be had in Bradford, and partly to site his large textile mill alongside both canal and railway. Today, Saltaire is a World Heritage Site, and the main building houses a large collection of David Hockney work, second only to that in America, due possibly to the fact that he was born in Bradford. Though the space inside is used now for retail which was a little disappointing, although one must admit, possibly better than a museum because of the "working" atmosphere, it is the sense of space that I found impressive, and a very little reminiscent of the Winter Palace in St Petersburg, that is if you forget about little things like gold leaf and marble. A very notable fact about Saltaire in the late 17th century was that, as a prominent Methodist, Titus built the town without a single pub - a characteristic that has not lasted into the 21st. As he is credited with having a very large wine cellar this design feature was probably based on the fact that he didn't want his workers arriving in the morning with a bad headache!
Yes, it was lovely and I'm always all too happy without the gold leaf. The first floor had lots of Hockney prints, lots of wonderful art books, especially Hockney stuff, and every possible material anyone with an artistic bent might want. On the second floor there was the most tasteful, spaced out bookshop where I could happily have spent lots! Sadly the third floor with eatery set among 4 opera sets is always closed on a Tuesday and I was sad about that!
So we didn't travel very far on Tuesday - just a single lock, a double and a triple staircase as we travel relentlessly out of the beauty of the Dales. The weather brightened during the morning and by noon we were enjoying another beautiful summers day. But we have an imminent medical issue - Nick is really suffering with his hayfever and the doctor's medication is running low and we think he really should be on something stronger. So we stop at Apperley Bridge, famed for annual horse sales held just recently with some handsome nags just across the cut from us.
Wednesday 24th June: Rodley
We discover there is a surgery close by and Nick sets off early but rising before 8 turns out to be traumatic for him and he misremembers the location and walks for miles and returns with no pills! When he rings they tell him to go to a drop-in centre in Bradford. He is not impressed with this idea and we are hoping we will sort things out tomorrow. Nick was delighted with the new engraved glass for the portholes. We've had one window with an unsightly crack, another that had been replaced with an etched pattern, not engraved as the originals. Nick was even happier when the quote for the three portholes he had ordered turned out to be for all three pieces, when he had expected that the quote was for each porthole! We managed two washloads and moved on in the late afternoon. We are moored in a pleasant spot, one of the last, I guess, before the inskirts of Leeds.
Thursday 25th June: Leeds, Clarence Dock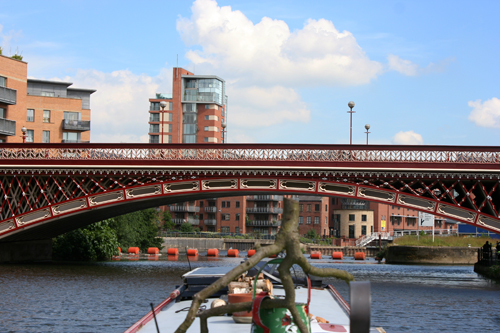 And we are now in Clarence Dock. It's all a bit of a culture shock after the pastoral life we have been enjoying. We set off some time after nine and were helped through the first of the staircase locks and for the first few hours of the day things remained very quiet as the sun burned off the morning cloud. We were impressed by the quality of the water - quite uncanal-like and more like a river, so you could see the beautiful reeds, yes, and fish beneath the surface. There were water lilies and arrowhead, all very lovely. And this continued until we were really close to the city centre. Suddenly we were in Leeds-proper, with high buildings buildings closing in so that by the time we were in Granary Wharf where the canal finishes and we drop down on to the Aire, we were in a development area where buildings were rising like megaliths around us! In another few years it will all be very smart. And I guess it's good to see that there is development and that builders are being employed. In the final bit down the river (see here - Citiscape) there was evidence of older building; quite a lot of old, rich, dark brick buildings which appear to have been lovingly looked after and old warehouses converted to dwellings and offices quite tastefully. Old and new, marrying well, The final bridge where we turned sharp right was especially handsome - ornate cast iron, newly painted in several rich, perfectly chosen colours, sage green and gold, particularly memorable. (That is until I looked at the photo taken by Nick! Will anybody ever believe anything I write, when I now see that it is wine red and silver!) Then another sharp turn was required (to avoid the traffic signals on the lock which in a few days will take us on down the Aire and Calder to Castleford) and into Clarence Dock where there was not a great deal of space but we did finally manage to get into the last narrow space, in spite of a wind which caused Nick some difficulty in manoeuvring. It's all very smart, though Caspar isn't too impressed with the wibbly pontoons, and we haven't yet spotted a bit of grass for him. Mooring is free here for 48 hours, with electricity (paid for by the previous moorer on this bay), though you can stay on longer if you pay.
Friday 26th June: Clarence Dock
Amazingly. in spite of lots of smart eating places around, all was quiet by eleven last evening and we slept this morning 'til late as usual. And we have found a place to walk Caspar, along the Aire and Calder down stream. Today, the number 1 priority, Nick's medication, was sorted by a visit to an NHS drop-in centre in Leeds City Centre. After walking the dog we went into the city. First we located the market area - there was a huge covered market and an open air market. Then we separated, Nick to a place to get a VHF radio we have been told is useful on the more commercial waterways, while I did a general recce and visited the Tourist Information and an expensive toilet at the railway station overseen by a disappointingly miserable female. Later I spent a couple of hours in the Leeds Art Gallery, free entry and beautiful (free) toilets! I saw some interesting art, most of it contemporary. One video piece, I found spell-binding, a ballerina nearing retirement talking of her art and dancing. She had suffered a hernia in her spine, early in her career, which had affected her stamina and her career. Her dancing was exquisite, especially her piece from Giselle (a ballet she had once dreamed of dancing), singing the music to herself as she danced. Then she explained how awful it was to hold still for longish periods in the corps de ballet in Swan Lake, This was then demonstrated, the camera capturing the breathing statue, all alone on a stage. It was just spell-binding! On the way back I looked for the Corn Exchange, which is apparently well worth a visit but found instead some handsome Victorian arcades. I had been on my feet for over four hours when I returned to the boat and was in need of a rest! Tomorrow I will do some shops. When did I last do any retail therapy?
Sunday 28 June: Still in the City!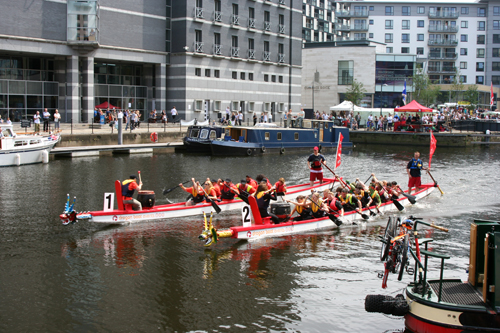 So on Saturday after the morning walk (the most tedious walk of our travels, very straight by the Aire and Calder with lots of spooky giant hogweed) we continued our exploration of Leeds and found a Rohan shop where we invested in some rain and weatherproof trousers - Nick's gold standard, mine silver. We will now be dry and elegant and, hopefully, they will look and be as effective as J&J's which we admired greatly! I'm considering a Rohan top - one anorak of mine is not waterproof and the other is just a slightly upmarket pacamac! We do spend a lot of time outside so I guess it's a good investment. We also did the market, a huge affair, and found two amazing fish stalls - we bought a large mackerel to share and 8 large raw king prawns, £4, the lot! I grilled the prawns with a little garlic butter, wonderful! We enjoyed them accompanied by smoked salmon and asparagus, all on the quayside in the sun, with salad, another fruity Merlot, and fresh bread, whilst watching riotous dragon races in the dock. Oh, we also found a splendid organic shop quite close to our present mooring with fresh fruit and veg, bread, organic and fair trade wine.
This morning I caught a bus to the university part of city to find Leeds Quaker Meeting, chatting en-route to a young couple who have just finished studying at the university (1st class hons geographer specialising in ecology for him!) and was able, in response to their enquiry, to tell them a little about Quakers. Leeds is a moderately modern meeting house and quite busy with the widest age spectrum I've experienced to date. Lots of children and teenagers. A lovely meeting with some special ministry about how we, as a group, handle the idea of God and our knowledge of how our universe and our planet developed for millennia before we evolved and started to make an imprint on our amazing planet!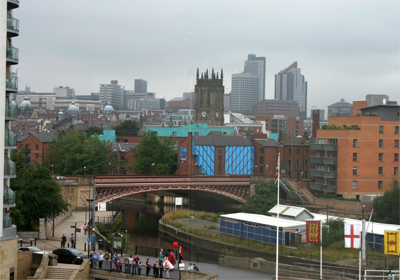 On my way back I walked through Brewer's Wharf, just upstream of our mooring, more a natural amphitheatre than a wharf, with eateries around the central grass area, and with entertainment through the middle of the day and the afternoon at the weekend. So after lunch we went back and it was tea time by the time I returned to the boat, though Nick didn't last the course! It was a lovely afternoon with a solo punky/rock, guitar playing female singer, a hip-hop duo, a splendid bluesy/folksy band with a European input (2 French musicians) - electric violin, bass & acoustic guitar, squeeze box/harmonica/vocals, drums - I really enjoyed them. Finally there was a group of drummers/singers/dancers from the Cameroons performing so joyously, it was delightful. On Saturday we had seen a group of Irish dancers performing there, aged from 5 years to 15; apparently there is a significant Irish population in Leeds which I find surprising. The audience was multicultural, many enjoying a free show and many enjoying waiter-service in the half dozen or more establishments around. Yes, this is all a very acceptable side of city-living. What is not is the lack of bird-song in Clarence Dock which I appreciated so much this morning in the garden outside the meeting house.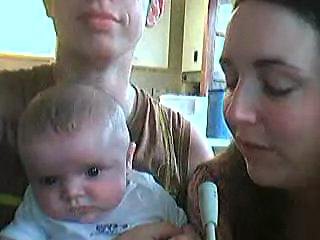 This evening we had a video conference with Emm', Sean, and Joseph; we are amazed by the way he, Joseph, has grown, and are looking forward to seeing them all in three weeks time. The wonders of modern technology, that we are able to take a snapshot of the three of them over a piece of fine wire that connects us over a distance of 165 miles, as the crow flies (this distance substantiated by measurement on Google Earth)! The only downside is that one doesn't have complete control of the composition.
This morning, whilst Jackie was Quaking, I visited the Royal Armouries Museum, and a couple of hours disappeared before I knew it: an extremely interesting place, the association with war and aggression being weak when compared with the history and social context of a lot of the exhibits, which ranged from medieval times to the last decade of the 20th Century, and from Europe to Japan and China over the same period, the short history of America and the wild west being subsumed along the way.
Monday 29th June (As above!)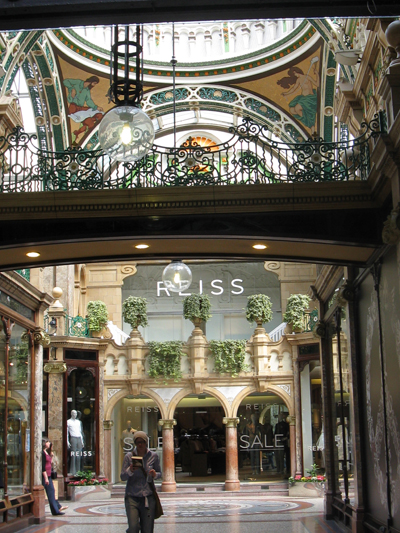 Into the city again. I can understand why it has a reputation as a shopping Mecca.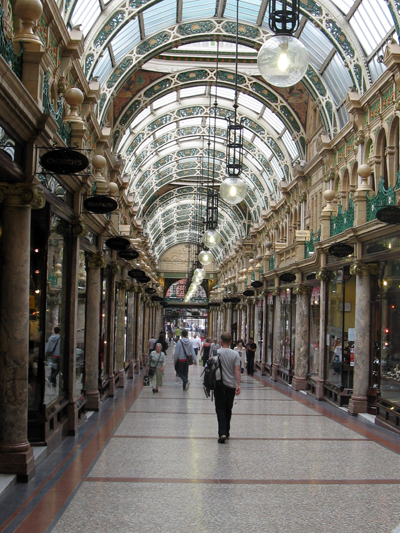 It is moderately compact, but has all the multi-nationals, but not to the exclusion of a fair selection of independents. There are a number of smart department stores - Harvey Nics and House of Fraser, and a fair few designer outlets with sale prices making my eyes water. Then, there are amazingly handsome Victorian arcades with smart shops, where it is a joy to look up and see the wrought-iron and stained-glass. There are three or four indoor shopping precincts. The indoor market, housed in a grand building with domes and turrets is enormous, selling almost everything - speciality butchers, fishmongers, greengrocers, ethnic specialists, hardware, millinery, haberdashery, cosmetics, flowers, rugs and more! For ordinary folk the market is excellent. It seems that the recession has not hit Leeds too badly, development is proceeding apace in Granary Wharf and we did not see any empty shops in the town centre. However there are some empty premises around us in the smart Clarence Docks area. The Corn Exchange, an indifferent building from the exterior, has recently been renovated inside and is just so, so beautiful. It's the sort of space that can only be appreciated by visiting it as a photograph could not possibly do it justice. There is a restaurant in the lower level, apparently run by a trendy chef. Then, there are small outlets all around the interior on two floors and just one taken! After so much money spent on such a wonderful space I wonder how the developers, or whoever, are going to attract smart tenants, as the building is slightly out of the city centre. The place could and should have all the units taken, as they were before the development, if it is to become a vibrant space, visited by everyone, which it richly deserves.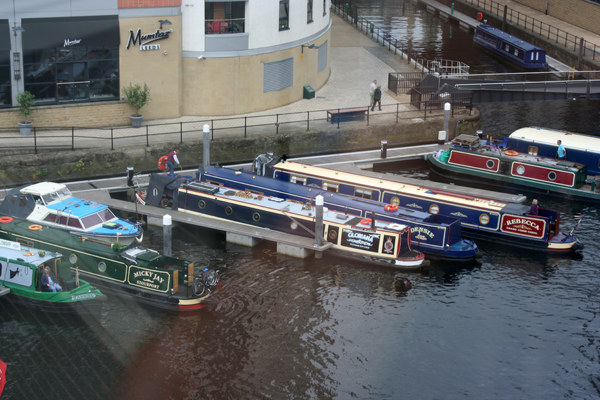 Returning to the boat by the river we find the city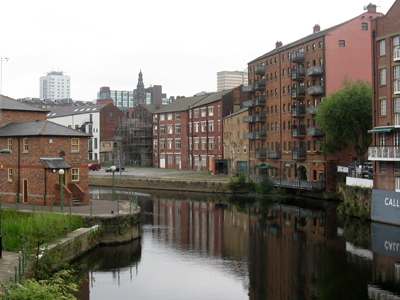 an attractive mix of old and new - buildings and bridges, alike. There are some splendid brick warehouses which have been beautifully restored and the building housing the Royal Armouries is impressive. Then there are all the tall, modern office and apartment blocks, one or two an arresting brightish blue and another, photographed with giant hogweed in the foreground, with dark reds. Not one of these new sky-rise buildings is offensively utilitarian or an eye-sore. We found all our washing dry and had another civilized lunch outside in the sun. I now have a red Rohan coat to go with my new waterproof trousies so we can guarantee that we will have an extremely dry July and August. I also bought another copy of Barrack Obama's "Dreams of My Father" which I started reading way back when, and lost, when I left my rucksack on a bus in Marple. I've started it again and am struck by how well written it is and how perceptive and sensitive he is, writing about his formative experiences. I do hope he is able to achieve at least some of his political dreams...
Tuesday 30th June: Woodlesfield Lock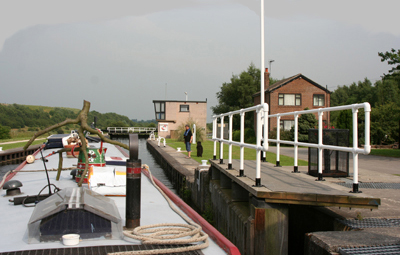 We are now downstream, heading east-south-east on the Aire and Calder. We spent all morning waiting to hear about the VHF Radio Nick had ordered which he was told would be there early in the week. I slipped into the city - a new route with a backwater with the most wonderful waterlilies, lots of them, mostly white but also pink, so lovely they might have been perfect imitations. I saw more of the city and one amazing example of old and new. Two large and grand stone building, facing one another and beyond a modern building of similar height with a glass mirror facade reflecting the old. That's what I have especially enjoyed about Leeds, the marriage of old and new, which, however unlikely, just seems to work! I sorted my Senior Rail Card and bought something for supper (half a pound of lamb's liver - 60p!) After phone call number three made to Maplin by Nick, at some time after two o'clock when they had promised to ring him, he finally asked for his money to be refunded but they couldn't credit his card on the phone. He stormed off muttering about them needing hard hats! By the time he returned it was full steam ahead though Leeds Lock, life jackets on, right by the Royal Armouries, and on down the river, all locks large and especially long and all worked by me, electronically. I can't say this waterway is picturesque - for several miles there are industrial buildings and what used to be bonded warehouses but by the time we hit Woodlesford we were in open countryside. And joy of joys, a wonderful kingfisher flashed along with us for a moment. The lock was surprisingly pleasant with attractive flower tubs. (they even had colourful blooms as well!) By this time it was extraordinarily sticky and hot, with light rain which barely cooled us, and it was well past five, We needed to top up with water and figured it would be gone seven by the time we reached Castleford, our intended target, so we decided to stay put on moorings above the lock and set off early in the cool of the morning.