May 2nd: Barnton Cut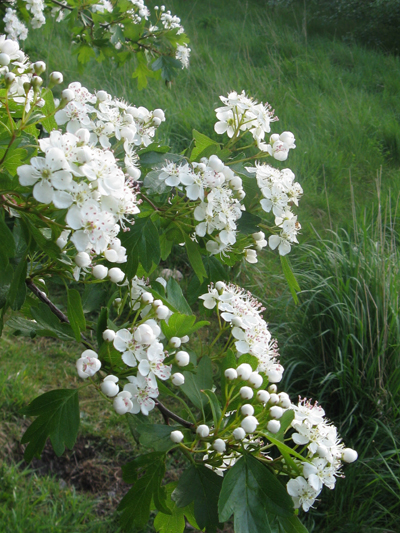 We moved on quite promptly on Friday as supplies were low and trekked into Northwich, both of us with rucksacks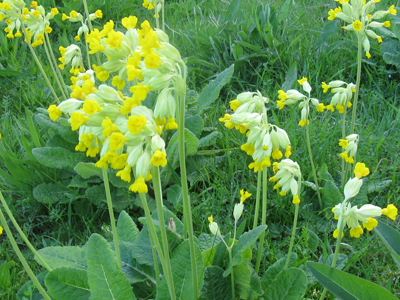 which were filled and still we carried bags! The fishmonger furnished us with supper and mussels for lunch which we enjoyed with bread from the butcher! Yes, we have discovered that although there are two bakers and Sainsbury's, the best stuff comes from the butcher, along with the best ever sausage roll, according to Nick. On Saturday they do a rye bread so we may go back for that! Then, because it can be quite noisy with drunken youths in Northwich on a Friday night, we returned to Anderton where I had determined on a walk with camera while the bluebells, wild garlic and cowslips were at their very best and a bright morning was forecast.
And it was! This was my longest walk - well over an hour and I did remember my camera. The forecast had promised a really warm day and had recommended sun protection but that was not really necessary as there was a fresh wind and lots of passing cloud. It was just wonderful, though my legs felt heavy and I noticed that the last bit was accomplished at pensioner's pace! Not many walkers pass me generally but a few did this morning. But it was really worth the effort - the bluebells were indeed at their best under a canopy of emerald green sycamore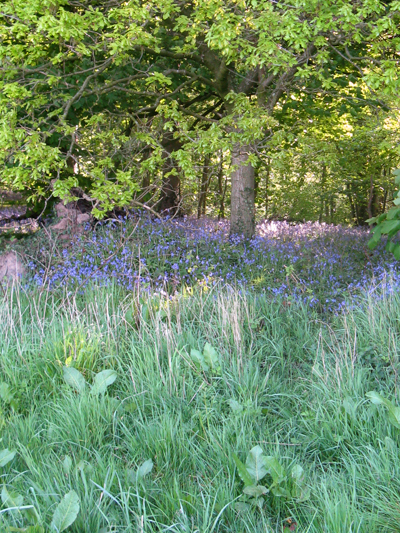 and beech; I have never seen (nor smelled)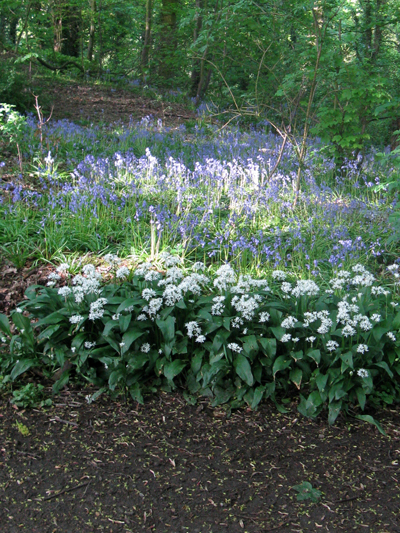 so much wild garlic, that is until we noticed the steep banks of the Weaver just below Barnton Cut, completely covered later in the day; the hawthorn is fragrant and fully in bloom in places; finally the cowslips in Anderton Country Park are a delight. I thought Caspar would be exhausted too, but after his breakfast he resumed playful frolics with the dog on the neighbouring boat having struck up a friendship the previous evening.
We then travelled in to Northwich to get a paper and a final few bits of shopping. Here we met Dave and Pat on Oakfield and hope to meet up with them in the future as they too are heading for York. However we will be almost a fortnight behind them as we will remain in this area for the computer engineer on Tuesday. Then on the following Monday, Nick is planning to go south again to inspect grandson Joe's progress!
Patrick rang inviting me to go along with him to Knutsford where they have a spectacular May Day parade and junket but I feared my legs would not hold out though I was really tempted - we had independently heard it was well worth a visit. So after a sandwich lunch we headed back down river, to Barnton Cut, lots more bluebells, wild garlic and total peace.
May 7th: Back by the Lift!
We're not keeping up with this diary very well as we are still in the same area, mainly because Nick is heading south again next week. Last Sunday afternoon we were delighted when Patrick and Elanor came for a Sunday lunch at Acton Bridge - a lovely half leg of lamb from Webbs in Northwich and pudding made from rhubarb from Patrick's garden. We have been booked for baby sitting next Saturday, and Georgie is joining Elanor for a short trip and a picnic on the Sunday.
We've cruised the river in quite disappointing weather, then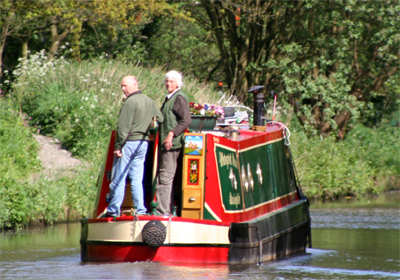 yesterday we came up on the lift as Nick wanted to go to Preston Brook to a chandlery there. We travelled for several miles sixty feet or so above the Weaver, and you get a completely different perspective, similar to a journey on top of a double decker after travelling the same route by car or on foot. We met up with Barry and June on Margaret Anne. They are from Basingstoke, though June has connections with Hungerford, Ramsbury, and Coombe, her father having been a regular at the Three Tuns in Great Bedwyn. We moored above the Weaver on the Trent and Mersey, looking down on the river and Acton Bridge. We chatted at length on the tow path in the sunshine and they joined us after supper for a drink: another very pleasant evening shared with new friends in our canal community. They are heading towards the Ribble Link as they are booked for later this month, having wintered on the Leeds and Liverpool. All the trees are now in full leaf, the horse chestnut and fragrant hawthorn in flower; we have passed swathes of pungent wild garlic and enjoyed the scent of bluebells at one point. Though the weather has been much improved today (Nick thinks his head has been burnt) it has been quite breezy so I still retain layers, especially important in the tunnels - we've been through three today, one, twice! We are now back at the lift; I will do some washing early in the morning and we will then go down onto the river for the last time this Spring, and by next week we'll be on our way towards York on the Bridgewater, skirting the northern outskirts of Manchester, passing the site where the Coronation Street canal scenes with Martha and Ken were recently shot, with the sad finale broadcast just this last Monday! Then we will be on the Trent and Mersey, the longest of all canals on the system, which will take us over the Pennines.
May 8th: Below the Lift!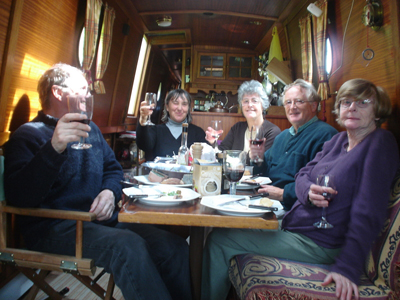 We have had an unexpectedly busy day as last evening we had a call from Paul High, and at lunch time he and Elizabeth, with Roger and Judy (Paul's brother-in-law and big sister) joined us for the afternoon. It is amazing what a small world we live in! Roger has retired from the church although, as many ex-prelates do, does periodic locum duty. He has known Brian Williams, the vicar we met back in July above Hawkesbury Junction and who we met up with again in August last year on the Caldon canal, since Brian's ordination and has been a friend and colleague ever since. As Nick had anticipated, they opted for a trip down on the lift (the BW operator asked if we had shares in it!), and we went down the river to our favourite mooring at Barnton to enjoy a late lunch. Roger was particularly pleased to go on the lift because he and his son, a civil engineer, had had a great interest in it during the planning period prior to its rebuild. We were short on supplies but I made a successful French onion soup which was served with garlic croutons, and a tuna pate, and our guests bought ham, pate and home made sausage rolls which I further augmented with salad and cheese, all washed down with a very drinkable Sicilian Merlot from Nick's cellar. So a veritable feast was had on Barnton Cut in weather which was really much improved on the grey, rainy, early start to the day. Having returned our guests to their road transport at the Anderton car park, we are now moored just below, alongside the Country Park and are building our reserves for the busy Elanor weekend ahead.
May 10th: Dukes Way
We woke at a civilised hour on Saturday morning and made our way into Northwich to do the weekend shopping, mooring up at our usual place between the swing bridges. We arrived at Kingsmead early in the afternoon, and Elanor joined us mid-afternoon, keeping us on our toes as per usual. Her energy levels never fail to astound me - were my boys ever this lively? She discovered a wonderful slope, just close to the boat and spent absolutely ages zooming down it on her scooter. Then she discovered an even faster route which involved an even faster slope which involved a sharp turn at speed to avoid heading straight into the river! Bed time took a while as she was so excited and bouncy, see-sawing from wanting to prepare the bed to doing everything in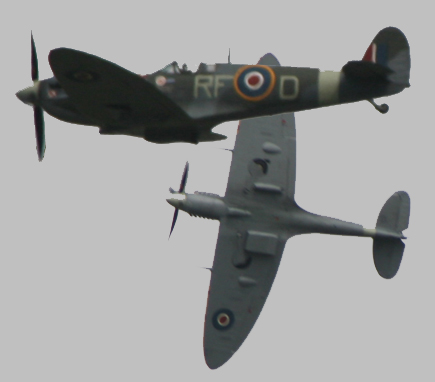 her repertoire to put off bed-time. However much we tried chilling out/calm time it was as if we had slowly pushed the lid of the jack-in-box down and wham! up she popped again. We were all finally settled and quiet by nine thirty but we didn't hear a peep out of her till almost eight thirty the following morning.
We were all awake; the dog had been walked; and we had had our porridge (obligatory for an Elanor sleep-over) by nine thirty and it was almost twelve when we left to go through Hunts Lock to moor in Northwich where there was a huge motorbike Feste. We rang Amanda to see if we might meet up only to discover that they (Amanda, Neil and Georgie) were 30yards away, sitting by the river, having a picnic. We stayed to see a Spitfire perform, Nick photographing to produce the montage, and then all travelled down to Anderton Country Park where the children had plenty of space to run around: having had an ice-cream, we all returned back up-river to Dukes Way. Patrick joined us for a supper and then quiet and peace descended when Elanor went home to see Mummy! Tomorrow, Nick leaves for a few days in Newbury.
10th 'til 15th May: Dukes Way and a little further on!
While Nick visits Emm, Sean, and Baby Bird down south, I stay below Dukes Way struggling to stay afloat, pole-ing the boat out, loosening ropes, and getting Patrick's help to use the engine to get us afloat as the water level went down! The highlight of my days were porridge with Elanor before school, otherwise it was a visit into Northwich to shop, a haircut courtesy of Jonno at the salon on the Kingsmead Estate (finally abandoned the idea of long hair tied up), doggy walks and lots of reading. Quite by accident I seem to have been absorbed by stories where the characters are all grieving. Two of the books were picked up in the libraries the exist in British Waterways Sanitary Stations. I can recommend all three. First, Jonathan Tropper's 'How to Talk to a Widower' was both witty, engaging and harrowing. Certainly an entertaining read, the central widowed character having an eccentric family and a step-son going rapidly off the rails. Then 'Lovely Bones' was awesome and yet again harrowing. A child who has been sexually abused and murdered is in a surprisingly convincing heaven watching her family and her murderer deal with the aftermath. I found this book brilliant in that, in my opinion, it pulls off something I couldn't conceive could be done! Finally 'The Pilot's Wife' by Anita Shreve, is again an engaging page turner, about the wife of a pilot who has a bomb in his flight bag taking a plane and its passengers to a watery grave just off the coast of Ireland. She discovers that the husband she thought she knew and loved, idolised by their only teenage daughter has a life she had never imagined and her grief turns to anger and confusion as she discovers the truth.
There was an element of drama as Nick arrived on Thursday as the water pump packed up and that is quite serious on the boat. Abby, kindly invited us for supper while Patrick rowed. (not entirely true, he ended up coxing a four!) Fortunately on Friday morning Nick managed to fix it, at least temporarily and so, after a quick shop in Northwich, a trip up the lift, and a pump-out at Anderton, we set off. Nick had agreed to meet up with Joseph and Janet on Barleyfirth with their three geriatric Scotty dogs just south of the tunnel. He valiantly attempted to beat a disgustingly filthy cloud but was unsuccessful and finished the trip and the mooring up in a cloud burst and so did not need a shower. Just to make life a little more tricky the fire went out and we had no kindling to get it started again. We survived! And tomorrow we will truly be on our way into fresh fields and pastures new.
16th May: Lymm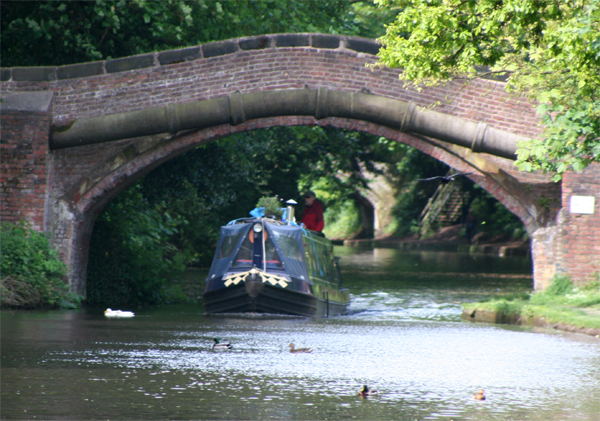 We are now in pastures new. There was very heavy rain during the night and I awoke with a sore throat and the beginnings of a cold, though I wasn't the one who was soaked to the skin last evening! I did a lovely, but damp, walk into woodland to the west. As we passed the wood an hour or so later, the smell of wild garlic was intense and soon we were through the stop lock and through the Preston Brook tunnel, third time this year, fifth time in all. Within a very short time we were on the Bridgewater Canal, the only non British Waterways owned canal, with Janet and Joseph in close accompaniment. With our BW License we are allowed just one week at a time on this canal. For the next day or so we will be travelling in a north easterly direction. At first the canal was wide, built high on an embankment with a drop down to the Manchester Ship Canal which runs parallel a mile or two to the north, and beyond, the cooling towers of a power station. Soon it became more rural passing through pleasant woodland and small canal communities. We are now in Lymm, a delightfully pretty small canal town with all the necessary amenities, We collected kindling and wood en route so we have a fire going to dry Nick's things, and the damp doggy towels, from last night . We joined Janet and Joseph at a very busy and very traditional pub for a companionable drink with lots of canal talk. I'm beginning to feel just a little more informed and a little less uncomfortable about using the industrial canals over on the other side of the Pennines. Although I had half prepared a meal, I'm afraid we followed their example and visited the fish and chip shop. Again, no television tonight due to close proximity of high buildings, and there was a part of me (a small but insistent part) that wanted to tune in to see the new format Eurovision Song Contest. Will Mr Lloyd Webber's involvement change the nation's dismal performance in recent years, or will the great man be humiliated? I guess I'll find out tomorrow and at least I'm now fully up to date with the diary. Tomorrow we head for Worsley..............
Sunday, 17th May: Worsley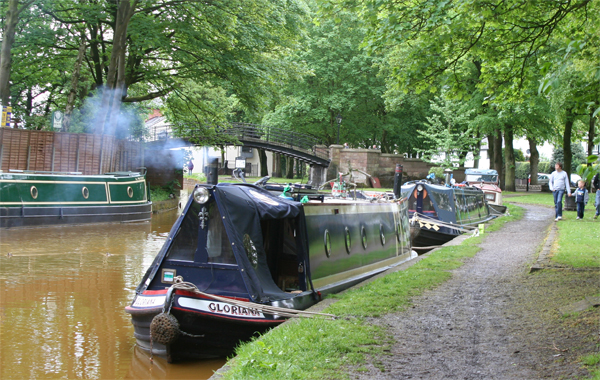 .............. and it was there that we arrived at about three in the afternoon. Maybe you will recognise the scene, particularly the bridge in the background: reminiscent of the recent showing of a well known TV soap.
It was a bright morning and I woke especially early in the saloon at the front of the boat: I'd opted to sleep there thinking that I would be less likely to pass my sniffles on to Nick, and, there being no curtains at the front of the boat, I was awake early. Caspar and I shared our outbound walk with a Spaniel puppy who was intent on jumping up and running round Caspar to make him play but to no effect! When I got back we had breakfast and I then picked up a lift from Judith and Chris who were taking me to Sale Meeting. Chris, it seems, is meeting with John Perkins from Newbury next weekend as a fellow Seeker! Sale Meeting House is approached by one of two drives and was built when pressure on space for burials in Manchester caused them to purchase a site in Sale in 1856 for use as a burial ground and on which they could also build a Meeting House (a link for my Friends: http://www.manchesterandwarringtonquakers.org.uk/page18a.html). Judith showed me the large gardens. especially lovely with an amazing number of shrubs and the variety of trees with an amazing range of greens. I was warned that this was a small meeting but I believe there were at least 15 worshippers who met this morning in the beautifully simple and light stables. It was a lovely meeting with a number of short but powerful ministries. Two long standing members of the meeting shared their feelings about the power of silent meeting for worship. One phrase I hadn't heard before was that the depth of the experience was "sufficient for a lamb to paddle or a whale to swim". Mention was made of their appeal for the education of Zimbabwe's children, the current appeal. A lady, who may have been Zimbabwean, then spoke movingly of finding God where people saw suffering and helped. After meeting we had coffee, and I chatted with a lovely gentleman who was an old boy from Leighton Park and had served on Leighton Park General Meeting for many years. I then walked in the rain, down through the town, past the Robert Bolt Theatre and found Gloriana awaiting me. Gloriana's journey from Lymm was uneventful: the first part being through attractive countryside typical of most of our travels, changing to an accompaniment of utilitarian building for most of the passage through Sale.
We had a touch of lunch whilst waiting for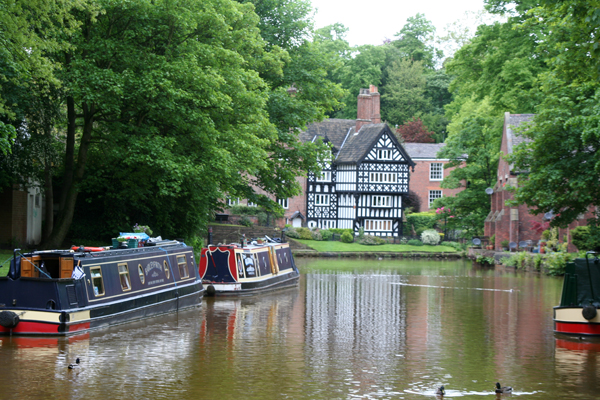 the rain to stop, then travelled on towards Manchester and Waters Meeting, a junction which does not claim to be beautiful or remarkable - not even a sign, so Nick yelled for the Nicholson to check
we were on track. We were 'saluted' by dozens of disconsolate fishermen - clearly a beginning of season competition. Onwards we cruised through the backside of Trafford Park and towards another major feature of the waterways, the Barton Aqueduct which spans the Manchester Ship Canal which apparently can be gated and swing open to allow huge ships onwards into Manchester. Then we were into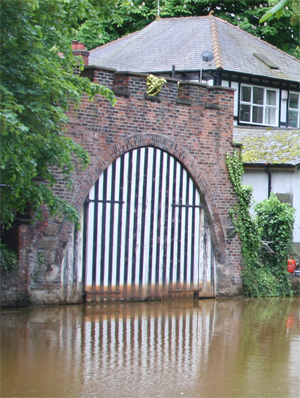 Salford, reminding me of times past when Patrick was at Uni there. Although it was pretty built up, there was no evidence of the litter I remembered from back then; there were even lily leaves, and Janet and Joseph had seen a kingfisher as they passed through earlier! In no time at all we were in an altogether more rural setting - through the hedgerow and trees lining the northern bank I saw sheep in the fields. Then we were approaching Worsley, another particularly interesting canal-side settlement. Across the cut is a rather grand boathouse built by Lord Ellesmere to house Queen Victoria's Barge, built for her visit in 1851, with battlements to prove it! Ahead of us is the handsome timbered packet house. This is indeed a beautiful spot but it is still quite rainy. Luckily though most of our travelling has been in the dry and glory be, in spite of being quite enclosed with overhanging trees, we have a TV signal. My cold is not leaving me feeling particularly glorious at the moment - it appears to be a quite heady cold and is at least as bad this evening as it was yesterday. I do hope I haven't passed it on to anyone.
Tuesday, 19th May: West of Adlington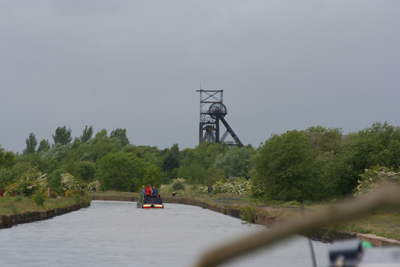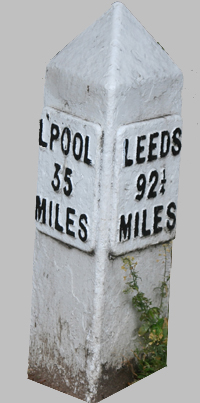 Monday was a relatively uneventful day travelling through old coal mining territory, ending moored below Wigan on Scotmans Flash. It was quite lovely - the flash (outcome of strip mining) is a large, tranquil expanse of water, now used for recreation - we saw a number of sailing boats across the water. We were on an embankment eight feet or so above the water and on the other side of the cut were brilliant golden gorse bushes among birch trees and open grassy areas. There was so much sky and light it felt like the Broads or the seaside!
As agreed with Joseph and Janet the night before, Tuesday started early, Nick moving off on the strike of eight to prepare the first lock and we were soon through the first two, introducing us to bizarre gate apparatus requiring the use of "handcuff" keys, an anti-vandal measure.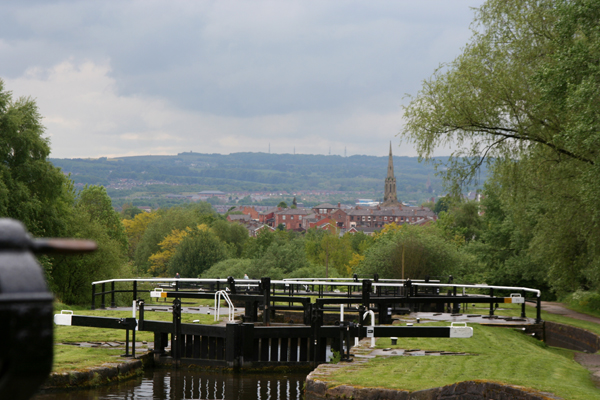 As we left our overnight mooring we were delighted by three parent Canada geese with eighteen fluffy goslings in close attendance. I made a hurried foray into Wigan to do shopping and by nine forty five we were on our way up the Wigan flight.
Recollections of Missing Section
Recalling the Wigan Flight is not an especially rose-tinted affair: it didn't rain all the way but there were a few downpours, many locks leaked badly, many ground paddles did not work, there was a jungle of vegetation on some of the gates and I experienced my first horizontal locking mechanism. Finally, we did not stop to chat to the BW lock-keeper, who stepped out of his rusty metal cabin to take a cursory look but didn't even acknowledge us. Together with our fellow travellers, Joseph and Janet we did 22 locks that day with a short lunch break and still, we travelled on, through a picturesque section, through the grounds of Haig Hall and onwards towards Adlington. After a long day it is a lovely moment when the engine is finally turned off.
We pressed on still further the next day as the weather improved somewhat by the time we reached the bottom of the picturesque Johnson's Hill Flight there was enough blue to set off the lovely green and cream (hawthorn) rolling countryside. At the top there was the spendid Top Lock Pub where we all enjoyed some real ale and some pub grub. We were delighted that there was live music that evening, so we enjoyed a wonderful, lazy sunny afternoon before a lively evening.
20th May: Adlington East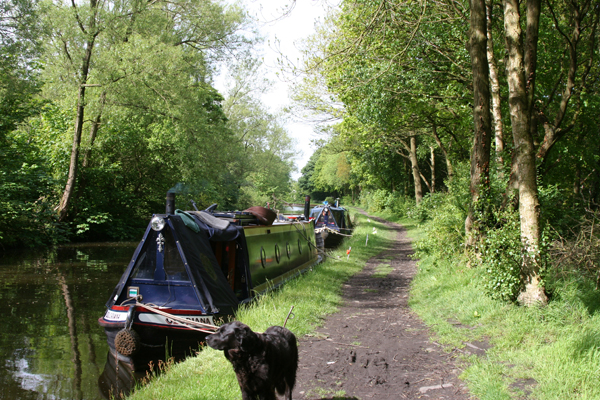 Sunday 24th May: Oswaldtwistle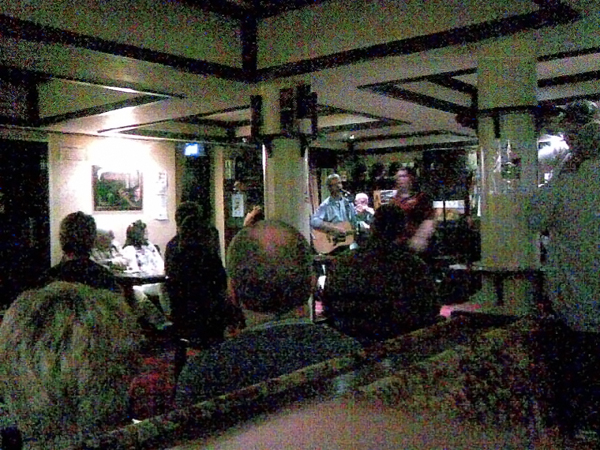 A great evening on Thursday - a really rumbustuous band with some gutsy talent though I'm ashamed to say we didn't quite last till the end of the evening. Friday was a really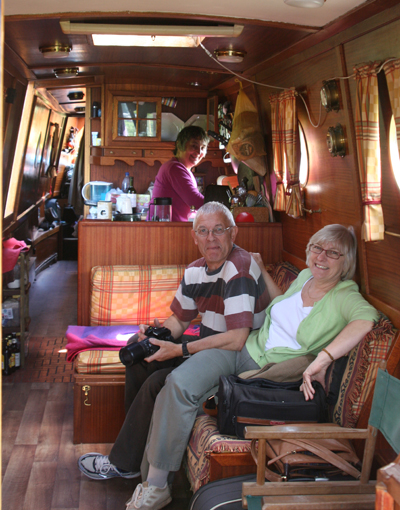 disappointing day, cloudy and rainy when we'd thought the weather was really on the change, and we did the not-especially-pleasant flight through Blackburn and on beyond to our present mooring just near West End, Oswaldtwistle. After intensive travelling for 8 days we have two days before the final haul to the summit. Saturday was a washing day and Nick caught the bus into Blackburn to get engine oil and filter and, having also bought a new bowsaw, cut the remaining wood on the roof, surely the last we'll need for a while. We were expecting Chris and Lynn, formerly of Newbury and now Bristol, to visit us overnight enroute to Scotland. Lovely to see them again and one of my stir-fry's I considered an especially successful effort. We had a bit of a gentle disaster with the bed in the saloon which collapsed under Lynn in spite of the thorough sorting of it by the boys! The delightful thing was Lynn's giggle as it slowly went, ending with a bump - in the back I knew 10 seconds before the bump that it was happening! It was sorted and there were no further mishaps during the night! Saturday had dawned grey but as the day went by it improved and the good weather has continued today, Sunday. We had breakfast in the cratch - not quite the full mammoth jobly but acceptable for a boat, and we saw them on their way at about eleven or so. Nick then sorted a more secure fixing for the satellite dish while I enjoyed the sunshine. We are sharing a joint of pork with J&J tonight, and as I speak it is starting to smell yummy. So we've had our first full summer's day, a breeze making it just perfect. A splendid end to the day watching the televised final of the National Poetry Children's Presentation where the 12 finalists are presented, performing in the Sheldonian Library in Oxford. I believe all children in all schools should learn at least one poem per term - it would really enrich their lives.
Wednesday 27th May: Barnoldswick (pronounced by locals Barlic)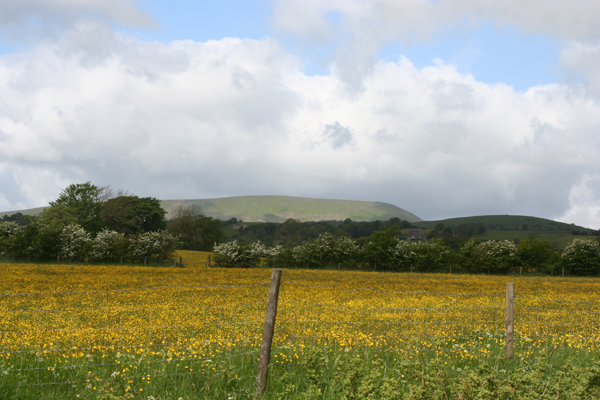 On Monday we started our travels eastwards and northwards, a long day, lock-free, hugging the hillside with beautiful country and lots of industry, particularly through Burnley. There were some squalid areas with rubbish in the canal, though not too many. The weather started wonderfully as we set off with Pendle Hill hazy in the distance beyond the white of the hawthorn. There was a handsome mill, weaving sheds, and a wharf with beautiful stone buildings, just before the straight Burnley Embankment, 60 feet high above the busy town, mammoth Tesco, busy central bus depot, whatever. Onwards we went to Junction 12 and Bridge 139 where we moored for an hour or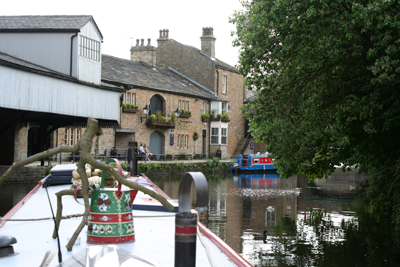 so to wait for Abby who was bringing Elanor for a 24 hour sleepover. By this time it was grey and overcast though, as I was told at the checkout, that the sun would shine for awhile in Burnley as they had won 1-0 at Wembley and would be promoted to the next league. This also reduced the likelihood of vandal problems on the cut! Elanor is full of beans as per usual, and whisks me through Morrisons at Nelson. There were certainly as many Muslims as Anglo Saxons on the shop floor, and as customers, and a beautiful and imposing mosque could be seen from the front of the store which was accessed by us from the rear, with the use of a handcuff key from the canal. We reached J&J moored at the bottom of the Barrowford Flight on a drizzly grey evening, and Elanor was charmed by Joseph. We had a late supper after sorting the shopping and a scrummy chocolate pudding selected by Elanor for our delight!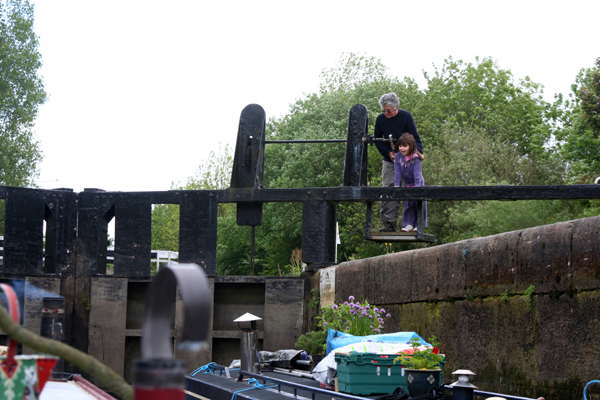 Another good long night. As usual we are banished to our bed area once she is in bed, but she slept for a good eleven hours. No point in hurrying in the morning as the locks are secured 'til ten because of water shortage issues on the summit.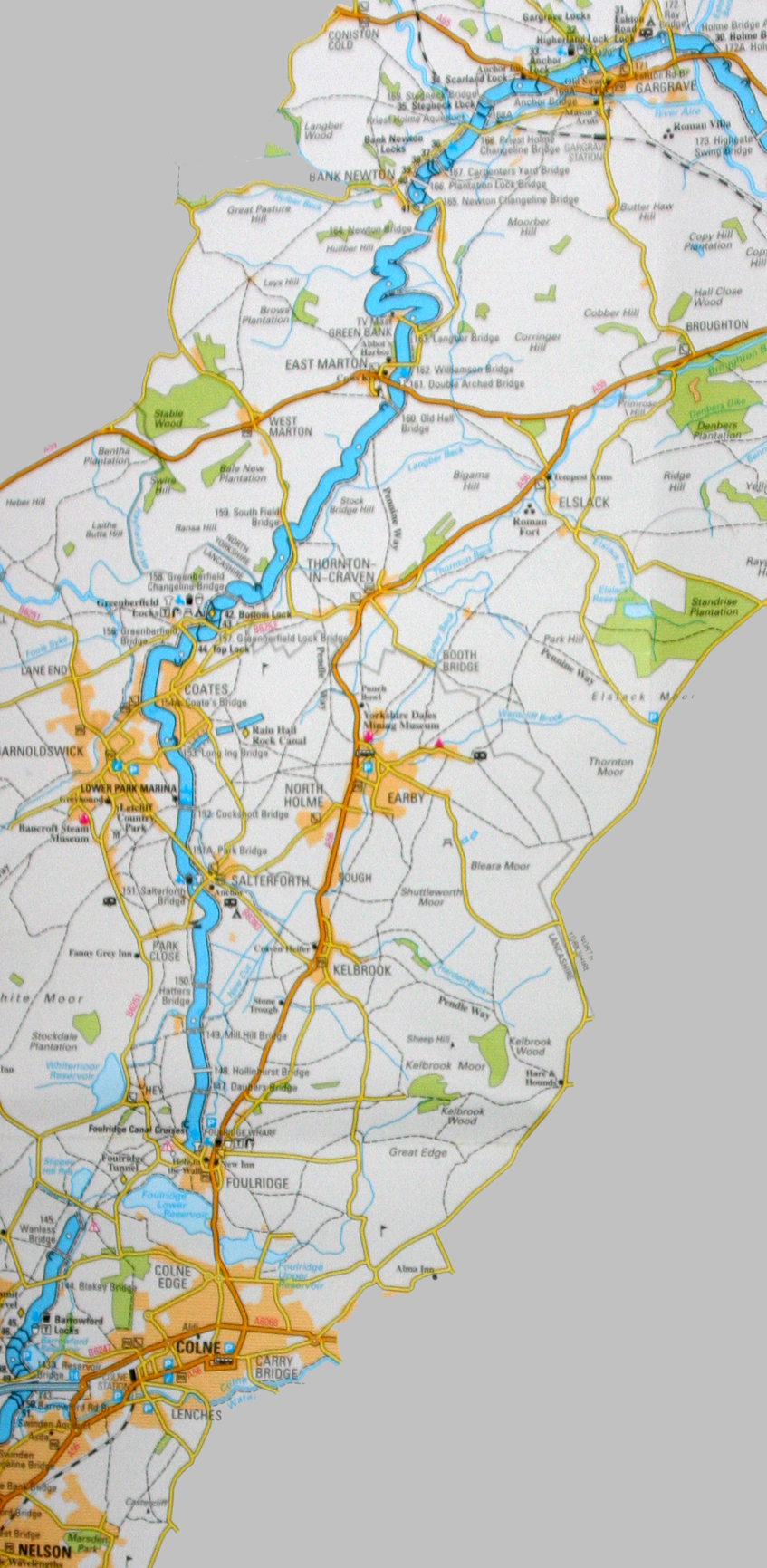 Whilst Nick completed the oil change started the night before, Elanor and I went on a Dora-the-Explorer expedition into the freshly planted forest of young trees, oak, rowan and birch with Elanor and Caspar bravely leading the way! Finally Elanor, anxious to be on her way, spotted the lock keeper unlocking the bottom gate and the 'girls' set off to prepare the first of seven locks which would take us to the summit of the Leeds and Liverpool over 450feet above sea level. Most of the locks have issues - generally one ground paddle not working, The gate paddle mechanism is so high on a number of these locks that a platform is built for the boater to climb upon! Elanor cannot decide whether to stay on board or help on shore but starts and finishes on shore. After the first two locks we pass under the M65 and the Reservoir Bridge, high above us, and then find ourselves in glorious countryside with blue skies. This is really a splendid canal and the countryside is grand. We leave J&J after Elanor had had a tour of Barleyfirth, and travel on towards the Foulridge Tunnel with its traffic lights: Elanor is especially excited as most bridges she considers tunnels and this is a "very, very, long, long, dark,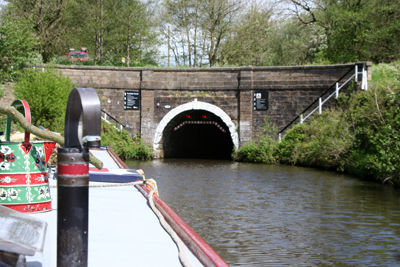 dark tunnel". So she stays at the front of the boat staring fixedly at the red light till it's 1.30 and it turns green! We have been warned that this is a very wet tunnel so Nick gets dressed appropriately and a shriek from Elanor tells him to set off! Elanor and I sit at the front, cosy and warm while Nick is rained on and deals with bats. The tunnel is 1640 yards in length and we see the pinpoint of light at the far end as we enter and we count the ventilation shafts casting pale light as we pass along in the dark. I turn on the light in the cratch but Elanor instructs that it be turned off so she can enjoy the dark drama! Finally we are out into the brightness and warmth and on the Yorkshire side of the tunnel in glorious countryside. We travel on to Salterforth where we await Abby. I prepare a late roast lunch while Nick claims a pint in the splendid 15th century Anchor Inn, and Elanor amuses herself with pencils and paper, and the swings in the pub garden. We trick her into insisting on two helpings of spring greens by telling her it's grown up food which we alone wish to have all to ourselves! She has a substantial meal followed by fresh pineapple. After the meal there is an hour or so to amuse her. One thing she says tells us of her values - we were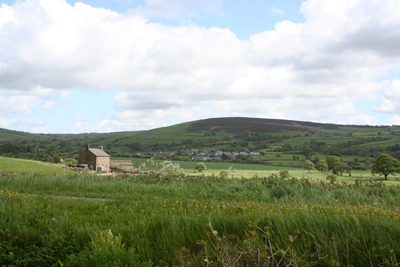 talking about toys and books and she said that "poor children would only have books and no toys". Mum and Dad clearly need to work hard to change this so that she sees books as a way into new, exciting, and magic worlds. I spend some time with her in the pub garden where she would swing forever. We then noticed a cheeping coming from the dry stone wall and found if we kept very still and quiet the mother and father great tit would sweep to and fro in the blink of an eye! So we enjoyed a few moments of stillness and quiet. Lovely! Abby arrived some time before six and we said our goodbyes. A quiet evening was had with nothing more than a stroll along the cut and a drink in the bar (with distinctly Yorkshire voices as opposed to the broad Lancashire twang we had heard in Blackburn and Burnley) before a light supper, and a splendid programme on the poet John Donne on BBC2 before bedtime.
As expected, Wednesday started wet! With fortunate foresight, Jackie got up when she first woke at 6-ish and took the dog for his morning constitutional in relatively dry conditions: she then went back to bed and was rewarded with breakfast therein when I arose at seven-thirty. We had decided not to travel in the wet conditions, but, by half past two, the sky was certainly brightening so we set off for the Greenberfield locks on the other side of Barnoldswick. Regrettably, the services there do not allow self-pumpout so a decision will be made in the morning as to whether to go back a mile or so and pay for the service at the local boatyard, or to take a calculated chance and go on to Skipton. The internet connection is very poor where we are at the moment so there may be a delay before this is available to read so, in chronological terms, our decision will be historic.
Friday 29th May: East Marton

We are now well into the Pennines, into Yorkshire, and on Friday the sun is shining!
But on Thursday it remained quite grey and damp well into the day. An early start saw us winding at the top of the locks and we went back to the boatyard for a pumpout. This later proved the right decision when we heard from a boater coming upstream that there were problems with the Gargrave flight that had halted traffic for an indefinite period: we subsequently learned that a paddle had failed and a pound was drained - all in all it will delay us by two days, normally not a problem, but it would have been had we been racing to Skipton to empty our tank!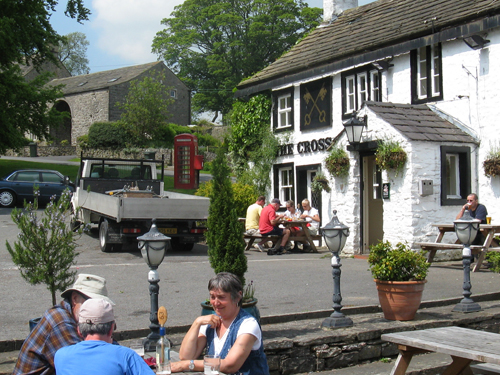 Whilst we were in Lower Park marina, the boatyard, we took advantage of their electricity supply which allowed the completion of two loads of washing, and whilst this was doing, Barleyfirth passed us agreeing to wait for us at the top of Greenberfield locks. By early afternoon we were down the flight and, after a little difficulty, found a mooring for the night. Because of major maintenance work on the reservoir that feeds the canal its level had been reduced resulting in reduced levels in the canal, on the top pound as much as 12 inches.
No matter, we were in a lovely area - J&J suggested a visit to The Cross Keys, past the picturesque 'piggy back' bridge, a pub they remembered with fondness. The Cross Keys stands high above the cut and access involved negotiating a busy road or a field of sheep. In the evening Joseph invited us to share his barbeque so we enjoyed a balmy summer evening with him, Janet and 'prickly' Scotties, Bella, Brandy and Teddy. We enjoyed the sounds and activity of the wild life around us until it started to cool at nine or so. We're in tee-shirts and Nick has taken the cratch down to paint - that didn't happen for the whole of last summer.
Saturday 30th May: Gargrave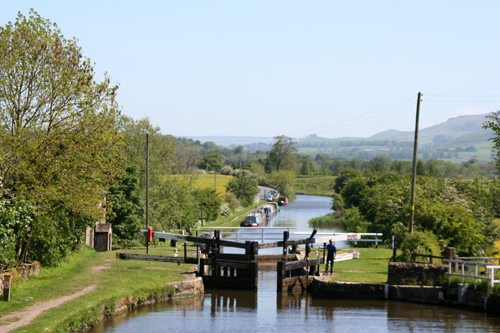 Nick finished his electrical work on the horn/light before setting off today through wonderful countryside, the canal winding through spectacular scenery before its descent of the six Bank Newton Locks, a stop for coffee and water before progressing through continuing beautiful country, and through three more locks which lead us gently down into Gargrave. We are now somewhat further north in latitude than Blackpool, and at the most northerly point on the Leeds and Liverpool. Besides the spell-binding weather we are enjoying we have received the cheery, helpful attention of British Waterways staff. At one point a BW chappy rushed to my assistance when a swan was blocking access to a lock gate. We are one day short of our one year anniversary on the canals and this attention has to be given a solid gold star: we have experienced neither silver nor even bronze status elsewhere! Long live Yorkshire and their BW linesmen! Janet and John, both Yorkshire-born themselves, nod smugly and exchange looks as if to say, "We told you so!"
Gargrave is a small town/large village with a decent size Co-op, butcher, florist, chemist, sweetieshop/tea room and tea shoppe/antiques. Oh yes, and a quality second hand shop, highly recommended by a fellow boater which I found shut at 4.10! No TV signal tonight so that avoids the temptation of seeing the final of Britain's Got Talent. Instead I'll demonstrate that I have tastes of a somewhat higher cultural nature. I've just finished reading Rose Tremain's 'Music and Silence' which I believe is the best book I've read for a long time. It is a beautifully written, darkly comic, historical novel set in the 17th Century in the later part of the reign of King Christian IV of Denmark. There are wonderful characterisations throughout, one the king, another his consort, a crazed libertine, a young girl in her service and an English Lutenist, plus a host of convincing support characters. many wildly eccentric yet entirely believable. The historical time was also well researched and convincing. Perhaps you can tell I was impressed. In spite of this, the romance (amid the rombustuous sex) is beautiful and devoid of sickly Dickensian sentiment. Also, the reader is held in suspense till the very end. I've learned a great deal about Danish history and will be looking out for any of her other books. But I still feel cheated about not having tele' tonight!
Tomorrow I hope to be picked up with a lady up the road and go to the Quaker Meeting in Skipton. As happens so frequently, a simple request allows me to visit a Meeting when it would otherwise be impossible.
Sunday 31st May: Gargrave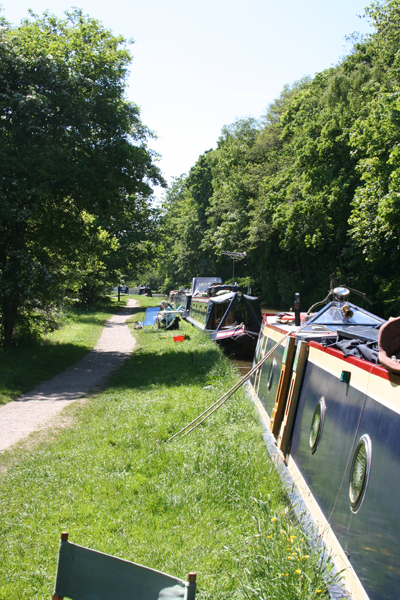 Another bright morning, chilly on board (no fire now) but I stepped out at 7.30 into a balmy morning where the warm clothes I had donned were quite unnecessary. A short-ish walk took me downstream beyond two further locks to be negotiated in a day or so. Meanwhile Nick decides there is work to be done while the sun shines and today two portholes have been removed to be resealed and some rust treatment and painting started.
I await Sue, a fellow boater, who has asked to come along with me to Skipton Meeting but she is running late and I walk on because of my 'iffy' knee and we manage to miss each other, which is a shame. She has promised to take me to an old Meeting House at Ilkley (as in the moor bar tat) while we are in the area. Mike picks me up with a member of Skipton Meeting who needs a lift and we travel just north of the canal into Skipton which is a beautifully unspoilt Dales town. The Meeting House is very old, approached through a fragrant and colourful garden. Worshippers sit on either side of a central partition with screens, which once separated the men and women in business meetings. It was pointed out that it was the women who had the pleasure of the fire! There is the a high bench at one end of the room and free standing benches at either end of the room with chairs in the centre. Windows, surprisingly low. provide bright light, the floor stone and the walls ivory. Fresh flowers abound on the window sills and ledges mid-way. It is a beautiful, and spiritual space. Through the garden is another building with further, more practical, meeting rooms, with an attached dwelling where the lady member responsible for the beautiful garden lives. Ministries hinge around a member's recent visit to a small town in Italy where he was billeted during World War II. The initial ministry was clearly heartfelt with further ministry from another member with powerful memories of the choice he made at that time to become a conscientious objector. A final ministry from a younger member about going back to his childhood home and consideration of the amazing way our lives are shaped brought us back to the present.
I walked with the dog in the afternoon to find a lovely river where he could cool off. It looks like we're here for at least another day; jobs must be done while the sun shines! It will continue for the week but mid week we are promised far lower temperatures. Nick has pulled us along 50 yards beyond some trees and 'voila' we have a TV signal tonight. I've heard poor Susan Boyle didn't win the show last evening. I think the Queen should request that the runner up should perform. She must be gutted!
And so our first year away from Hungerford and away from our old life comes to an end. Gloriana's engine has run for 613 hours since we set off which very roughly equates to 1600 miles travel. Our living expenses have been just under £1000 a month (food, fuel, communications, beer, circa 75kg choccy biscuits - everything) though there has been some capital expenditure on the boat, but above and beyond all of this, we have had a great time!