Sunday October 11th: Garstang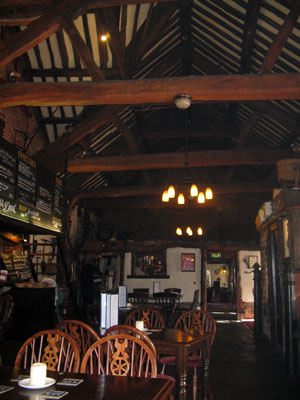 We arrived back yesterday after a lovely time away marked by Niels and Didi's wonderful and memorable wedding celebration at Highclere Castle; by the generous hospitality of Tim, Nick's baby brother, who put up with us and even coped with assorted family members, especially grandson Joe; and by a night of 5-star treatment at Hinckley with Matt and Eileen. Many, many thanks to all those landlubbers! Unfortunately we were unable to get the car back by midday and this was a mixed blessing. It meant we had the car for the rest of the weekend so we could unload in a leisurely fashion and plan an excursion on Sunday. However great a time you've had away it's always good to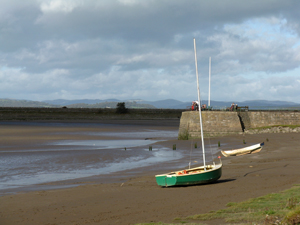 be back - though I have tripped over Nick's feet a few times today, in the restricted space! We had thought of driving up into the Lakes and going to Meeting at Brigflatts but we didn't wake up in time and I walked to the Calder Valley Meeting House in Garstang in grey drizzle and Nick picked me up. We headed back to the boat having been given ideas for an excursion but needing to consult AutoRoute. We ended up parking at t'Aud Tithe Barn, a hostelry across the cut. It dates from 1710 and is a magnificent building with some good ale, a log fire to warm me after a cool Meeting (issues with the heating!), and we had some lunch before setting off for Silverdale where we parked up and took a splendid walk down through woods to Jenny Brown Point, to the north of Morecambe Bay, near Silverdale. We travelled then to Arnside, crowded with visitors on this lovely, sunny October weekend and watched the sea swiftly coming in so that chasms in the mud, several feet deep were covered in the 20 minutes or so we walked. Apparently there is a siren to indicate the moment when the tide roars in. Bernard has since told us that it comes in at anything up to 40 mph! It was splendid, with wonderful views across the estuary to Cumbria and the Lakes. After all that fresh air and exercise we're about to fall into bed!
Wednesday October 13th: Carnforth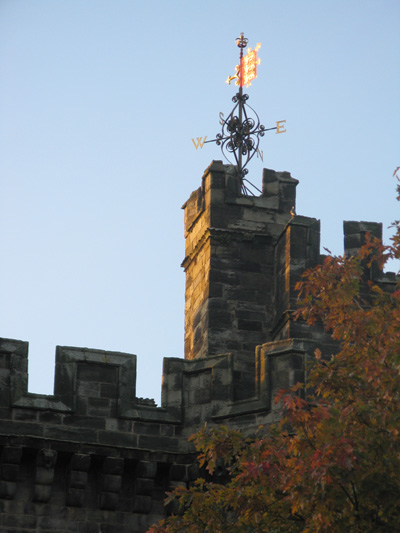 We've had a busy few days. On Monday Nick was up early to return the car to Preston. This was especially important as I had arranged to meet up with Bernard, from Newbury Quaker Meeting, in Lancaster on Monday afternoon. It took us four hours or more and there was no sign of him as we arrived. I slipped into the city centre to get some Neurofen, as my knee was quite painful after the challenging terrain of yesterday. As I was away, Nick phoned to say somebody had been looking for us up by the aqueduct. As we were debating whether to move in that direction I spotted Bernard coming towards us! After a quick cuppa we were treated to a unique tour of Lancaster, Bernard-style. He has cheery memories of graduate and undergraduate life here, and his phenomenal knowledge of history and names of eminent local personalities was rem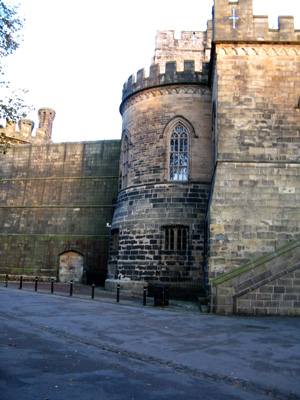 arkable. First, we went through White Cross Mills, for the most part, now beautifully restored as apartments. We then walked down to Dalton Square where there was once a Dominican Monastery, now Council Offices. We passed Abbey Palatine Hall and the Reform Club before passing St Leonards Gate and into Theatre Land. Lancaster boasts three theatres, one of which is a listed building with the original stage mechanisms. We went down Church Street and saw the house where Bonny Prince Charlie stayed on his journey south, as far as it went, and into Meeting House Lane where he pointed out the building used by Quakers for adult education and the Storey Institute, now a gallery and Tourist Information Centre, once the Mechanics Institute. Lancaster was once the fifth largest port involved with the Slave Trade. Iron was shipped to Africa, whence slaves to the Caribbean, and the trading triangle completed by sugar brought back here. This trade brought much wealth to the city, including to a number of Quaker families. We walked up to the castle where George Fox was imprisoned, and Bernard assured us that the Quaker prisoners would have been relatively well treated because wealth allowed luxury. Friends and supporters would have been able to deliver food and drink; he would not have been on bread and water! We passed the Rawlinson Memorial, close to the round tower where the gallows were at one time often erected: it seems that the Rawlinson's were friends of George Fox and they were involved with the slave trade. It's great we saw the error of our ways and were deeply involved with the movement to end slavery. We moved on down to the River Lune past the negligible Roman remains where we saw the Customs House, now the Maritime Museum, passed through the area where ships were built, passed the Sugar House and Leper Hospital and wearily (me a trifle hobble-ingly) back to the canal. We were then ushered into Bernard's smart red car and driven to the Jubilee Tower, high up on the side of the Clougha to enjoy an amazing view over Morecombe Bay. We missed sunset but the weather was fine and clear; the tide was in and there was water gleaming in the Lune and the bay and we saw the lights of Blackpool (yes we ident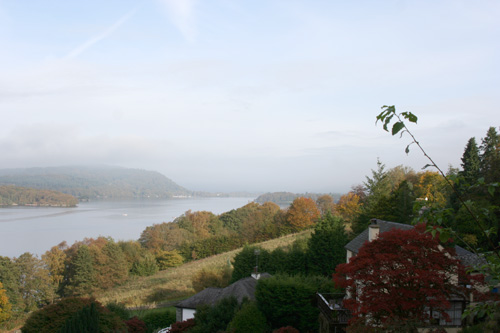 ified the tower!) then Preston, Fleetwood, Lancaster, Morecombe and to the north, the lights of Barrow or Blackcoombe. Finally there were lights out at sea! Stunning! Then back to the boat for mundane things like eating, discussion about an excursion in the car on the morrow, and bed!
So we rose on Tuesday to a settled but indifferent sky. After breakfast we set off north, heading first for Windermere. by the time we arrived the sun was starting to shine and the Autumn trees around the lake were exceedingly pretty. By the time we were in Windermere (left, and footer picture below which, but for the grey sky, reminds me very much of Lake Garda) there was evidence of lots of people so we did not stop but motored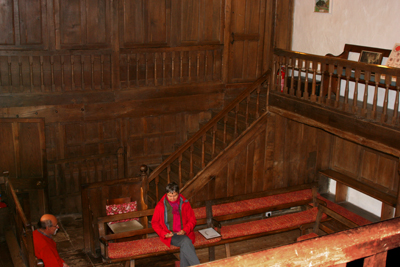 on through lovely countryside with Nick navigating to find our way to Firbank Fell, though Bernard seemed exceedingly familiar with the locale. There were already a group of walkers investigating the area and reading the plaque and the three of us wandered round attempting to absorb the atmosphere of this historic Quaker site. I was even more impressed with Brigflatts Meeting House, built in 1675 and just three miles away (click here to see our pictures). The warden came out from the house next door and was warmly welcoming, showing us into the building and offering us a coffee, much appreciated. But the building, inside and out is just beautiful, so serene and well looked after. One senses the spiritual history of the place. It's good to know that there is still an active Quaker community here in spite of it being remotely rural. We continued our journey through remote unspoiled country and arrived in Dent, a charming village with cobbled streets - real Hovis country, northern-style and stopped for a light lunch in the village pub before continuing out round trip, passing the school in Kirkby Lonsdale where the Brontes were educated (how does Bernard store all his knowledge!) and came back into Lancaster and an abandoned Caspar mid to late afternoon. After a stir-fry supper and lots of informative chat (thanks Bernard!) we had an earlyish night as Bernard needed to hit the road and return to the south if only to reunite with the blood pressure tablets he had left behind. Two great days reminding us again that it's good to have visitors aboard.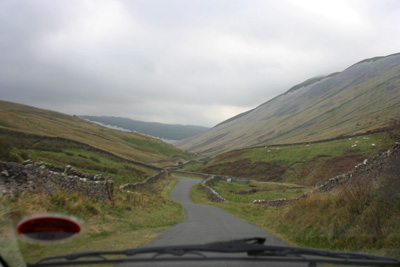 Thursday 15th October: Hest Bank
After farewells to Bernard on Wednesday morning we set off northwards for the last time, to say farewell to the northern reaches of this lovely canal. Passing Hest Bank northwards the visibility out west to Morecombe Bay was poor and we reached Carnforth where I nursed my knee and Nick struggled with some engine issues, tightening bolts and adjusting transmission, I think. We awoke to even thicker and greyer murk, but after a quick shop in our favourite Booths, we set off back south in warm and much improving weather. There was a bit of an issue when we crunched into the side before the swing bridge (the only obstacle which requires abandoning ship to ensure progress on this canal) as Nick discovered that he had no reverse, and thus no brakes, after this morning's tinkering! So this afternoon there has been further tinkering and we live in hope that the problem is now sorted! The views of Morecombe Bay as the canal approaches Hest Bank I found breathtaking yet again: moored where we are I have been out onto the towpath a number of times to enjoy the changing hues of sky and bay. There's a chap with his dog sitting on the elegant wrought iron bench just close to us which has a horse drawn boat on its back and two elegant miniature trees on either side. He says there have not been that many evenings like this in 2009 - in fact, boats have been pulled off their moorings here when there's a strong westerly! It's been quite balmy and I only lit the fire an hour before bed-time.
Friday 16th October: Galgate
A morning when, again we are blessed. My first glimpse of the bay on a cool but bright morning was a bit disappointing because the tide w
as in, which visually, from a distance, is not so interesting. The wonderful thing about the bay is the amazing views as the tide goes out, with the shades of colour as the water drops onto the sand and changes with the changing light, moment by moment. It's certainly a beautiful place to live and walk, particularly when you get fair weather and views to the north towards the Cumbrian hills. This is our last opportunity to walk on the beach so bugger my sore knee, I take a dose of Ibuprofen and go for it! And it's well worth it. The tide is still coming in through the grassy-topped mud banks and the views are amazing, especially to the north. Just as we are about to leave the beach, flock after flock of sea birds fly by, just skimming the water and with the sun and water they are gleaming like silver or white gold! Gosh! Am I getting poetic? No wonder. I'm just finishing a wonderful book, 'The Shipping News' by Annie Proulx (won the Pulitzer and now a film starring Kevin Spacey, Cate Blanchett and Judi Dench - how come I missed it!) The book for the most part is set in Newfoundland and it took a while to adjust to the style - at once disjointed and poetic. I almost feel that, like Quoyle, the central character, I have weathered the harshest, cruellest winter and been reborn. What wonders the charity book shelves provide. Strongly recommended and I don't quite see how any film could ever do justice to the book, especially as the main character is as uncomely as Kevin Spacey is comely! The ending of the book is especially wonderful! I'll say no more. Real tears and noisy laughter within moments and I've already ruined it for Nick. As we leave Hest Bank after coffee, and nursery school business (frantic at the moment!), the tide has turned and the wonderful colours created by water, sand and sky are starting to show.
Sunday 18th October: Park Head Bridge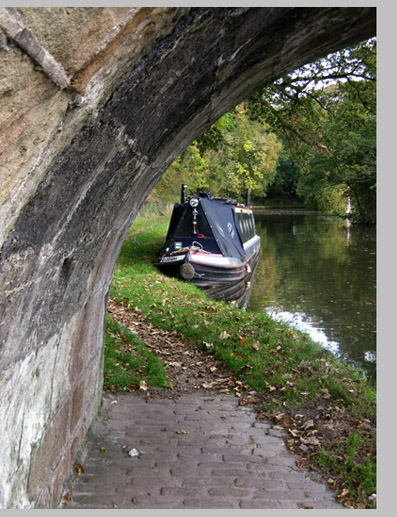 Well, it's all a bit different tonight. We are now heading south and outside the drizzle has turned to heavier rain. We are heading for the Ribble Link crossing with the weather, so settled for the last few weeks, on the change. On Friday afternoon we moved on southwards for a while and stopped overnight in Galgate in fine weather awaking to our first touch of frost. Moving further south on Saturday, we stopped for wood. It's not good to be without fuel now we're well into October. We ended up with half a dead oak tree on the roof which has since been cut up, with a surprising amount burned already. While Nick was collecting the wood I made a point of photographing a couple of hedges. Why? Well, since we've been in the north west I've delighted in the hedgerows, which, compared to those in Berkshire are huge and clearly, well looked after. I first spotted these wonderful hedgerows from the top of a double-decker on the way to Kendal and marvelled at their width - many a metre wide, perhaps more. I recall our Kiwi friend, Allan, saying that in New Zealand they just don't exist! Then I marvelled at the centuries these hedges had grown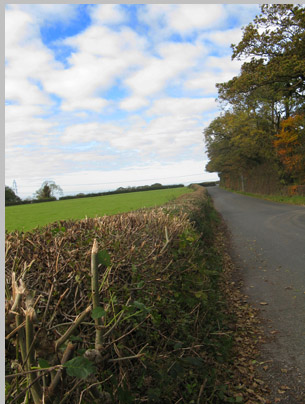 up, nurtured by man, providing a rich habitat for wildlife. The photos I took today did not do them justice. So Lancashire wins the gold award for its hedgerows. We arrived in Garstang for lunch and Nick sorted transmission issues successfully and logged the larger bits of oak. He did also have to dash up into town for fuses to sort an electrical issue. I even started my Christmas shopping in a Fair Trade shop. I don't know whether I mentioned before, but Garstang was the first Fair Trade town: there was a supplement in last Saturday's Guardian with a full page about it. Last evening we had television and I enjoyed 'Strictly', rather more than the last time I saw it (two weeks ago!) on the computer link with distorted sound. We were also able to catch up with the second part of 'Emma'; both programmes on BBC High Definition. Such luxury! I walked up to Calder Valley Meeting this morning and enjoyed a serene meeting. Angela from Bilsborrow introduced her ministry with the startling announcement that she looked from her cottage window and there was Gabriel! Gabriel was in fact a narrowboat with a banner advertising the Christian Fellowship. The couple aboard were Methodists and invited Angela on board; they had literature on board and encouraged those showing interest to attend Alpha courses. Jim and his partner ran me back down the hill to the canal. He was a GP in Birmingham and remembers a patient on one of the old working boats (just a cabin at the back!) and how he and some colleagues managed to ensure that this 92-year-old lady's wish to stay on her boat, rather than be placed in a home by social workers, was upheld. Nick was waiting and we travelled on in grey drizzle and were delighted to be greeted in Bilsborrow by Angela with a lovely greetings card. After a pleasant and cheery chat we moved on and have now shut out the dismal weather and have a fire to shut out the damp rather than the cold. We will even enjoy part three of Emma this evening.
Wednesday 21st October: Bilsborrow
Yes, we're back here in Bilsborrow, not in Appley Bridge, heading south. You may ask why! Well, Monday was spent travelling south - des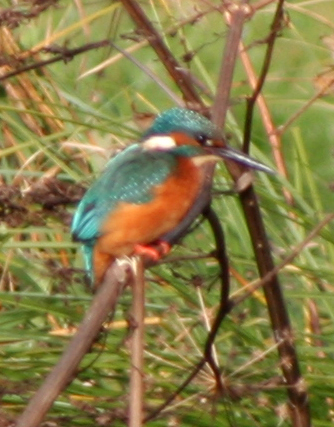 tination: Ribble Link, On Monday, I was anxious, Nick circumspect, about the forecast for our proposed crossing, and we were not entirely surprised when we had a phone call saying that the crossing for Tuesday was cancelled. I chatted to another boater, George, whose son was a pilot and always had an accurate weather forecast, and he was talking about a delay until the end of the week. A delay of that time would mean we would have serious problems getting to Marple and if there were any unforeseen problems we might be marooned where we didn't want to be. So the germ of an idea that had been festering for a week or so bore fruit, and we had a serious, but short, discussion about remaining up here in the north west for the winter: there were lots of pluses and not that many minuses; the only real one being that we will be postponing reconnecting with our Peak friends. So....by the time we had the green light for a Wednesday crossing we had more or less, made a decision: instead of following our fellow boaters at 8.00 am this morning, we turned about and, after stopping briefly to collect more wood, we chugged gently north: gently, because the canal between bridges 26 and 28 is about the most shallow we have encountered on our entire trip. A little further down the cut, Nick was hailed by Ken on Pumpkin, who, with his wife Janet, live in a cottage by the canal in Galgate: he very generously offered to be of help should we need it at any time during our stay. He also told us that, report has it that because there is no money to dredge the Savick Brook, then it is likely that BW will lift us out of the water in the Spring, presumably to drop us back in at Preston Dock for the crossing back to Tarleton. Once again the camaraderie of the canals is proven: it's good to meet local people and make friends; and we hope yet another good waterways relationship has kicked off. We arrived in Bilsborrow just in time for a cuppa with Angela. A bit of a tidy up, a little logging, and a plan to be up early to get to Garstang to replenish provisions, and to familiarise ourselves with the area in more detail. After all, it's home for the next five months. And with the foliage dying back, our friend the kingfisher is seen, and photographed, all the more easily.
Friday October 23rd Garstang.
So, yes, we motored onwards gently, stopping briefly for smokeless fuel at Bridge 54 and for more wood, as we approached Garstang - a biggish branch from a horse chestnut tree, too tempting to pass by! We now have more wood than we've ever had, all neatly chopped and stacked on the roof, and presently we are only lighting up in the evenings as it's been quite mild. We've replenished our general supplies which were running low, and not done a great deal else apart from launderette. We encountered a brace of solo lady boaters up at the sanitary station this morning: Gill on a beautiful boat and surprisingly anxious about the manoeuvring of the vessel, Unchained Melody, considering she's been on the cut a while, and Sandra, who has a boat down in Glasson Basin. We enjoyed a coffee with them and are looking forward to seeing them again - two first class lady eccentrics. Sandra told us there was live music down in the Basin twice a week so we'll return there for sure.
Sunday 25th October Garstang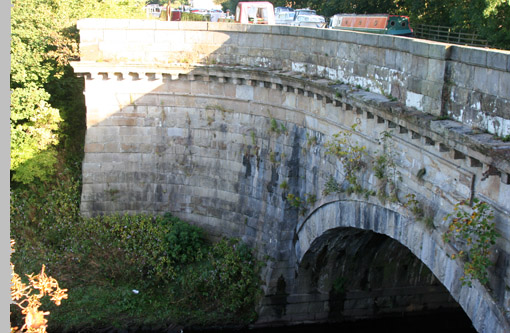 Absolutely no regrets at present about our 24hr/'spontaneous' turn-about last Tuesday. We've had nothing but welcome from the cut and from Friends at Calder Valley Meeting this morning. Yesterday offered our first significant autumn/winter storm. Rainy weather yesterday but I managed to identify the library and YMCA Recreation Centre - various classes; yoga, tai chi, gentle exercise! There is a swimming pool a little further out of town - not certain how far yet and further classes there! I intend to attempt a degree of confidence on the bike but Swe can't get a foot pump to sort the flat tyres till we get to Lancaster. I'm already impressed with the shopping here in Garstang. The newly opened Booths, as I think I've mentioned before, is excellent. We're especially impressed with their artisan breads. There are a couple of butchers, a greengrocer, a health food shop, a knitting and handicrafts shop, an arts and crafts gallery, a fair trade shop, a book shop, excellent shoe shop and independent clothes outlets, a co-op, especially useful for our fair-trade coffee and chocolate, a fishmonger with game at reasonable prices and Morecombe Bay shrimps - a bit pricey but mixed with some salad they made the yummiest sandwich I've had in a long while! Oh yes, and an impressive market on Thursdays and a Farmers' Market weekly. Last night was incredibly blowy for most of the night which means that we both enjoyed an indifferent quality of sleep. I walked up to the Quaker Meeting in blustering conditions and was greeted with surprise! Most of the Meeting were off on a 5 mile hike along the River Lune after a Jacob's Join (Bring and Share) lunch. The weather has improved somewhat so they should have managed a mostly dry walk. It's Half-term Week so I'm looking forward to seeing Patrick and Elanor, arrangements still to be confirmed.
Tuesday 27th October: Hest Bank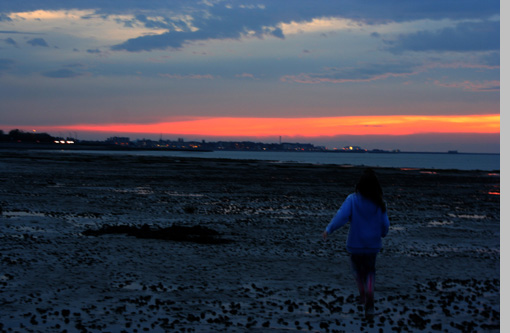 On Monday morning I caught a bus to Preston where I changed to the X2 Express (huh! 30 miles and 2 hours Preston to Liverpool via Southport): I was surprised with Southport - it's a very elegant place. No eye-sores at all! I arrived in a very busy bustling Queens Square, Liverpudlian lingo all around me! I found Lime Street and it was just a half hour to Winsford where I was picked up by Patrick and Elanor. Just a short stop for me to sort out winter thermalactics and we were off up the M6 to Gloriana in Garstang where we had supper and Patrick went back leaving us with a tired little girl. After breakfast the following morning, and a quick trip to the local Spar, we set off for Lancaster and arrived in time for a quick sandwich and a trip up to the Castle which is now one of HM's prisons. We visited the large Parish Church and had to make a hurried exit as Nature called and we had to find a loo for Elanor. Then back to the boat via the Oxfam bookshop. I'd walked out without paying for a book a week or two back when I'd had a call on my mobile. Besides confessing and paying my dues we also picked up a book for Elanor about a monster called Boris, complete with hand puppet, and requiring a great deal of kissy-kissy interaction - a bad idea and definitely not a bed time read! Then we travelled again north, over the Lune Aqueduct, and followed the hillside around until there was Morecombe Bay again. Nick took Elanor down to the beach in twilight as I prepared the supper. A happy successful day completed with the last two chapters of Wind in the Willows.
Thursday 29th October: Tewitfield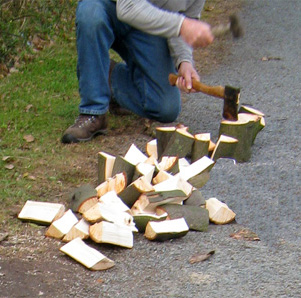 Last evening we found particularly quiet: not only did we not have a lively five year old but the satellite did not offer a signal even though Nick thought it should! On Wednesday we made a particularly early start. At 7.30, Nick said he was taking Caspar to the beach and asked if Elanor wanted to go with them. She shot out of bed and they were gone for a whole hour. The porridge had to be thinned down a few times! She had enough fresh air and exercise to be quite low maintenance for an hour or two. After that she did Caspar-grooming with me, wood collecting with Nick, hide and seek with us both, draughts and chess and cards with me! Patrick arrived around one o'clock and we had lunch in the Hest Bank Hotel, Elanor played on the pirate ship in the garden when she wasn't gobbling pasta! We said our goodbyes and went back to a quiet boat and travelled on northwards to Carnforth where we stayed overnight.
This morning Nick did a quick shopping trip, and we travelled on in beautiful weather and as I write this Nick is logging the wood he had help collecting yesterday - all but the eight inch diameter trunk ready for the fire. Arriving at the end of the line at Tewitfield, Nick got talking to Dave, a long-term Lancaster narrowboater, who was able to give a lot of info regarding low cost gas and diesel supplies, whilst I went to the local Farm shopping complex which was most impressive. Lots of childrens' activities today as it's half term, and many opportunities for adults to spend money. If we were marooned here we could certainly survive using the farm shop.
The repetitive adjustments I have been making on an almost daily basis to the gear-change mechanism have not solved the problem! I have now established that the cause is within the gearbox, worn clutch plate and for'ard locator mechanism, and we are now planning to moor up for a week whilst I take it out to have it refurbished.
Saturday 31st October: Lancaster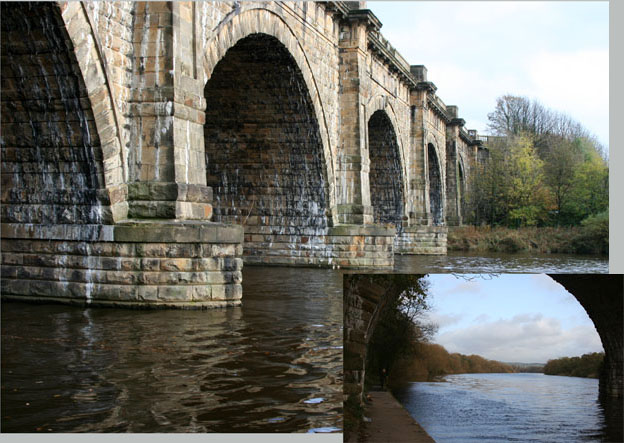 The picture above-right is not intended to demonstrate that I am the worst photographer ever; Nick has taken part of one of my photos and homed in to the background to illustrate the sterling work he is doing in the logging and, in this instance, splitting department, to ensure we are kept comfortable. In fact, in spite of quite a rainy night we have had yet another mild day. Yesterday we travelled south, shopped in Carnforth, and travelled on to Hest Bank where we saw a coelacanths bush in bloom and enjoyed another lovely morning walk on the beach. We travelled down, with me enjoying warming sunshine on my face sitting out in the cratch. Last evening was yet another night, where, in spite of indications that we should have a good satellite signal there was none. We have had difficulties since last weekend. No Emma last Sunday and the outlook for Strictly tonight is not looking too bright. If we have one problem, it multiplies: the gear box; the vital reading light over the bed has gone, and there seems to be an issue with the charging of the batteries. We are due to have a challenging week in Lancaster! We stopped awhile at the Lune aqueduct, considering whether to stay outside of the city for the Saturday night but, as there was a poor internet signal, we merely stayed for lunch before continuing in to moor near the student accommodation - probably for the week. However, with a good internet signal, I have been able to watc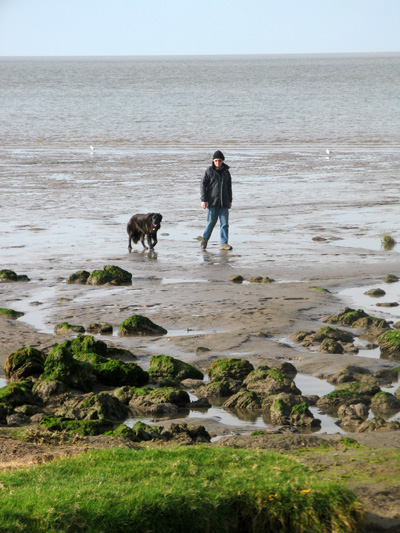 h last weeks Emma !
A reading update, as I intend to deliver a half dozen books to the Oxfam bookshop this afternoon and I need to maintain my literary input into the blog. Whether anyone wants to read them, I don't know. Please leave responses. After 'The Shipping Forecast' in Newfoundland I travelled longitudinally to the Caribbean and Jamaica with a Richard-and-Judy Summer-Read, "The Pirate's Daughter". The change of climate was refreshing. The story is set post WW2 and to some degree is a historical romance. (of sorts!) I plodded, rather than skipped through this and learned quite a lot about the history, geography, sociology and politics of Jamaica. Margaret Cezaire-Thompson, the author, was born and brought up in Jamaica and is now an academic in the States. One of the characters in the book is Errol Flynn who has a romantic liaison with a local coloured girl and the central character is their daughter. The book captures the glamour and beauty of Jamaica and shows how much damage is caused by the bewitching nature of charisma, wealth, and glamour. I especially enjoyed the real ethnic touches, particularly the engaging local patois. I hadn't appreciated what a cosmopolitan place Jamaica was, even back then. The gap between the 'haves' and the 'have-nots' is quite marked.
The book I have just finished was a really compelling read, albeit rather dark. This is a first novel by Sadie Jones, yet another Richard and Judy read. I was brought up in the fifties and probably still suffer a degree of repression from those times, but thankfully nothing like the terrifying experience of Lewis, the central character in 'The Outcast' and Kit his aristocratic neighbour. I have never been able to comprehend how people can self-harm but this book took me, with Lewis, through experiences to that emotional place where I totally understood. This was a rather gruesome page turner. I write this on the eve of Halloween, but horror of what humans do to each other is always, far more scary than horror stories of ghosts and ghouls for me, and this novel is like a compelling horror story. However, I wasn't totally convinced by the resolution. I do like there to be some element of redemption, and I guess there was, but to a very limited degree. Justice was served but in a cruel way. And we were left with a host of damaged people at the end, in spite of a poignant and rather romantic leave-taking, following a desperate dash to the railway station! Cue the crescendo of violins!